Business travelers who live in the Northeast recognize the convenience of Amtrak Acela service between Boston and New York, as well as between New York and Washington, D.C.
The train may not always be the cheapest option. However, it has the advantage of dropping you right in the center of each city along the Acela line.
For New York City specifically, popping up at Penn Station versus LaGuardia Airport (LGA), John F. Kennedy International Airport (JFK) or Newark Liberty International Airport (EWR) can save you hours you would otherwise spend stuck in traffic and airport security lines at certain times of the day.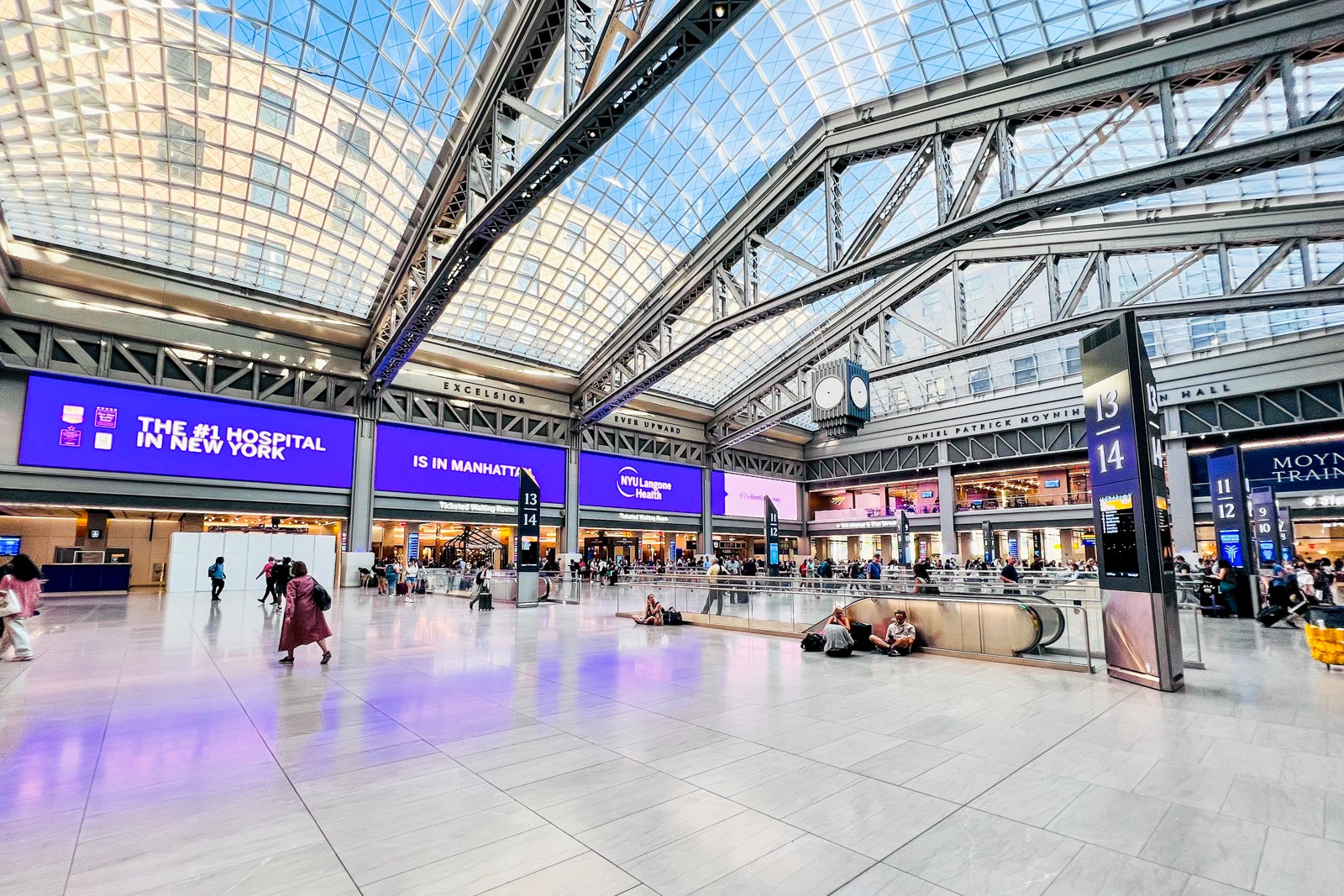 The Acela trains are more comfortable than the slower Metroliner trains that roam up and down the Northeast. They also have benefits like faster, more reliable Wi-Fi.
In addition, the Acela trains have offered a first-class car for as long as I can recall. As a business traveler who has taken Amtrak countless times to get between New York and Washington, D.C., I've often wondered if an upgrade to first class was worth the price. However, the price difference between a standard Acela seat (referred to as business class) and a first-class seat has always been well more than I was willing to spend.
Fortuitously, on a recent trip, the price spread between the two classes of service was shorter than I can recall seeing in the past. That was enough incentive for me to try the upgrade to Acela's first class, and I booked two train trips for two days worth of meetings. One was from Boston to New York's beautiful new Moynihan Hall at Penn Station. The second was from Penn Station to Washington, D.C.'s Union Station, after a stop in New York.
The fare was an extra $70 to upgrade to first class departing Boston and roughly $90 to upgrade from Penn Station to Washington, D.C.  It was truly a tale of two very different experiences.
Boston to New York in Amtrak Acela first class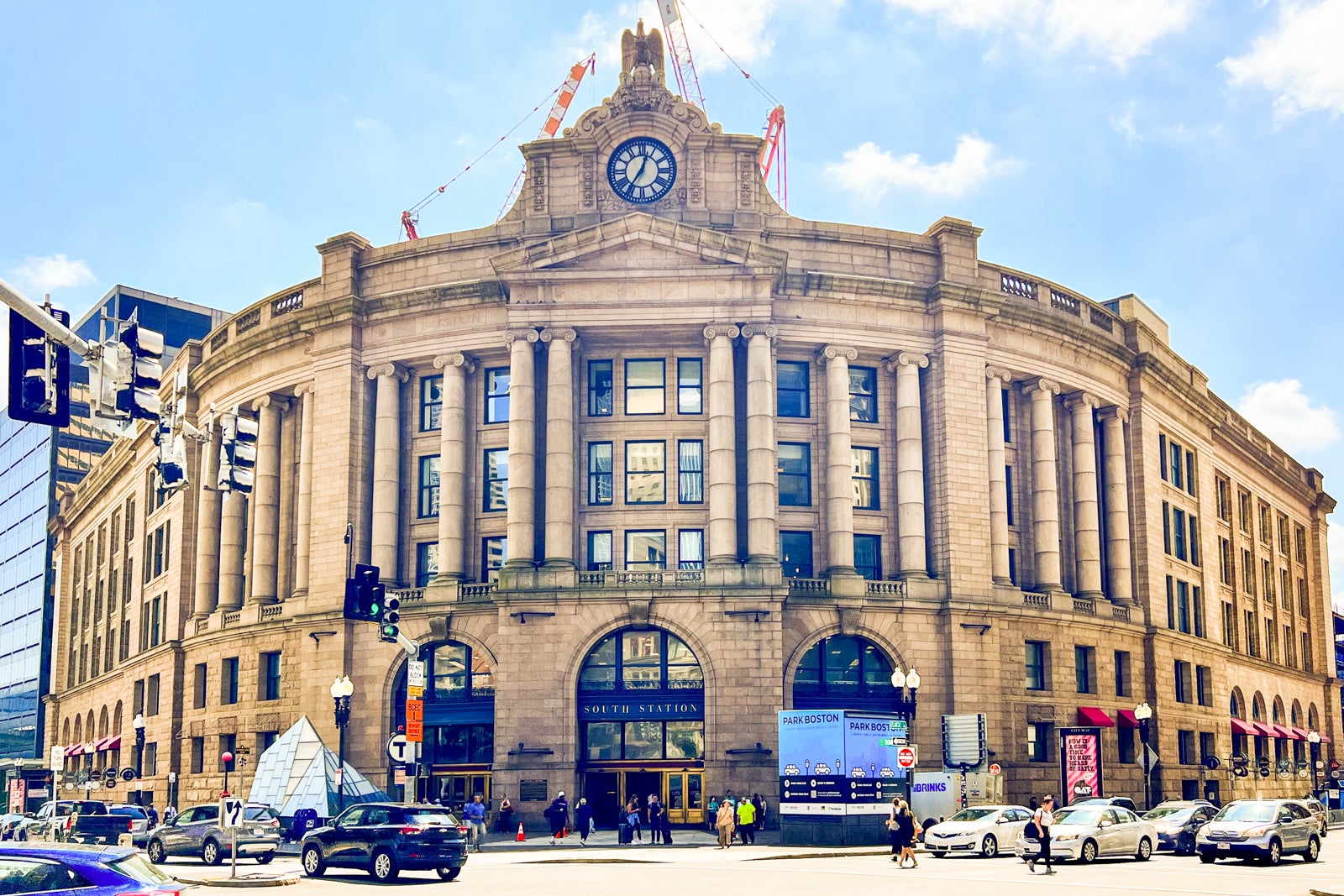 Acela trains depart from South Station in downtown Boston, just a short walk from Faneuil Hall. Some Acela trains also stop at Back Bay Station, though the Amtrak website does not list a station lounge there.
Amtrak includes access to its station lounges with Acela first-class tickets. You can also gain access if you hold Amtrak Guest Rewards Select Plus or Select Executive elite status. Or, alternatively, Amtrak also sells daily access passes to the lounges. Access at Boston's South Station is $35 per passenger per day and at Moynihan Hall, the fee is $50. Details for all of the lounges are on Amtrak's website.
Upon arrival at South Station, I walked around for a few minutes before seeing a small waiting area for Amtrak customers. Pretty much every seat in the cramped room was full.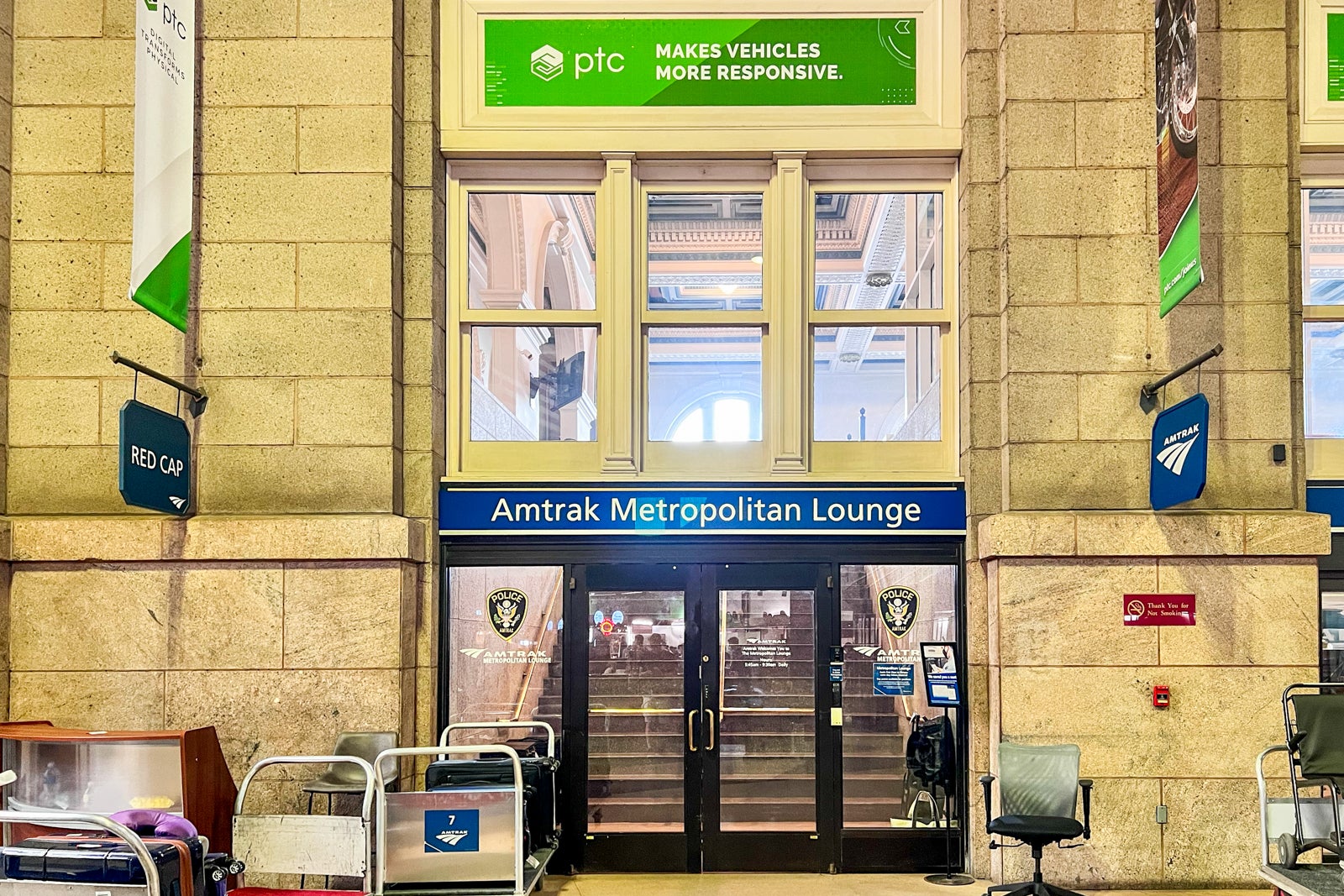 To the left of the seating area I found a set of glass doors that led to a staircase. A sign on the door indicated the station lounge was up the flight of stairs. After pressing the doorbell and speaking with an Amtrak employee, I was buzzed in and proceeded upstairs to the lounge.
An Amtrak employee quickly checked me in and pointed out a small, self-service snack area. The employee also noted that there was a slightly larger menu of hot drinks that the club staff could prepare for me upon request. The offerings in the club were quite limited, though.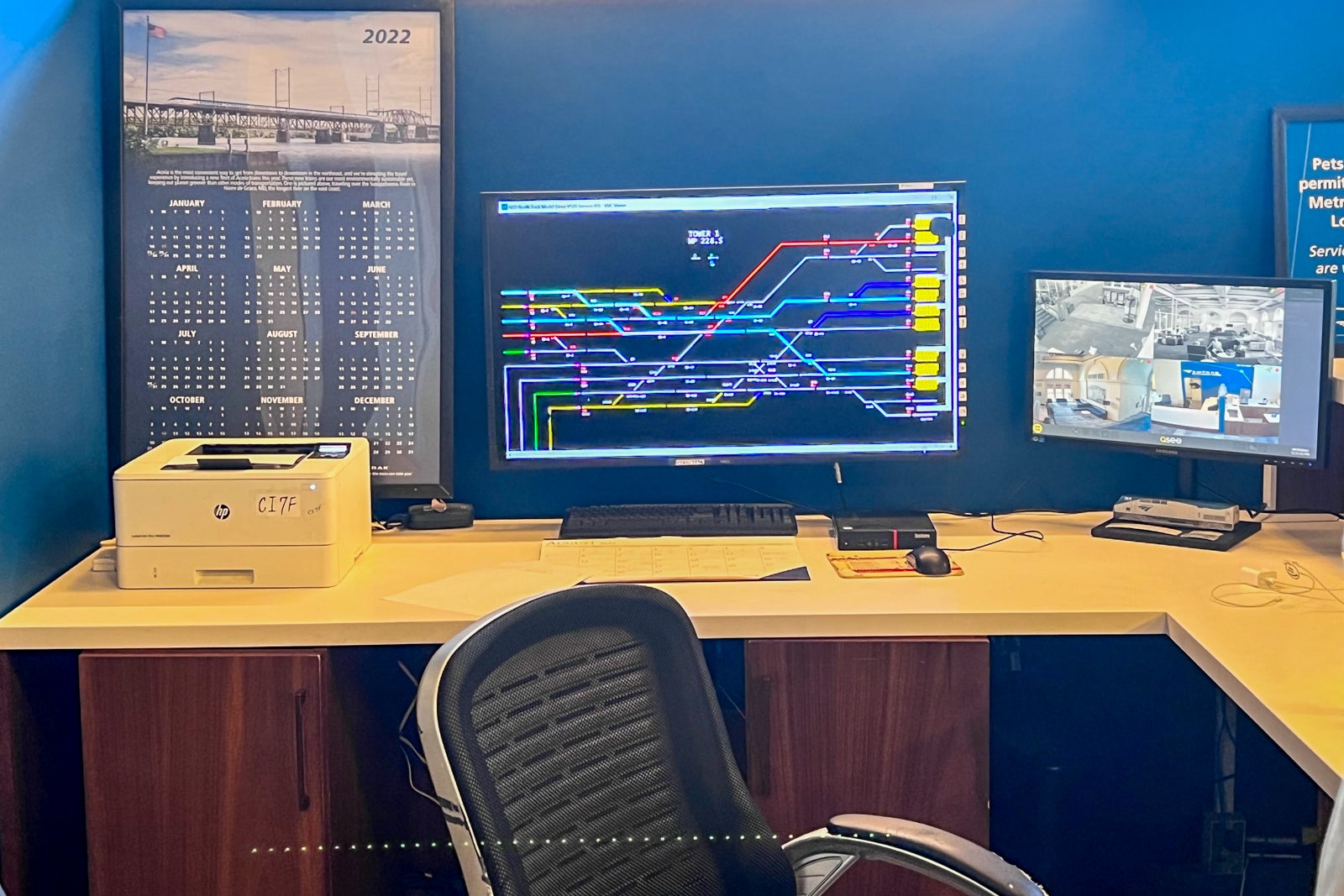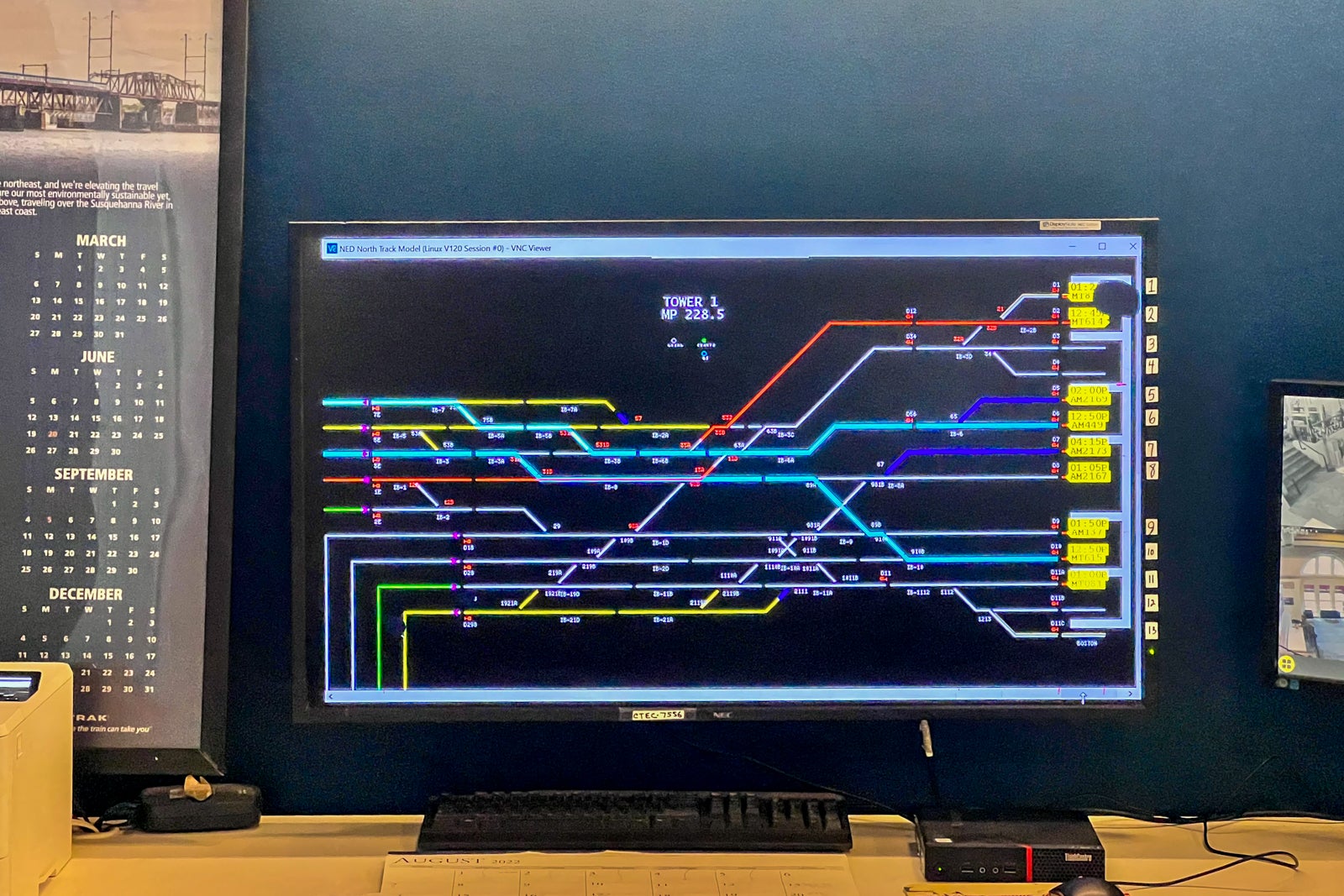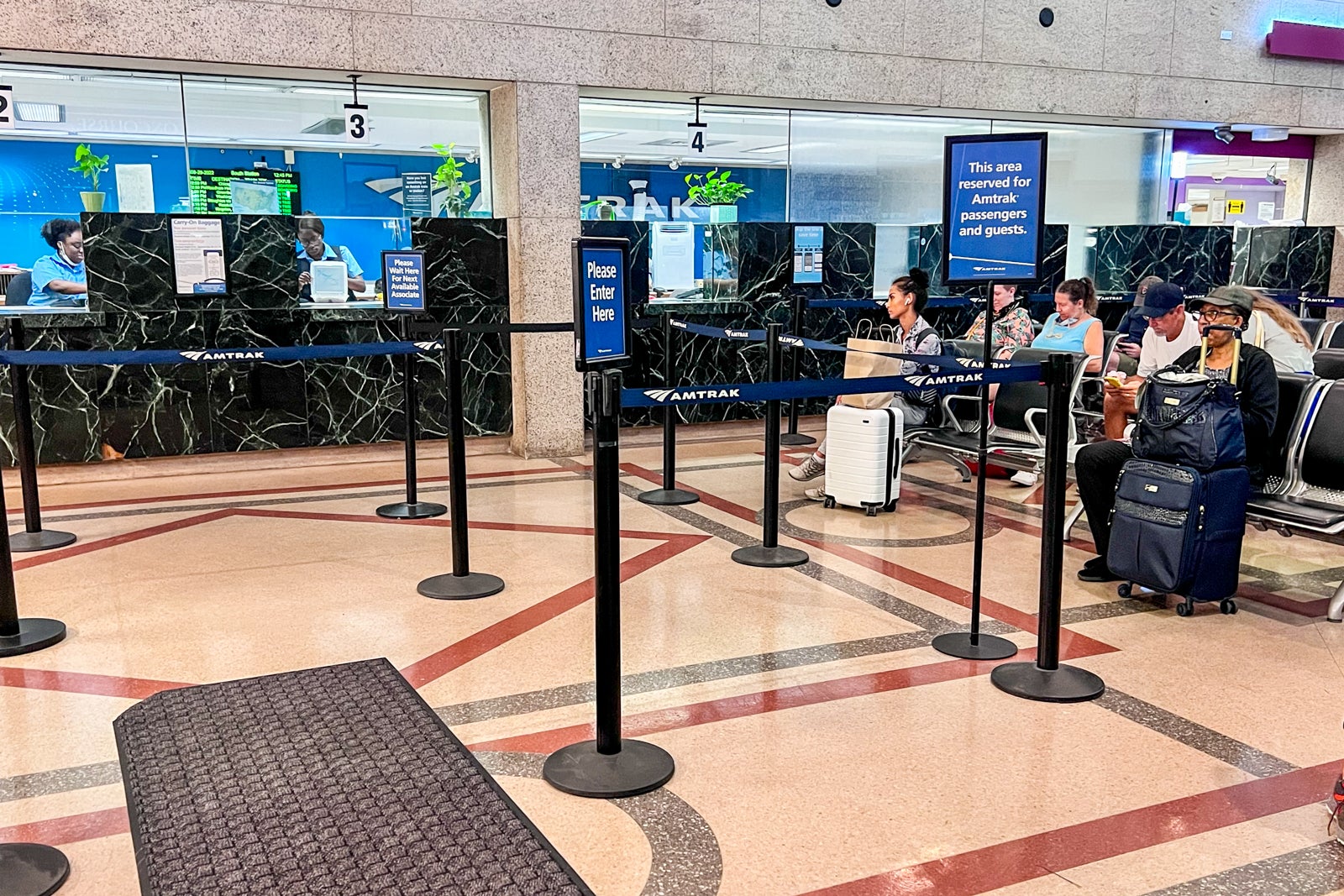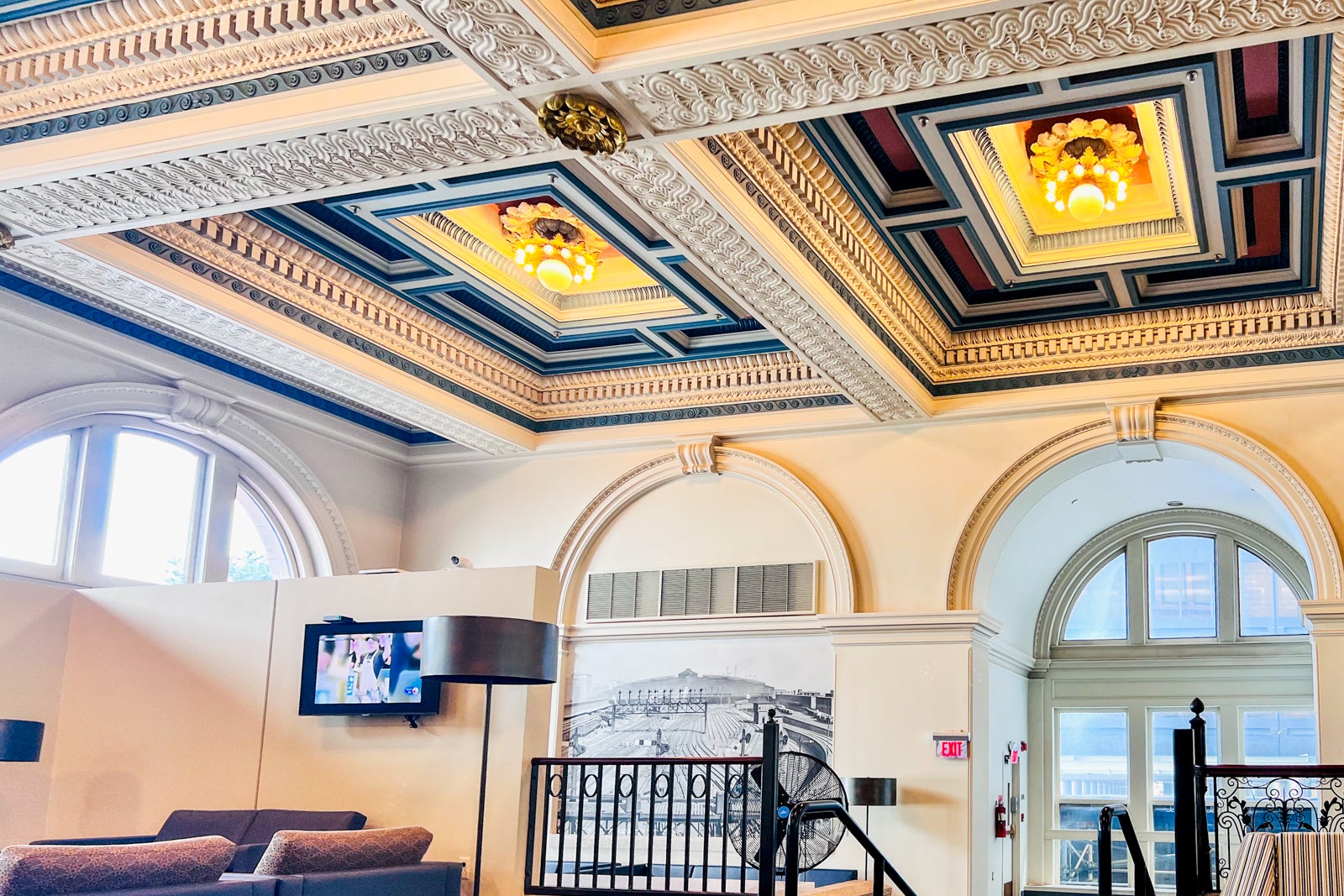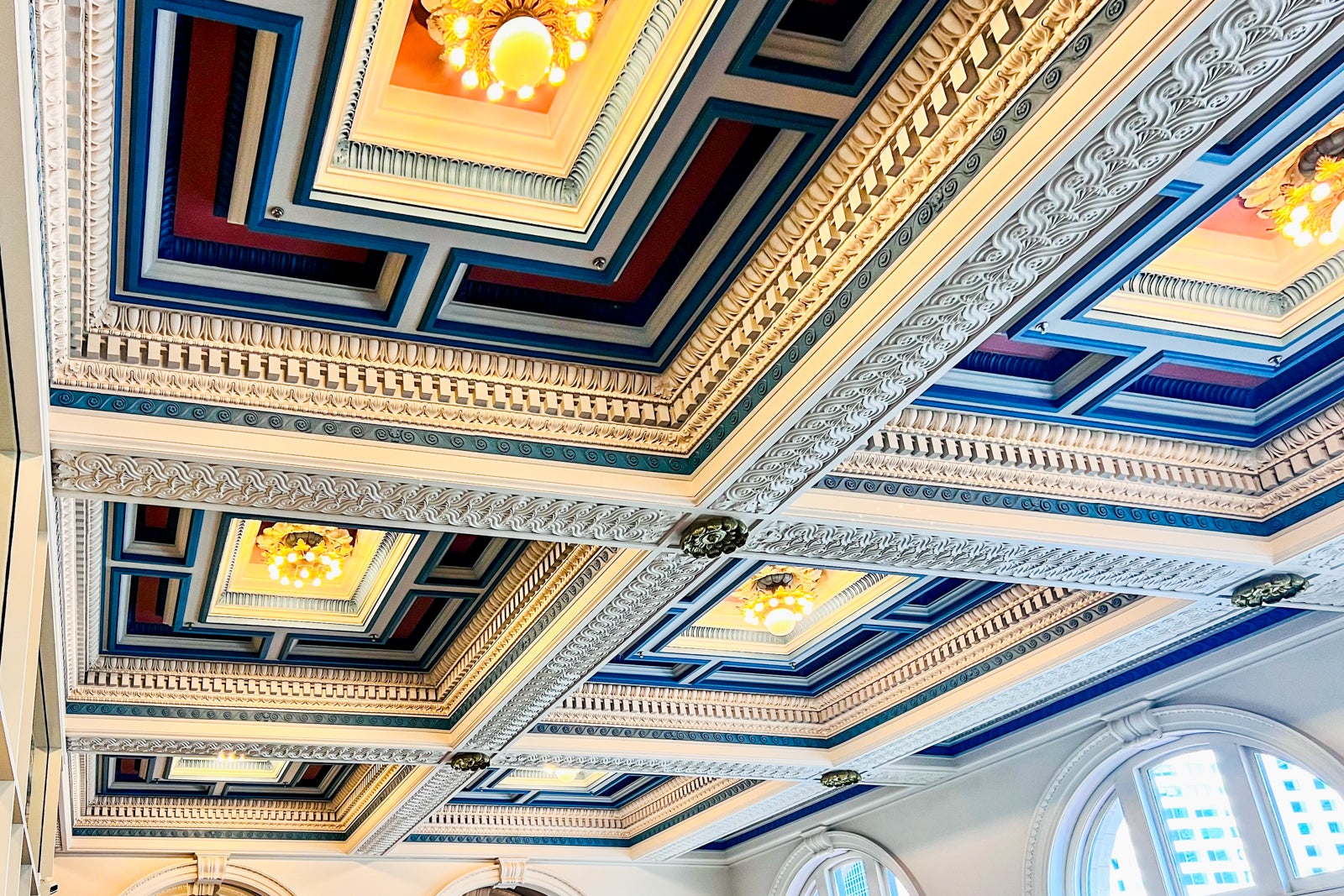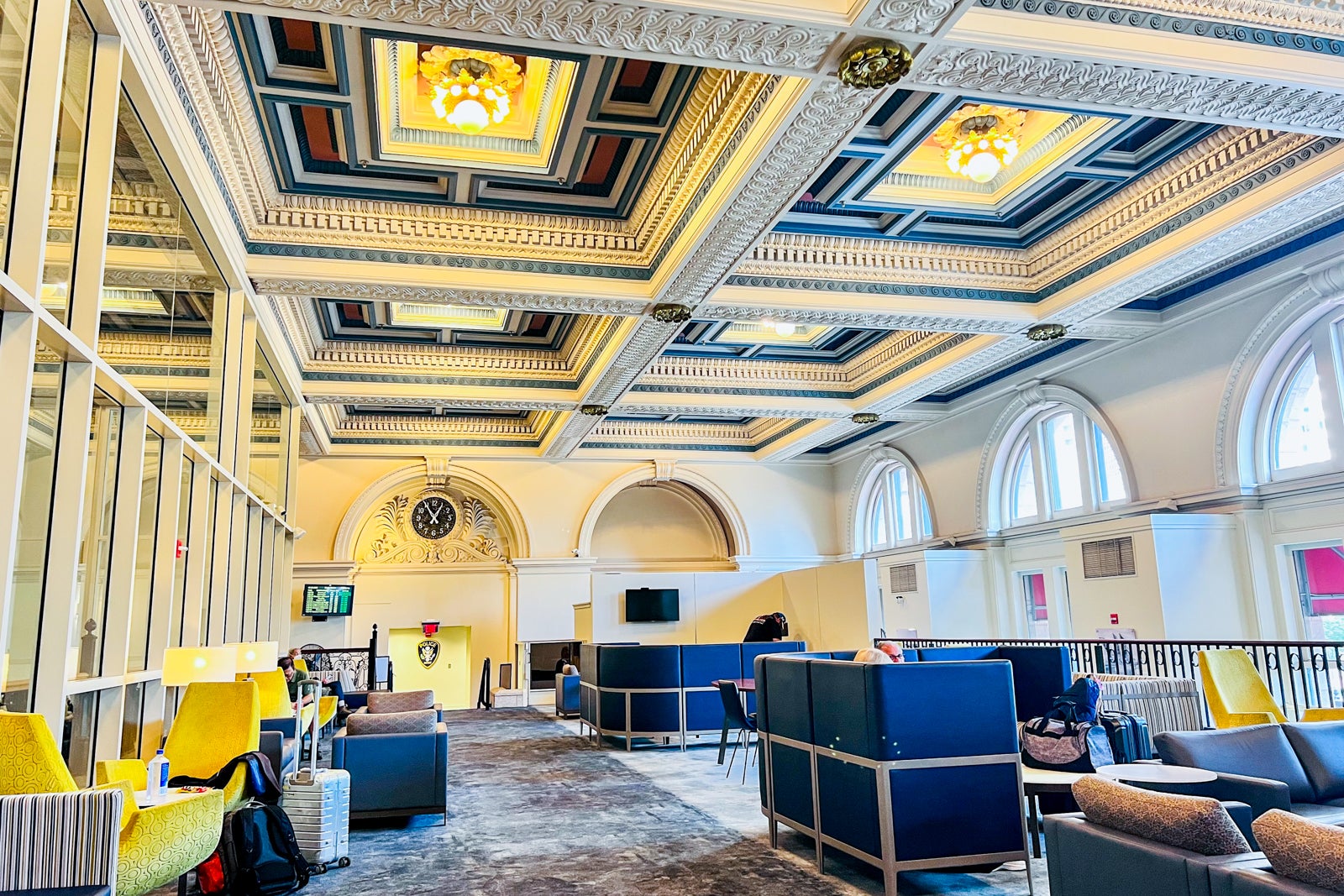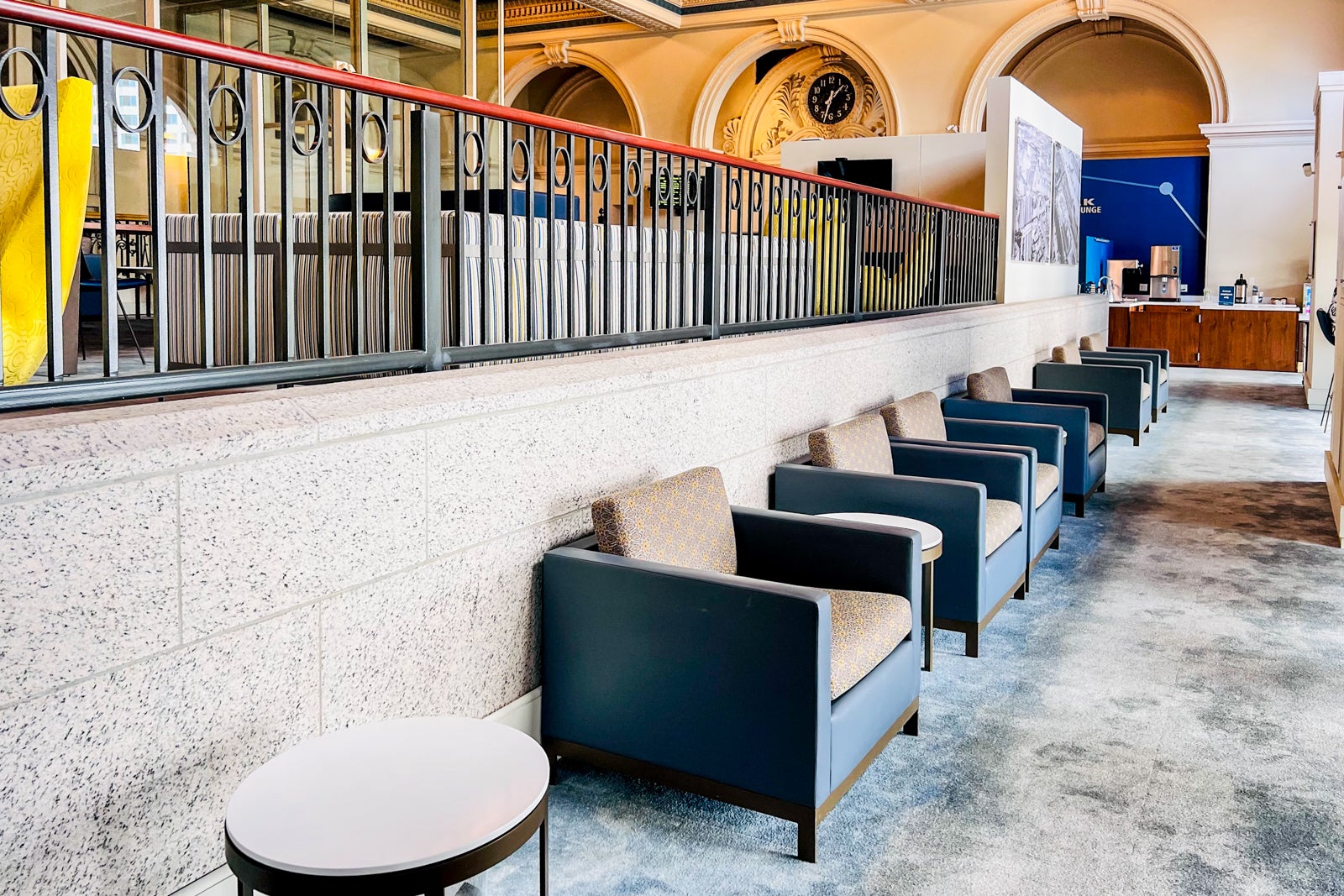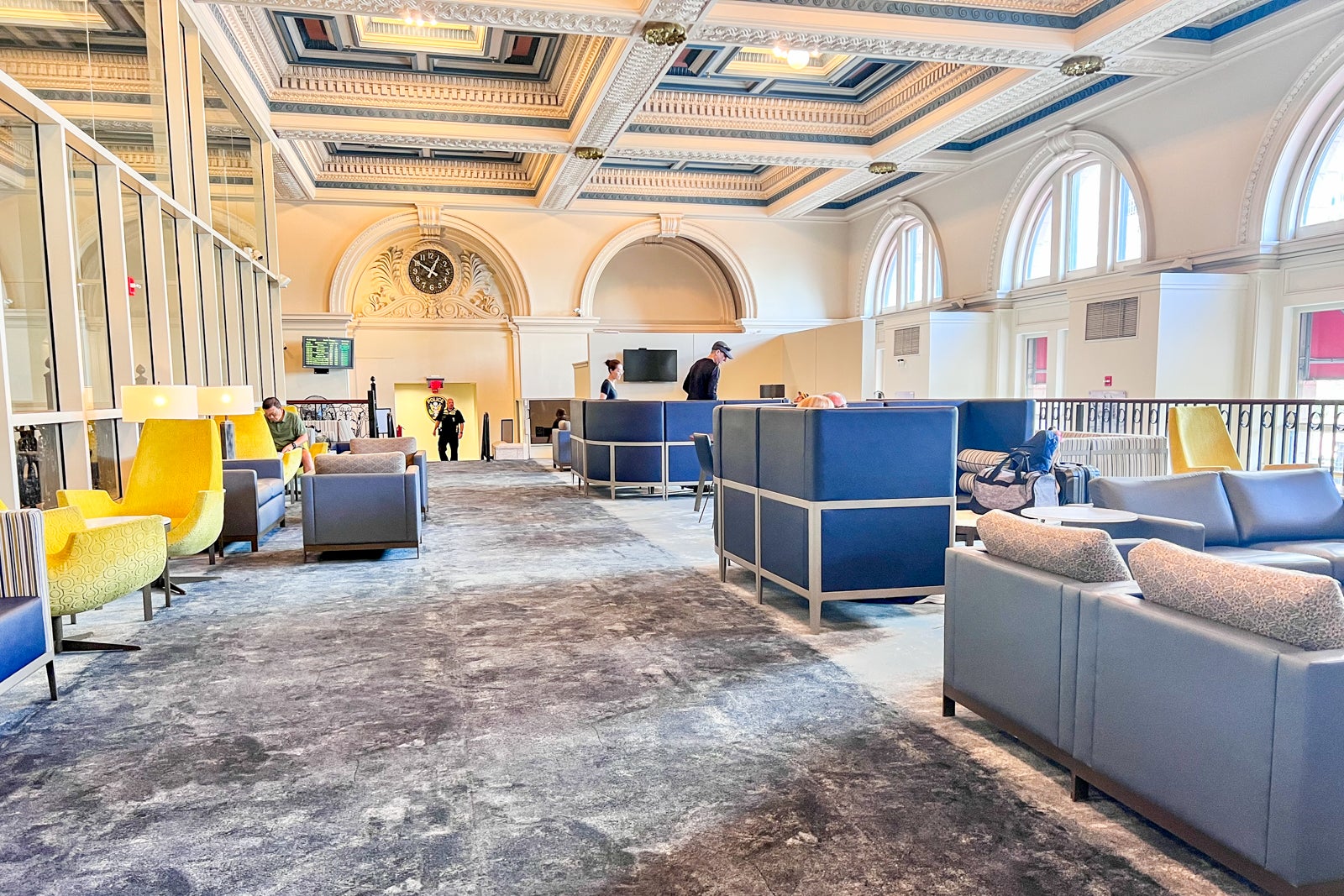 There was seating for a few dozen people in the club that also shared space with a satellite police station. Even though the space showed some age, there were actually a fair number of electrical outlets. The lounge also had dedicated bathrooms. In short, it was a quiet place to wait with a free bag of peanut M&Ms.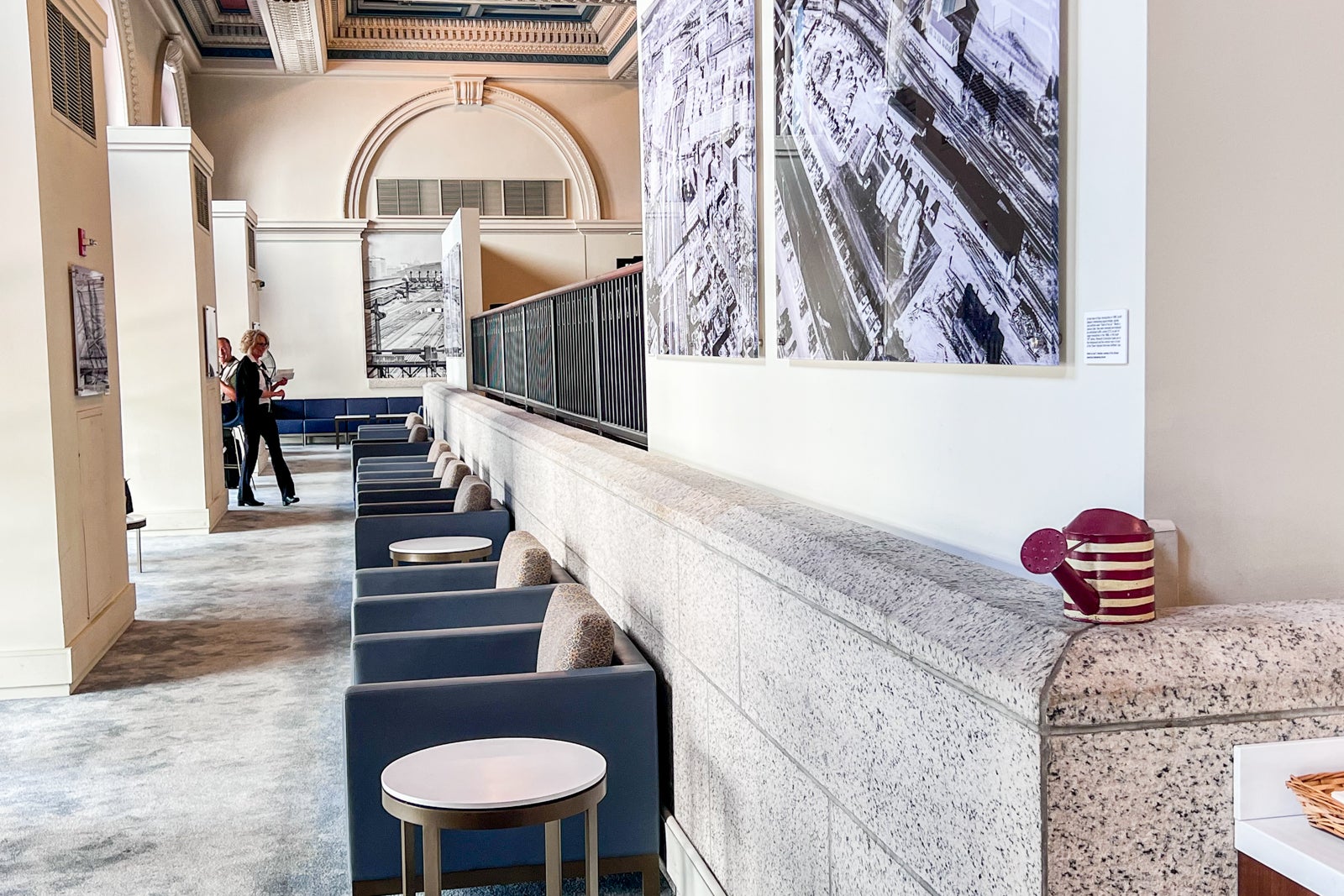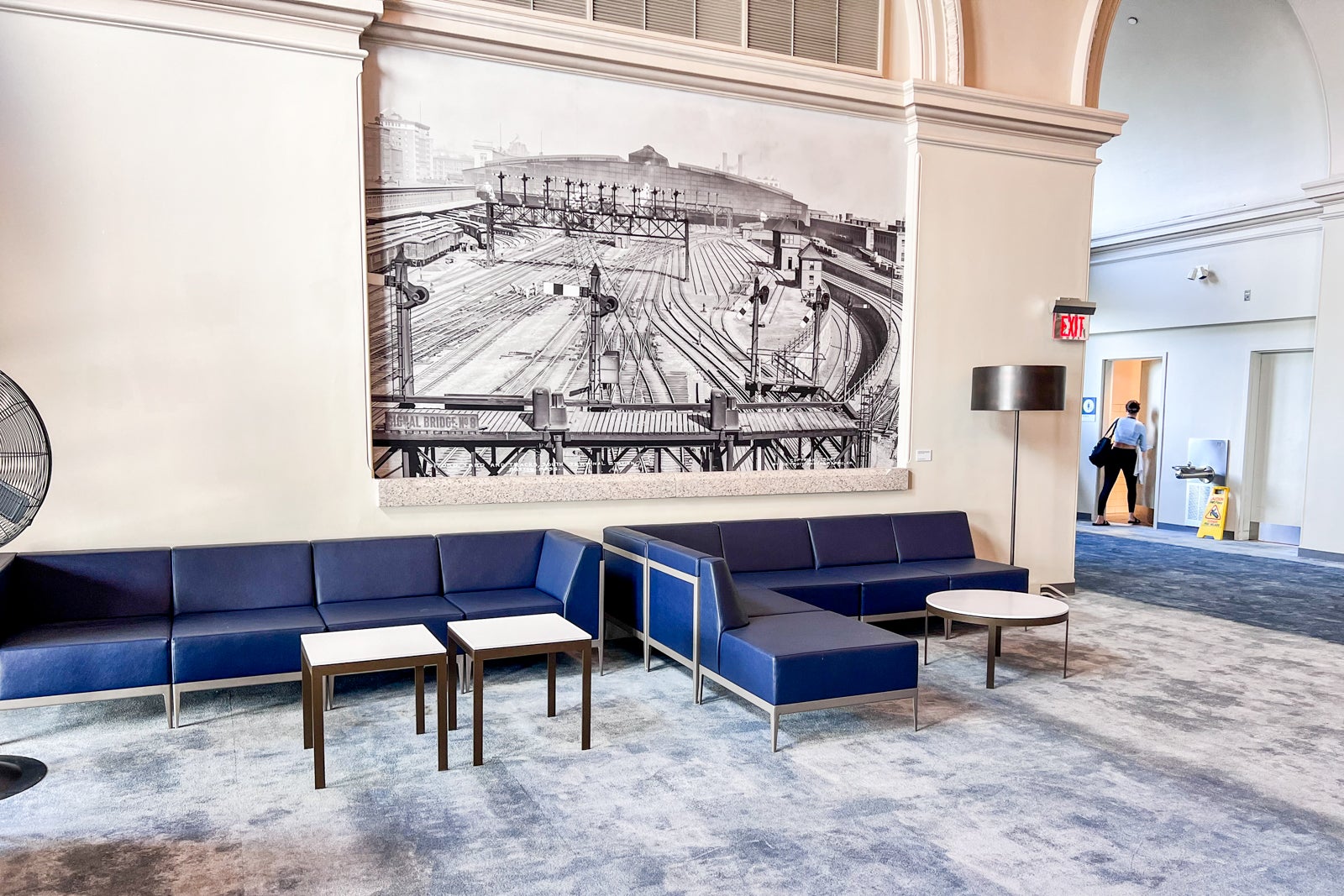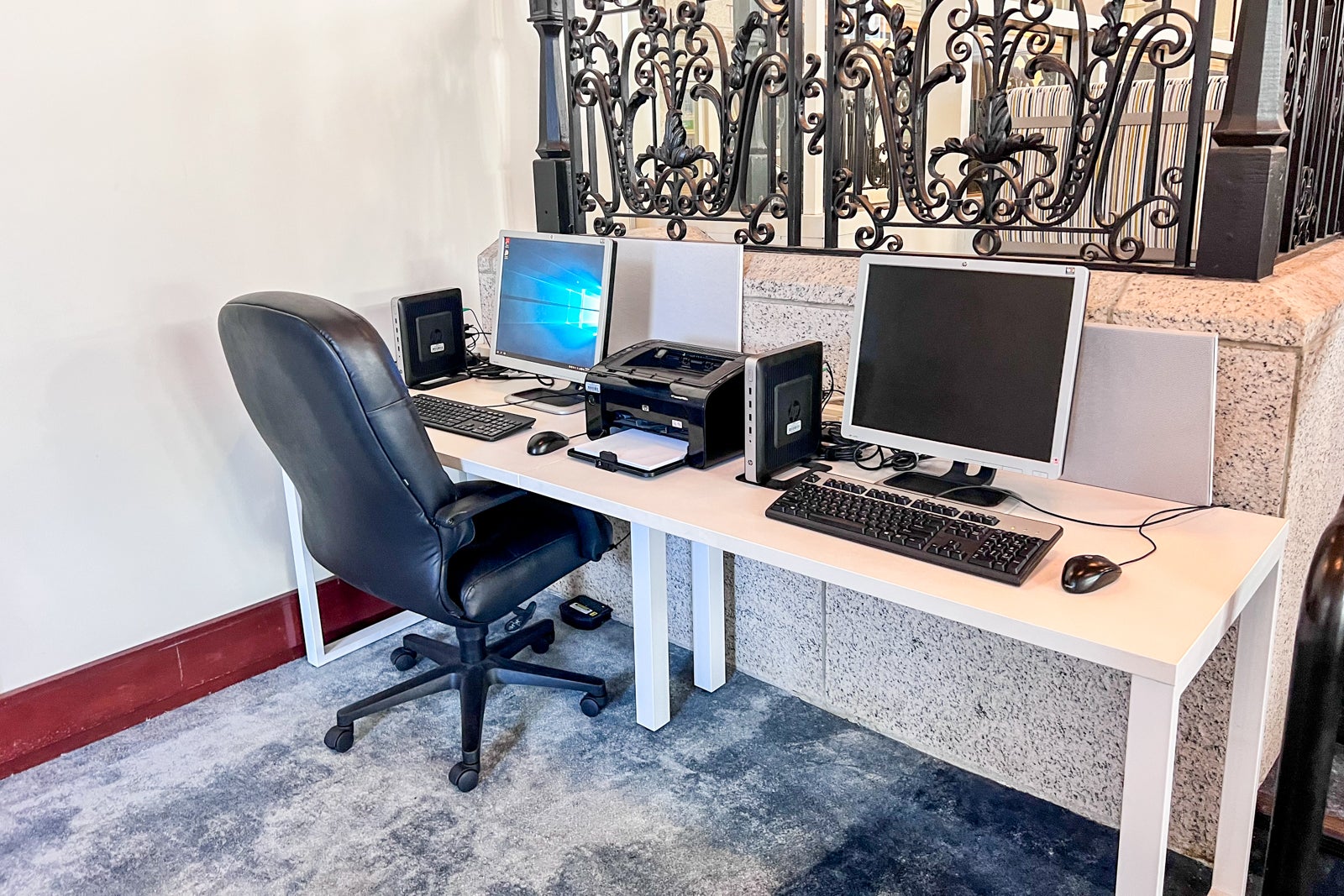 Once aboard the train, I got my first look at first class. It had been about three years since I'd ridden Acela, but the first-class seat looked very familiar.
I walked over to check out the adjacent business-class car. The seats and spacing appeared to be exactly the same, with only a slight color difference from the first class section.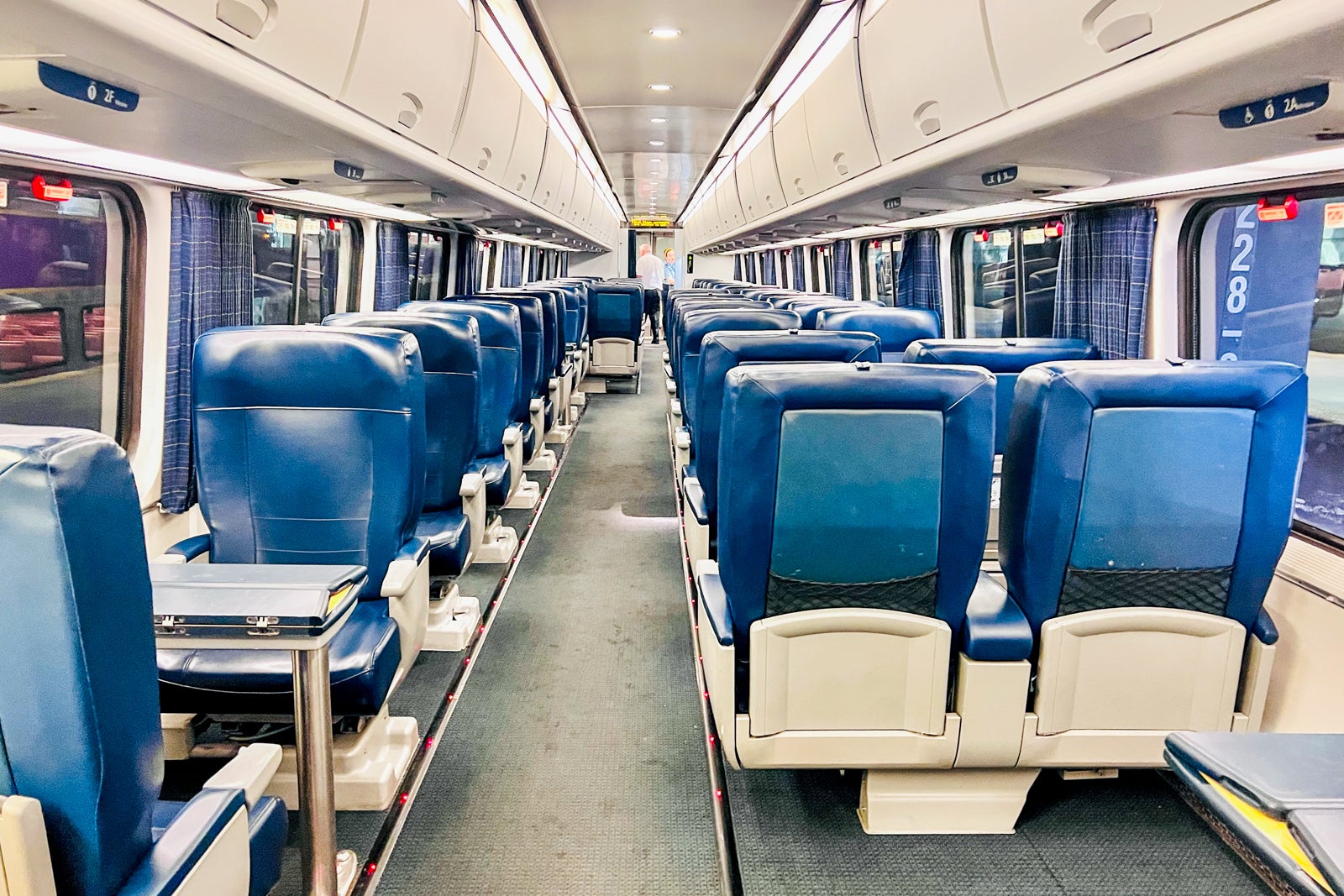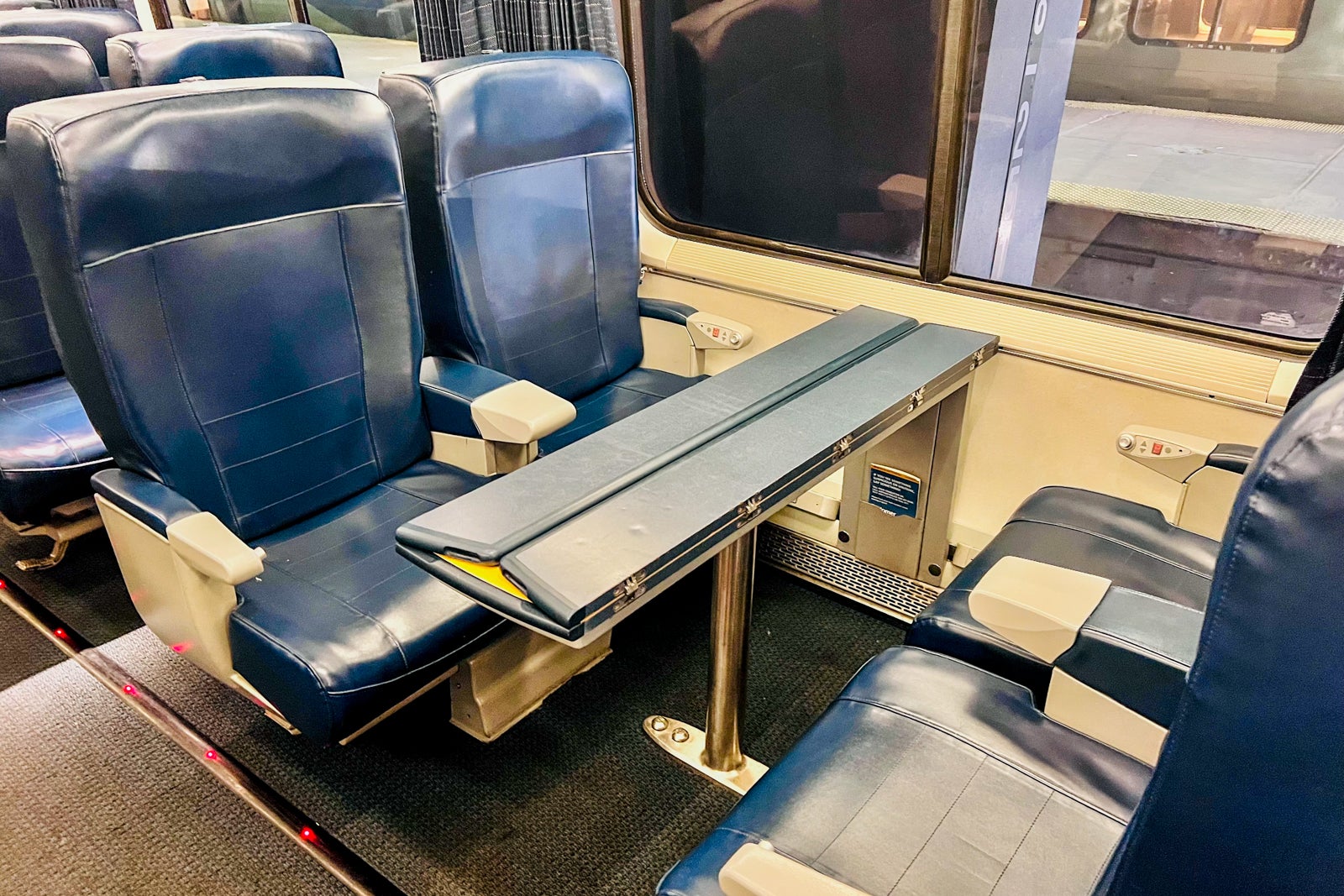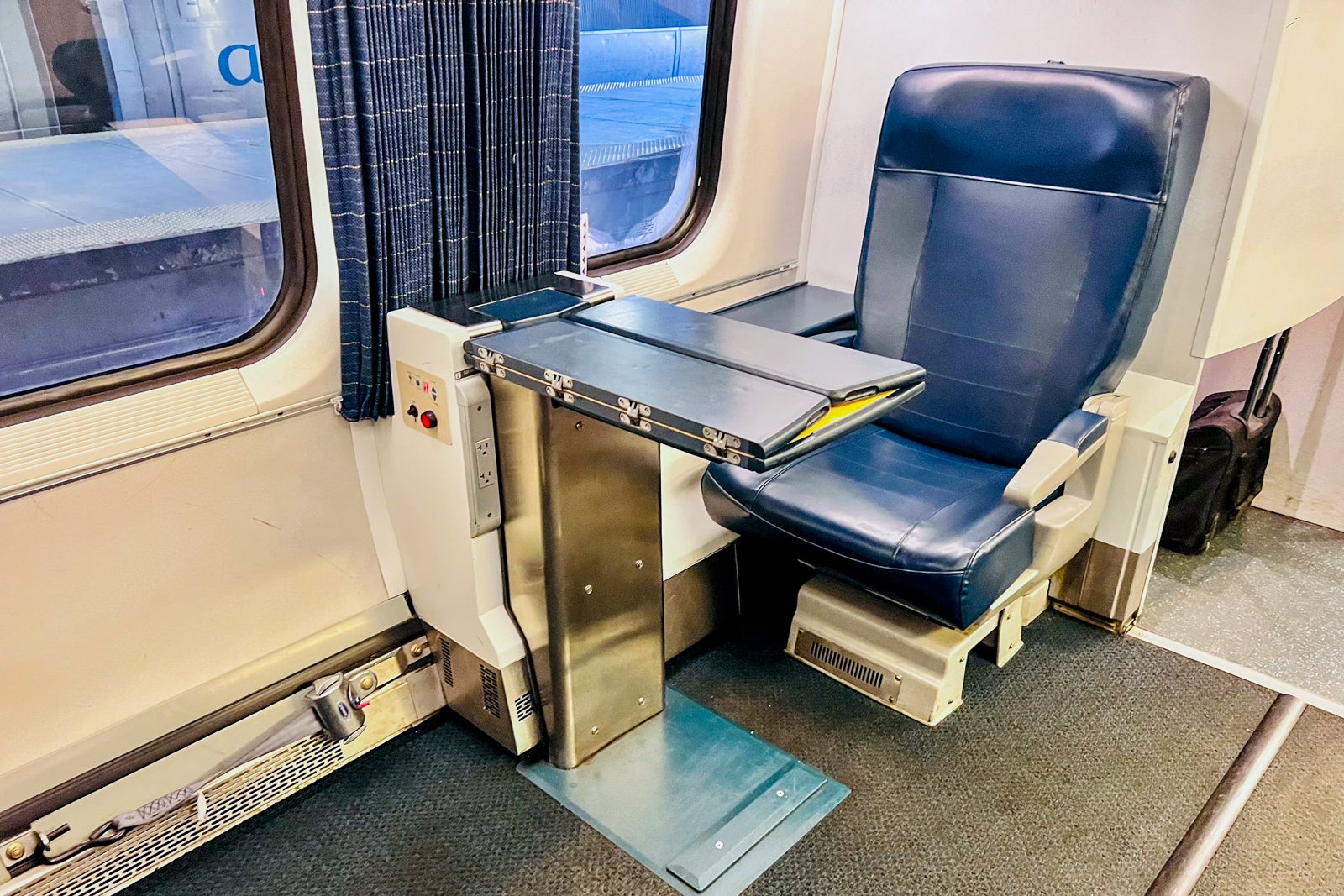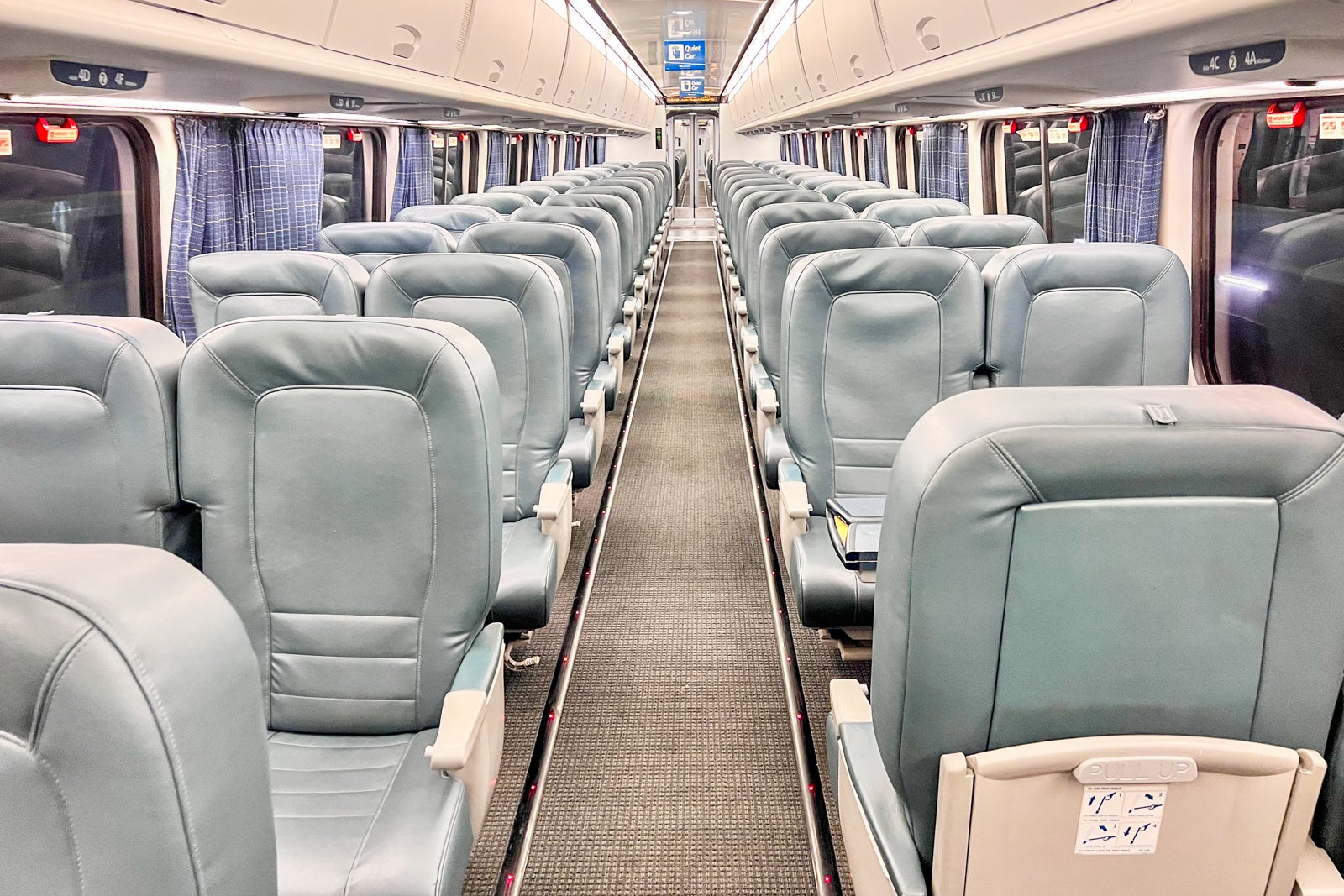 That meant so far I had paid $70 extra for a seat and a bag of M&Ms. I was clearly not winning. However, I still had the meal service to bail me out.
An Amtrak attendant gave me a mini bottle of Fiji water. Things were starting to look up. The attendant then handed me a menu and asked if I wanted a drink (I politely declined).
The attendant returned shortly after we departed Boston to ask for my lunch choice. Something told me to avoid the souffle, and the lamb didn't seem like something Amtrak was going to have a ton of success with. I asked if it was possible to get both the buffalo chicken salad and the cheese and fruit plate — but I was informed I could only have one choice.
The salad was, in a word, bad. The chicken was still partially frozen or very overcooked (or both). The carb lover in me thought I could find solace in the accompanying chocolate chip cookie. As it turned out, the cookie was lemon blueberry flavor. We'll dub it "interesting."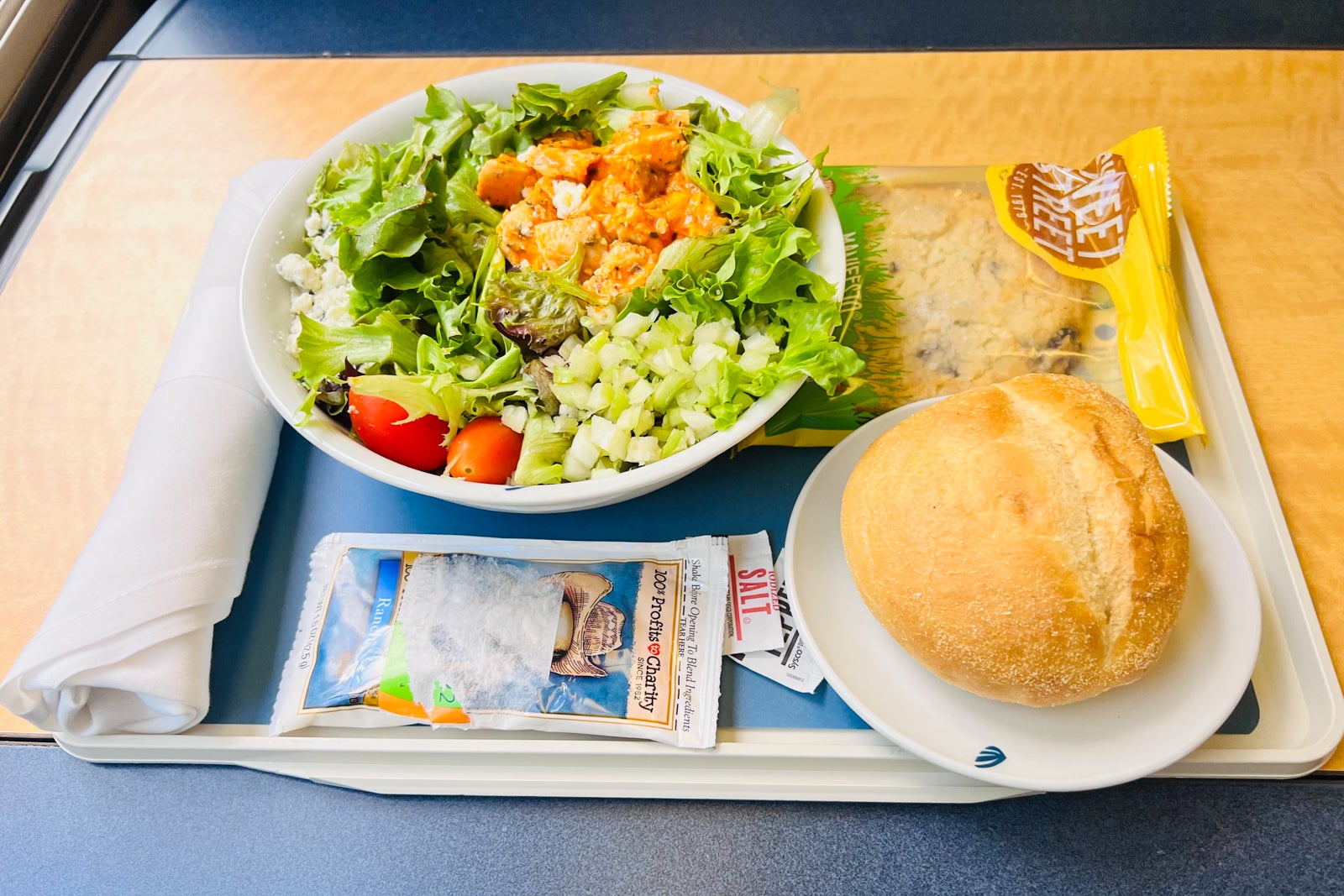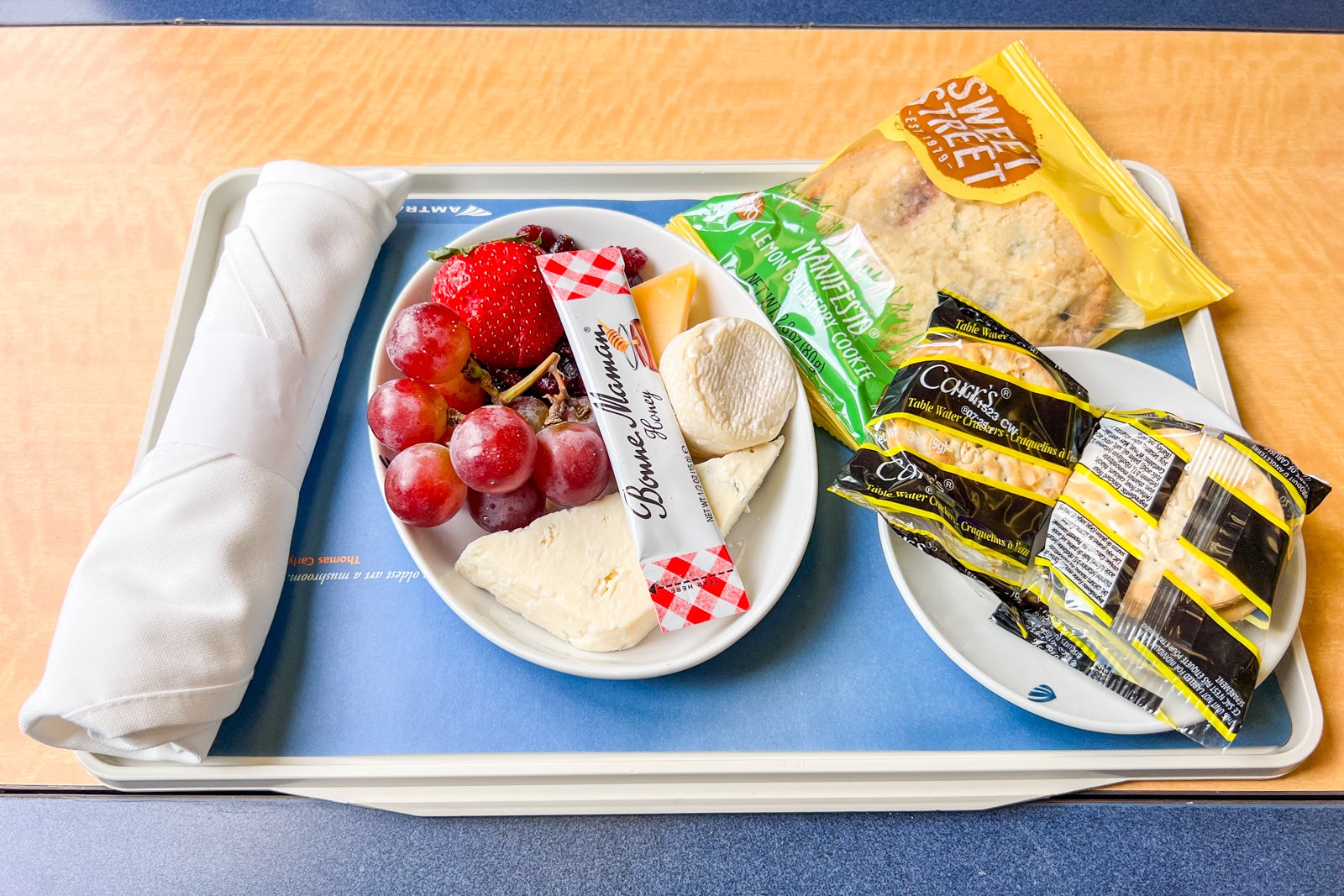 Thankfully, a short while later the attendant brought me a cheese and fruit plate as a replacement. I enjoyed the cheese and fruit, but passed on the second lemon blueberry cookie.
(I should note here that I normally don't pay that much attention to the food on board airplanes or trains. However, since the rest of the upgraded experience was of questionable value, it seemed appropriate to offer a bit of detail on the quality and value of the meal.)
Thankfully, I still had another chance for Acela's first class to redeem itself.
Amtrak Metropolitan Lounge at Penn Station Moynihan hall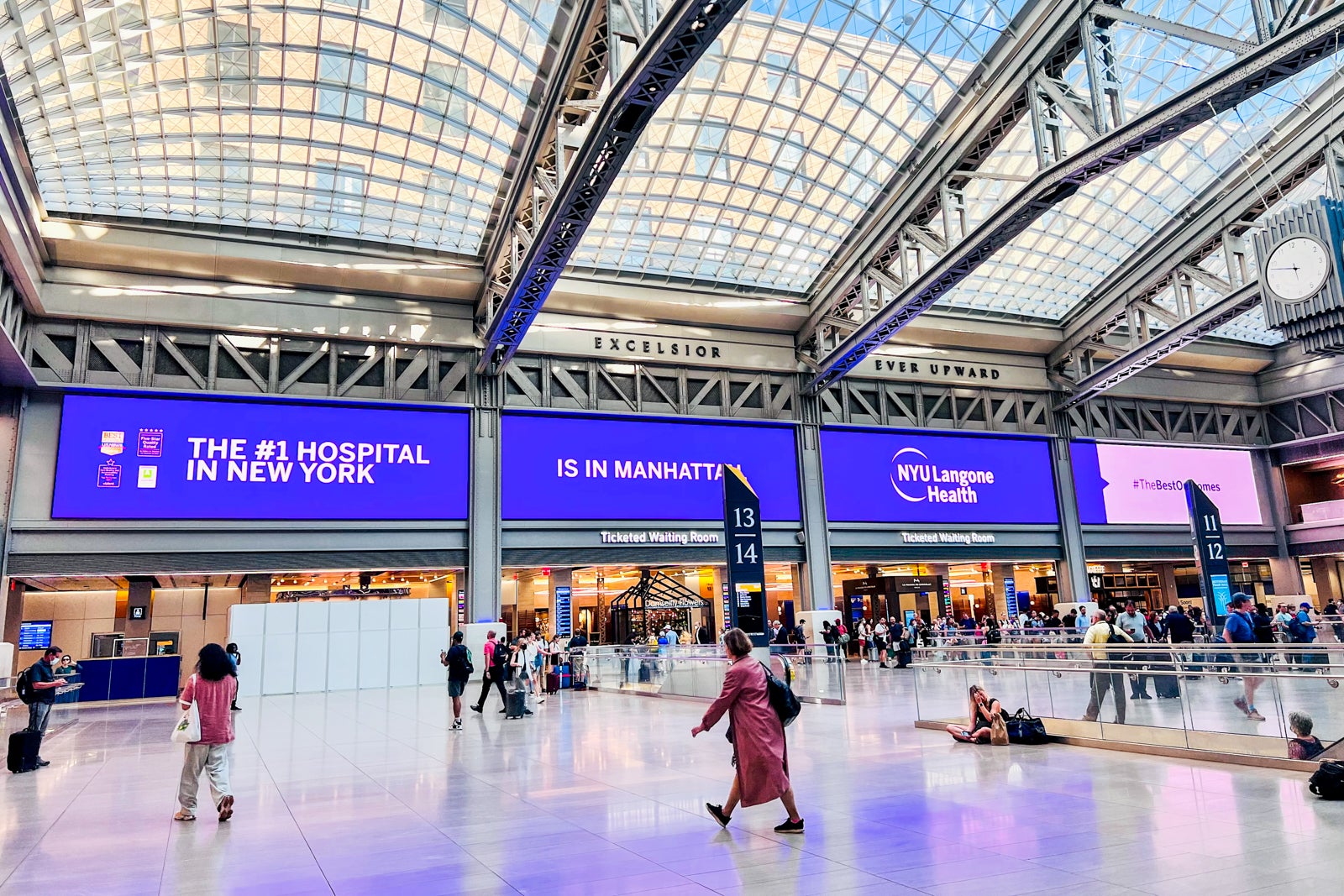 After a couple of days of business meetings, I was ready to head home via Amtrak. One of the reasons I like Amtrak is its flexible options for carrying luggage on board.
I had packed a small, collapsible bag on my trip so that I could pick up valuable cargo in New York City. After stops at Murray's Bagels and La Bella Ferrara bakery my extra bag was stuffed to capacity — with three dozen bagels and two pounds of Italian cookies — as I headed for Penn Station.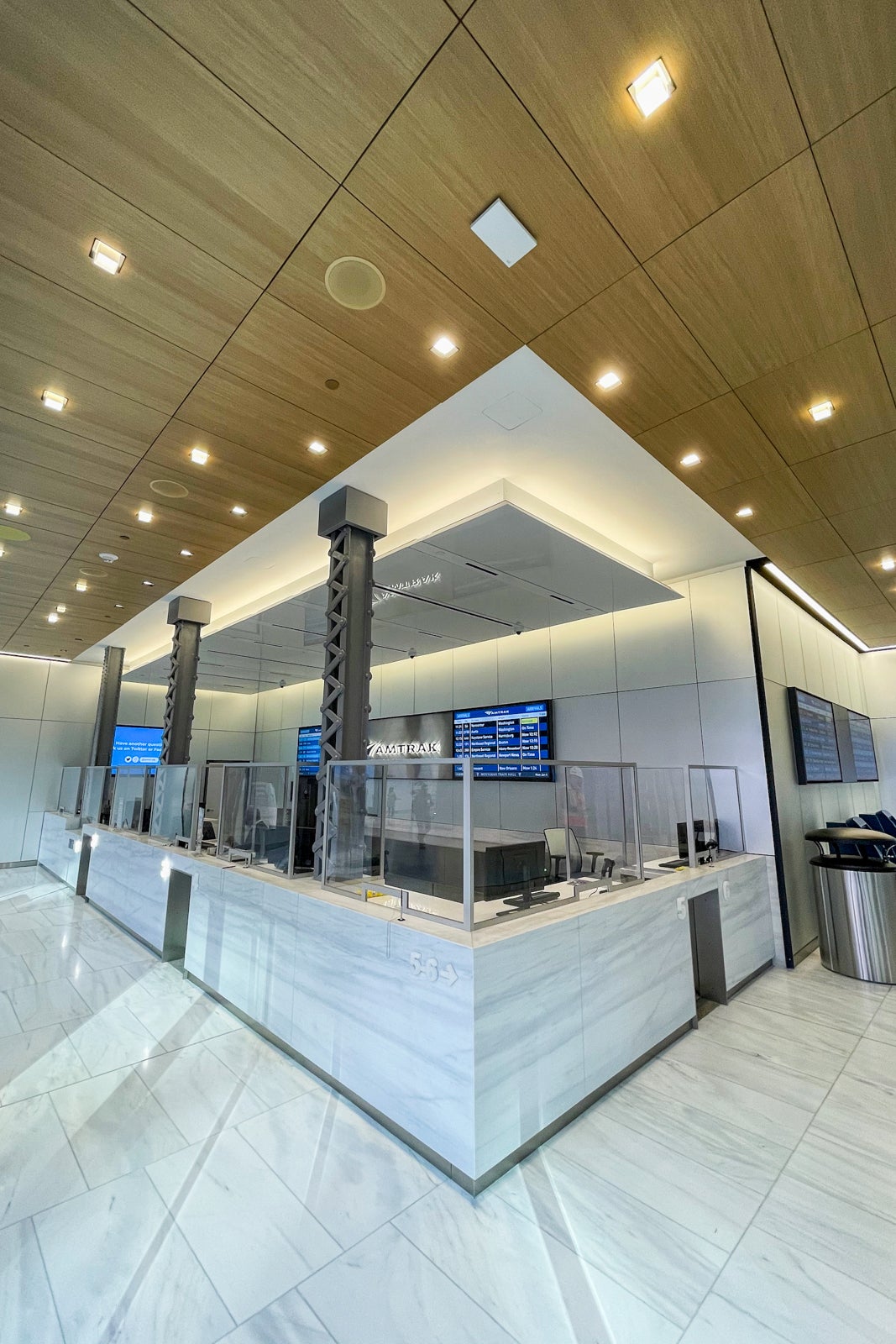 If you're familiar with Penn Station, the new departure point for Amtrak trains is in Moynihan Hall. You'll find the entrance one block west of Penn Station, in the old Postal Service building.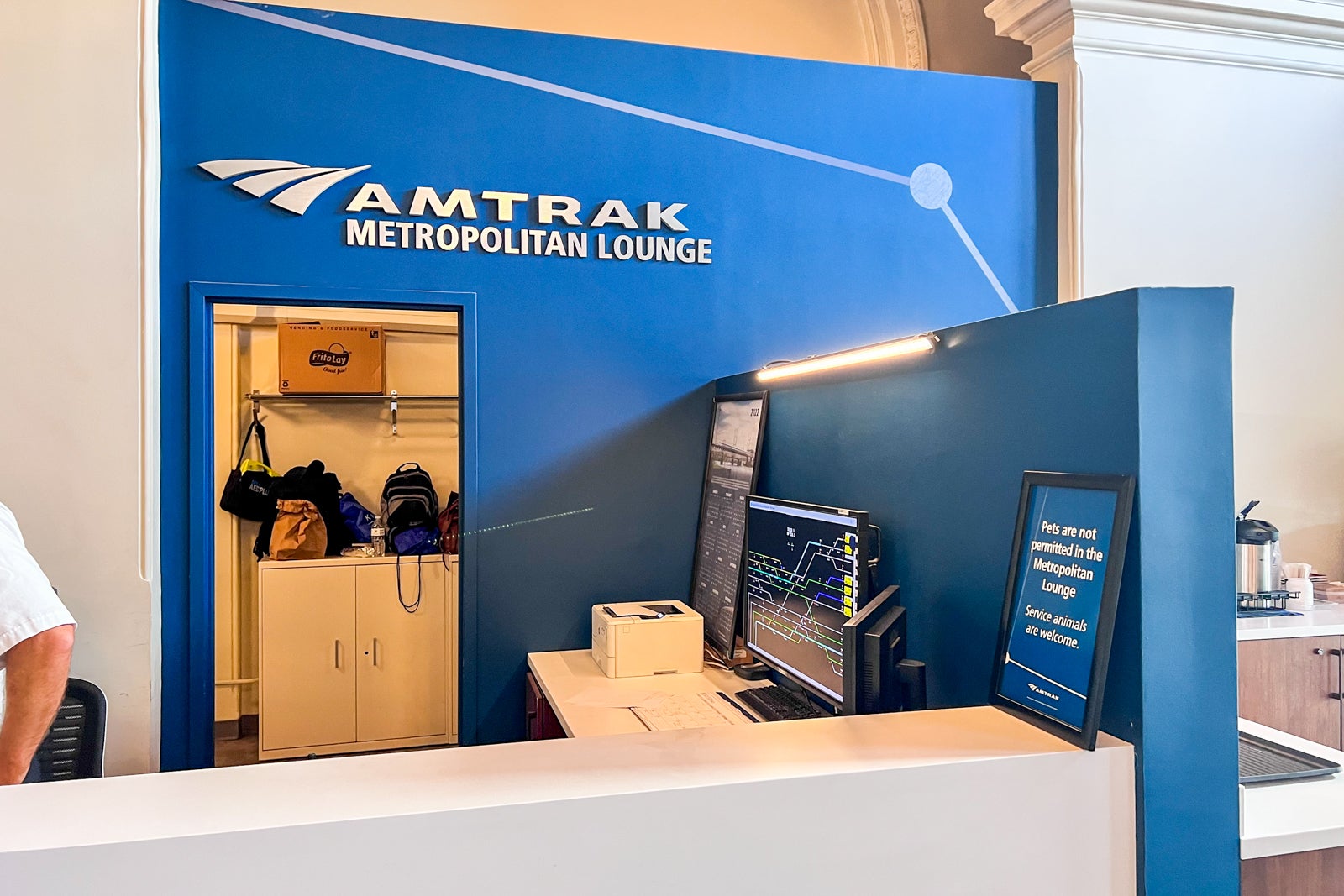 The entrance to the station lounge (dubbed the Metropolitan Lounge) is closest to the Southeast corner of the building at 8th Avenue and 31st Street. The lounge, which opened at the beginning of 2021, is located one level above the main hall. There's a small seating area outside the entrance to the lounge, which is one of the only public seating areas in the hall. While it's not obvious, you will need to check in with an Amtrak employee who sits at a counter at the top of the escalator.
The station lounge at Moynihan Hall is quite sizable, with four distinct seating areas. At the entrance, there are lockers for luggage (apparently without the ability to actually lock them). Behind the lockers is a small seating area with a TV. Farther into the lounge there's more soft seating and some spots where you can work on your laptop. There's also a substantial dining area with various-sized tables.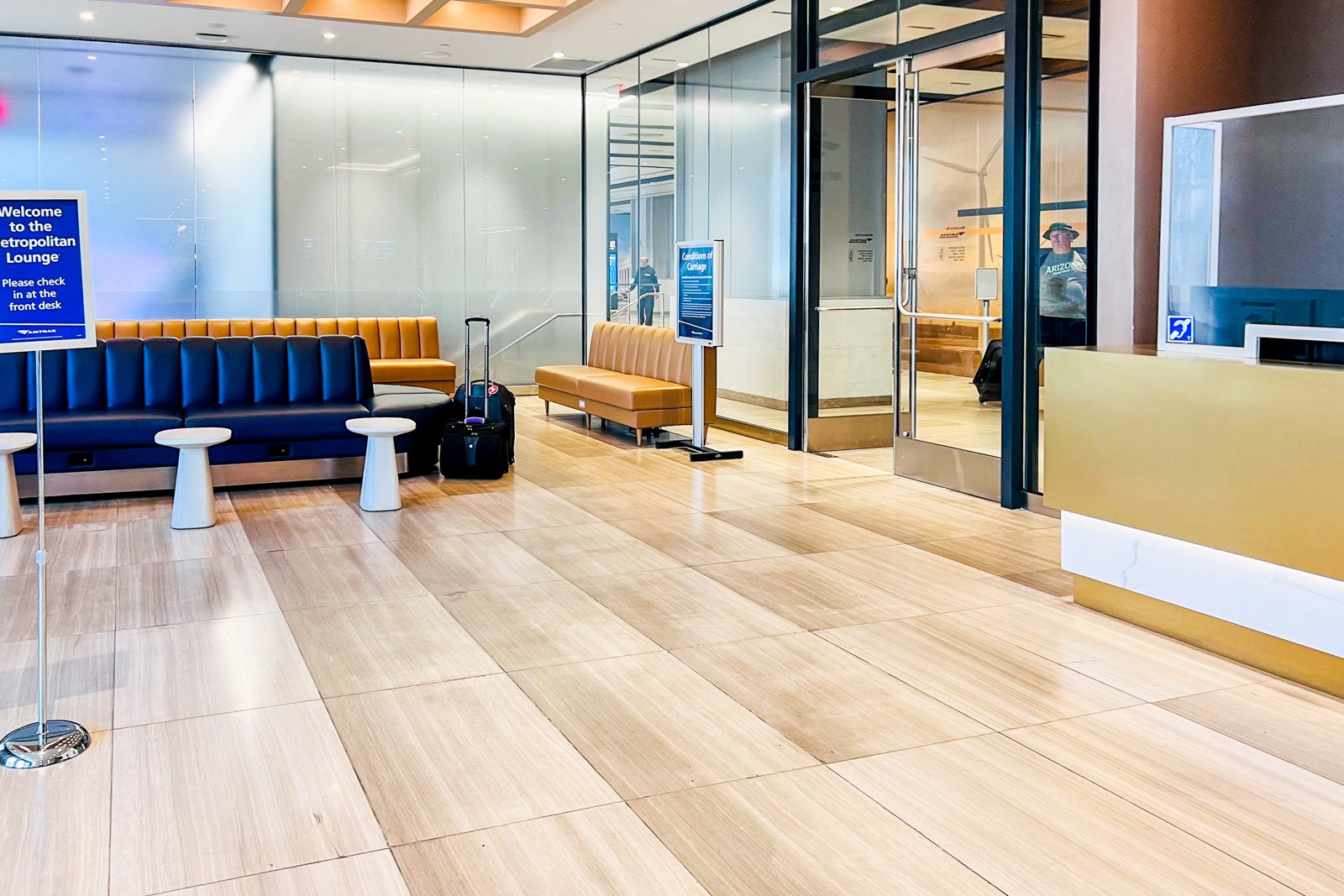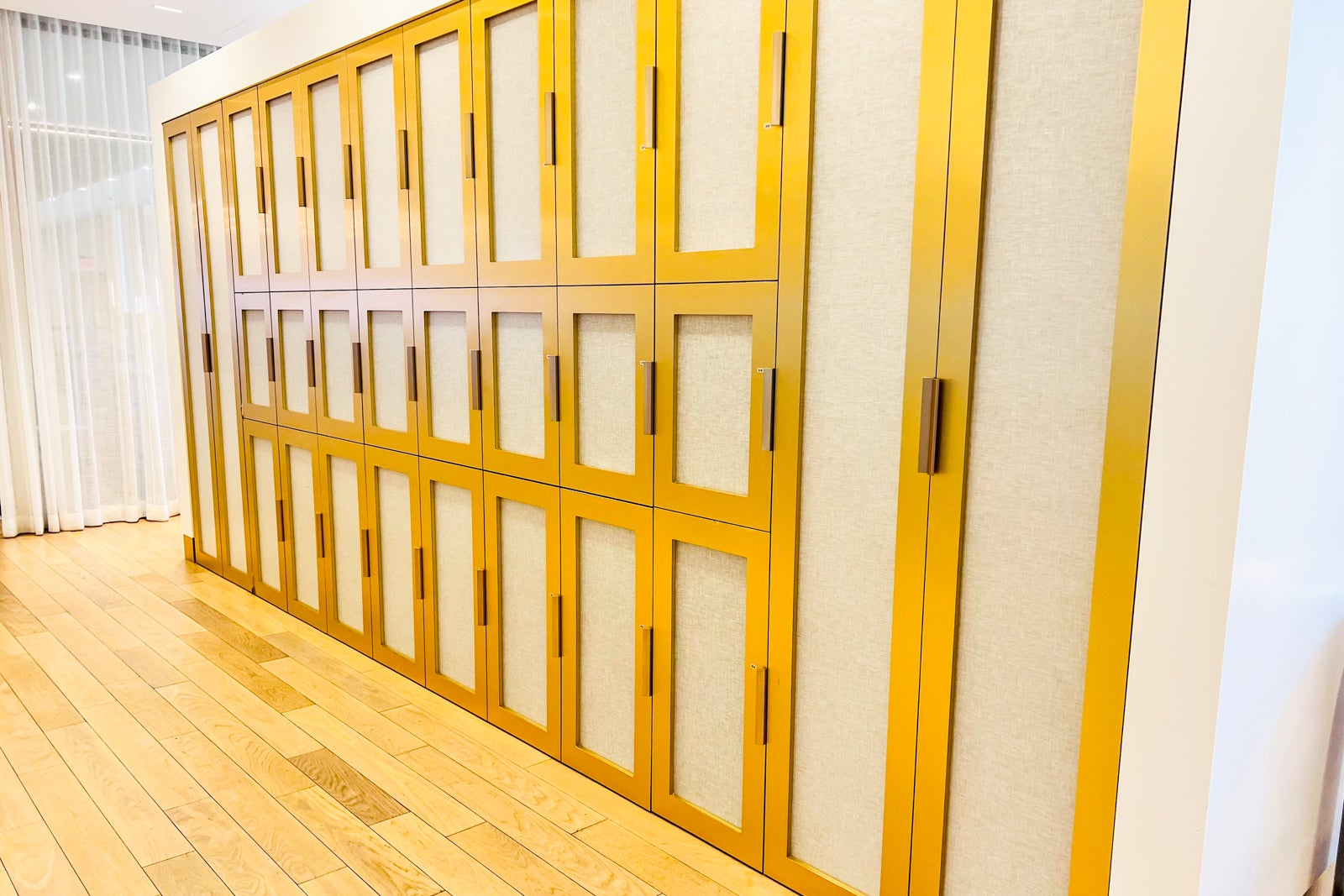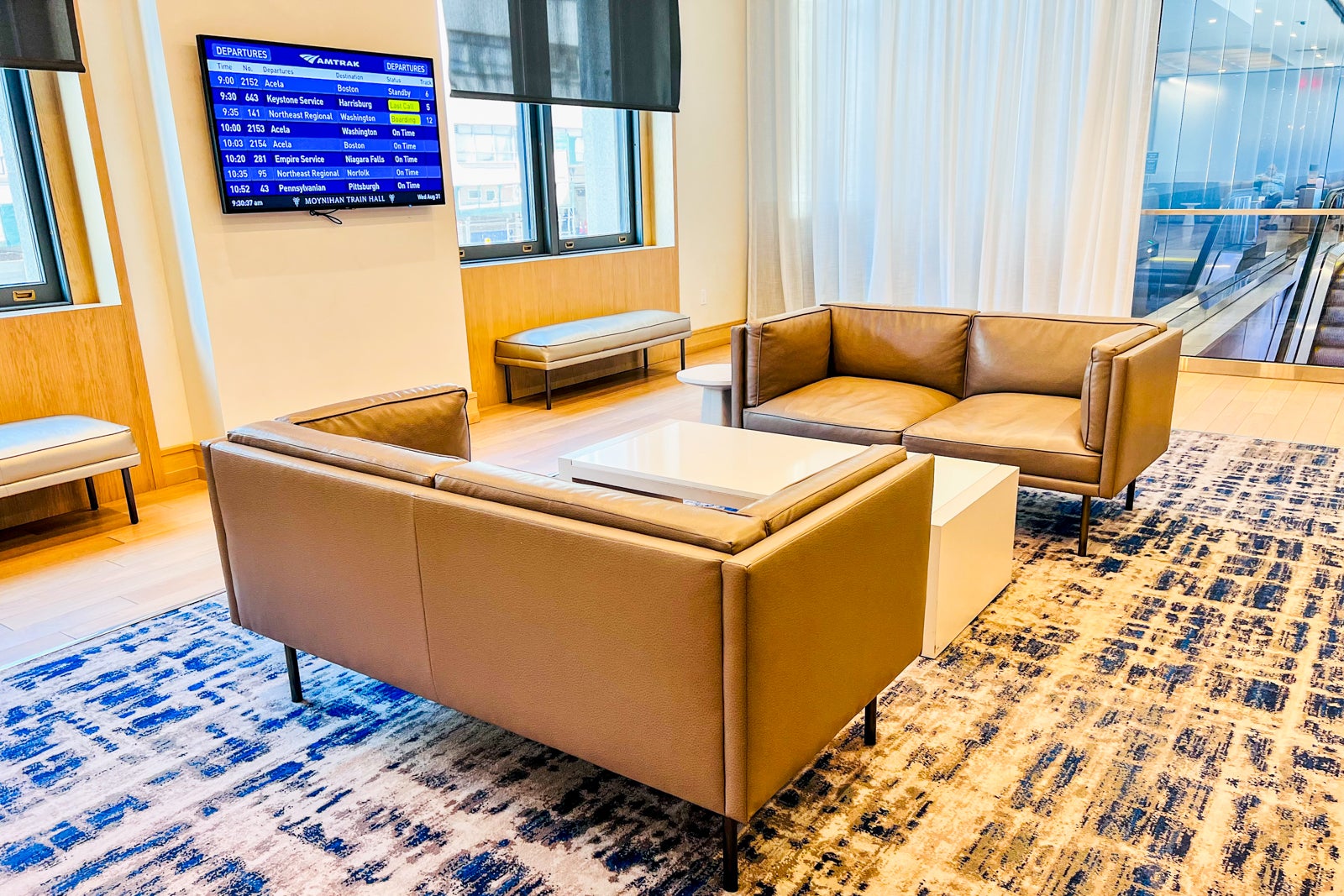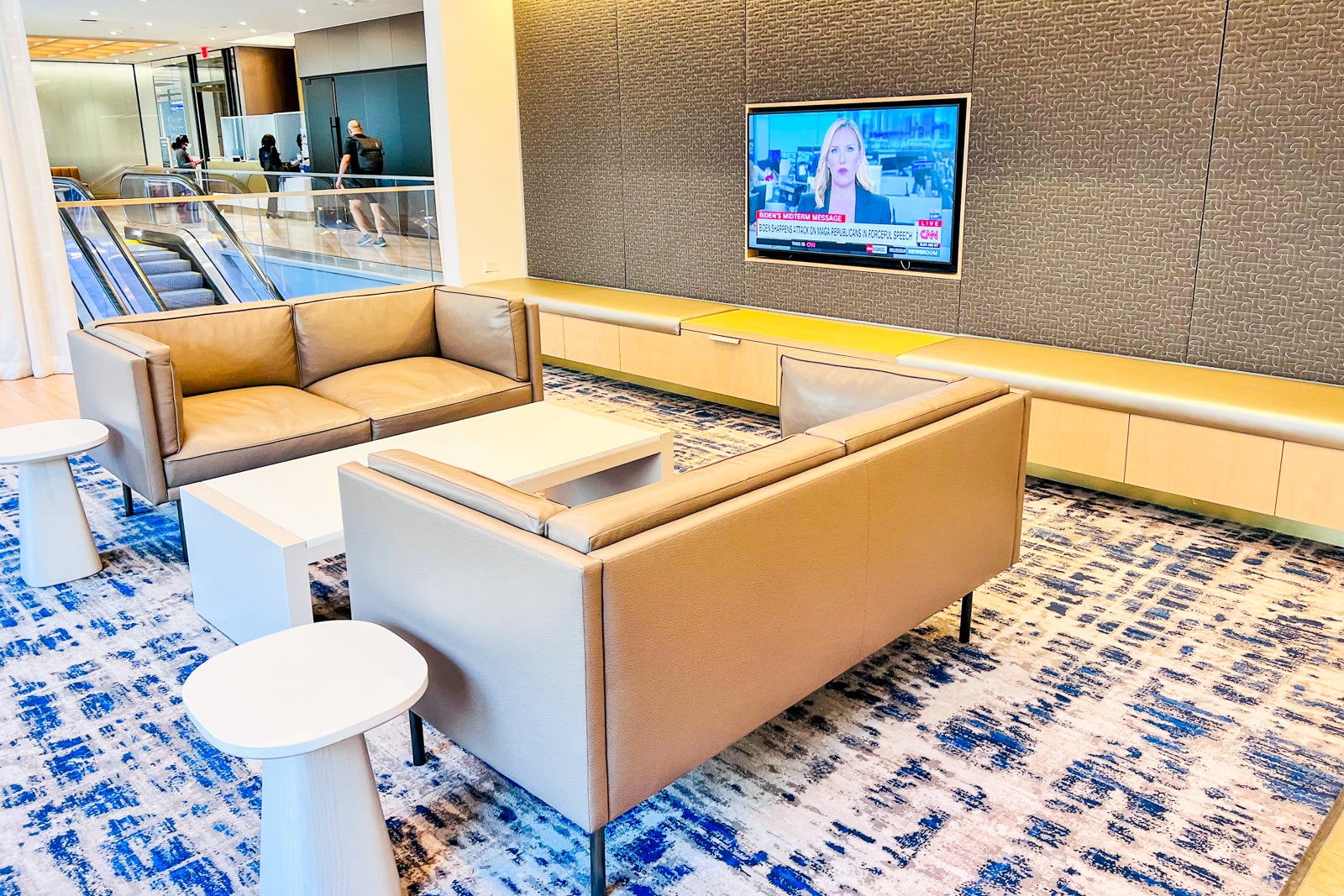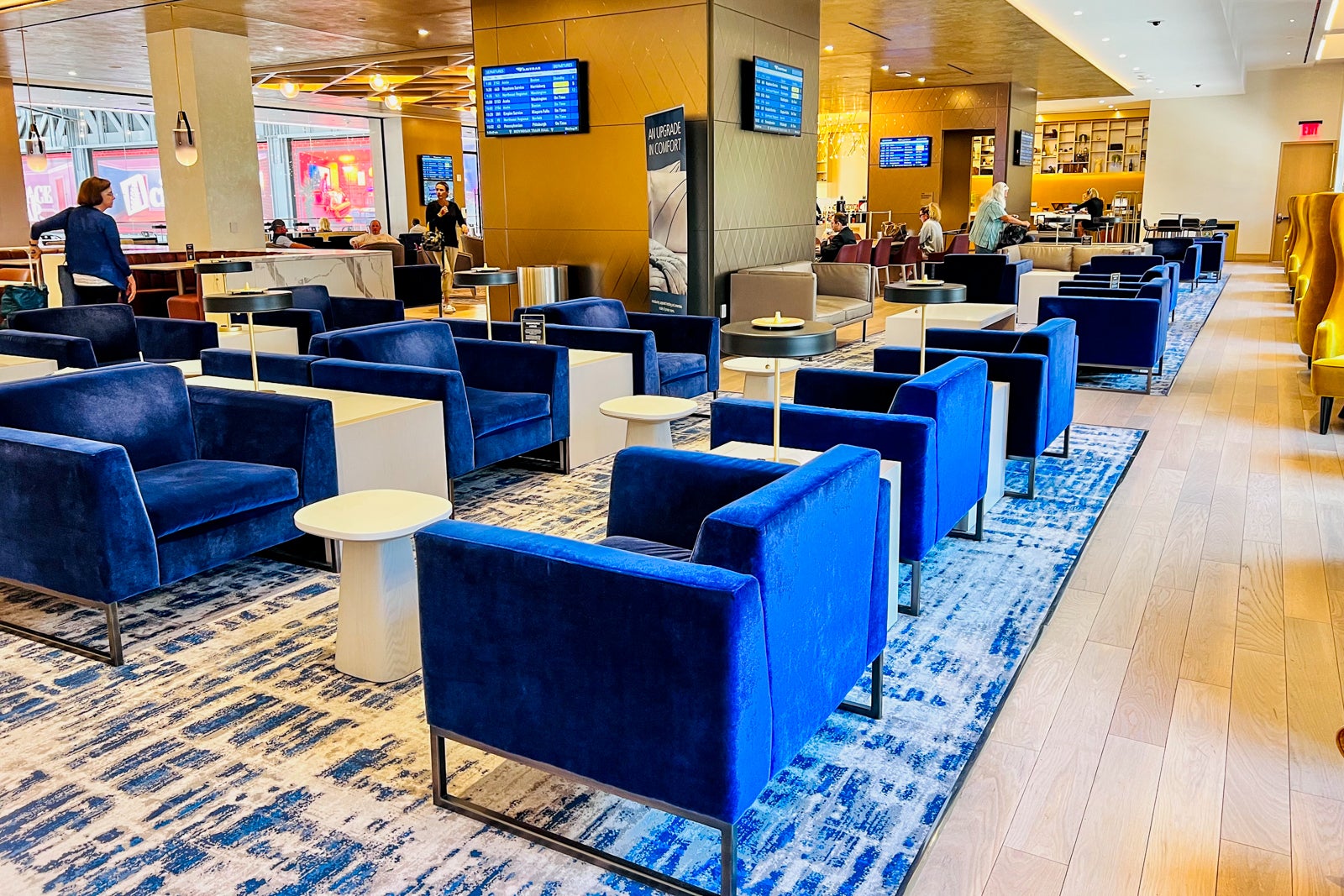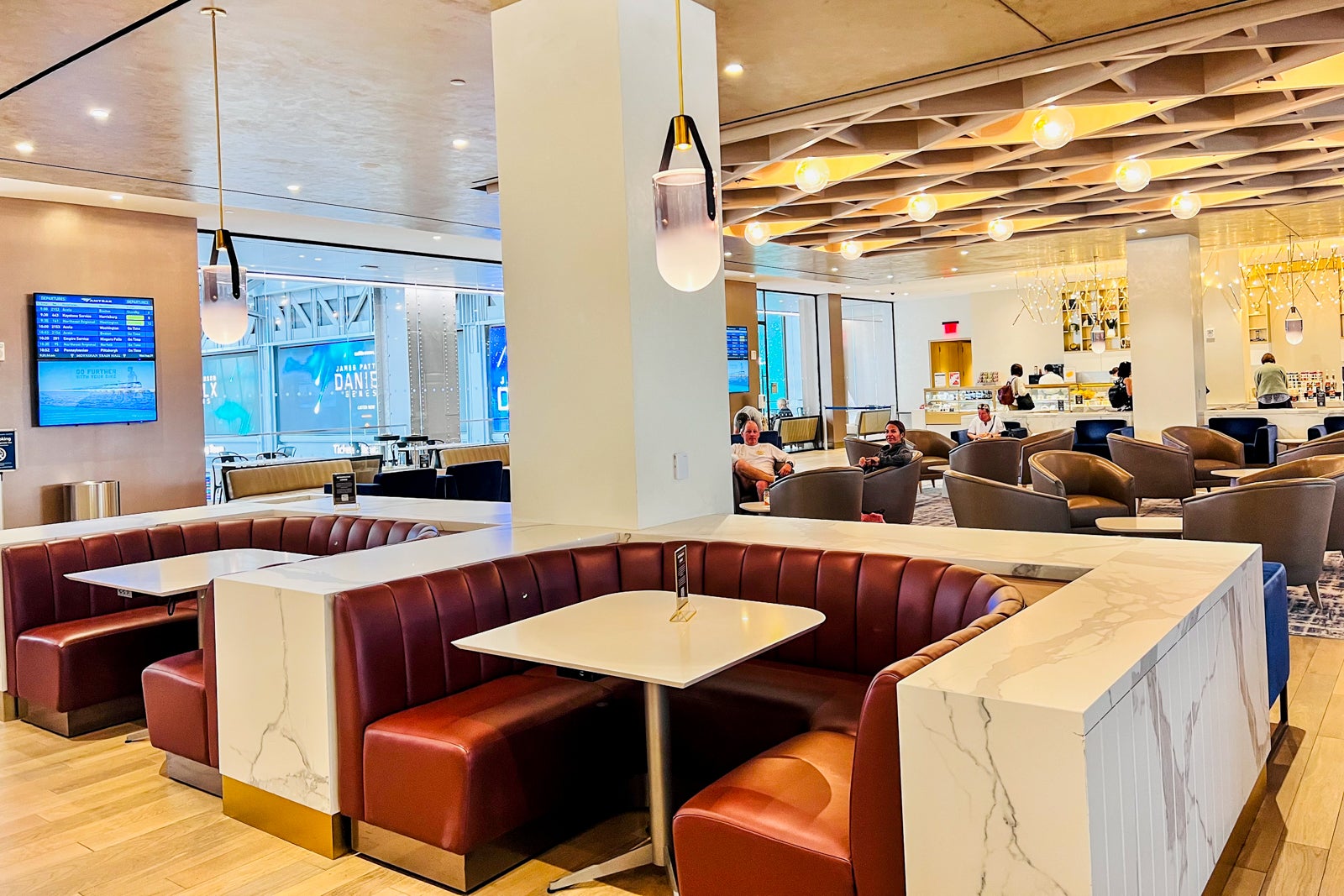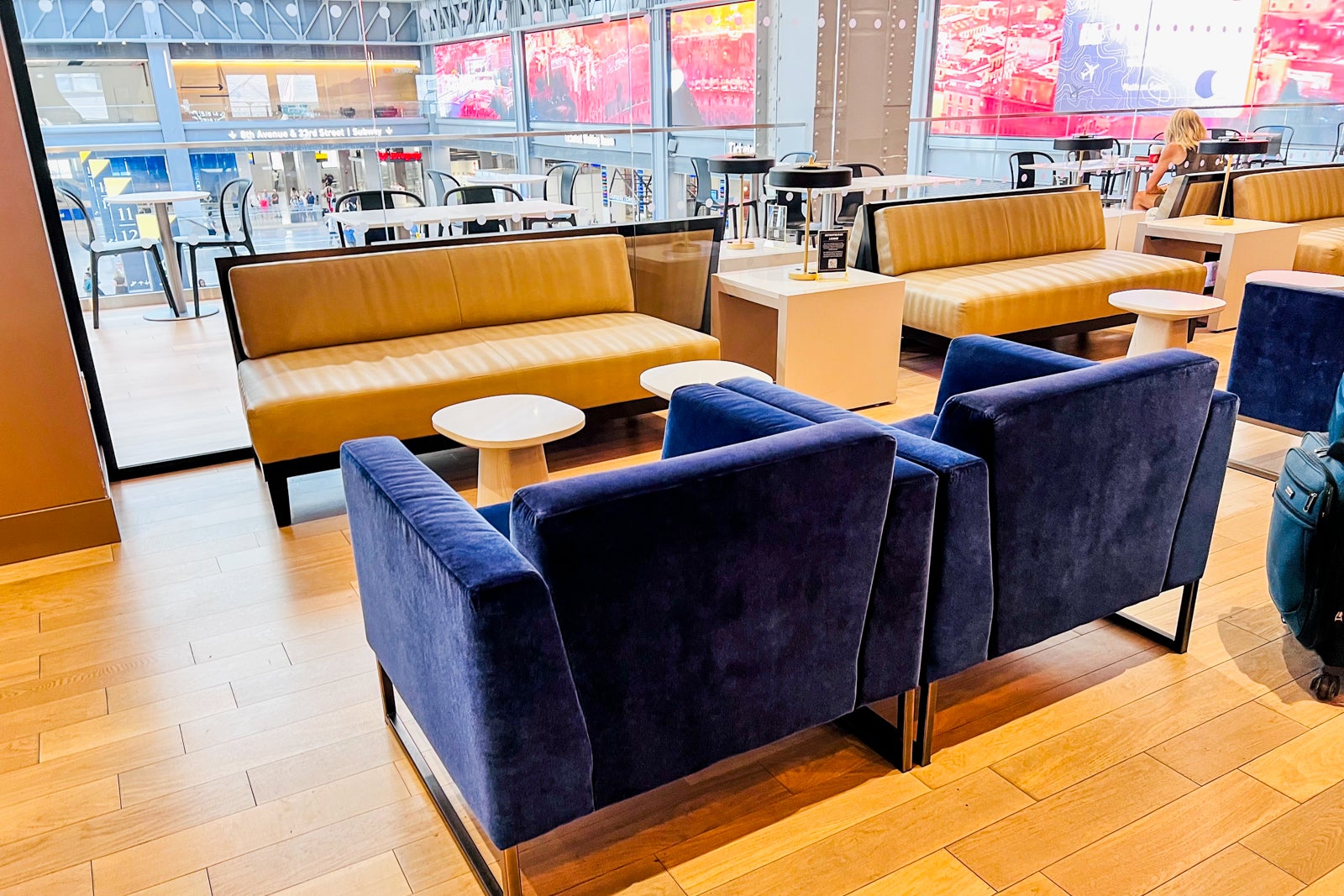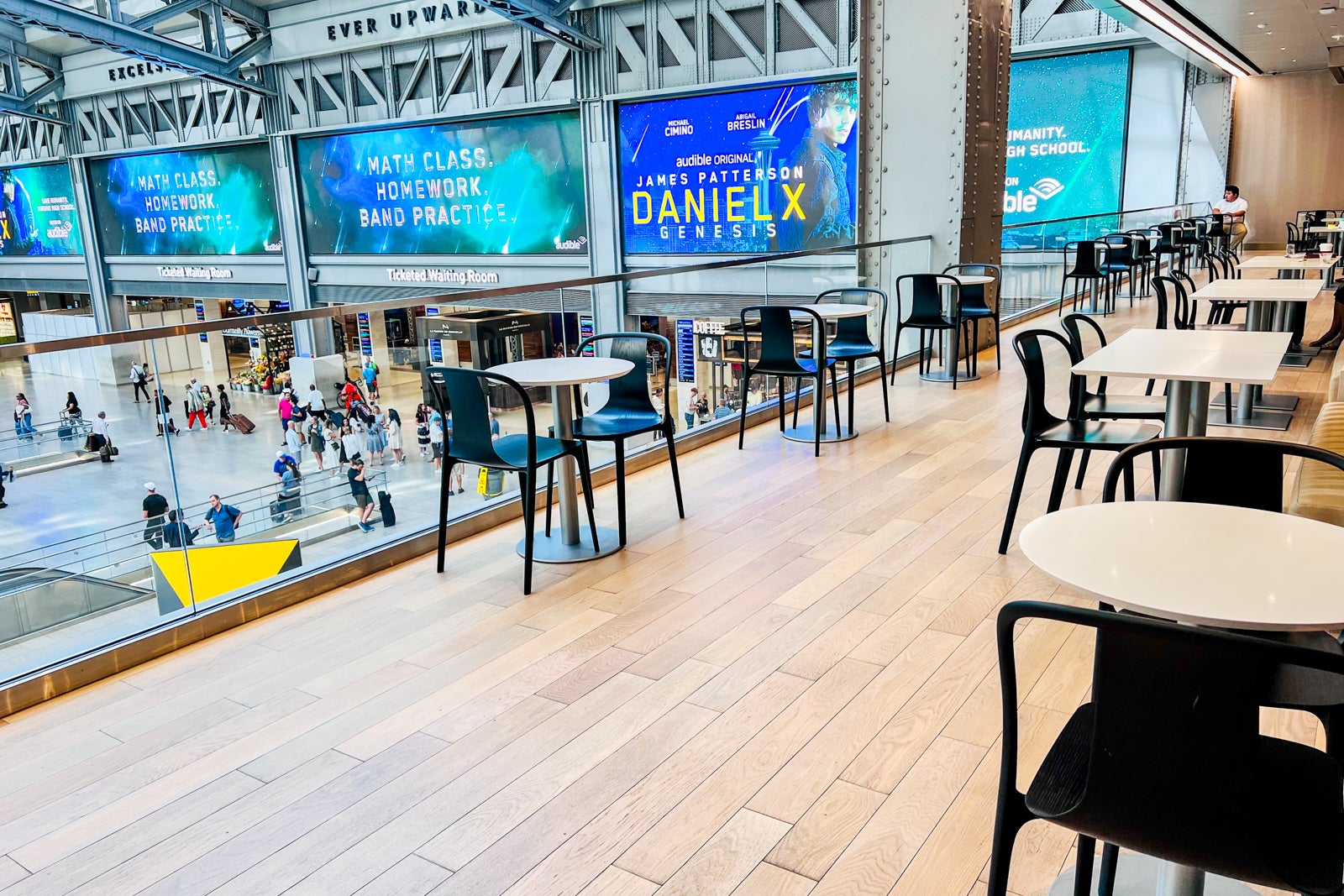 However, the most attractive area of the lounge to me was the balcony area overlooking Moynihan Hall. I thought it was actually a bit peaceful sitting on the balcony watching people rush to their train. The seating was fairly spaced out and the high ceilings in the hall did a great job of dampening the noise.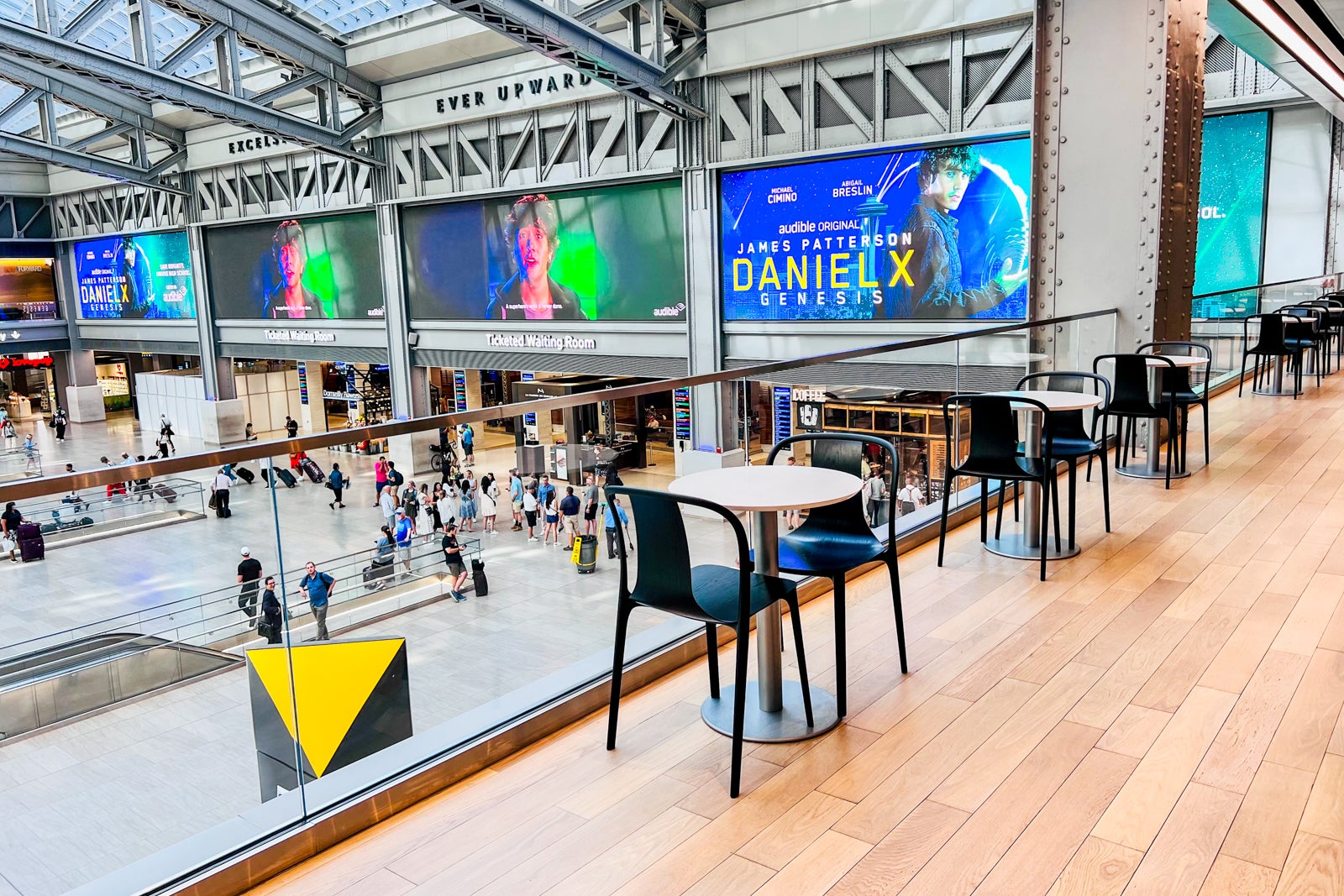 At the far end of the lounge are a number of food and beverage options. The bar area was still closed during my morning departure. The rest of the food and beverage options were a combination of self-service and items prepared by the lounge staff.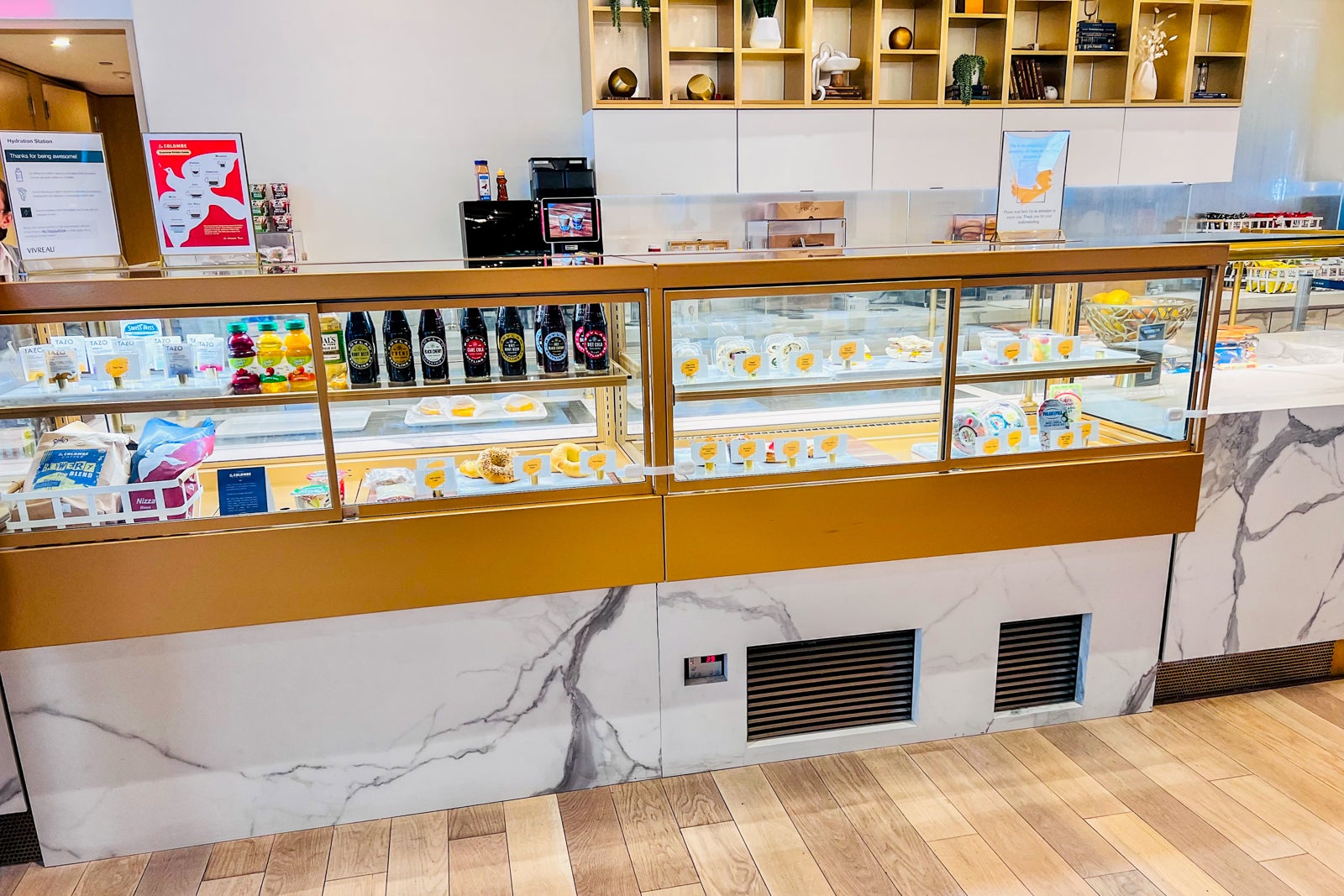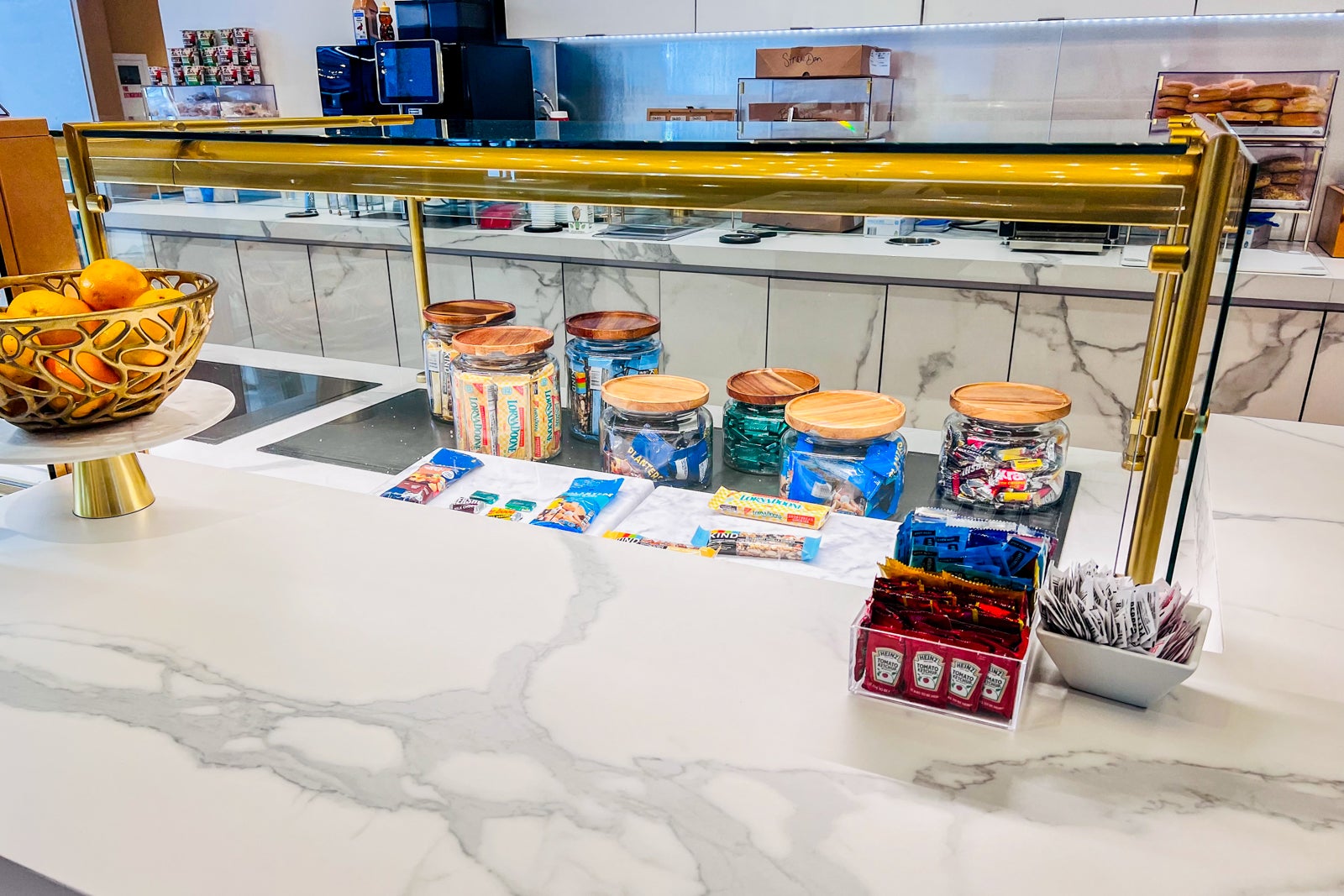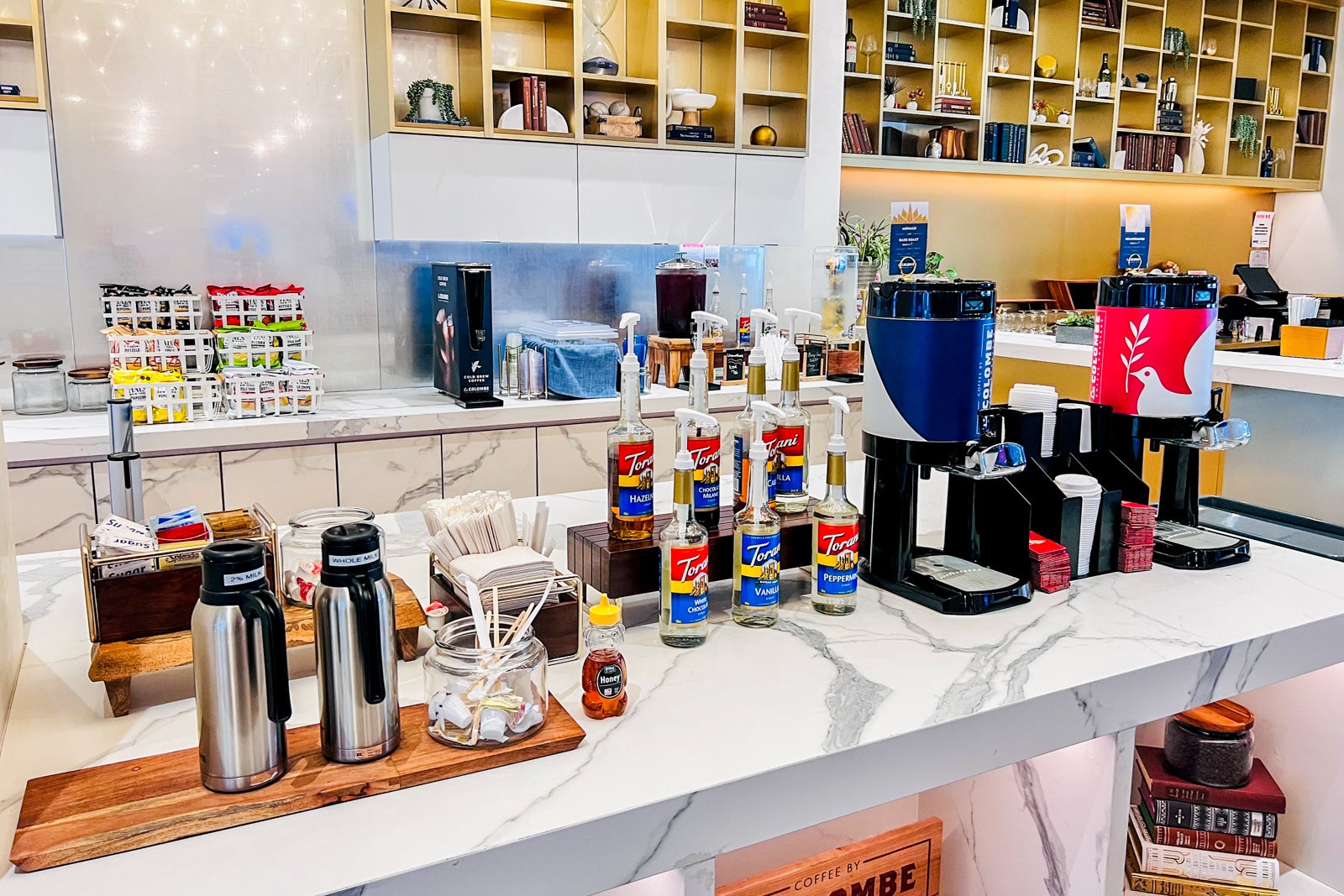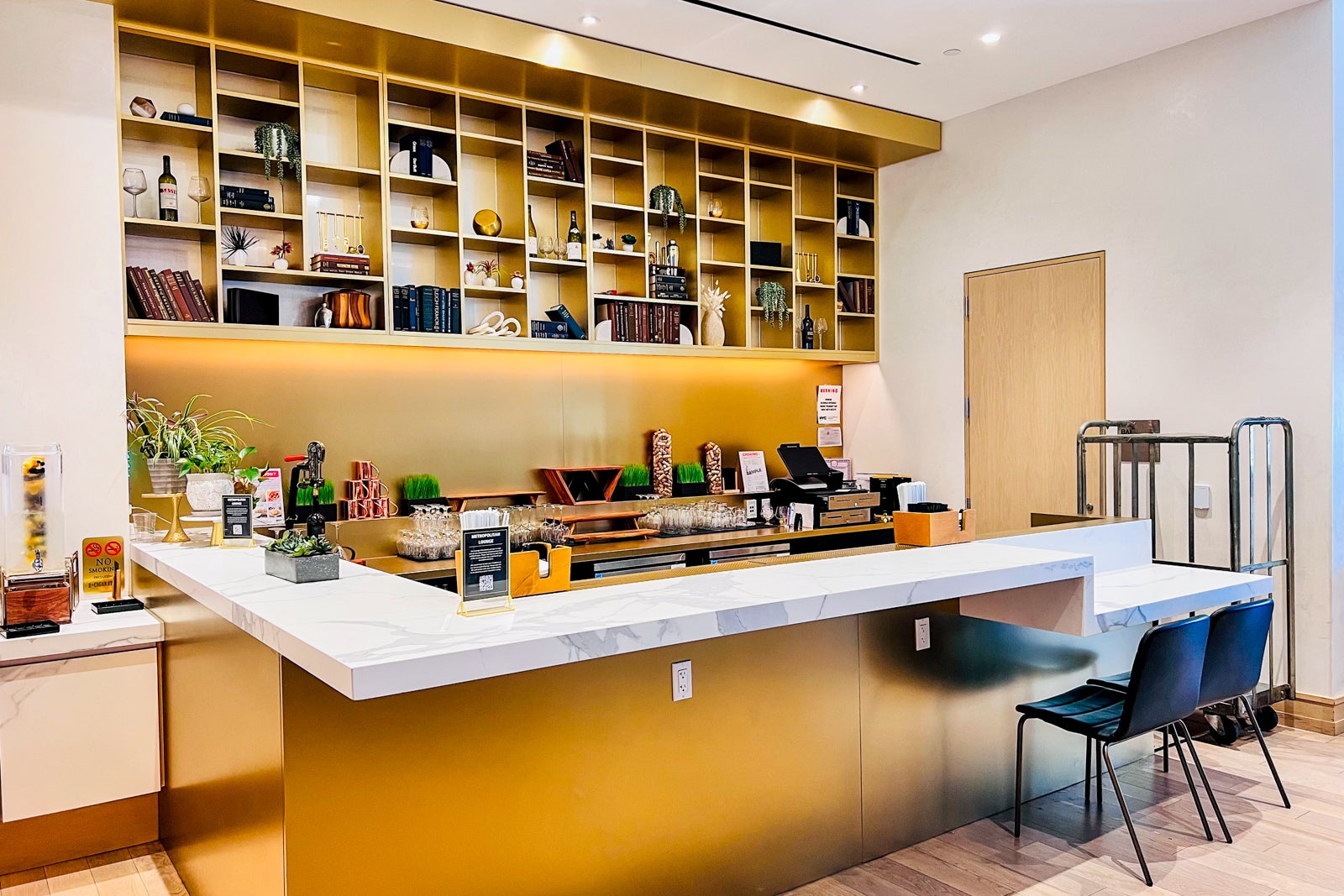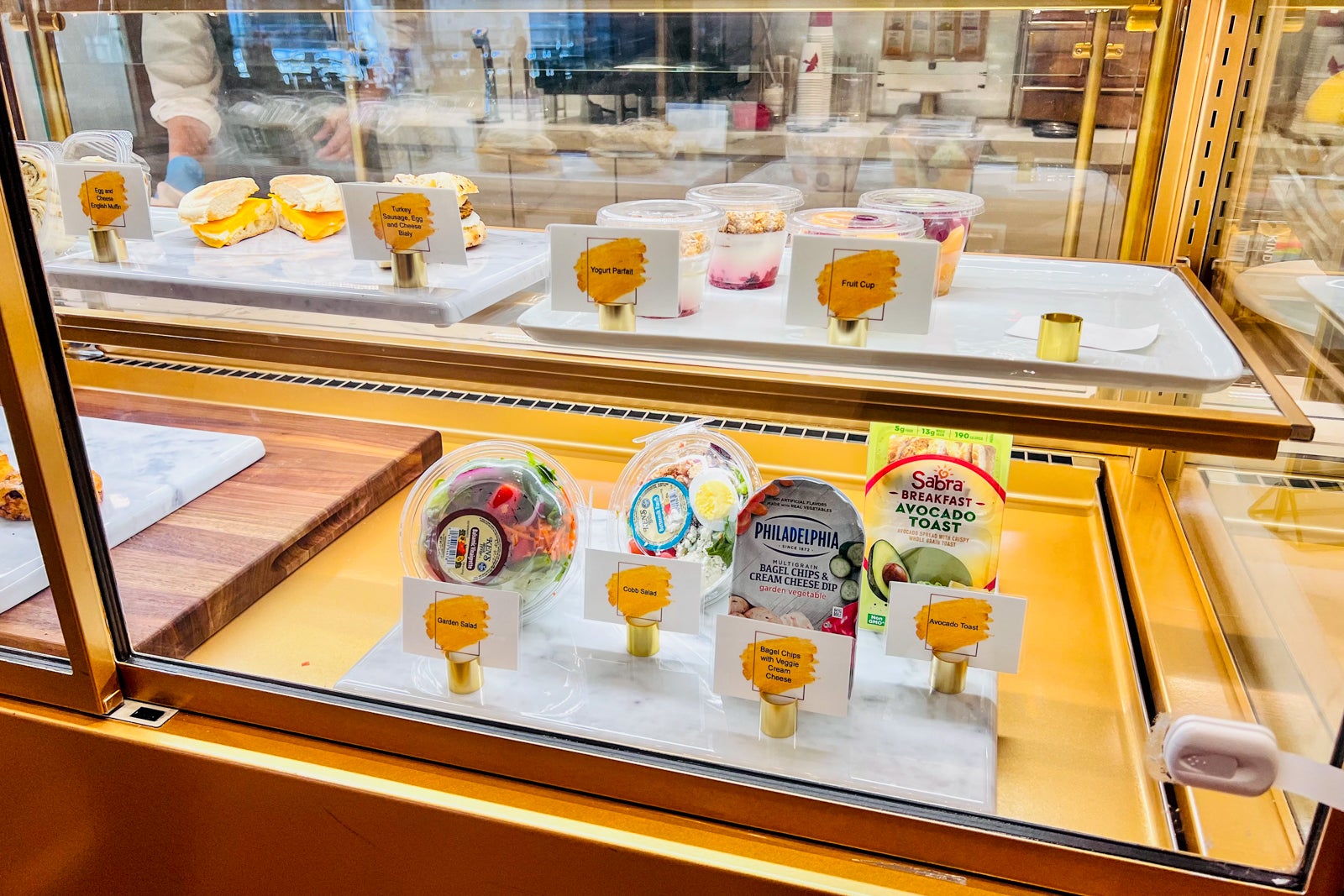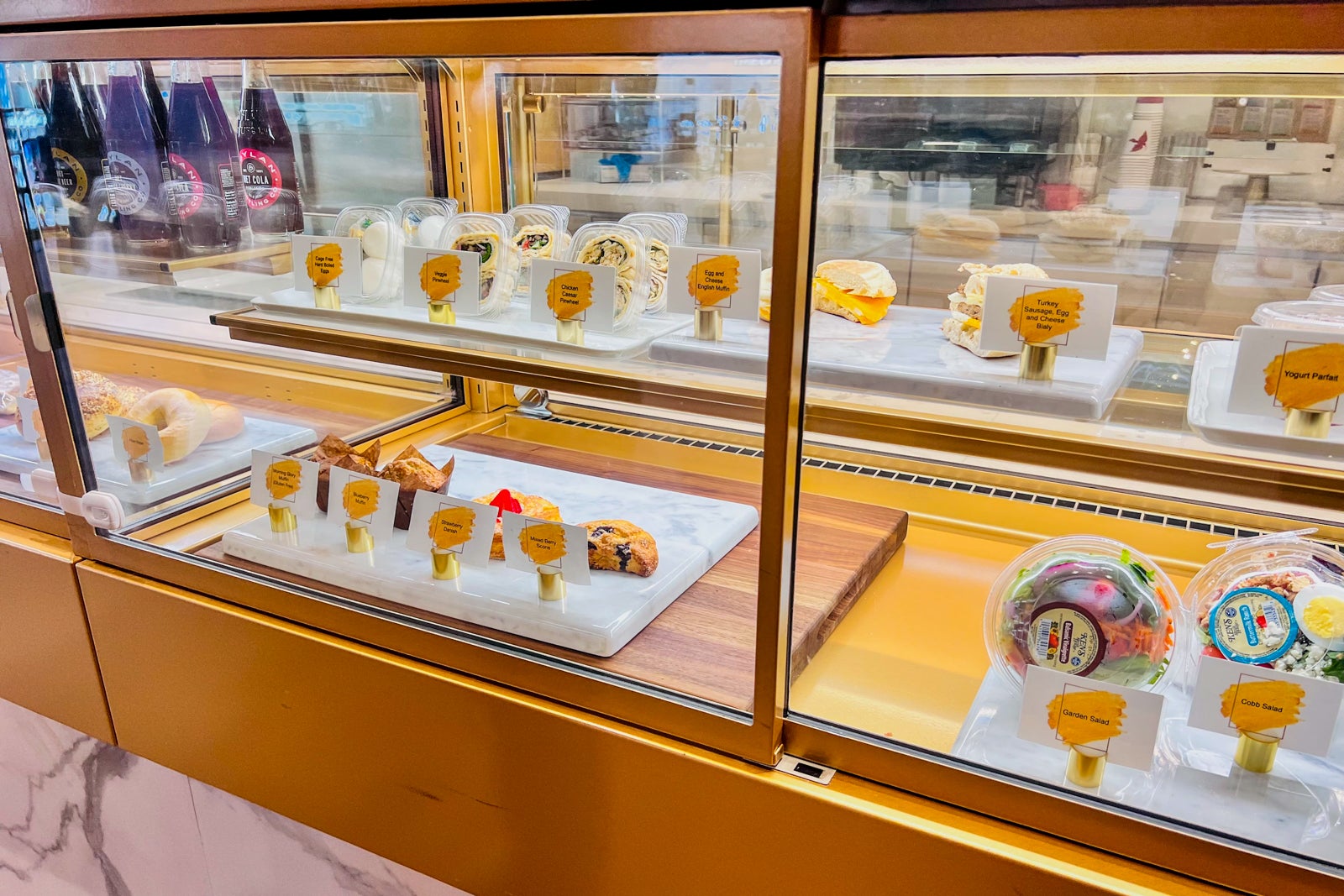 I'm no coffee connoisseur but the combination of self-service drip coffee and specialty coffees prepared by the staff should satisfy many caffeine addicts. Also, the breakfast items on offer were actually items folks would want to eat. Yogurt parfait, fresh fruit and breakfast sandwiches all looked appetizing. Grab-and-go items such as salads and pre-packaged avocado toast seemed like they would be great to take with you on the train.
Acquiring these items required assistance from staff, and it was unclear if there was any limit on how many you could request. My request for a breakfast sandwich and some bagel chips was cheerily fulfilled.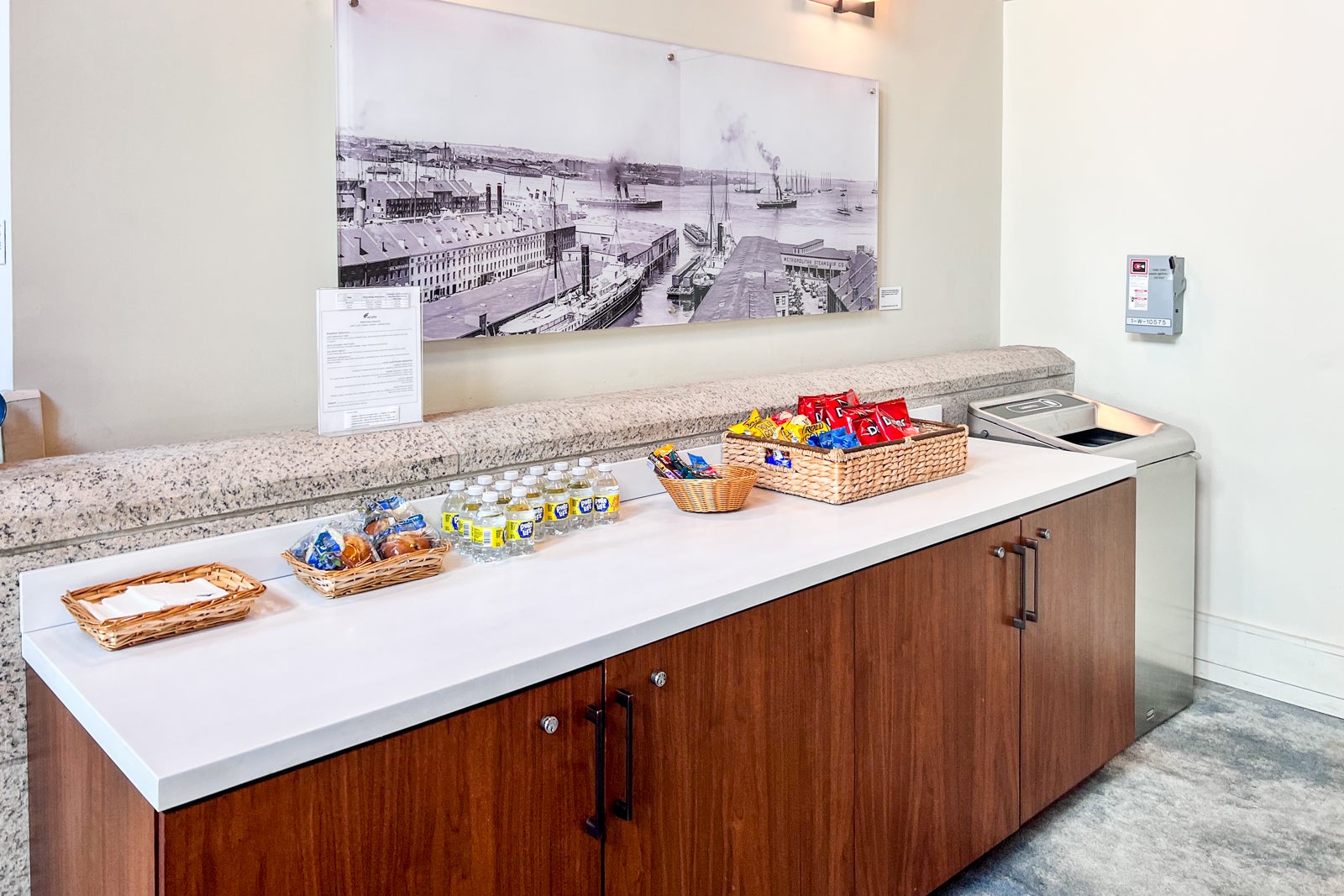 The Wi-Fi in the lounge was speedy and consistent. I didn't run a speed test but was able to work without issue for over an hour including streaming music and downloading files. There's also a small-business area if you need to use a computer or print a document.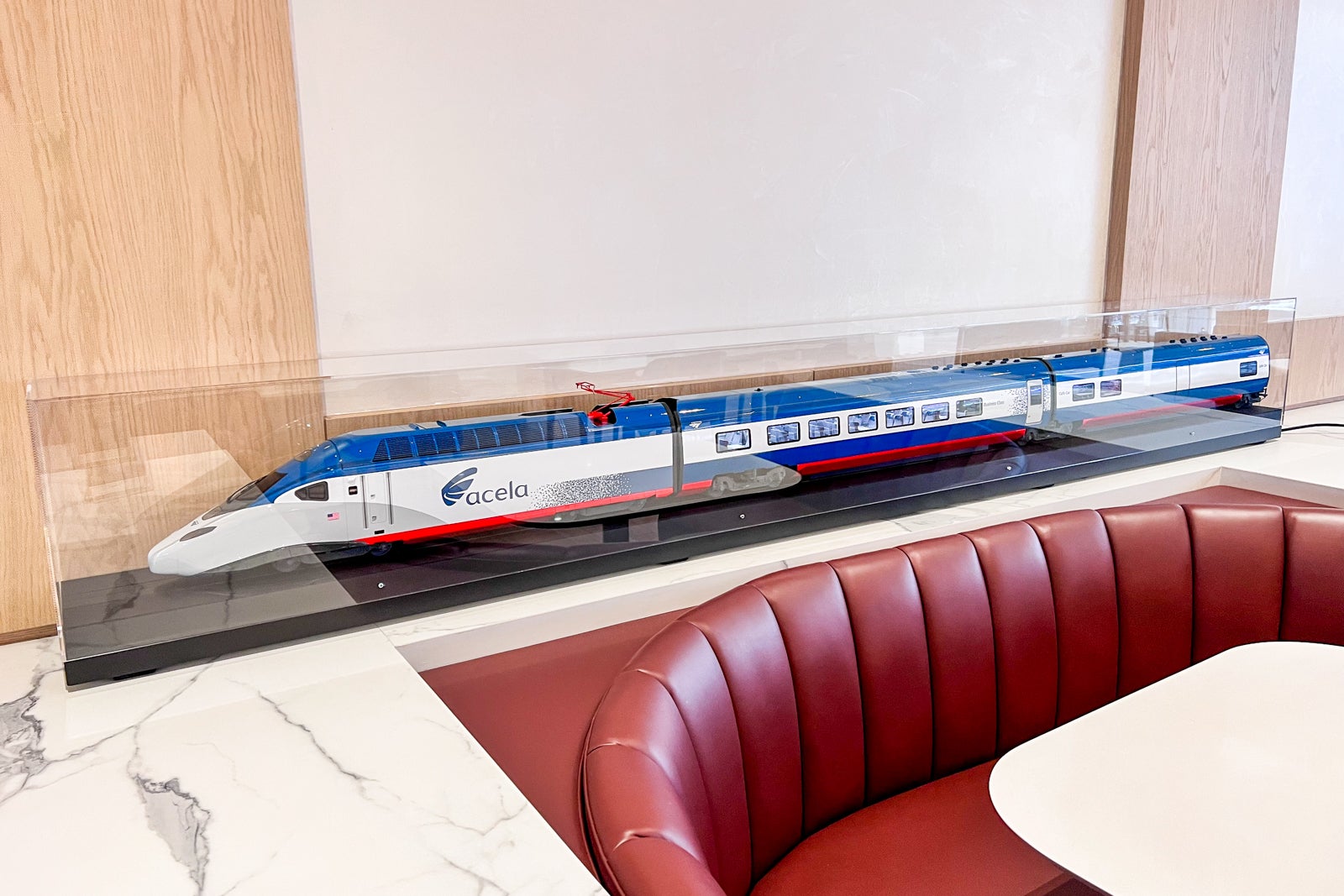 The only flaw of the lounge involved boarding my train to Washington, D.C.
As the scheduled time to board neared, I went to the front desk to inquire about the status of my train. The staff told me it was a bit delayed and that they would make an announcement once it had been assigned a track.
Unfortunately, by the time they did so general boarding had already been called in the main hall.
One of the few downsides to Moynihan Hall is that it didn't actually add more train capacity to Penn Station. It just expanded (and greatly improved) the waiting area. In the former Penn Station, there were multiple staircases for most train platforms. That's not the case for boarding trains in Moynihan Hall. Without a dedicated entrance from the lounge to the tracks, you are left to fight through the crowds like everyone else.
New York to Washington in Amtrak Acela first class
Unsurprisingly, the first-class cabin on my ride to Washington, D.C., was identical to the cabin on my train from Boston earlier in the week.
On this occasion, I was not offered a bottle of Fiji when I boarded. I requested one as our train left the station and a staff member brought it to me after handing out menus.
I chose eggs for breakfast from a number of seemingly underwhelming options, figuring it would be the safest. Unfortunately, the eggs were pretty bad.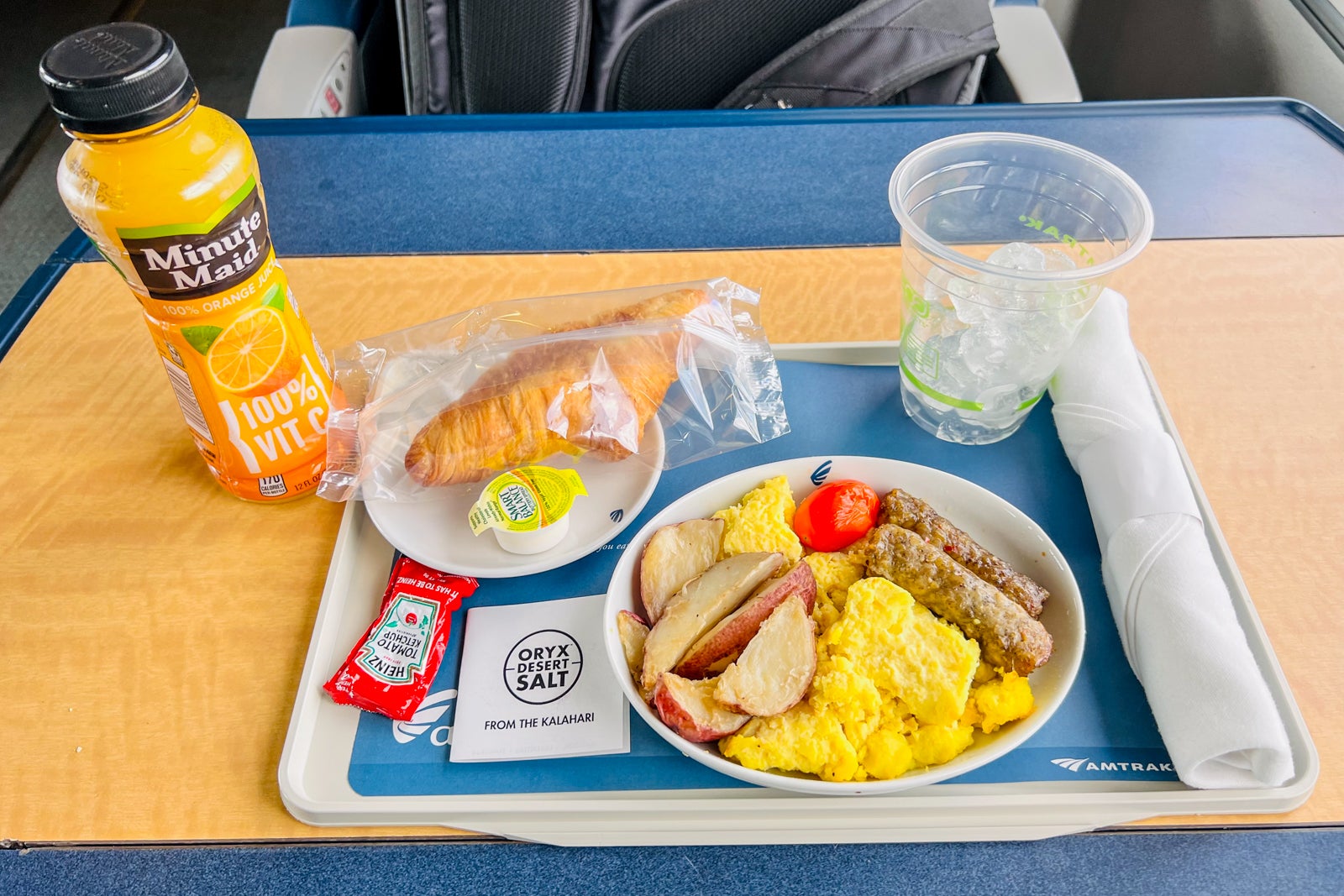 Seasoned business travelers know not to rely on the airlines for high-quality nourishment, and the same rule seems to hold true for Amtrak's first-class cuisine. A freshly prepared breakfast sandwich in the cafe car would have likely been a better option.
The rest of my voyage from New York to Washington, D.C., was uneventful. The first-class car was almost completely full and the service largely concluded shortly after breakfast was served.
Bottom line
My two first-class experiences on Amtrak were a mixed bag, mostly lacking in value for the extra fare I paid.
The onboard experience is remarkably similar to purchasing a standard business-class fare. The seats are exactly the same other than a different color of the leather. Seat spacing is also exactly the same, and the meal service is underwhelming.
The lounge in Boston is quiet but the space is tired. The lounge at Moynihan Hall, on the other hand, is spectacular, arguably rivaling any domestic U.S. airport lounge run by the airlines (the only exception being the AMEX Centurion lounges).
However, there's still one important difference between an airport lounge and a lounge at a train station. Security at airports requires early arrival, and connecting flights are common. Delays can lead to extended airport time that can be turned into productive time in a lounge.
The advantage of train travel over a flight is the ability to show up last minute. In fact, many business travelers cite the primary upside of the Acela line being as a time-saver.
Instead of taking a car or subway to an airport outside of Manhattan, it's easy to work a full day and run to catch a train, arriving with only minutes to spare.
At least for this business traveler, arriving early for a first-class train ride isn't something I plan on doing in the future.