While most travelers purchase airline tickets directly from the carrier or through a third-party booking site, some American Airlines flyers have historically used a special program to make flight bookings.
This program, dubbed AirPass, offered individuals and small businesses the ability to pre-purchase travel with American at fixed rates. The program was designed to help frequent travelers manage travel costs — especially travelers who often made last-minute bookings and changes to their plans.
In fact, AirPass was a great way to pick up a ton of perks for flying with American, without actually stepping foot on a plane. Depending on how much money you deposited (membership typically required at least $10,000 in funding), you could enjoy benefits such as instant upgrades, preferred and Main Cabin Extra seating, Admirals Club access and even AAdvantage status. Deposits of $50,000 or more earned you invite-only Concierge Key status.
American even recently improved the AirPass program with several new perks, including the ability to book AirPass flights on select partners and a complimentary annual Wi-Fi subscription beginning in 2021.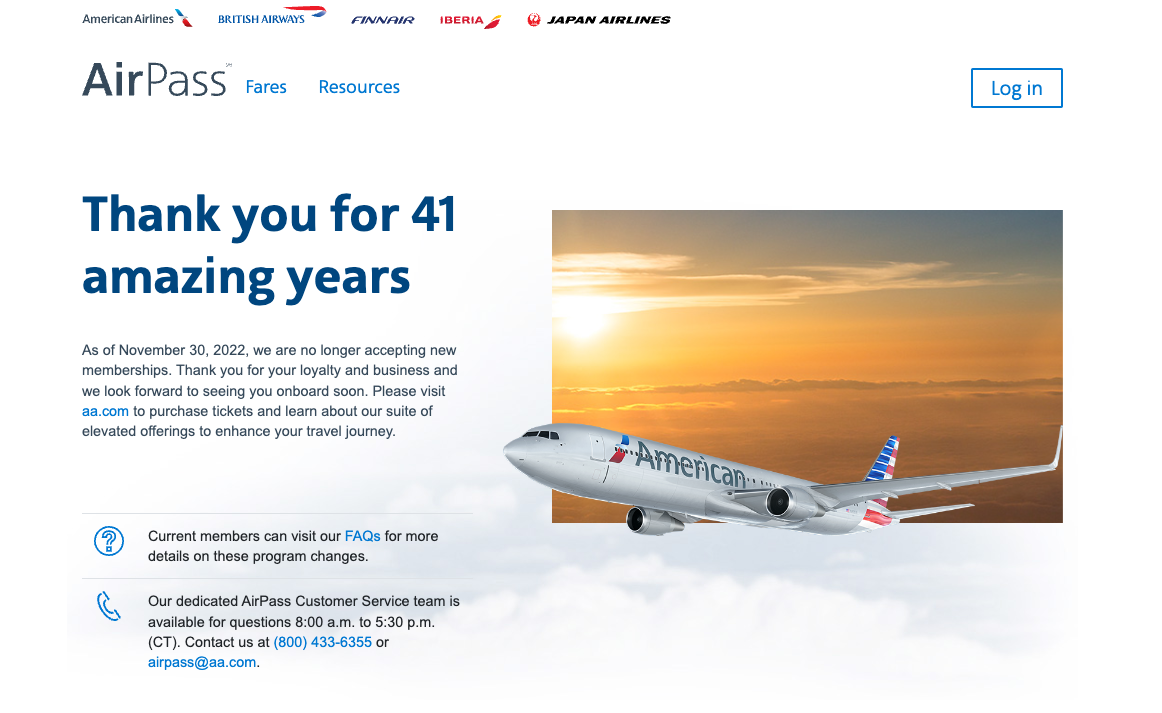 Now, after 41 years, American is scrapping the program for good. In a statement shared with TPG, a carrier spokesperson said:
Beginning November 30, the AirPass program will no longer accepting any new or renewal contracts or any additional fund deposits. All customers with current contracts will be able to use their remaining funds or request a refund between now and the end of their contract period. American will continue to honor its commitments to Lifetime AirPass members.
Existing AirPass customers can either use their remaining funds or request a refund, which will be processed within three weeks. No new memberships are available for purchase, and the airline's dedicated website has been updated to reflect the cut.
American posted a detailed FAQ page for affected travelers.
It wasn't clear why American decided to make the cut. Perhaps the program wasn't getting as much business as American hoped, or the airline found that it no longer made sense to maintain the offerings due to the increased demand and high fares we've seen in recent months.