About a month ago, Alaska Airlines published a new partner award chart for Mileage Plan partner redemptions. As part of the new award chart, Alaska only lists starting award rates for flights originating in the U.S. or Canada. For destinations outside the U.S. or Canada, Mileage Plan advises its members to "search for your desired destination and dates to view pricing."
This gives Alaska Mileage Plan the ability to charge whatever price it chooses, which is the essence of dynamic pricing.
Many expected the "simplified" award charts to be the start of a major Alaska Mileage Plan devaluation. So it's not all that surprising that Alaska has seemingly devalued British Airways awards, as first reported by View from the Wing.
A price increase for some British Airways-operated awards
Previously, Alaska charged the following prices on nonstop British Airways departures from the United States:
Economy class: 32,500 miles.
Premium economy: 42,500 miles.
Business class: 57,500 miles.
While these award prices currently seem unchanged on East coast departures from airports like New York's John F. Kennedy International Airport (JFK), Washington's Dulles International Airport (IAD) and Miami International Airport (MIA), Alaska Mileage Plan is charging more for at least some non-East coast departures. Here are the new award prices we're seeing:
Economy class: 35,000 miles.
Premium economy: 45,000 miles.
Business class: 65,000 miles.

In our tests, Alaska charges the increased award prices on at least some nonstop flights west of and including Nashville International Airport (BNA). That means you'll likely need to redeem more Alaska miles to fly on British Airways on nonstop departures from airports like Chicago's O'Hare International Airport (ORD), Louis Armstrong New Orleans International Airport (MSY), Houston's George Bush Intercontinental Airport (IAH) and Los Angeles International Airport (LAX).
Remember, Alaska has full control over its award rates. So you might find different prices when you search.
Related: 5 ways the TPG staff would redeem 70,000 Alaska miles
More miles for some connecting flights
In addition, Alaska is now charging more miles for some connecting flights. If you add a layover to your award, you may need to redeem at least 5,000 more miles. Here's an example from Chicago to Rome Fiumicino Leonardo da Vinci Airport (FCO).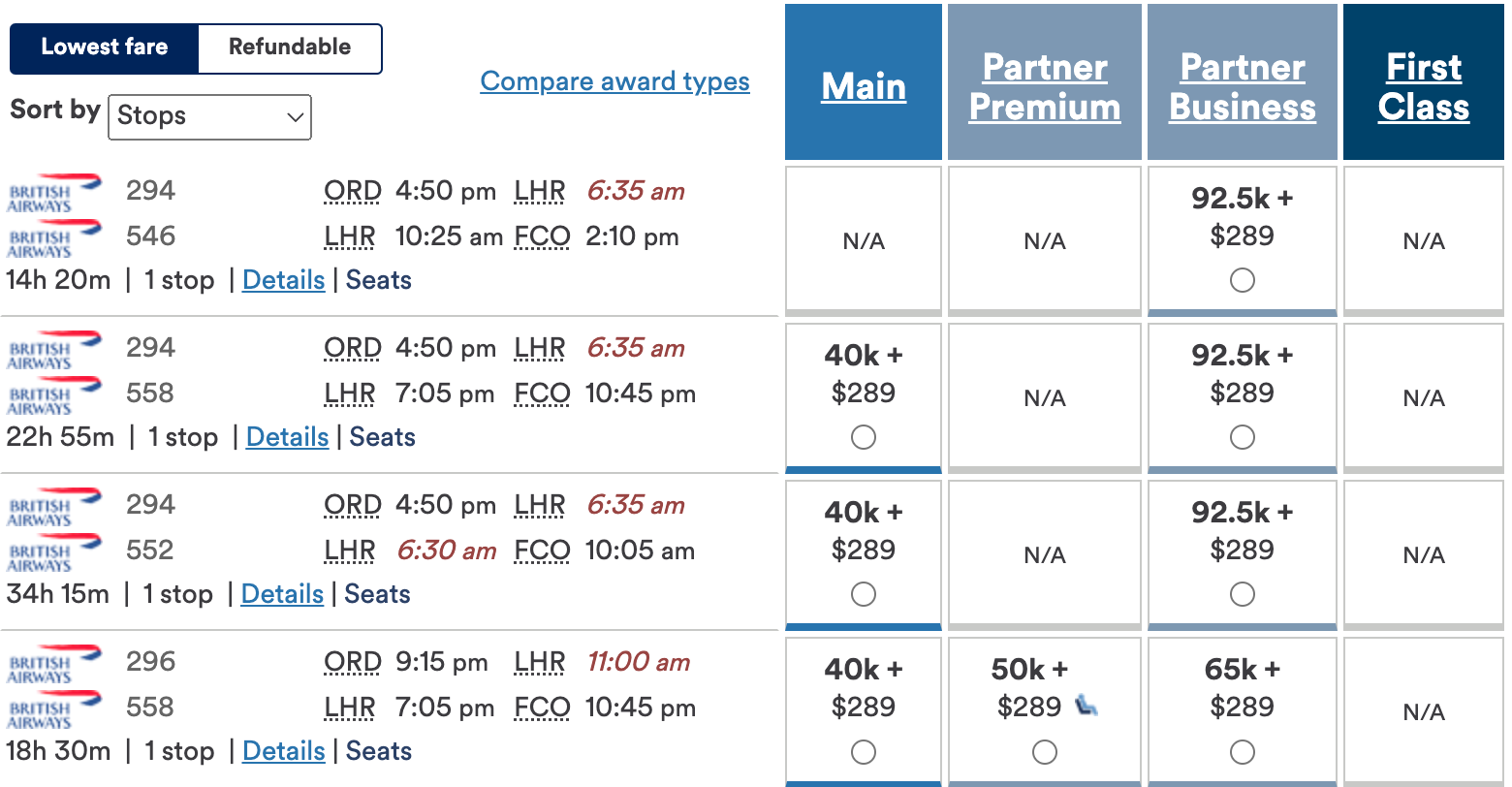 In this case, Alaska Mileage Plan charges a whopping 92,500 miles one-way for a business-class award. On a later departure, you'd need to redeem 65,000 miles for a one-way business-class award. This example highlights the extreme volatility of partner Mileage Plan awards.
The price of taxes and fees also seem to have changed on some British Airways-operated awards. For example, taxes and fees on some London departures are around $250 for close-in award tickets. But this summer, we're seeing taxes and fees increase to almost $900 one-way. Alaska could be adjusting its taxes and fees on a seasonal basis.
Here's an example of this: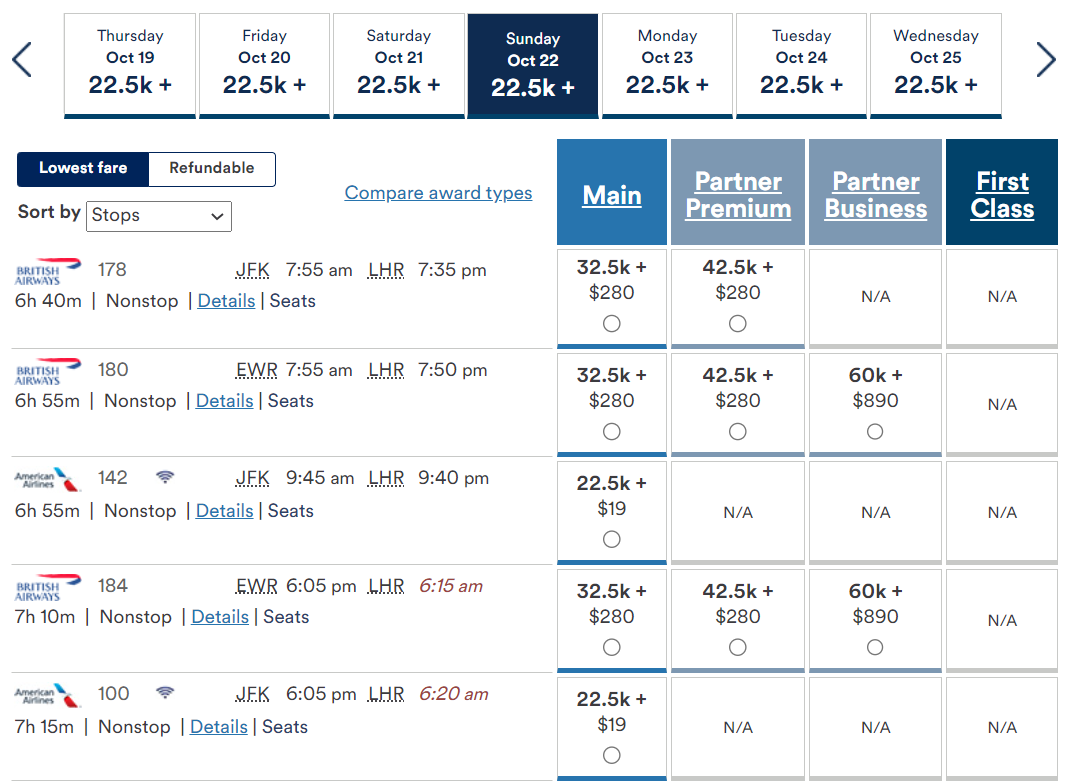 Again, due to dynamic pricing, you might find different prices when you search.
Related: How to book free stopovers with Alaska Airlines Mileage Plan
Other partner flights are also more expensive
You might also find other partner flights now cost more Alaska miles than before. Here's an example from Los Angeles to Delhi Indira Gandhi International Airport (DEL).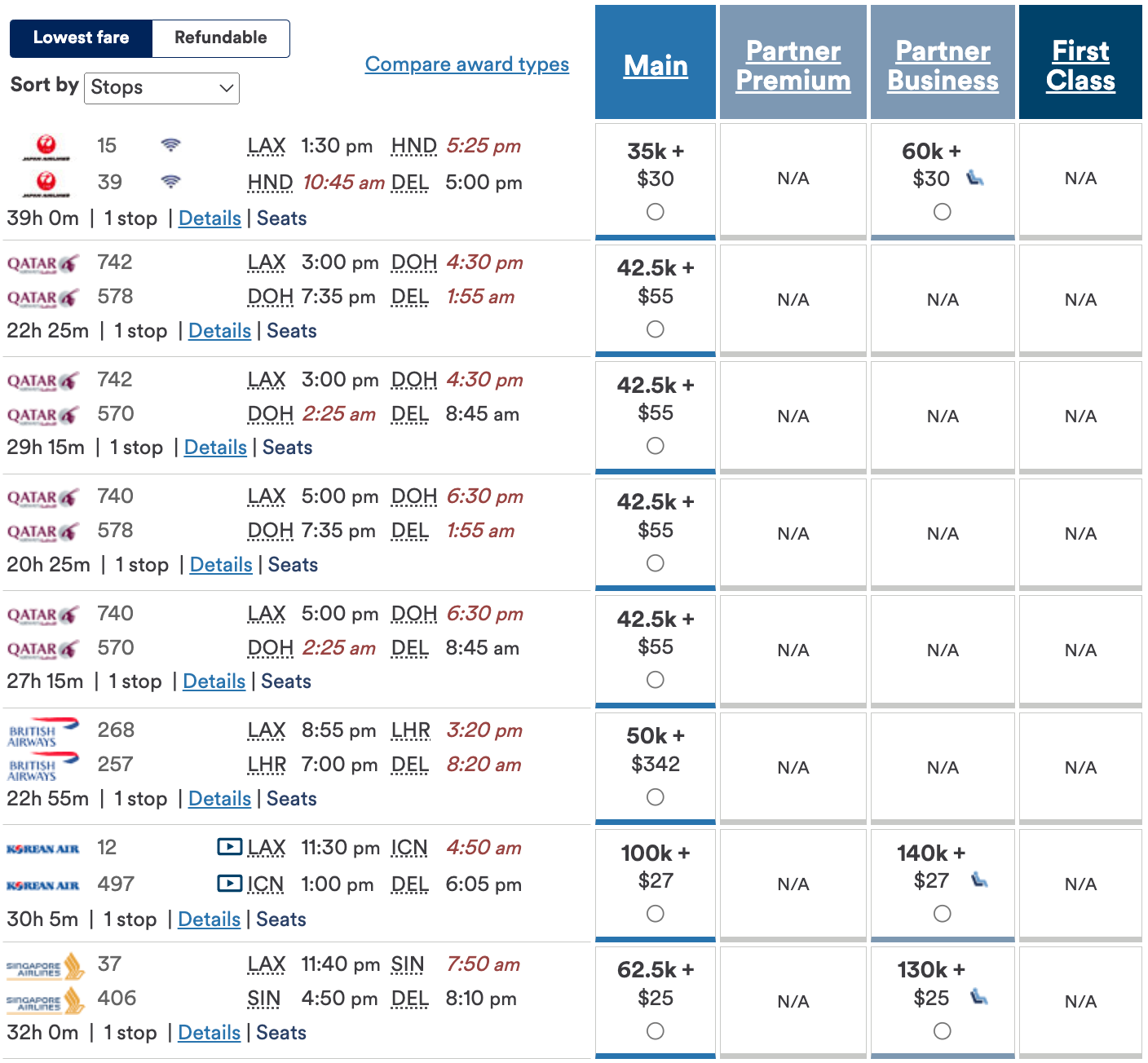 In this case, you can see how each itinerary has a different price. This example highlights that Alaska Airlines still seems to use different award charts for each partner despite no longer sharing these award charts with its members.
View from the Wing reported Alaska awards from the U.S. to India on Japan Airlines have increased by 5,000 miles and 10,000 miles in business and first class, respectively. Additionally, you might find higher award rates on certain connecting routes operated by Cathay Pacific.
Related: Your complete guide to earning and redeeming with Alaska Airlines Mileage Plan
Bottom line
You may have to redeem more Alaska miles on flights operated by Mileage Plan partners to destinations like Europe and Asia. Unfortunately, this has a negative bottom line on the value of Alaska miles, which have historically been some of the most valuable airline miles. We recommend checking award rates on other Oneworld partners (like Cathay Pacific Asia Miles and American Airlines AAdvantage) before redeeming Alaska miles.