Editor's note: This post has been updated with new information.
---
American Airlines confirmed to TPG that the carrier's generous 24-hour hold policy is officially back in place. Some customers found the option unavailable while American ran a series of tests to determine whether it was worth keeping.
These randomized tests began in September but the Fort Worth, Texas-based carrier confirmed to TPG that those tests are now over. As part of the experiment, some customers were not allowed to place a reservation on a courtesy hold. Instead, they could only cancel a reservation within 24 hours of booking to obtain a full refund. Other flyers continued seeing the free hold option when booking flights.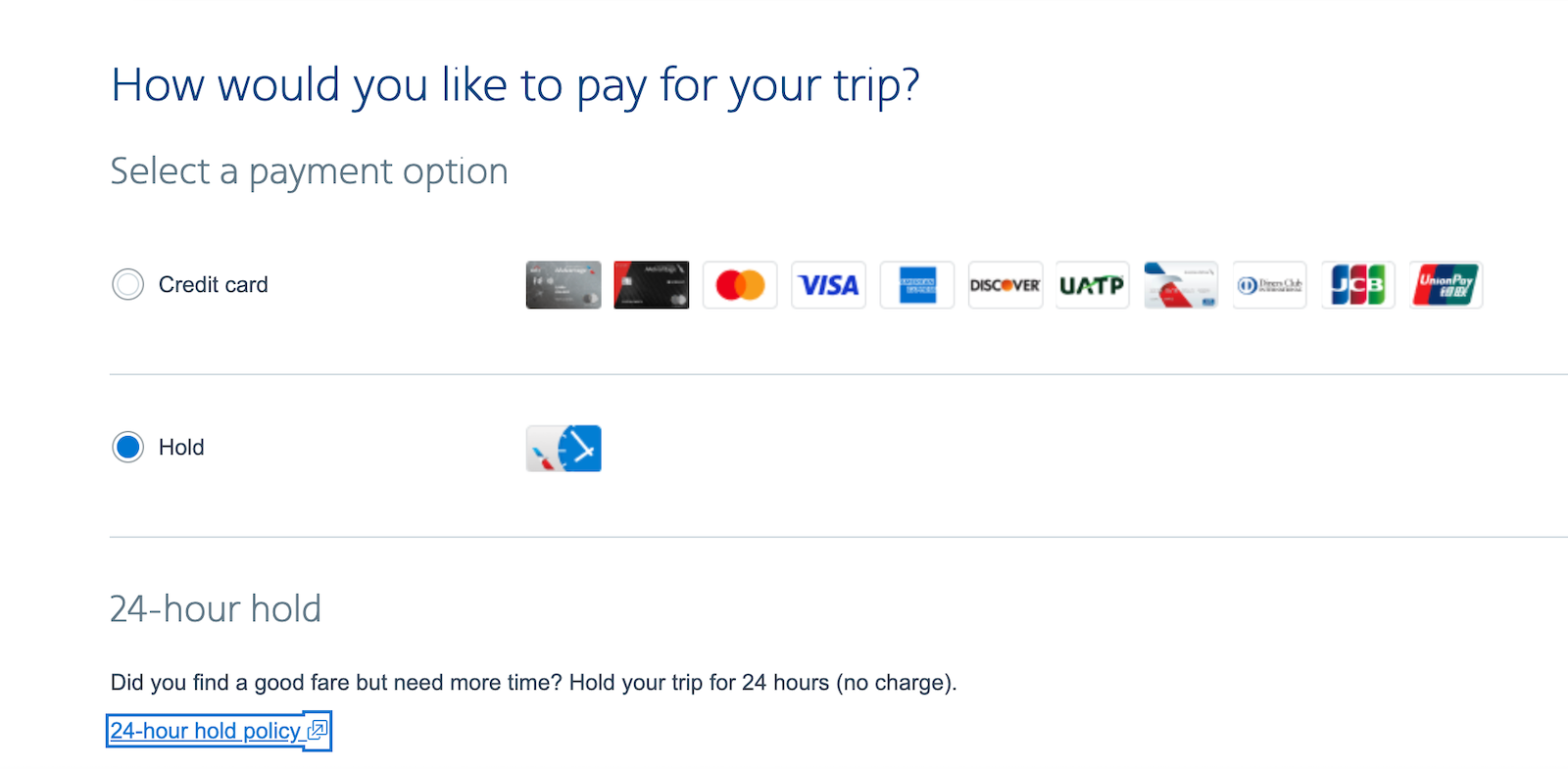 "We continue to evaluate our product offerings to customers on aa.com and understand customers may need flexibility when booking travel plans," American said.
The number of calls that American's reservation lines received was, in part, what spurred the trial. Passengers wishing to purchase on-hold tickets often needed to call if they were using flight credits to complete the purchase. Customers can typically apply flight credits online — no call necessary — if tickets are purchased at the time of booking.
Historically, this popular free hold option has been available for customers who might be on the fence about purchasing a reservation. Instead of ticketing your flight immediately, you could choose to hold the flight for free — giving you a day to decide whether to confirm or cancel the reservation.
Even without American's 24-hour free hold option, you're still entitled to a refund within 24 hours of purchase, assuming that you bought your ticket at least two days before your flight. This policy is governed by U.S. Department of Transportation regulations, which require airlines to either offer free 24-hour holds or a 24-hour risk-free cancellation period.
That said, American has historically been quite generous as one of the few airlines to offer both options for travelers.
The carrier's two biggest U.S. competitors, Delta Air Lines and United Airlines, don't offer a courtesy hold option; instead, they allow flyers to cancel and receive a refund within 24 hours of purchase. (It's worth noting that both Delta and United allow you to cancel within 24 hours of purchase, even for a same-day flight, assuming you void your reservation before departure.)
The DOT only requires free cancellations for tickets booked at least a week before departure, so all three airlines are more generous than the published rule.
As of late 2020, American also dropped change fees for most tickets. Nevertheless, you can always change or cancel a flight even after the 24-hour grace period, although you'll be on the hook for a possible fare difference if you end up booking a more expensive flight instead.