Update (1/12/23): JetBlue has announced the start dates for its new routes. They're as follows:
LaGuardia – Atlanta: May 5.
LaGuardia – Bermuda: May 5.
LaGuardia – Hyannis: May 5.
LaGuardia – Nassau: March 30.
Newark – Aruba: June 15
Newark – Montego Bay: June 15
Boston – Vancouver: June 15
Additionally, JetBlue will launch daily service between Los Angeles and Puerto Vallarta on June 15. The original post follows below.
---
American Airlines and JetBlue Airways are continuing to grow in the Northeast, despite the pending lawsuit against the carriers' tie-up.
Both airlines are adding new and expanded routes from New York and Boston under the so-called Northeast Alliance, and this latest round of growth is welcome news for several markets that have only been served by a dominant carrier.
Here are the details.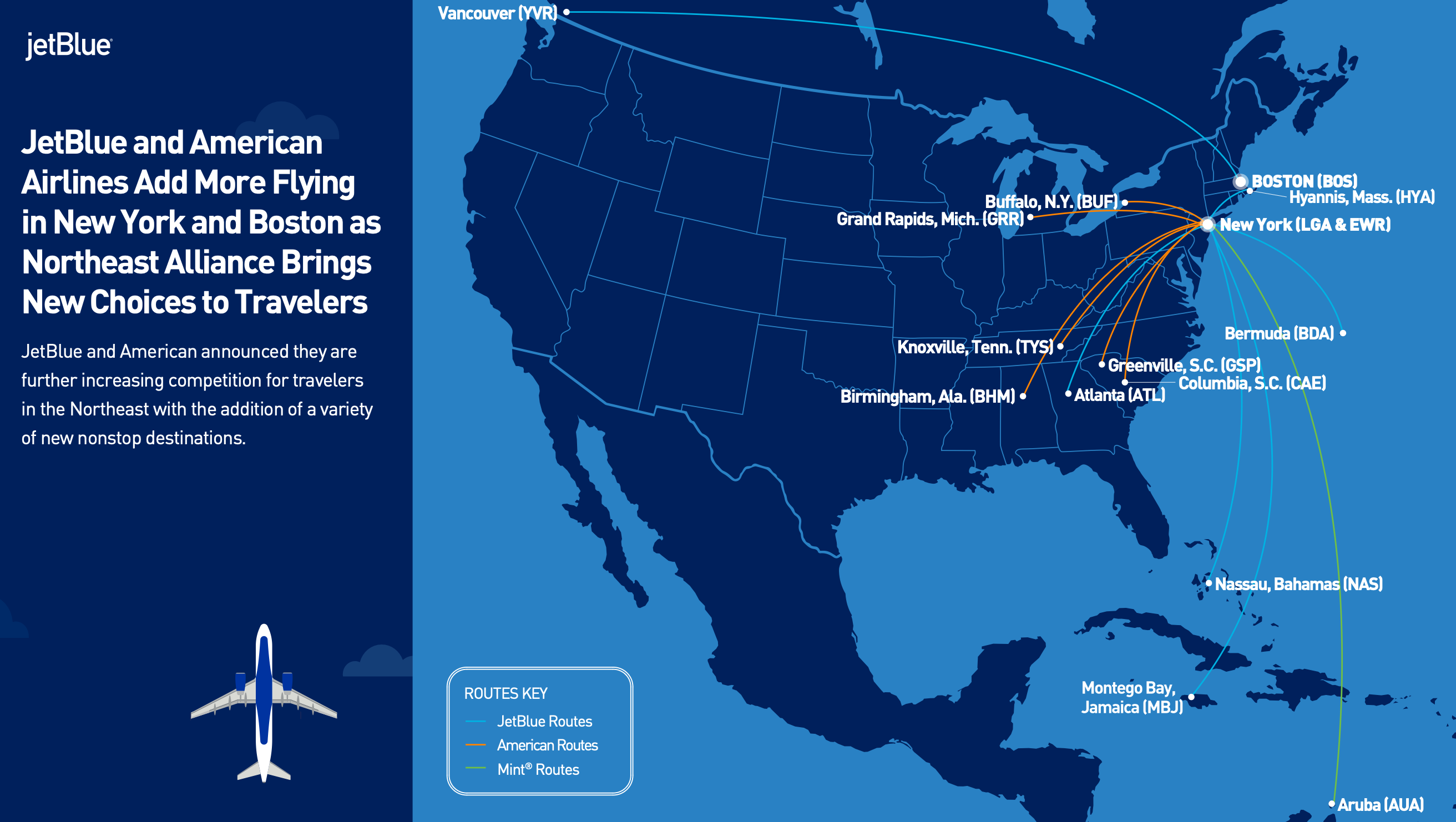 JetBlue adds 5 routes
Next spring, JetBlue will add four nonstop routes from New York's LaGuardia Airport (LGA), with the full list of new destinations below.
Atlanta — 4x daily.
Bermuda — once daily, summer seasonal.
Hyannis, Massachusetts — once daily, summer seasonal.
Nassau, Bahamas — once daily.
Perhaps the most noteworthy additions are the daily services to the Bahamas and Hyannis. American has historically served the LaGuardia to Nassau market with weekly flights, but adding daily JetBlue service will significantly increase the capacity in the market.
Meanwhile, Hyannis — a popular summer destination on Cape Cod — hasn't been connected to LaGuardia since US Airways flew the route in October 2009, Cirium schedules show.
As part of JetBlue's new LaGuardia to Atlanta route, American plans to cut its existing flying in this market. The Fort Worth-based carrier currently operates the 761-mile route on a four-times-daily basis with an Embraer 175 regional jet. With the new JetBlue service operating in conjunction with American, American will no longer serve the route. That said, JetBlue's flights will still be a notable capacity increase and a competitive response to Delta's hub-to-hub service in this market.
Additionally, JetBlue's fifth route announced Friday is its plan to fly seasonally between the Boston Logan International Airport (BOS) and the Vancouver International Airport (YVR) next summer (at a yet undisclosed date).
JetBlue already commenced service to Vancouver from New York this past summer, as part of a flashy announcement that was a "top request from flyers." When JetBlue first unveiled plans to serve Canada, it had originally intended to fly from both New York and Boston this year.
But, due to operational hiccups experienced at the beginning of 2022, the carrier decided to indefinitely postpone the Boston-Vancouver launch. Now, JetBlue has a timeline for this service: next summer. Hopefully, the carrier can move forward with these plans without any further delays.
In addition to the new routes, JetBlue will begin Saturday-only Mint business-class service between Newark and Aruba next summer. The airline will also resume daily summer seasonal flights between Newark and Montego Bay in 2023.
All of JetBlue's new flights will go on sale in January 2023.
6 new American routes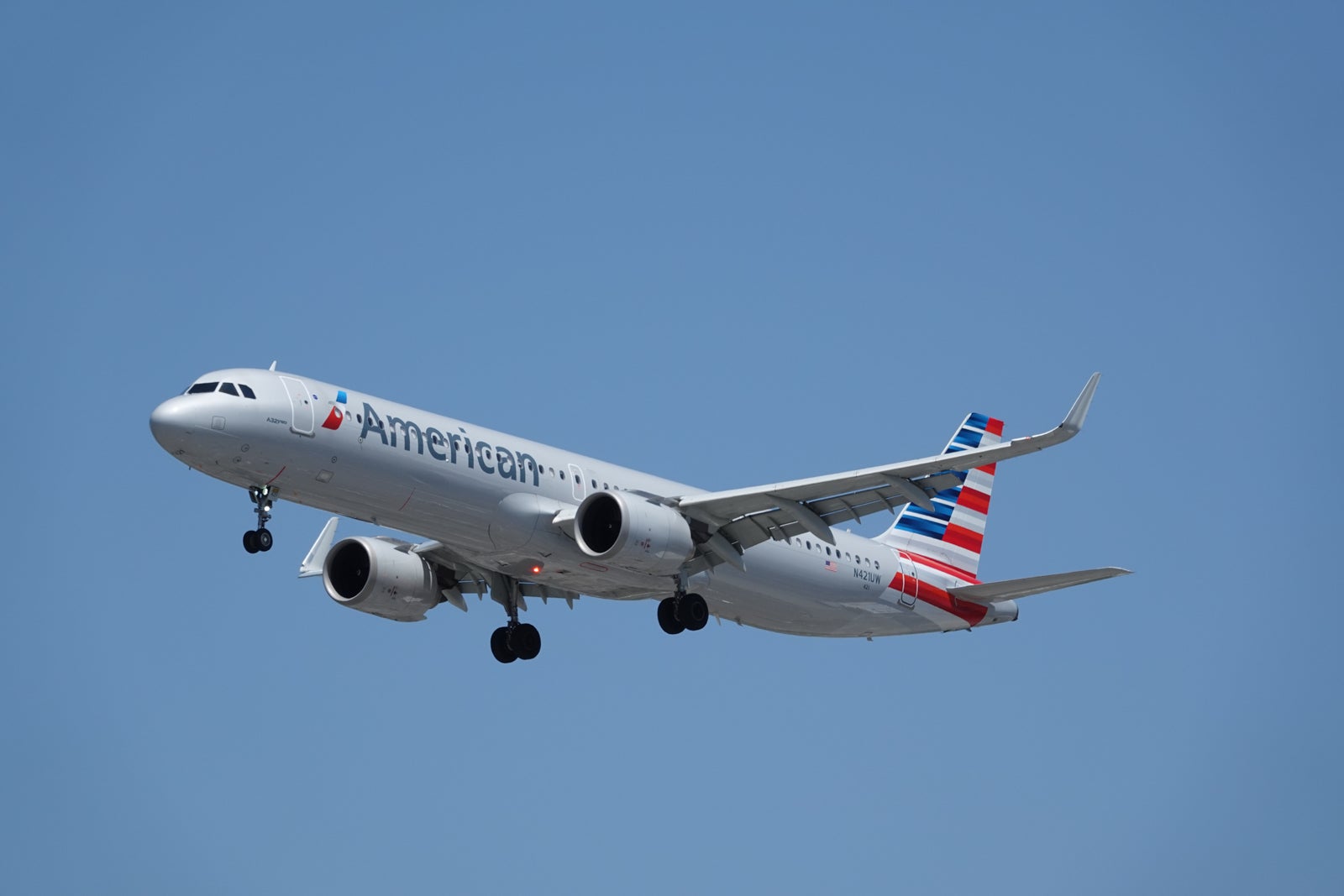 Starting on May 5, 2023, American is adding six routes from LaGuardia as part of this last round of Northeast-focused updates. The airline's new LaGuardia destinations include:
Birmingham — once daily.
Buffalo — 3x daily.
Columbia, South Carolina — once daily.
Grand Rapids, Michigan — once daily.
Greenville, South Carolina — 2x daily.
Knoxville, Tennessee — once daily.
The addition of many of these small cities is a significant expansion of the Northeast Alliance. That's because the only other airline serving these routes currently is Delta, according to Cirium schedules.
As such, the tie-up is seemingly bringing more competition to the market, especially as Delta looks to reaffirm its position as New York's largest airline.
Also in New York, American will expand its summer seasonal flights to Asheville, North Carolina, to year-round service. American will also add an additional frequency between Boston and Louisville.
American's new flights will go on sale this weekend.
Defending the Northeast Alliance
The Northeast Alliance between American and JetBlue is currently up against an antitrust suit from the Department of Justice.
While the case has already made its way to the courtroom and is currently awaiting a final verdict from U.S. District Judge Leo Sorokin, both carriers continue to tout the benefits of their partnership.
With this latest round of network updates, the two airlines will soon serve 45 of the top 50 domestic markets — a notable expansion that largely goes head-to-head against Delta.
In total, the carriers are scheduled to fly more than 500 daily departures from the three largest New York City airports and nearly 200 daily departures from Boston next year. At New York's John F. Kennedy Airport (JFK) alone, the carriers are planning to offer roughly 300 daily departures.
"As we continue to enhance the Northeast Alliance and link more destinations with new nonstop choices, customers finally have a compelling alternative to the carriers that have dominated the market for too long," said Dave Fintzen, vice president of the Northeast Alliance for JetBlue, in a statement.
All told, the pact has resulted in approximately 50 new routes out of New York City and Boston, increased frequencies on more than 130 existing routes, 90 nonstop routes with increased capacity and 17 new international routes, according to the airlines.
Now, all eyes turn back to the courtroom, as we await a decision from U.S. District Judge Leo Sorokin.