American Express Premium cardholders looking for free top-tier elite rental car status look no further, thanks to the newly expanded Amex-Hertz Gold Plus Rewards partnership.
Effective immediately, The Platinum Card® from American Express and The Business Platinum Card® from American Express cardholders and authorized users automatically qualify for Hertz President's Circle status, the highest status tier of the rental car program. Previously, American Express Platinum cardholders got some of the benefits of Hertz's mid-tier Five Star status when booking with their cards, but not top-tier status benefits.
Users can register online to start reaping the rewards, including a 50% Gold Plus Rewards points-earning bonus and the ability to skip the counter and head straight to pick out your car at U.S. rental locations.

Those with the personal or business version of the Platinum cars can register online using that link. However, you can also access registration by logging into your Amex account and then clicking through the same link from your Benefits page, under "Enroll with Hertz."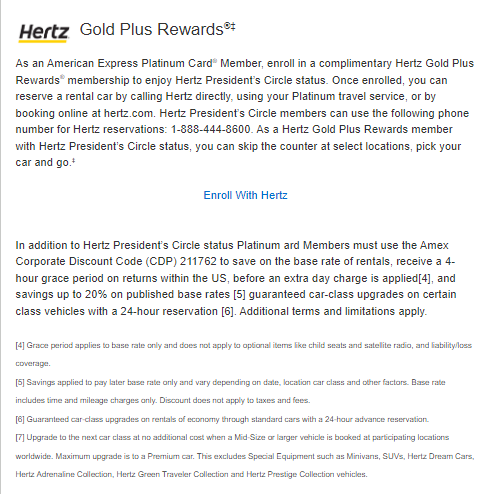 Post-registration, you should see your status updated within 24 to 72 hours.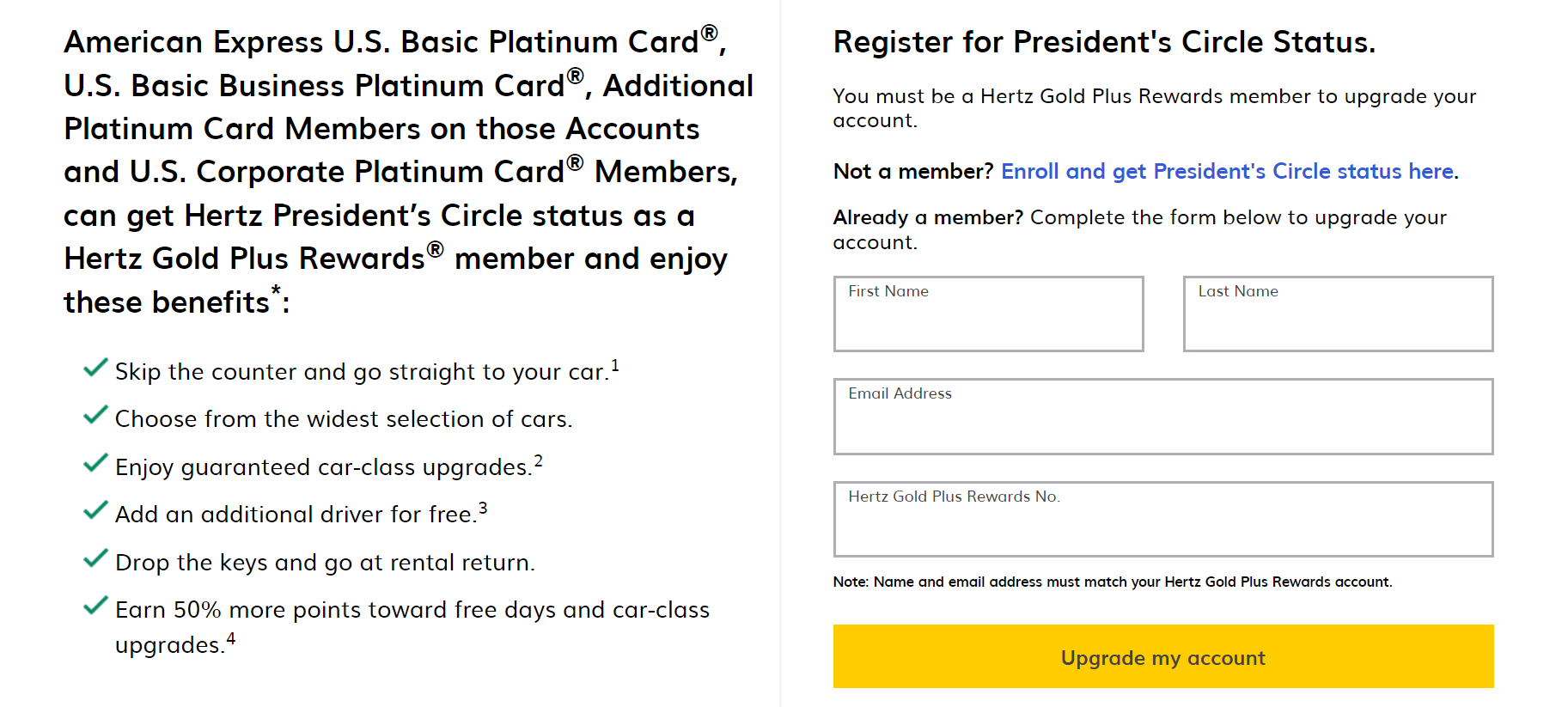 As TPG has previously reported, renting cars has been the only avenue to earn Hertz Gold Plus Rewards points, specifically one point per dollar spent on rentals.
However, thanks to this tie-up, Premium Amex users have an expedited avenue to Hertz elite status, eliminating the requirement to complete 15 Hertz rentals or spend $3,000 on rental cars in a single calendar year.

In addition to the aforementioned 50% bonus earning opportunity, President's Circle members get guaranteed one-class car upgrades based on car fleet, access to a wider range of cars in Ultimate Choice lots and a dedicated customer service phone number for automatic access, among other perks.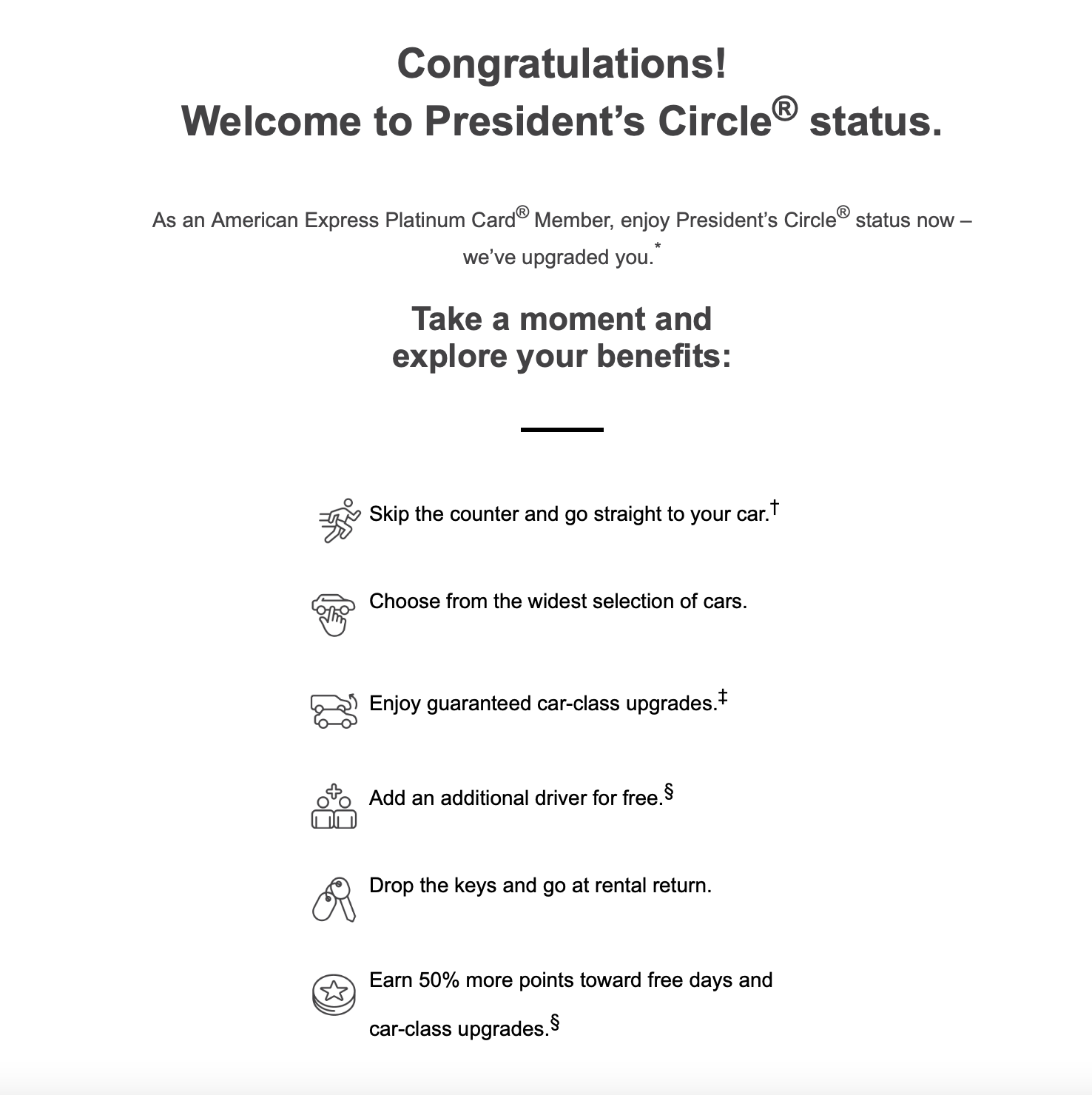 Other credit cards that offer complimentary Hertz status
As a reminder, Hertz maintains partnerships with other credit cards to offer users elite status.
Capital One Venture X Rewards Credit Card cardholders, authorized users and account managers who are at least 21 years old are eligible for free President's Circle status, which you can register for here.
Cardholders with the cheaper Capital One Venture Rewards Credit Card qualify for complimentary mid-tier Five Star status. This is usually earned by completing 10 Hertz rentals or meeting a $2,000 minimum spending threshold on rental cars in a calendar year. The registration link is here.
Lastly, Delta elite status holders may qualify for a free status match to Hertz Gold Plus Rewards status, specifically Five Star status for Medallion Gold members and President's Circle status for Platinum and Diamond members, which you can sign up for here.
Bottom line
Although this tie-up is specifically targeted at Amex's top two premium credit cards, other credit cards can also fast-track you to top-tier Hertz Gold Plus Rewards status.
If you do have one of both of these Amex cards, make sure that you're signed up for Avis Preferred Plus and National Emerald Club Executive Elite status too.
Apply now: New Business Platinum cardholders who apply through our official TPG application link can take advantage of a welcome offer of 150,000 Membership Rewards points after spending $15,000 on eligible purchases within the first three months of card membership.
Additional reporting by Andrew Kunesh.