Disney cruises are the stuff of magic, but they're also magically expensive. Before you shell out thousands per day on a vacation, you likely want to know: What's the best Disney ship for fans? What's the best Disney ship for adults? Which ship, if any, will work for me if I'm traveling by myself or with babies, kids or teens?
Disney Cruise Line is a brand that excels at providing both fun and luxurious experiences. With a fleet that has just three classes and five ships, Disney can focus on making sure that each vessel lives up to The Mouse's high standards for many types of cruisers. In other words, whichever vessel you choose, you'll likely have a great time.
However, there are subtle nuances that determine the best Disney ships for certain travelers. I'll help you determine which Disney cruise ship is best so you can get the most out of a voyage in the happiest place on the high seas.
For more cruise guides, news and tips, sign up for TPG's cruise newsletter.
Disney Fantasy: Best Disney cruise ship for adults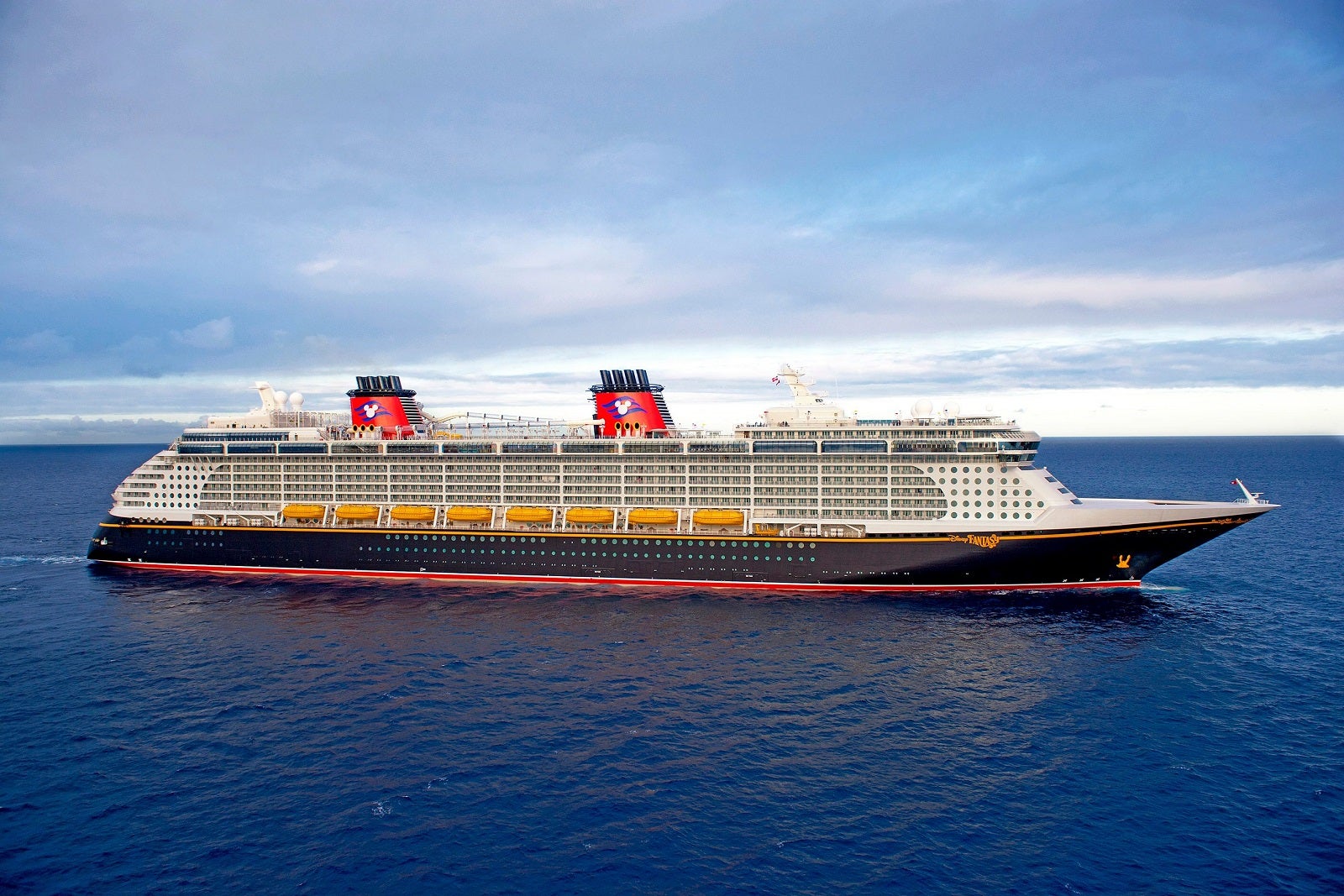 Because the line excels at providing family-friendly and kid-focused amenities, when it comes to a Disney cruise, adults often wonder whether they would enjoy themselves if they were to sail. Fortunately, the answer is almost always yes — Disney cruise ships are great for adults.
Disney Cruise Line does the little things well. Travelers of all ages can enjoy character interactions and appreciate thoughtfully laid-out cabins.
If you're worried you'll be outnumbered by kiddos or elicit weird looks for sailing as a Disney adult, never fear. Bring your mouse ears, and prepare for some fun. Or, if you want, avoid the kitschy Disney stuff, and enjoy the terrific entertainment and superb food offerings mixed with stellar service.
All Disney ships have adults-only sun decks and pool areas that are closed to kids, as well as bars and clubs that are off-limits to anyone younger than 18.
With that in mind, one vessel stands out for the older set: Disney Fantasy.
The ship boasts a dozen bars, including three exclusive to the vessel. In addition to bars in the atrium, by the pool and sun deck and in the theater, you'll also find the Europa area, which is only for adults after 9 p.m.
It's got five watering holes; among them are an Irish pub and a lounge that offers views of major European cities via LED screens that change every 15 minutes. But the standouts are French Champagne bar Ooh La La; La Piazza, which is carousel themed and gives off Italian vibes; and The Tube, a club with a London Underground theme that hosts trivia by day.
What's also great about the ship for adults is that it's a mid-sized ship. It's big enough to offer plenty of activities but smaller than the new behemoth Disney Wish, which features grown-up areas that are spread out instead of conveniently clustered like they are on Disney Fantasy.
Finally, if you're an adult who's hoping to steer as clear of children as possible while still enjoying your own Disney experience, know that Disney Fantasy has a tremendous kids club. It features Andy's room from "Toy Story," as well as a Tinkerbell-themed play area and the Marvel Superhero Academy, where little ones can learn to fight crime. It's so impressive that kids likely won't want to leave, meaning fewer little ones will be running wild around the ship.
Disney Wish: Best Disney cruise ship for families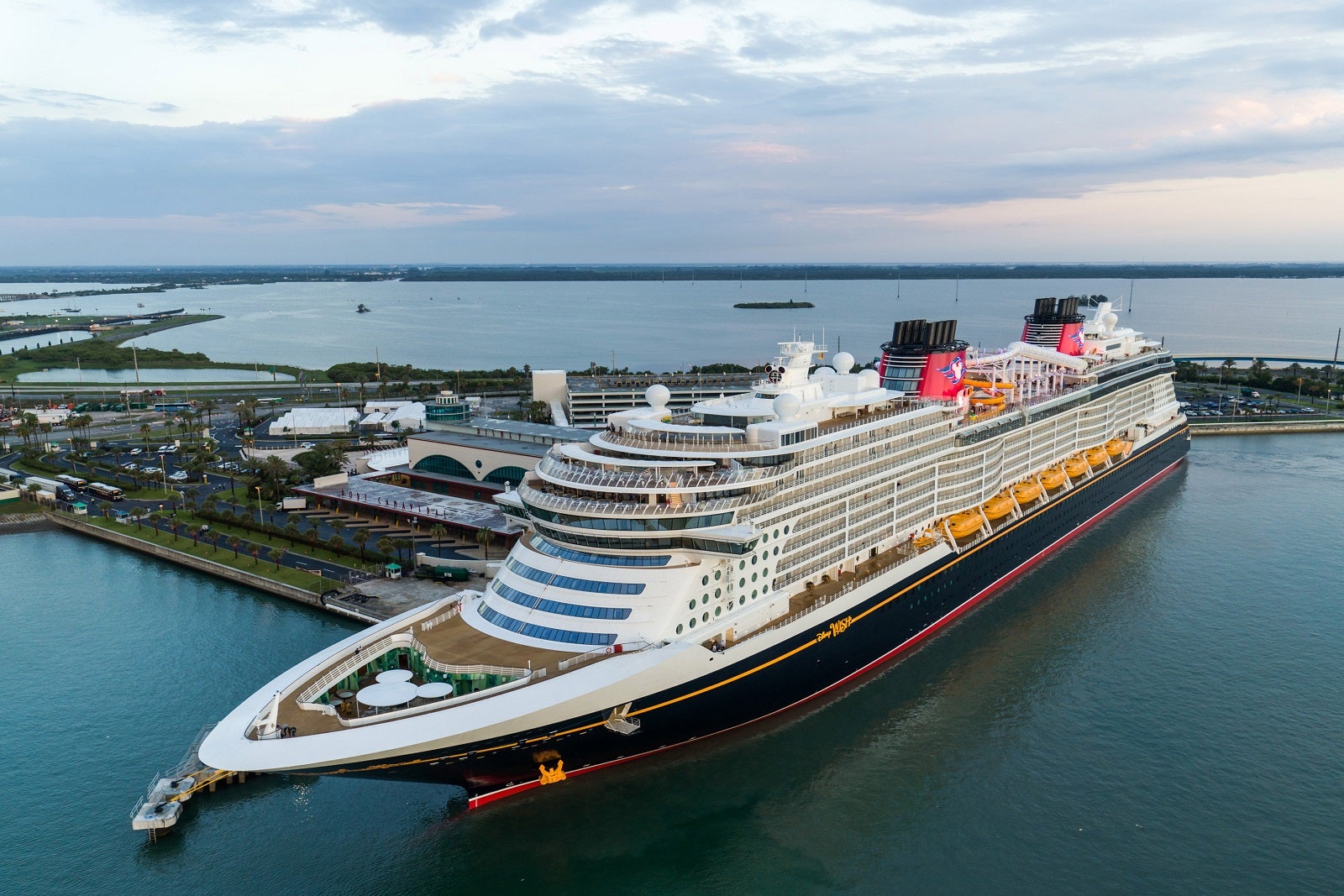 Disney cruises are, hands down, the best in the industry when it comes to sailings for families with children. From thoughtful cabin design that allows for more privacy and bathroom space to character interactions, free soda, complimentary first-run movie screenings and special menus in the restaurants, the brand understands and delivers on what appeals to the youngest cruisers.
Parents will love the line's infant and toddler babysitting offerings and little — but significant — touches like the availability of kid-size life jackets by the pools.
However, the true standout is the children's programming in the onboard youth centers. Disney's sizeable kids clubs are supervised and designed to include immersive experiences that tie in with Disney's franchises and characters. (Think "Toy Story," Marvel, "Star Wars" and more.)
The best Disney ship for families is Disney Wish; it earns high marks whether you're traveling with babies, toddlers, school-age kids or teens.
Below, I'll break down the reasons that the line's newest, largest vessel is ideal.
Disney Wish: Best Disney cruise ship for kids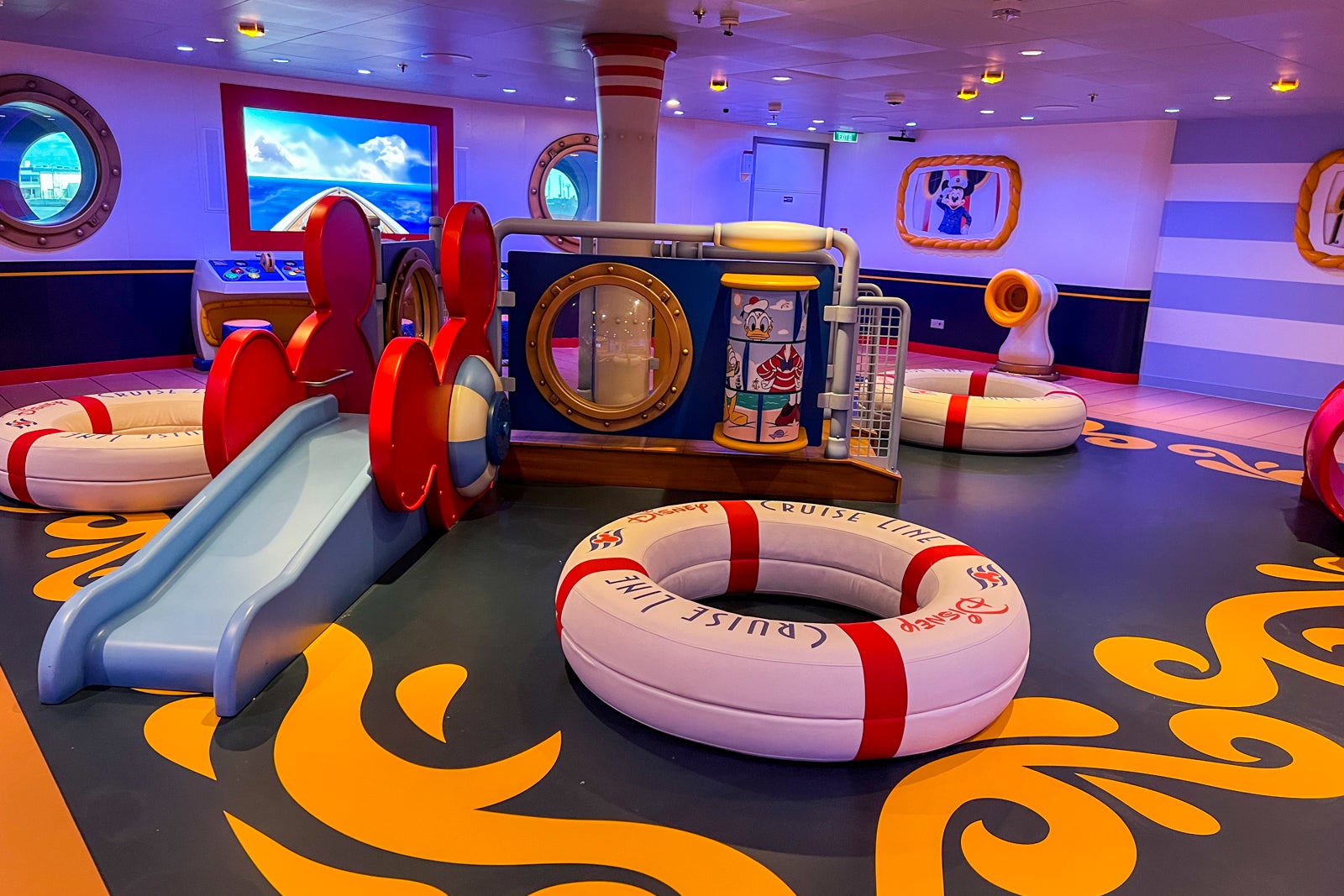 Disney Cruise Line's kids club, the Oceaneer Club (for ages 3-12), is cavernous. It has five separate sections on Disney Wish, including Mickey and Minnie's Captain's Deck and Fairytale Hall, which offer climbing structures and princess play for younger children. Kids will also be able to walk into a scene from "Star Wars" in Star Wars Cargo Bay, learn how to save the world at the Marvel Superhero Academy and take part in STEM projects at the Walt Disney Imagineering Lab.
The spaces are so fun that you're likely to see very little of your children during a sailing on Disney Wish. You might even be disappointed that you can't spend time there yourself.
The best part? It's all free, and there is dedicated youth staff who oversee each day's activities, as well as nighttime movie-watching and dance parties while parents enjoy some time out and about. Oh, and did I mention there's a slide that takes kids from the ship's stunning atrium down one deck to the entrance?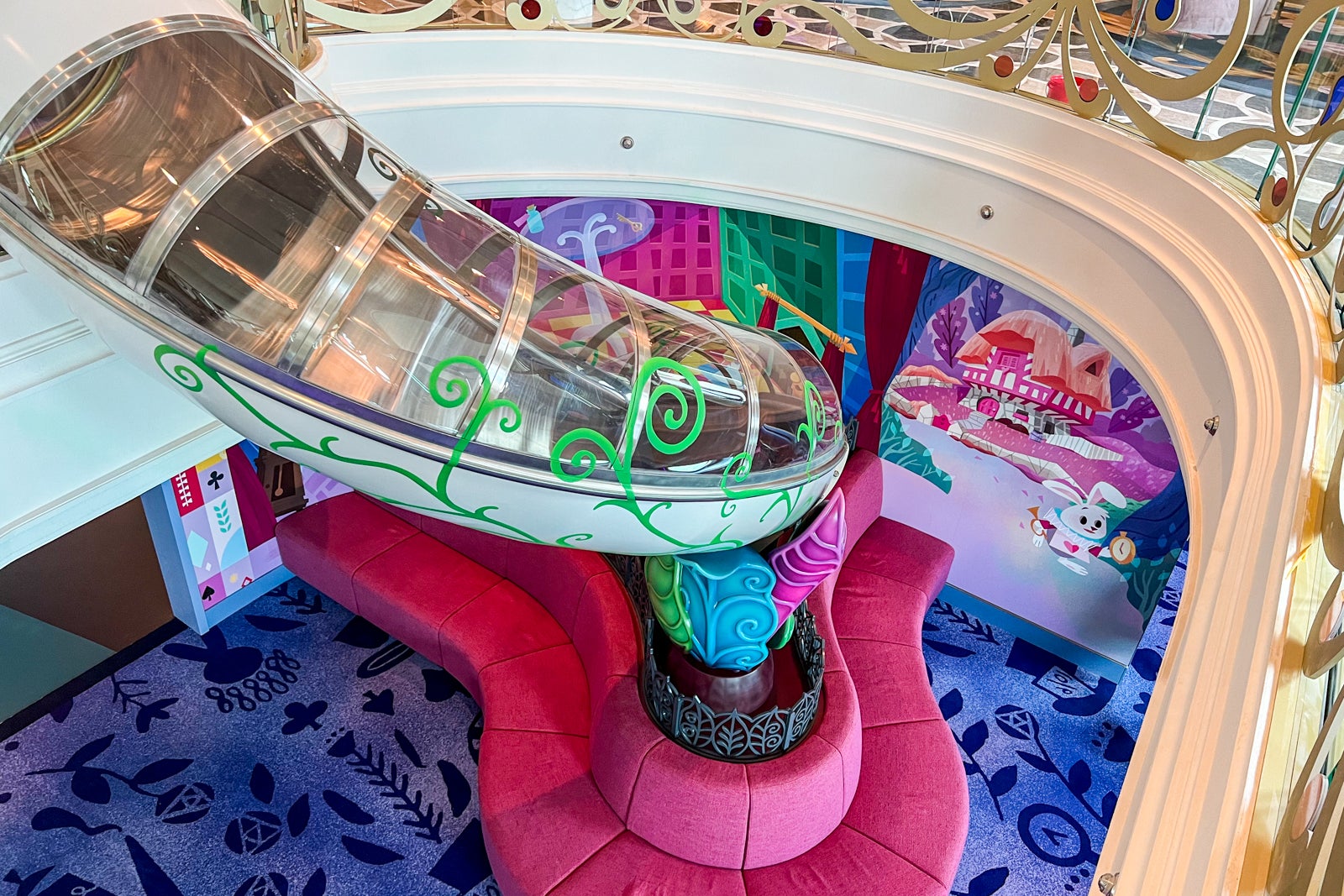 Outside the Oceaneer Club, kids will love Disney Wish's top-deck activities, which include mini-golf, an obstacle course, pools and waterslides. Don't miss the AquaMouse, a raft-based attraction with digital elements and see-through tubing.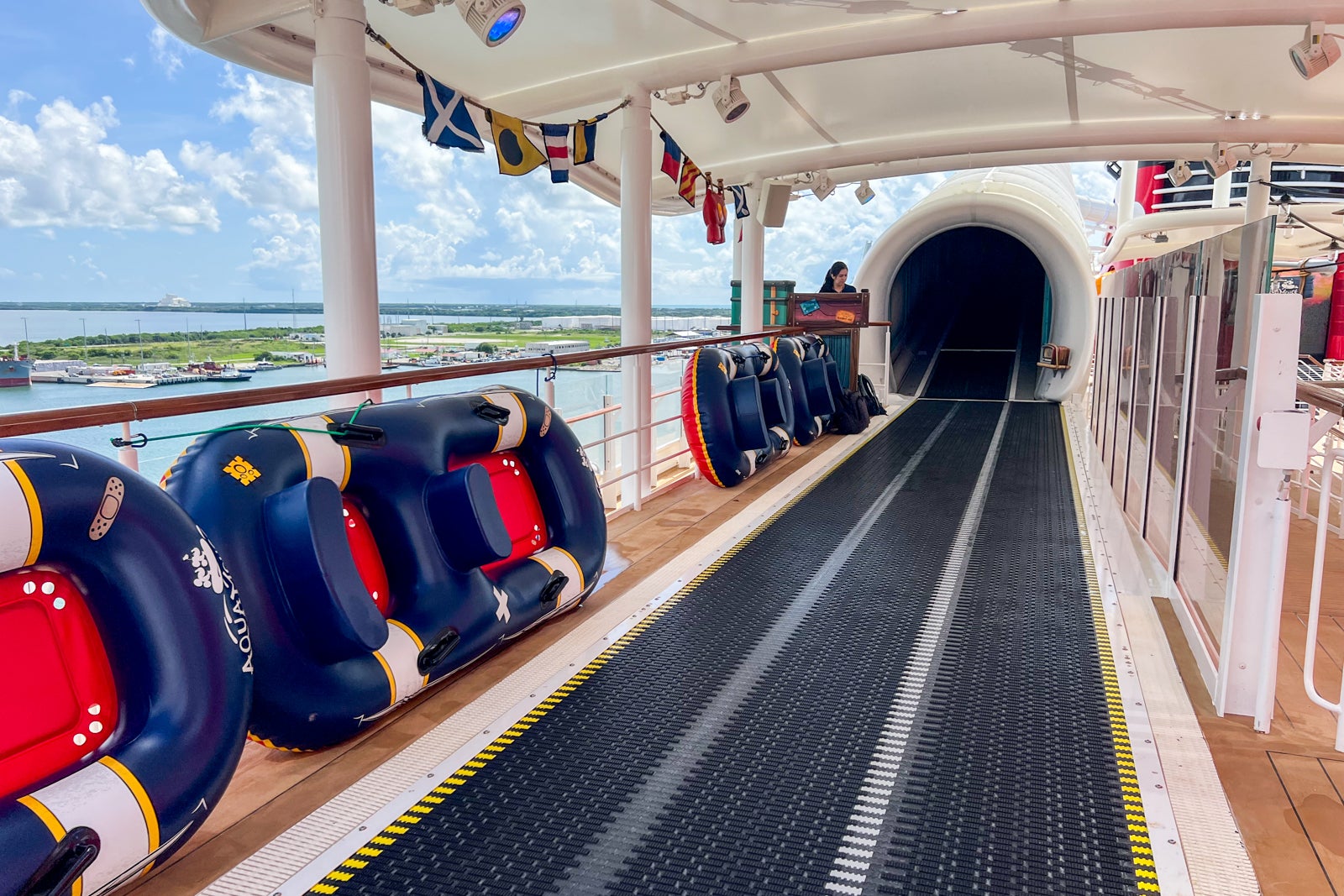 Plus, the whole family can enjoy Pirate Night, offered once per sailing. On the agenda are fireworks and appearances by Captain Jack Sparrow. Passengers are wholeheartedly encouraged to dress up.
In terms of dining, children will enjoy not only special kids' menus but also the themed, interactive atmosphere in two of the ship's three main dining rooms: Worlds of Marvel and Arendelle: A Frozen Dining Adventure. The former amuses passengers with Ant-Man's antics after he accidentally shrinks Disney Wish with a Quantum Core. The latter is an engagement celebration for Anna and Kristoff, featuring live characters.
Disney Wish: Best Disney cruise ship for teens and tweens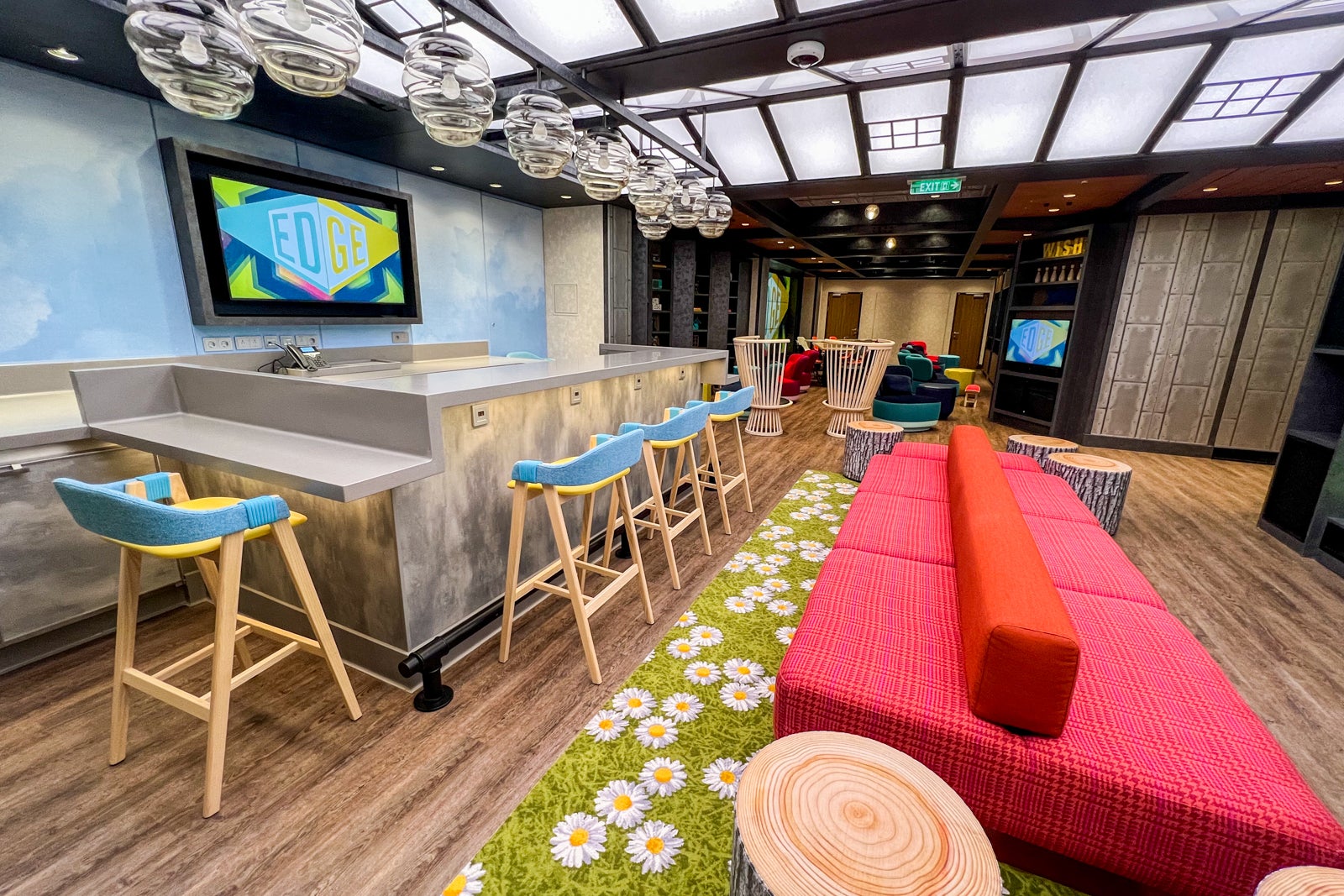 For teens and tweens, Disney Wish's dedicated lounges are the feature that's likely to be most enticing, offering a more relaxed "come and go" atmosphere that's supervised but less structured. Both clubs have areas for foosball and mocktails, and they offer a general meeting place for kids in the following age groups to find their friends and hang out.
Edge, for the 11- to 14-year-old set, is the vessel's tween club, which offers video and board games and brightly colored decor.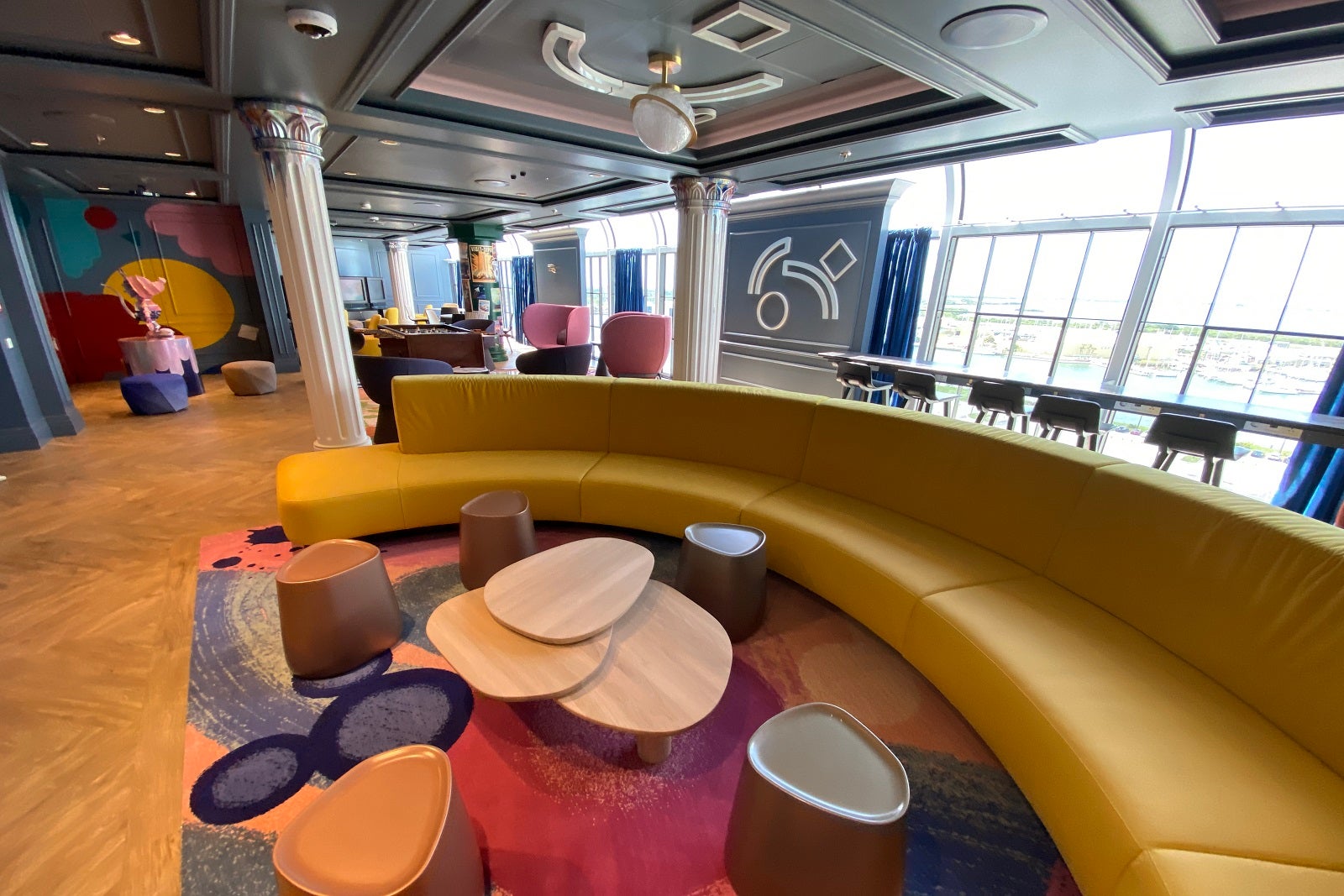 Vibe, for 14- to 17-year-olds, is a slightly more muted space with giant TVs for movie watching and video game play, as well as a high-top bar area for teens needing a place to plug in their laptops and tablets. A second room can be sealed off for use by 18- to 20-year-olds on voyages where there's a big enough contingent of young adults to warrant it.
And for older kiddos who are into "Star Wars," the Star Wars Hyperspace Lounge is an immersive way to enjoy some themed fun in a more adult setting. The bar, which is open to all ages until 9 p.m. when it becomes an adults-only venue, takes visitors on a trip through the galaxy. A screen behind the bar changes every few minutes, with the room making noises and jumping to "hyperspace" to reach the next destination.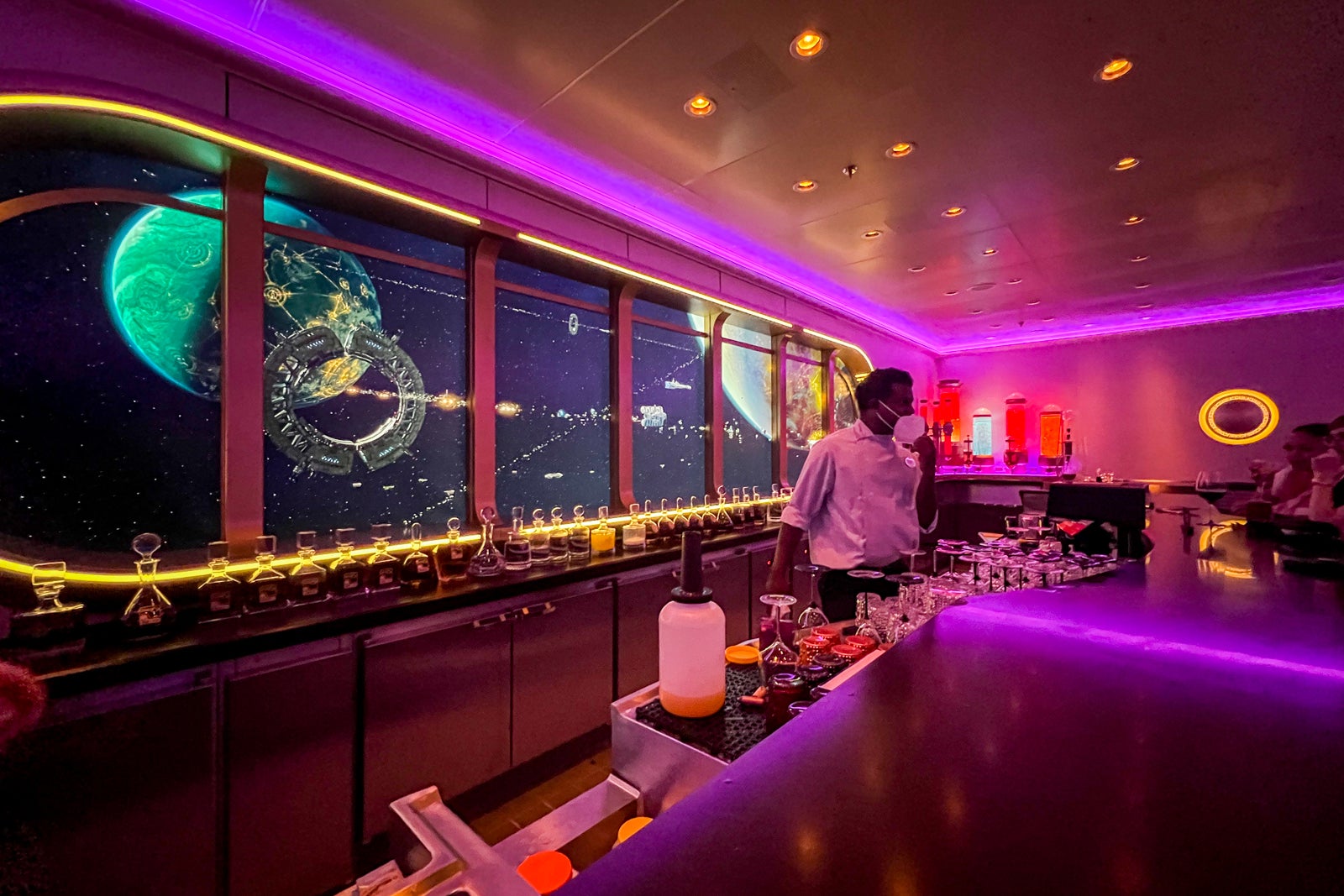 For anyone under the legal drinking age, the venue's menu offers some nonalcoholic options, including the Cloud City (oat milk with blue raspberry and ice cream) and the Temple Twist (apple, mint, pineapple, ginger beer and kiwi).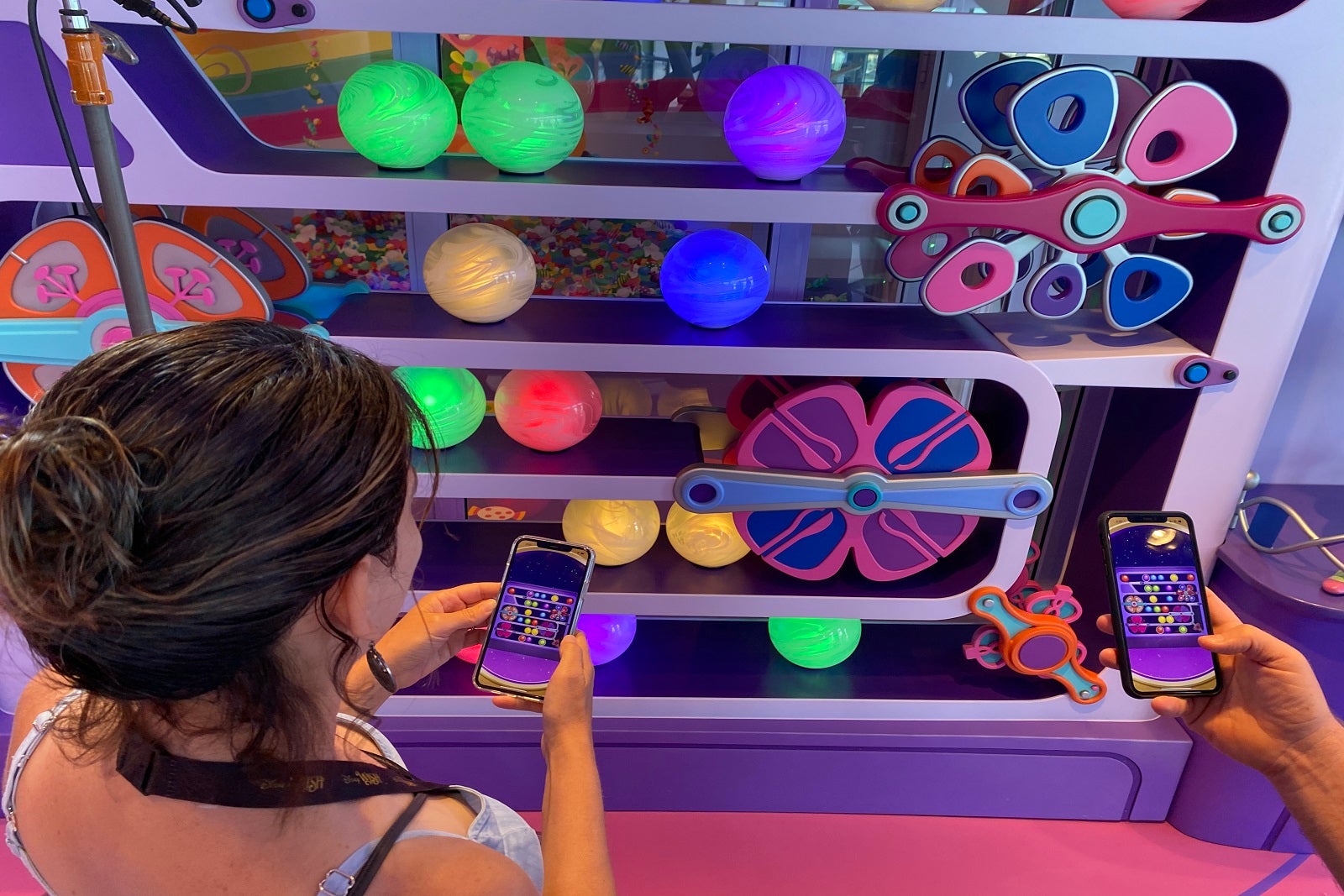 When they aren't busy lounging, teens might also enjoy Uncharted Adventure, a digital scavenger hunt that will take them around the ship to find interactive clues using their mobile phones. There's a bit of magic involved, but it's the kind even a skeptical teenager may find interesting.
For more sporty fun, teens can check out the ship's waterslides or the indoor sports court, where they can play basketball or foosball.
Disney Wish: Best Disney cruise ship for babies and toddlers
Returning on Disney Wish is parent favorite It's a Small World Nursery. The expanded space caters to children from 6 months to 3 years old. It's equipped with a nap room with cribs, a changing area and an activity room with floormats, age-appropriate toys and a TV.
Dedicated counselors offer group babysitting in the nursery for the littlest cruisers on a first come, first served basis for $9 per hour for the first child and $8 per hour for any additional children in the same family. Counselors will feed and change, as necessary, any infants or toddlers in their care.
Disney Magic: Best Disney cruise ship for singles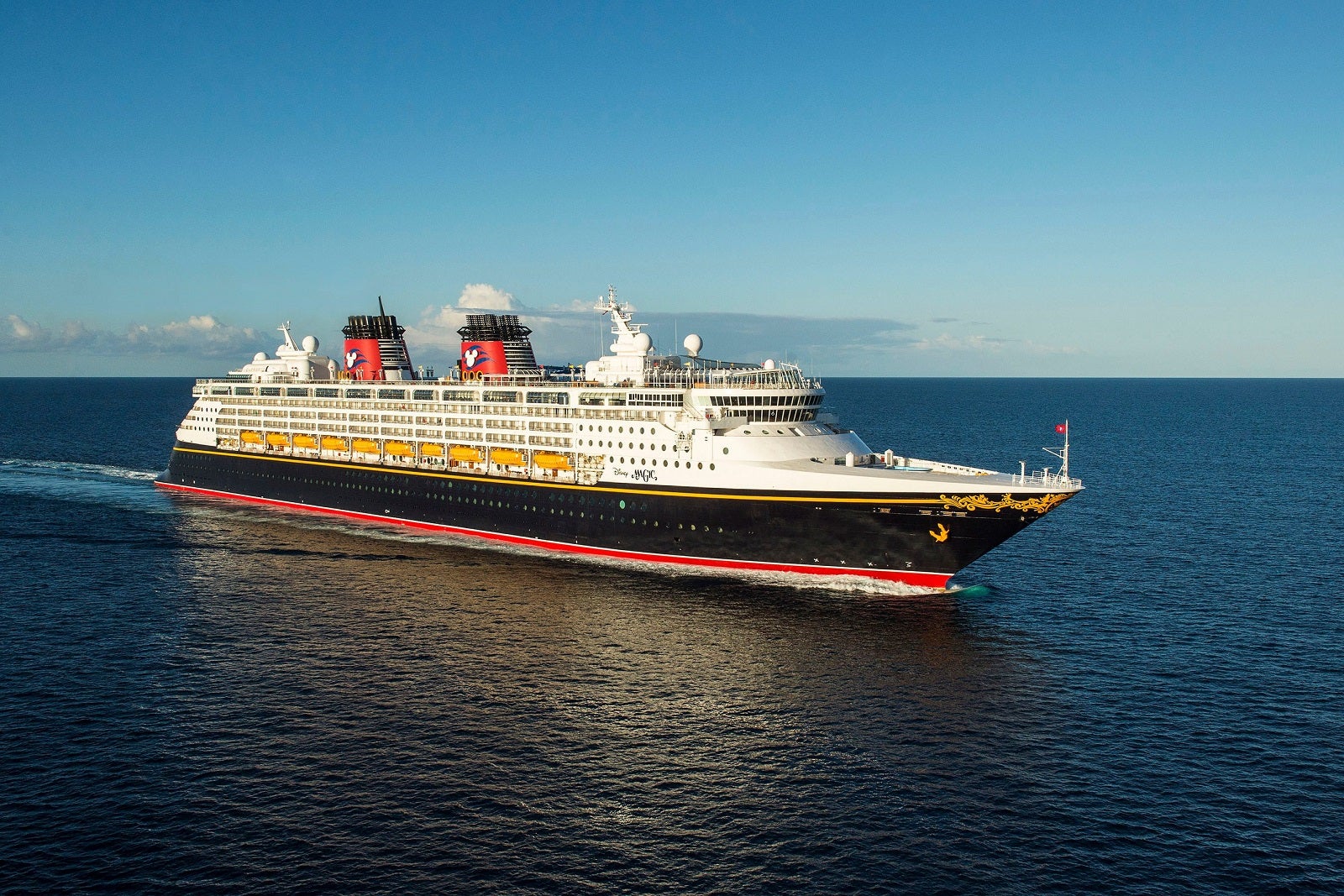 Built in 1998, Disney Magic is the oldest vessel in the Disney Cruise Line fleet. That means it's also one of the least expensive, which is important if you're sailing alone and stuck paying a single supplement. (Disney ships do not have cabins for one.)
Additionally, it's one of the two smallest Disney Cruise Line ships. Its size creates a more intimate experience, particularly in the adult areas, where you can meet other cruisers who are traveling by themselves.
Disney Magic retains a nautical feel that's decidedly more mature than what you'll find on Disney Wish, which feels more like a mainstream megaship. However, Magic retains all of the "wow" factor, featuring well-appointed cabins, excellent dining options and jaw-dropping entertainment that rivals what you'd find on Broadway.
Disney Cruise Line also does a great job of seating solo cruisers together during meals so they don't have to dine alone. If you prefer a table by yourself, however, ask the dining staff. You can also take meals at the buffet, order room service, or check out one of the ship's alternative eateries, including adults-only Italian restaurant Palo, O'Gill's pub or several poolside venues.
Related: 11 ways to save money on a Disney cruise
Disney Wonder: Best Disney ship for West Coast cruisers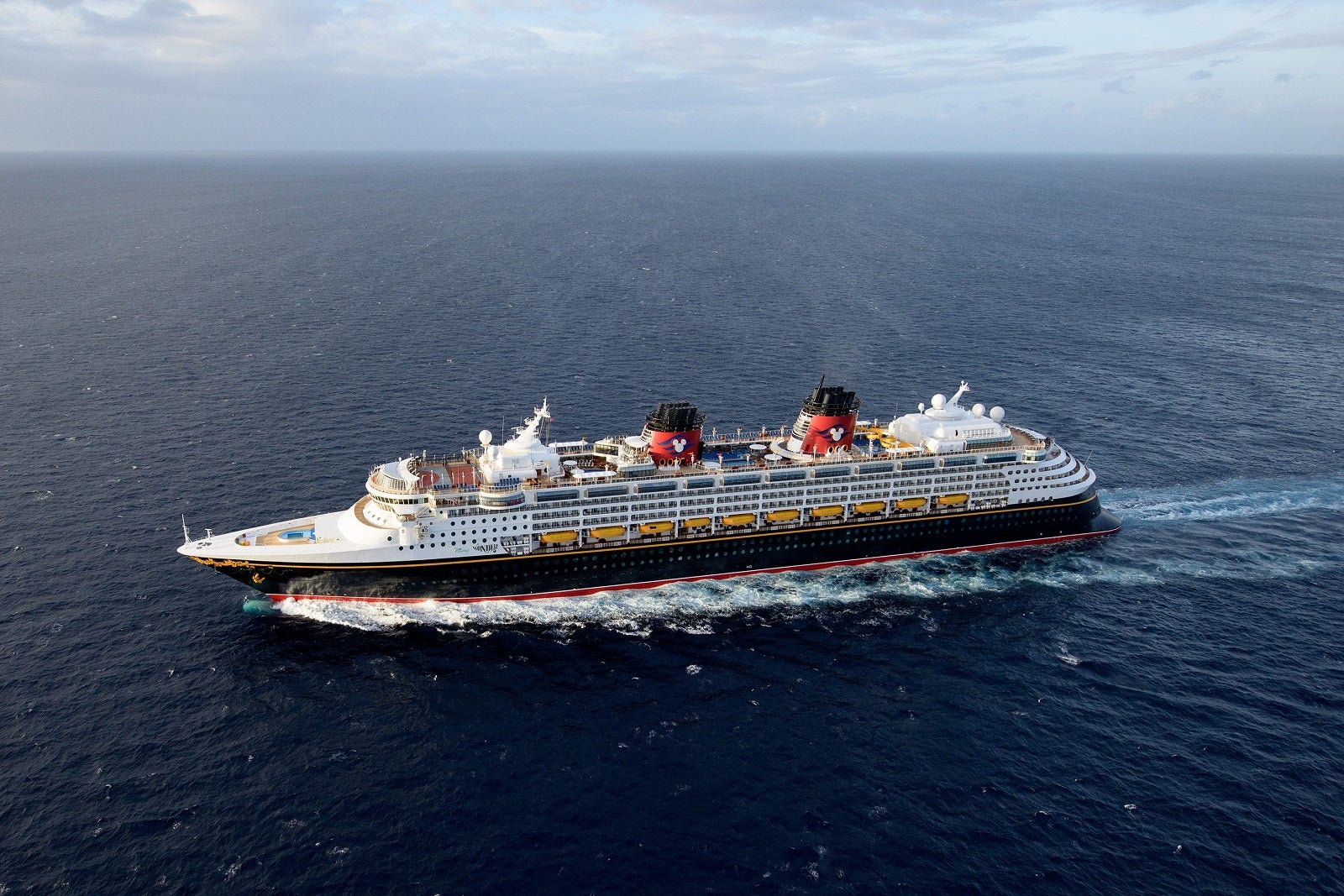 With Florida serving as the undisputed cruise capital of the world, travelers living on the West Coast are often out of luck. Not so with Disney Cruise Line.
The best Disney ship for people wishing to set sail from California or Vancouver is Disney Wonder. One of the line's two oldest vessels, it runs three- and four-night springtime voyages from San Diego to Baja California with calls on Ensenada, Mexico, as well as five- to nine-night Alaska sailings departing from Vancouver in the summer and fall.
Don't let the ship's age fool you. The line does a tremendous job of maintaining it, so it looks nearly new. Service, food and entertainment live up to Disney's high standards.
If you're looking for something different than Disney's standard West Coast offerings, you can also snag one-way repositioning voyages when the ship changes locations seasonally. Examples include sailings from San Diego to Vancouver or from Vancouver to Honolulu.
Related: The 5 best destinations you can visit on a Disney Cruise Line ship
Disney Dream: Best Disney cruise ship for longer voyages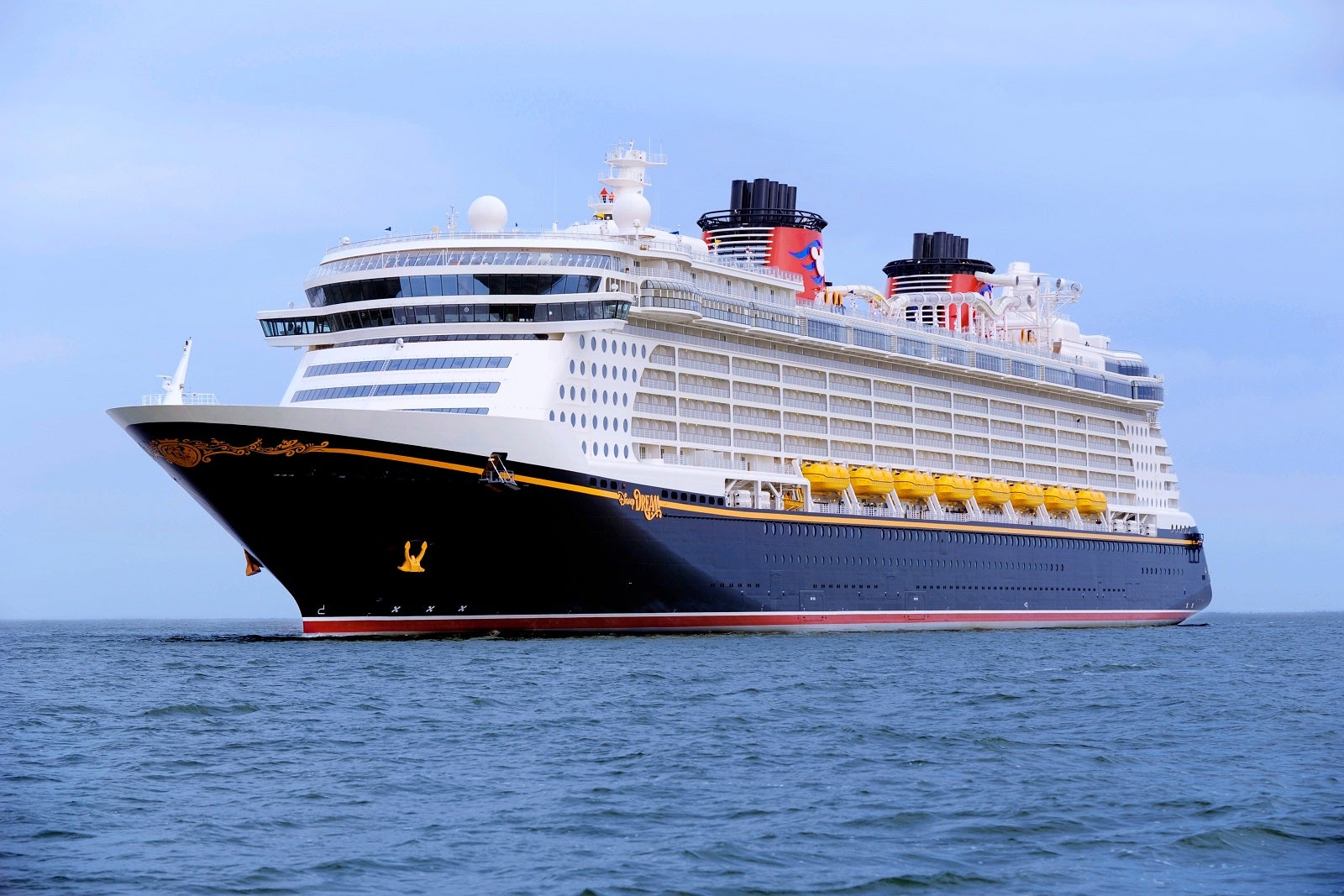 Most of Disney's sailings are short, whisking passengers away for anywhere from three to five days. The itineraries are fairly standard, featuring port calls in the Caribbean and the Bahamas, including the line's private island, Castaway Cay.
If you're craving something a bit longer or want to visit a far-flung destination, Disney Dream is the ship you'll want to book.
Offering 10-, 11- and 12-night voyages in the Mediterranean and Northern Europe, Disney Dream takes passengers to ports like Rome (Civitavecchia), Florence (Livorno), Barcelona, Athens, Santorini, Southampton, Reykjavik and Copenhagen.
One thing to keep in mind is that all of Disney Dream's Europe cruises depart from within Europe, so you'll need to factor flights — potentially costly open-jaw ones — into your budget.
Bottom line
Disney has something for every cruiser, regardless of age, whether you're a parent or a Disney adult, and whether you choose to cruise alone or with friends or family.
The sailings can be expensive, which is why you'll want to make sure to book the best ship for you before you make such a sizeable investment. Luckily, Disney Cruise Line's five ships offer a variety of experiences for all sorts of travelers.
Want more information on cruising with Disney? Check out our Disney Cruise Line tips and tricks.
Planning a cruise? Start with these stories: