On TPG UK's YouTube channel, we like to cover some of the most popular airlines and journeys in the world. Sometimes, though, it's helpful to take a look at what might be considered an underdog.
Royal Jordanian is one of the smaller Oneworld airlines, yet it's a solid full-service airline with a decent route network of more than 40 destinations. It also has a modern and efficient home hub airport and, for the right routes, a fantastic additional option for using your hard-earned Avios.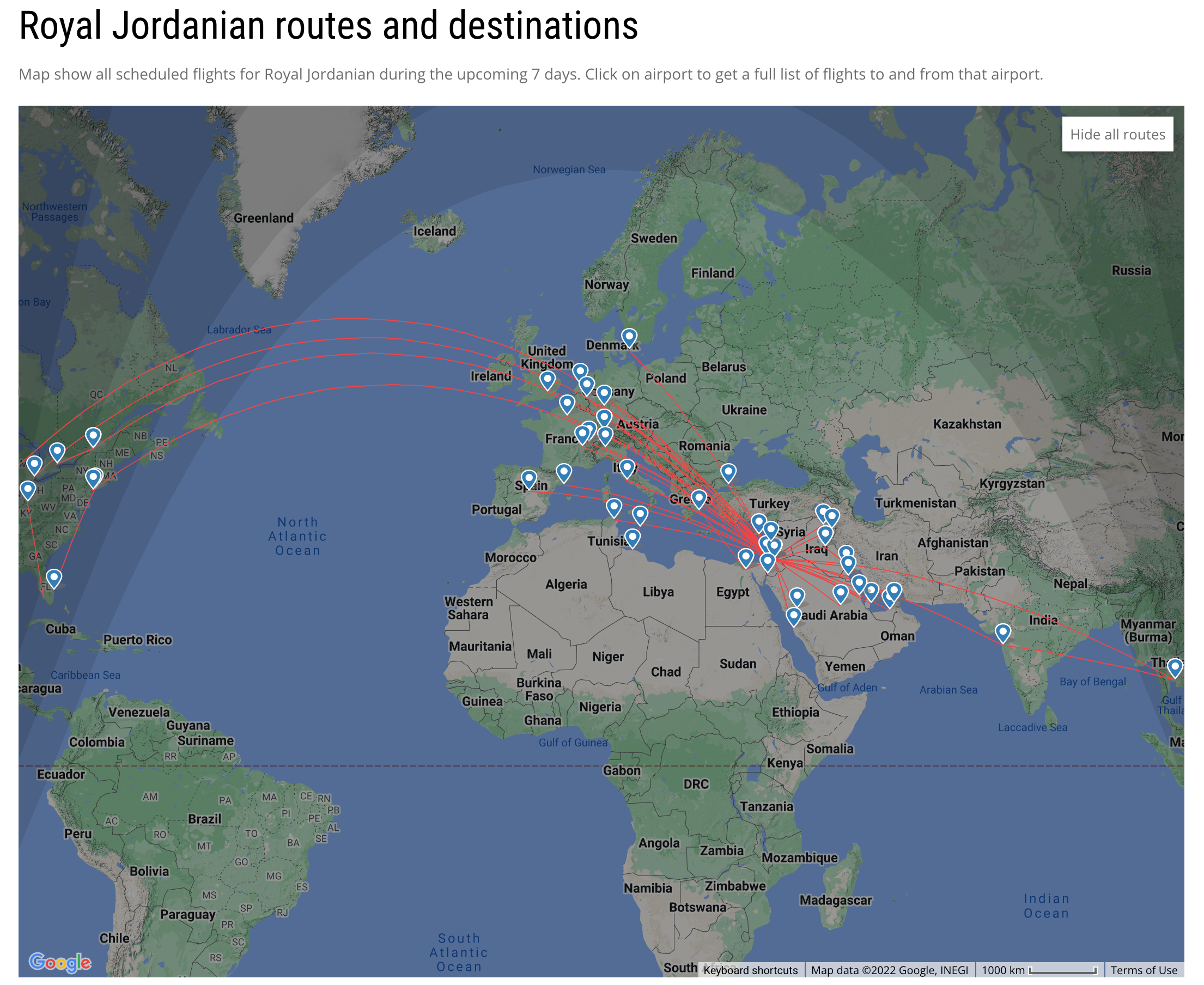 British Airways competes on this route with a short-haul aircraft and service, so we wanted to put the experience on board this full-service airline to the test in both cabins.
Liam and I flew on Royal Jordanian's flagship Boeing 787-8 aircraft from London's Heathrow Airport (LHR) to Queen Alia International Airport (AMM) in Amman, Jordan. I took a seat down the back in economy, while Liam sat up front in business class (dubbed by the airline as "Crown Class").
Watch the full video below:
Need more? Read on for a breakdown of our individual experiences aboard Royal Jordanian's Dreamliner service.
Economy: Nicky Kelvin
Cost: 282 British pounds ($344).
I loved how comfortable the economy seat was. It had a solid recline and came with a complimentary pillow and blanket, making the setup even more comfortable. It was a bonus to have a full entertainment system on a relatively short flight — some competitors on this route do not offer that. The inflight meal was delicious and plentiful, especially the fish main course.
My main complaint is that the fuselage was very close to the side of the seat and encroached on my space, making my spot a little uncomfortable. The boarding process was chaotic, too: We had to wait in line to enter the gate area and again to board the aircraft.
Business Class: Liam Spencer
Cost: 42,500 American Airlines AAdvantage miles plus 253 pounds ($308).
I thought the seat itself was extremely comfortable even though it did not have as much personal space as other business-class products. The fabric was soft, and it felt as if you were sinking into the seat. There was an extensive cocktail menu, and I opted for the tequila-based paloma. It was delicious and ranks as one of the best drinks I've ever had on a plane. Additionally, the cabin crew was friendly, going above and beyond to ensure I had everything I wanted.
The experience wasn't all perfect, though. From starter to dessert, the food service lasted more than two hours. This was largely due to a long wait time in between courses. I also thought that my footwell was fairly narrow, making it hard to get into a comfy position once the seat had been turned into a fully flat bed. While I was lucky to not have a seat neighbor, if I had been on a busier flight, there would have been a significant lack of privacy.
For more transportation reviews, check out: