Delta Air Lines continues to invest in modernizing and expanding the Sky Club network.
This year, the Atlanta-based carrier opened four stunning lounges, including its two largest in New York's LaGuardia Airport (LGA) and Los Angeles International Airport (LAX), as well as its only international club in Tokyo's Haneda Airport (HND) and a major, 22,000-square-foot new space in Terminal 5 at Chicago's O'Hare International Airport (ORD).
And Delta isn't resting on its laurels. The carrier announced news Wednesday of some major club growth planned for 2023, including a whopping eight new and expanded spaces nationwide.
Here are the latest details.
5 new Sky Clubs
Kansas City International Airport (MCI)
Estimated opening: February 2023.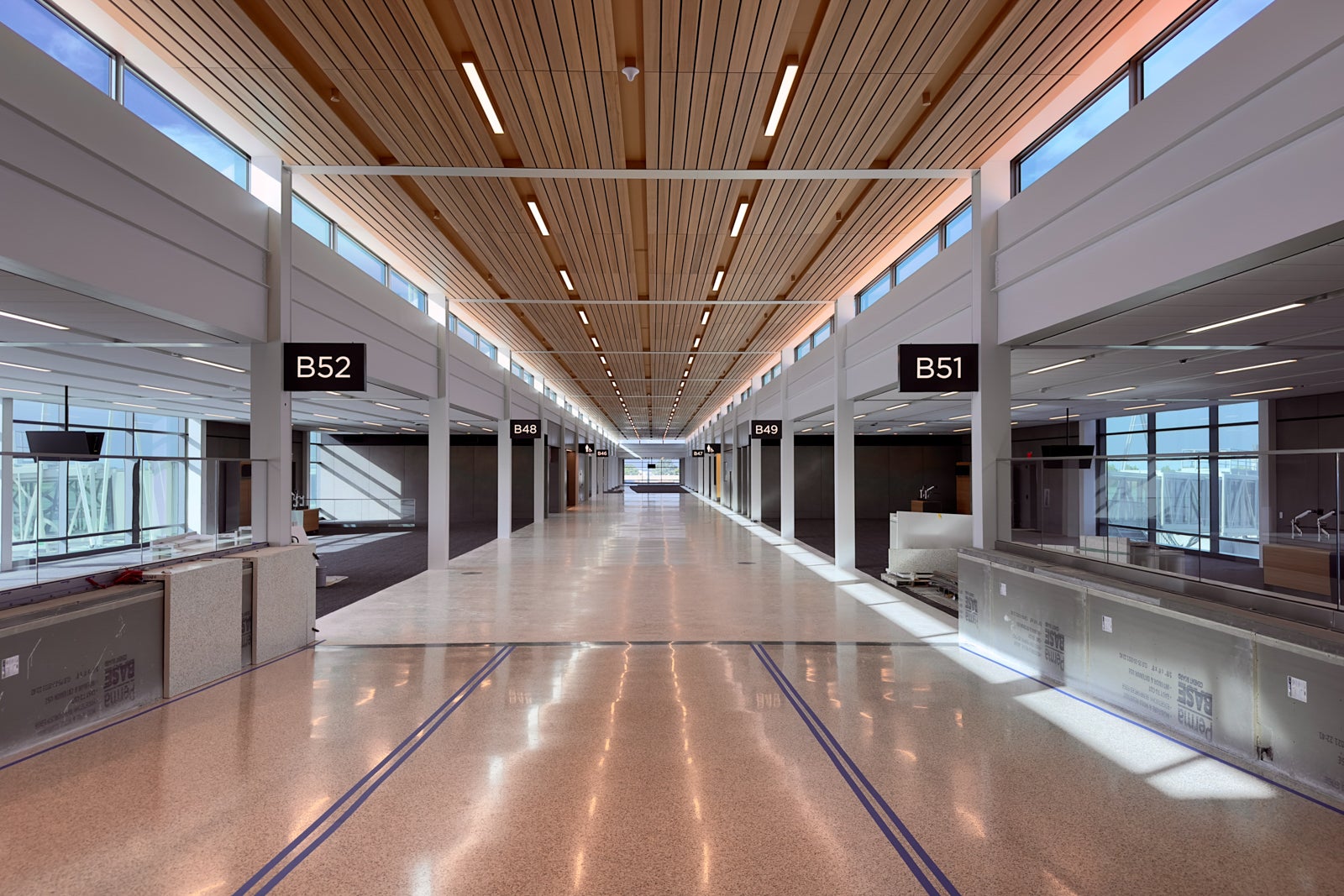 It's been years in the making, but Kansas City, Missouri, is finally gearing up to open its $1.5 billion new terminal at MCI. TPG recently toured the construction, and the new terminal is on track to open early next year.
At the outset, the space will be home to just one airline lounge, Delta's first Sky Club in Kansas City. The details are light, but Delta promises two all-weather Sky Decks in the 11,000-square-foot lounge.
Minneapolis-St. Paul International Airport (MSP)
Estimated opening: April 2023.
Delta is opening a brand-new club at its hub in Minneapolis-St. Paul early next year. It'll measure 21,000 square feet, which is roughly twice the size of the existing F/G concourse club, and it'll offer seating for 450 travelers. Amenities include an indoor-outdoor bar, a year-round Sky Deck (protected from the cold weather during the winter) and tarmac and runway views from the main relaxation area.
It's expected that this lounge will become the nicest at MSP and will be designed in Delta's new signature Sky Club style.
John F. Kennedy International Airport (JFK)
Estimated opening: June 2023.
Delta is consolidating its operations at JFK in Terminal 4 next year, which will coincide with the decommissioning of Terminal 2. At that time, the airline will open a second Sky Club in Terminal 4, but this one will be at the A gates. It'll measure nearly 14,000 square feet, with seating for over 200 travelers. No other amenities were teased as part of the announcement.
As Delta continues to suffer from Sky Club overcrowding in New York, the airline will open a Sky Club Express — a concept that first debuted this year in Boston — in Terminal 4 starting in January 2023. This temporary space will remain open until the new club in Terminal 4's Concourse A opens next year.
Additionally, the airline is still planning a business-class-only lounge for JFK, but that's expected to open in 2024.
Boston Logan International Airport (BOS)
Estimated opening: Late summer 2023.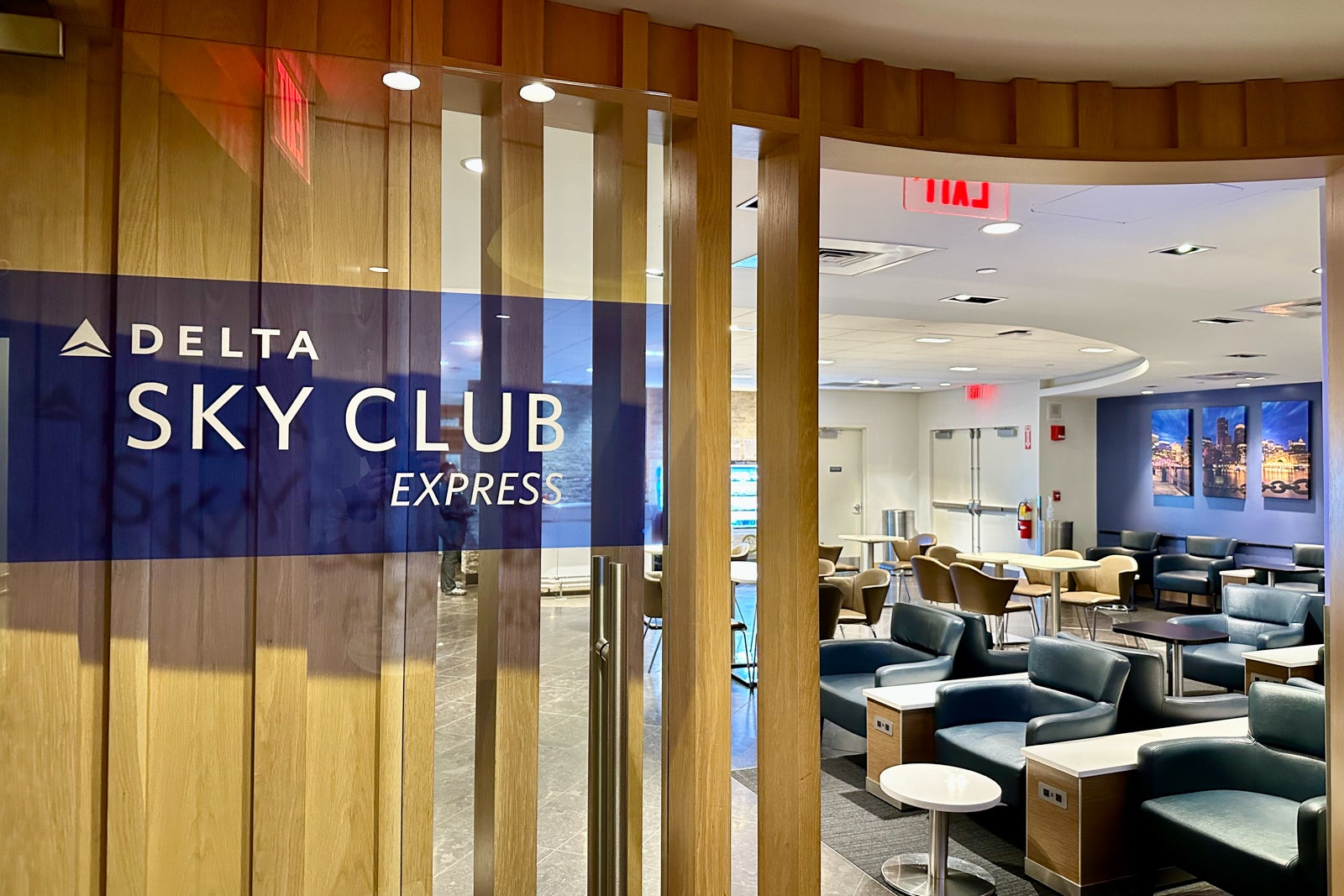 Delta's Boston hub received a major upgrade earlier this year with the completion of the main Sky Club in Terminal A, near Gate A18. As part of Delta's growth in Boston, the airline expanded its international operations to the airport's Terminal E, and connecting passengers can now take a bus between the A gate and E gates to simplify the transit experience.
Delta opened its first Sky Club Express in Boston to accommodate premium travelers departing from Terminal E, and next year, the airline will open a permanent lounge in this terminal that's sure to impress. The 21,000-square-foot space will seat over 400 travelers.
Newark Liberty International Airport (EWR)
Estimated opening: Fall/winter 2023.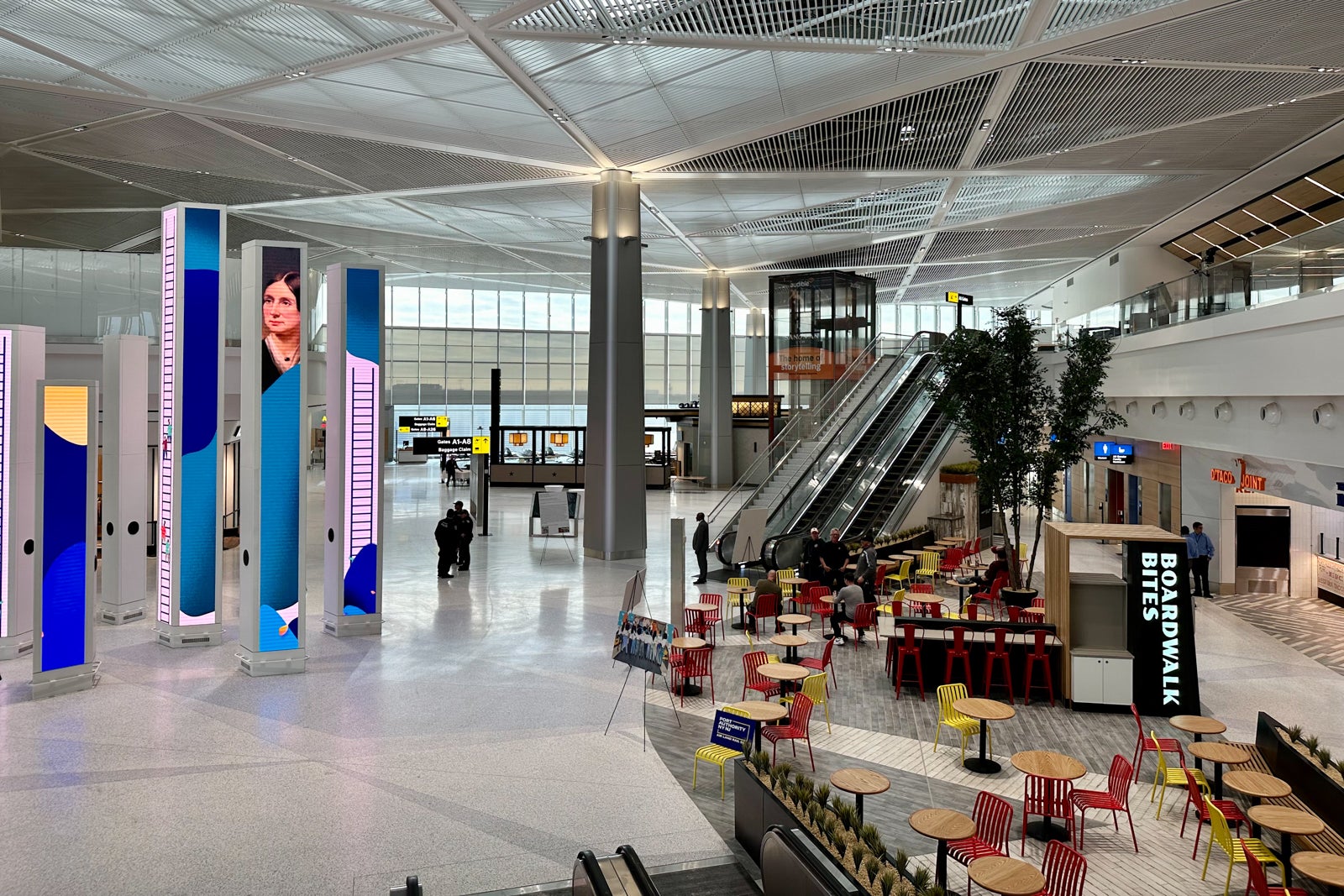 Newark is getting a big glow-up with the opening of the stunning new Terminal A on Dec. 8. When the new facility opens, American, Air Canada, JetBlue and United will call the terminal home. (Only a subset of United flights will depart from Terminal A.)
Delta will move into Terminal A after the second phase of construction is completed there next year, and the airline will open a brand-new Sky Club in the new terminal at that time.
No additional details are currently available, but Delta will share the upper-level lounge space with an American Admirals Club.
3 expanded Sky Clubs
Fort Lauderdale-Hollywood International Airport (FLL)
Estimated opening: September 2023.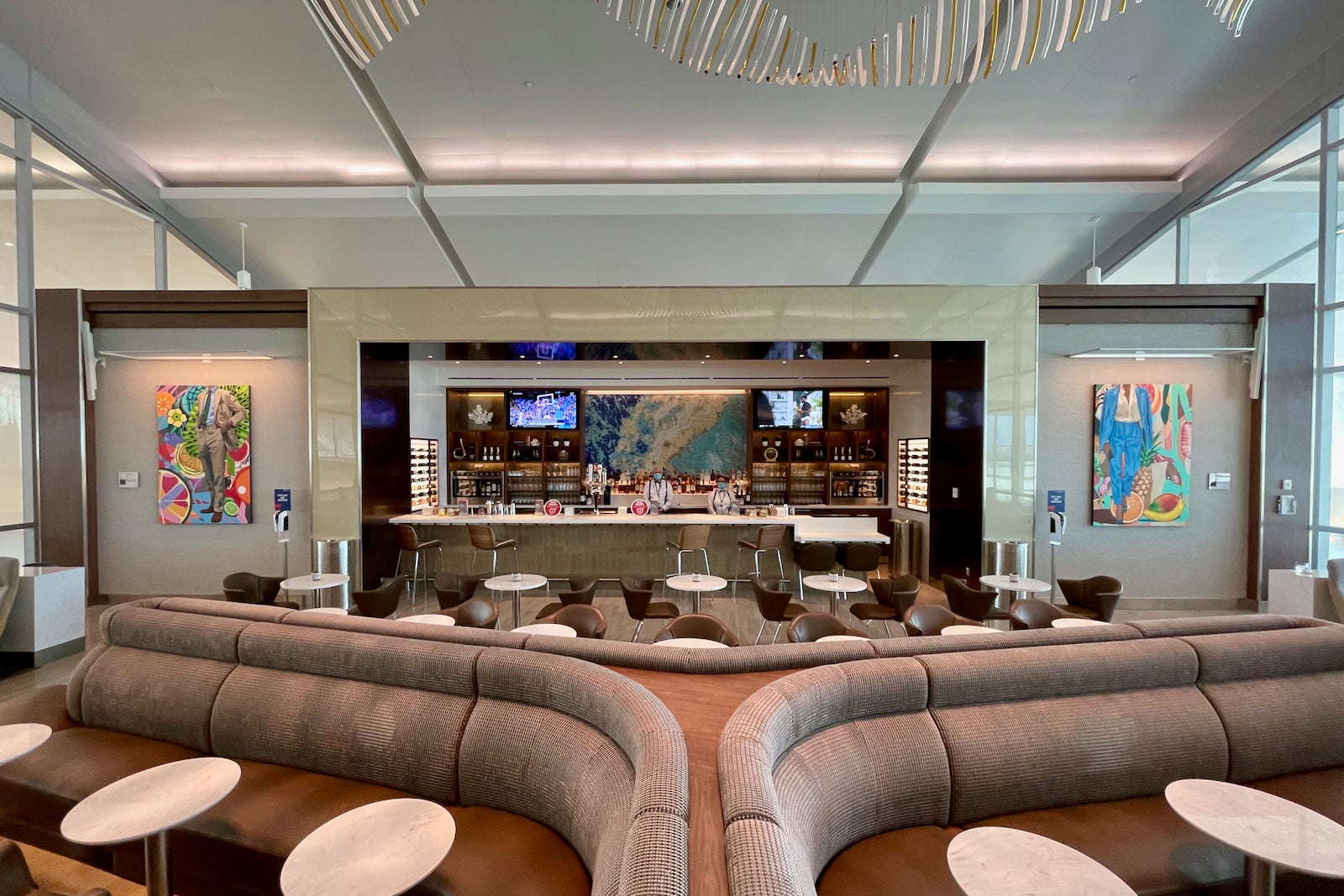 Delta opened its new Fort Lauderdale club in June 2021. The lounge is designed with luxurious finishes and offers an impressive buffet selection. At 8,000 square feet, the new Sky Club seats 180 guests, representing a nearly 50% capacity boost compared to the one it replaced. That said, overcrowding continues to be an issue at FLL, and Delta is already expanding the new lounge by an additional 2,200 square feet, which will add 90 seats to the existing footprint.
Miami International Airport (MIA)
Estimated opening: December 2023.
With the recent approval of the Delta and LATAM joint venture, Miami is turning into a gateway hub for Delta, whereby the carrier can funnel domestic connections to the South American airline's extensive network from this key South Florida city.
Delta's existing Miami Sky Club is in Concourse H, and it'll be expanded late next year to accommodate a total of 320 flyers with over 12,000 square feet.
Hartsfield-Jackson Atlanta International Airport (ATL)
Estimated opening: Winter 2023.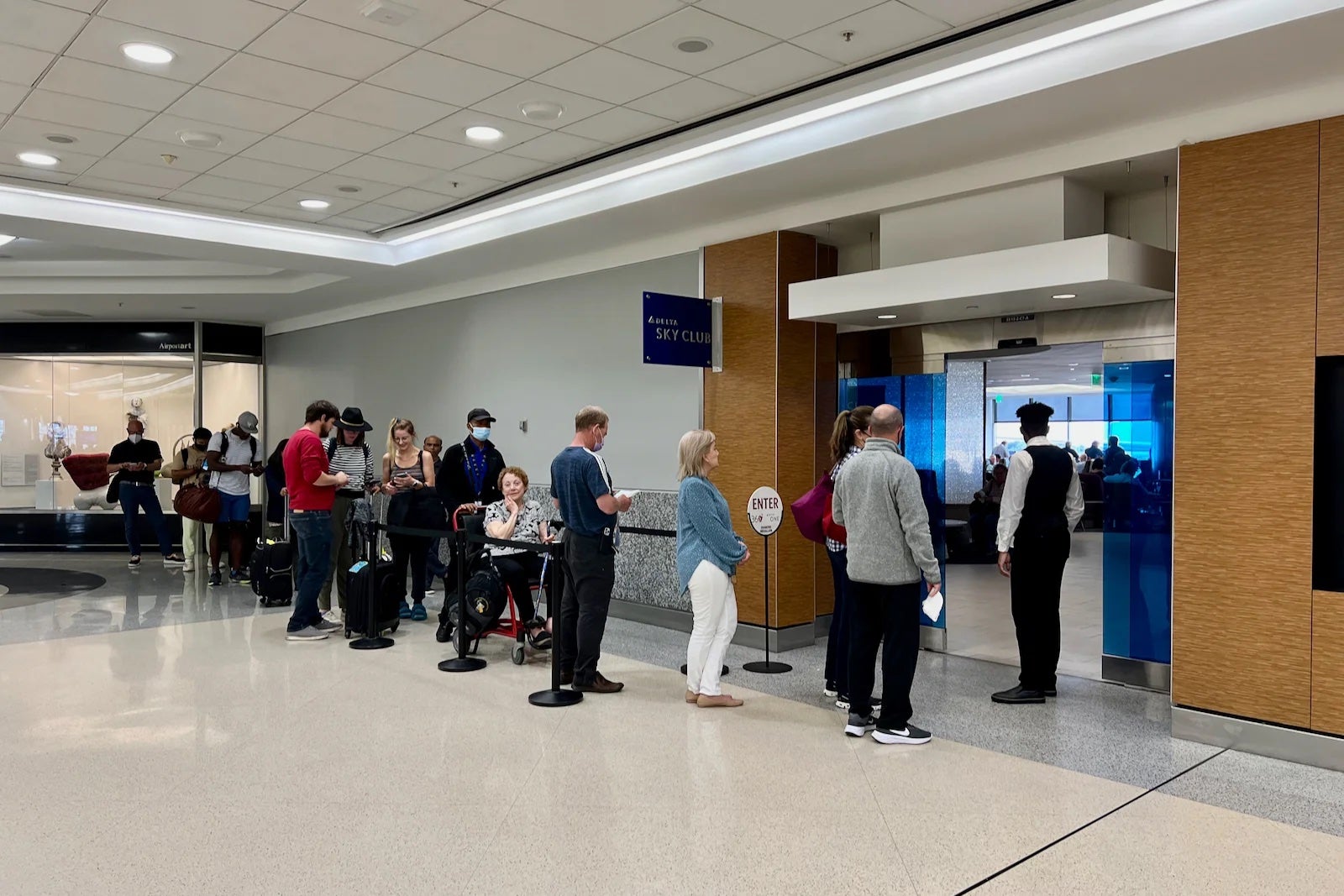 Delta plans to renovate its existing Concourse E club in Atlanta. The airline will update the design motifs and will add new self-serve check-in kiosks and an expanded full-service food and beverage station there. As part of the renovation, the club will be expanded to over 18,000 square feet and hold 353 travelers.
This has historically been one of Delta's busier clubs in Atlanta, especially during peak afternoon and evening departure banks for long-haul flights that depart from Concourse E.
Delta also plans a brand-new Sky Club for Concourse D in Atlanta, but there's been no official word from the carrier yet confirming these plans or the construction timeline.
Bottom line
No other U.S. airline is doing as much as Delta to grow and expand its lounge network. The airline's lounges are among the nicest in the U.S., and it's great to see a big round of investment from the carrier.
All of these new and renovated spaces come as the airline has been suffering from some severe overcrowding, so these larger spaces can't come soon enough. At the same time, the carrier is overhauling the lounge access policy, which will hopefully help alleviate some of the lines and crowds we've seen at Sky Clubs nationwide.
With the recent access policy changes, using an eligible American Express card to access the Sky Club is now more lucrative than ever, so be sure to check out the full details.