It's time to get out and vote in the 2022 midterm elections, held on Tuesday, Nov. 8.
Although this isn't a presidential election year, these midterm election races — focused on local races and congressional and gubernatorial seats — will affect the entire country. The ideological balance of the Senate and House of Representatives can change after the voting is complete.
That's why every voter needs to be able to get to the polls and cast their ballots. However, in 2016, studies showed that more than 15 million eligible voters said they didn't vote, primarily because they couldn't get to the polls.
If you don't have transportation, you can still do your civic duty and cast a vote at your local polling place.
Several organizations and ride-hailing companies will provide free or highly discounted lifts to the polls. Here's how to find them and what you can expect.
Find a volunteer to drive you for free
If you don't have a car or easy access to public transportation, a number of organizations are here to help. Rideshare2Vote helps voters in need of a ride get to their local polling facilities for free. The organization's tagline is "Everyone deserves to have their voice heard."
Ridshare2Vote is available in nine states: Arizona, Colorado, Florida, Georgia, Nevada, North Carolina, Ohio, Texas and Virginia.
If you live in one of these states and have a car, you can also volunteer to drive others to the polls.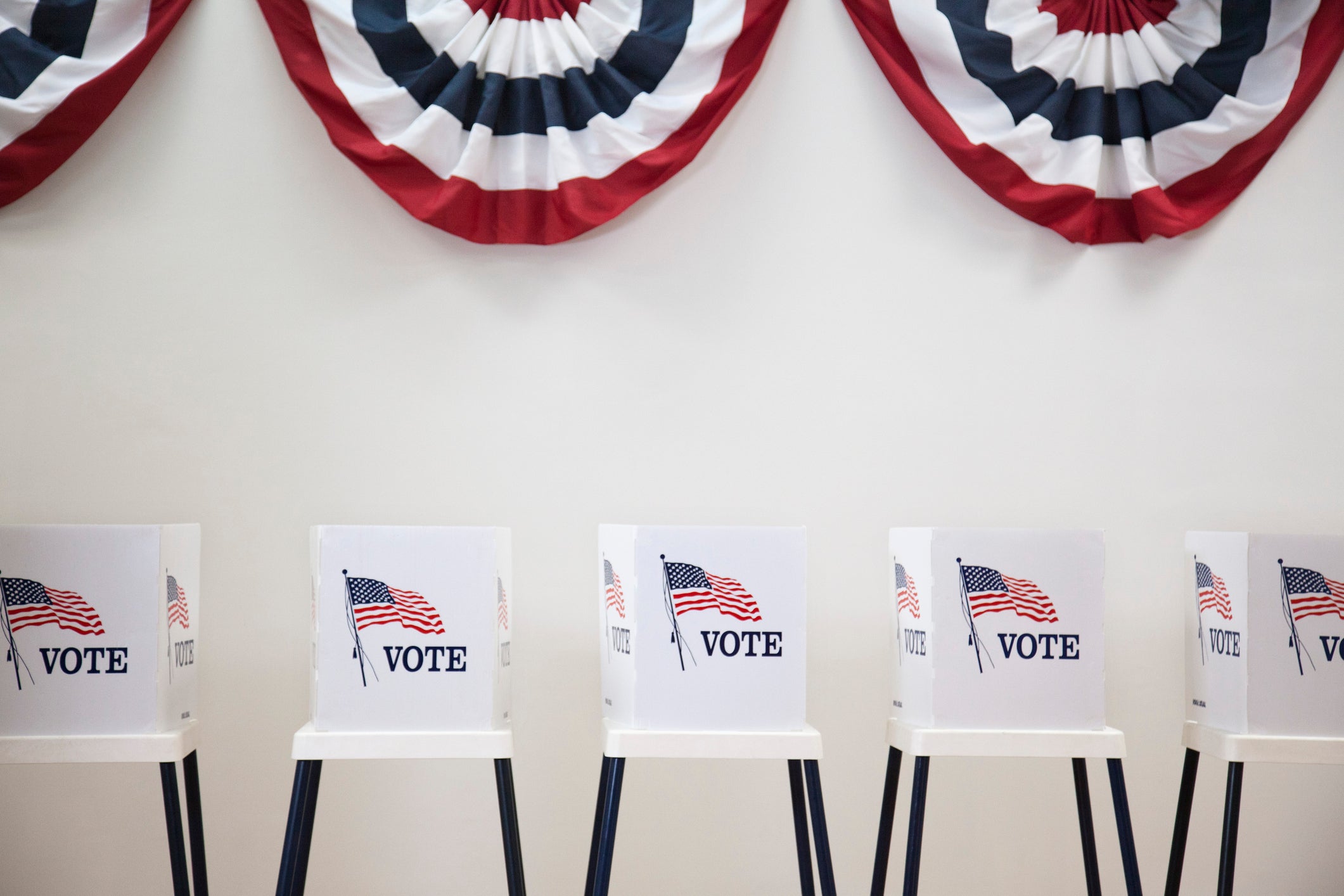 Lyft to the polls for voters
For the 2022 midterm elections, Lyft is offering discounted (though not free) car rides, bike rides and scooter rides to help get voters to the polls.
Riders can preload the code "VOTE22" to their Lyft accounts before or on Election Day to receive a 50% discount. Riders can use the code from 5 a.m. to 10 p.m. in every time zone for a discount of up to $10. Riders can preload or activate the code directly in the Lyft app or in the app of participating local bike-share programs.
Note that the discount does not apply to the tip and cannot be applied to business accounts.
As part of the company's 2022 LyftUp Voting Access program, you may be eligible for free or even more heavily discounted rides through Lyft's nonprofit partners — particularly in communities that traditionally face barriers when getting to the polls, Lyft says. Some of these partners include the League of Women Voters, National Federation of the Blind, Warrior Scholar Project, National Council on Aging, Voto Latino Foundation, Asian and Pacific Islander American Vote and the NAACP. These partners will distribute ride codes directly to people in their networks whom they identify as most in need of transportation.
Related: Easy ways to earn bonus rewards on Lyft rides
Uber rides for poll workers
For free and fair elections to take place, voting locations need poll workers on Election Day. If you are working one of these temporary jobs, you can get a free ride to and from the polling place through Uber's partnership with Power the Polls.
"Signing up to be a poll worker is a great way for eligible Americans to engage in civic responsibility and contribute to their communities," CR Wooters, head of federal affairs at Uber, said in a press release.
According to the release, ride vouchers will cover the full cost of rides up to $200 to and from a poll worker's assigned polling location. Poll workers need to register with Power the Polls.  
Related: New offers available: Earn American miles, Loyalty Points and statement credits on Uber purchases
Register to vote and know your polling place
Now that you've found your ride, take a few minutes to find your polling place, familiarize yourself with your local ballot options and check your voter registration.
Visit Ballotpedia to see your local candidates and research local issues.
Many states require you to register to vote prior to Election Day, but there are 20 states, plus Washington, D.C., that allow you to both register and vote on the same day. You can find out what rules are in your state at the National Conference of State Legislatures' website.
If you're not sure if you're already registered to vote, check your status at VoteAmerica.
Additional reporting by Katherine Fan.