The next time you fly on a plane, take a look at your seat cushion. If you inspect it closely, there's a good chance you'll find the words "Made in Kilkeel" stitched onto the seat somewhere.
Kilkeel is a small town in Northern Ireland, and while you may have never heard of it before, it's home to one of the world's largest and oldest manufacturing plants for commercial airline seats.
The facility opened in 1967 as Aircraft Furnishing Ltd with just five employees. Fast forward 56 years, and Alan Henning, the managing director of the Kilkeel plant, has more than 800 employees working for him, most of whom live in Kilkeel and the surrounding communities.
Owned and operated by the American conglomerate Collins Aerospace (a Raytheon Technologies subsidiary), this Kilkeel facility is a major outpost for the company's interiors business. It builds essentially anything you'd find inside a jetliner, from life rafts and lavatories to seats and tray tables.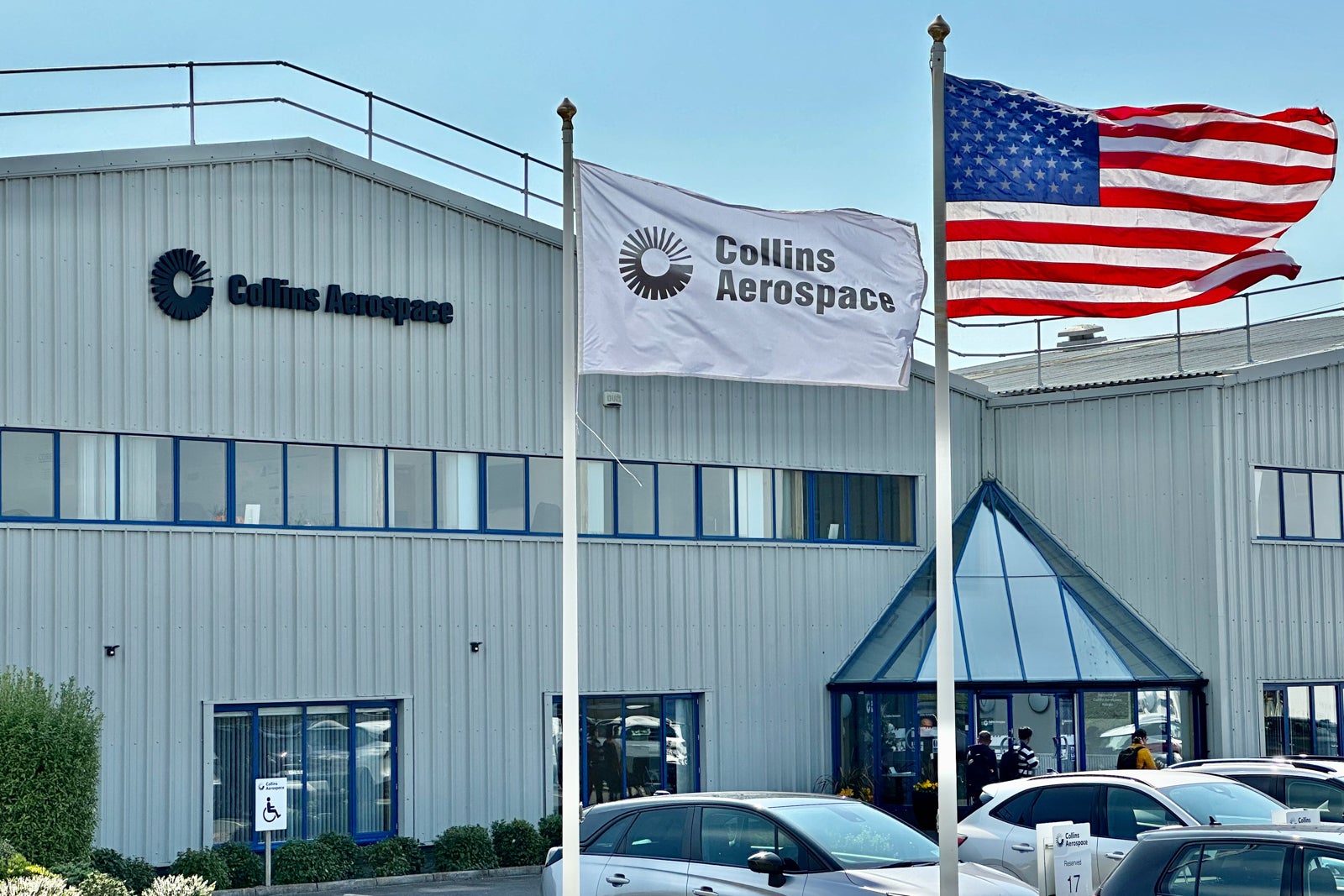 (Northern Ireland as a whole actually plays a critical role in the aviation industry, as it's also home to plants for Airbus, Boeing, Embraer, Spirit AeroSystems, Thales and a few other heavy hitters.)
While Collins' interiors business operates factories worldwide, Kilkeel specializes in airplane seats. The factory there is the largest seat facility in the world, and it has built more than 25% of airplane seats in operation.
To put that into perspective, more than 2.5 million seats flying globally were built at Collins' Kilkeel facility.
As the mecca of airplane seats, I've been itching to visit Kilkeel to learn how they're actually made. That opportunity came earlier this week, just days before Collins' latest product, the Elements business-class suite, would take its first commercial flight with Starlux.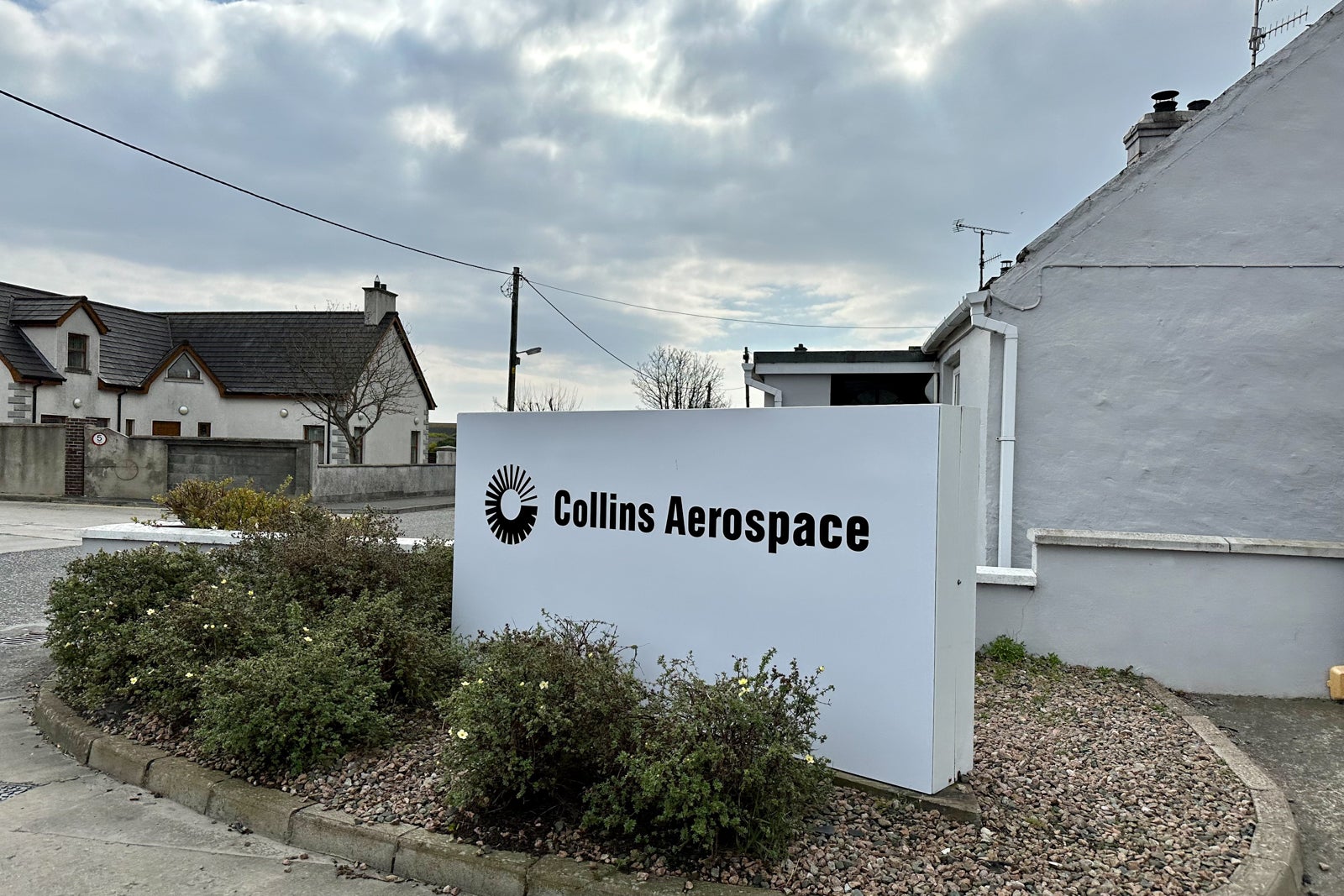 I'll have more to share about the significance of the Elements product in a separate post, but let's dive into how airplane seats are made — a three-step process far more complex than you may have imagined.
Sourcing the parts
All airplane seats begin as a collection of parts. At Collins, these components are sourced and stored at a brand-new 70,000-square-foot logistics hub that opened at the outset of the pandemic after a multiyear construction project.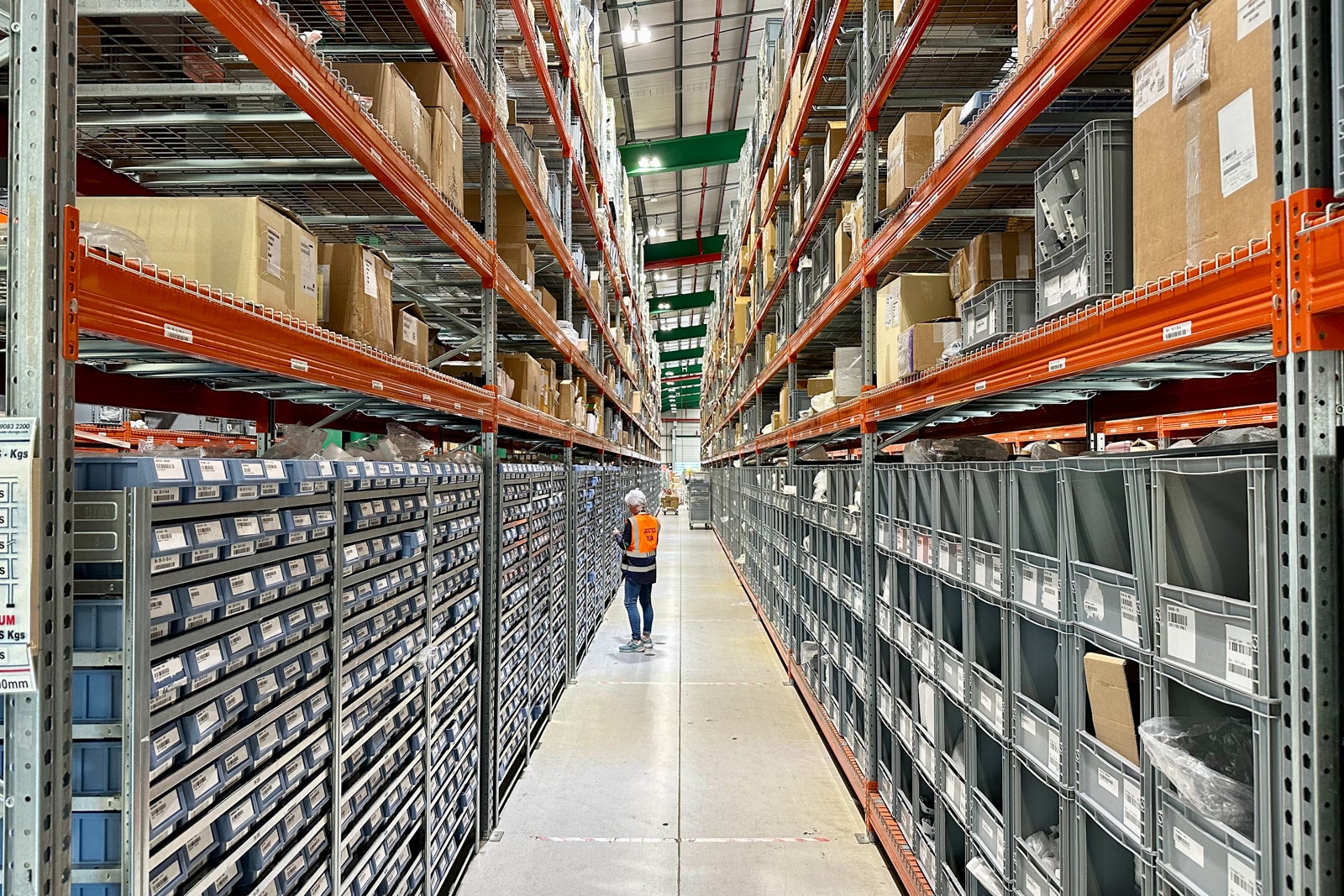 Less than a mile down the road from the assembly plant, this new hub is where the parts are delivered, collected, sorted and then dispatched to the rest of the operation.
Opening the logistics hub brought major efficiency gains to the manufacturing process, Henning told TPG, as Collins now sources all parts two days before assembly. This gives the manufacturer 48 hours of lead time to identify any issues or missing parts without needing to stop an active assembly line.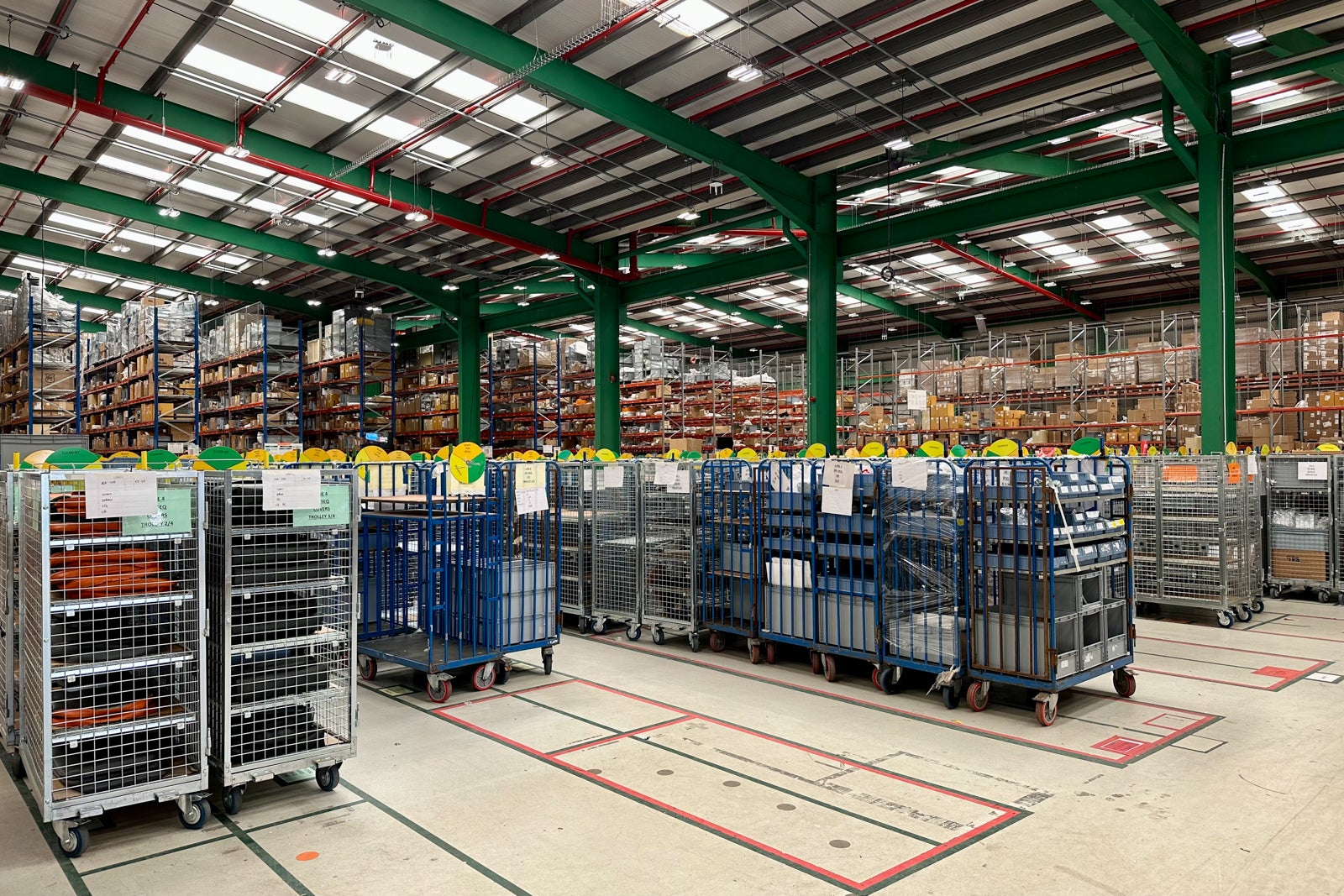 From tray tables to seat belts, parts come in all shapes in sizes. To account for that, Collins split the logistics hub into two areas, one reserved for economy and premium economy parts and another for business- and first-class parts. Furthermore, to account for all this variability, there are six different storage bin sizes for holding the parts.
Within each section, you'll find aisles and aisles of parts, almost as if you're shopping at Costco or BJ's — just trade toilet paper and paper towels for seat cushions and screws.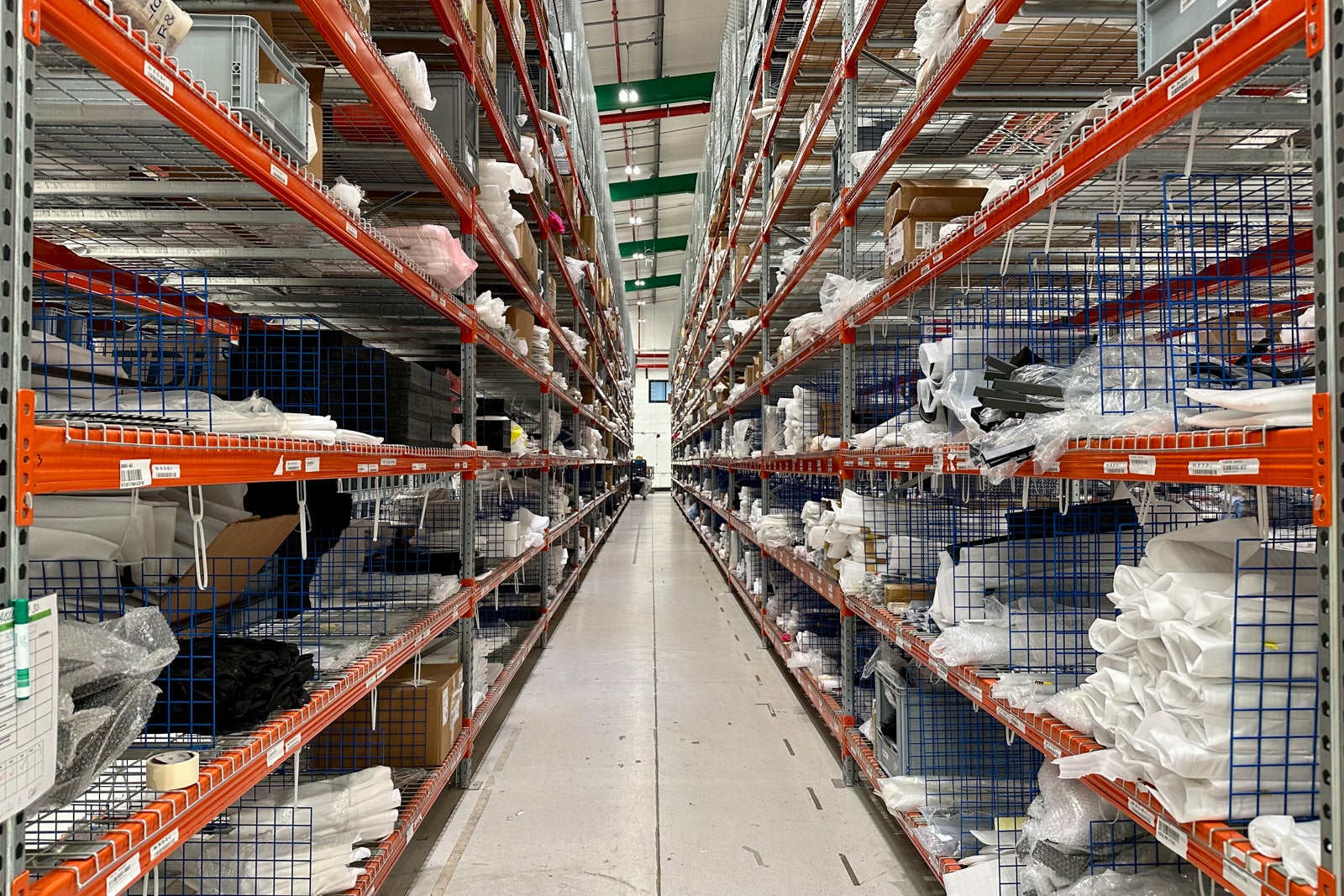 Each day, "shoppers" go down each aisle and fill their carts (or "trolleys," as the Irishman Henning calls them) with the items needed to build each type of seat.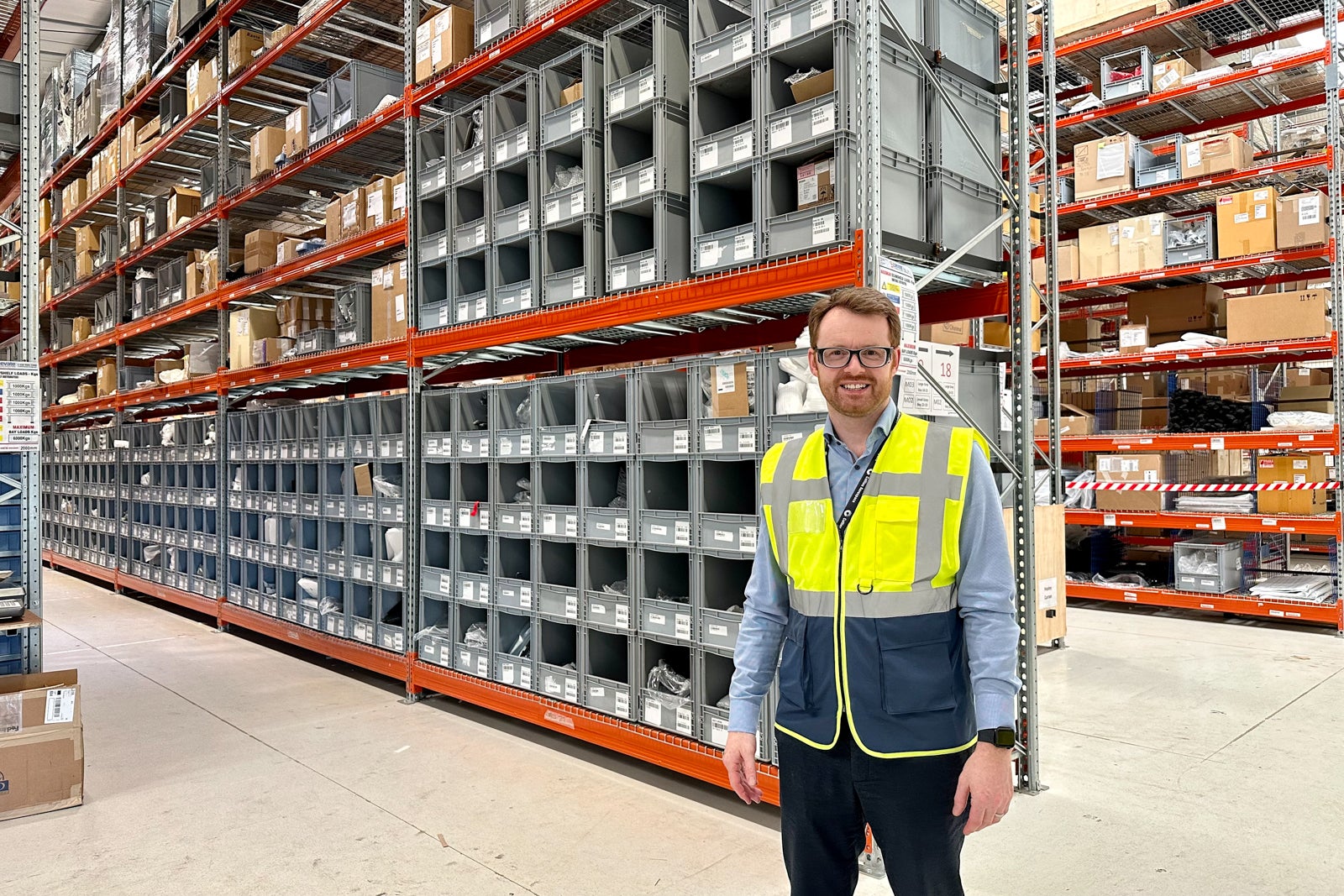 Once the trolleys are filled, they're trucked to the assembly line — a short, five-minute journey that happens at least twice an hour.
Building the components
Collins sources many parts from outside suppliers. However, some components can't be purchased. Instead, they must make them by hand (or machine), which is where the so-called "composites site" comes in.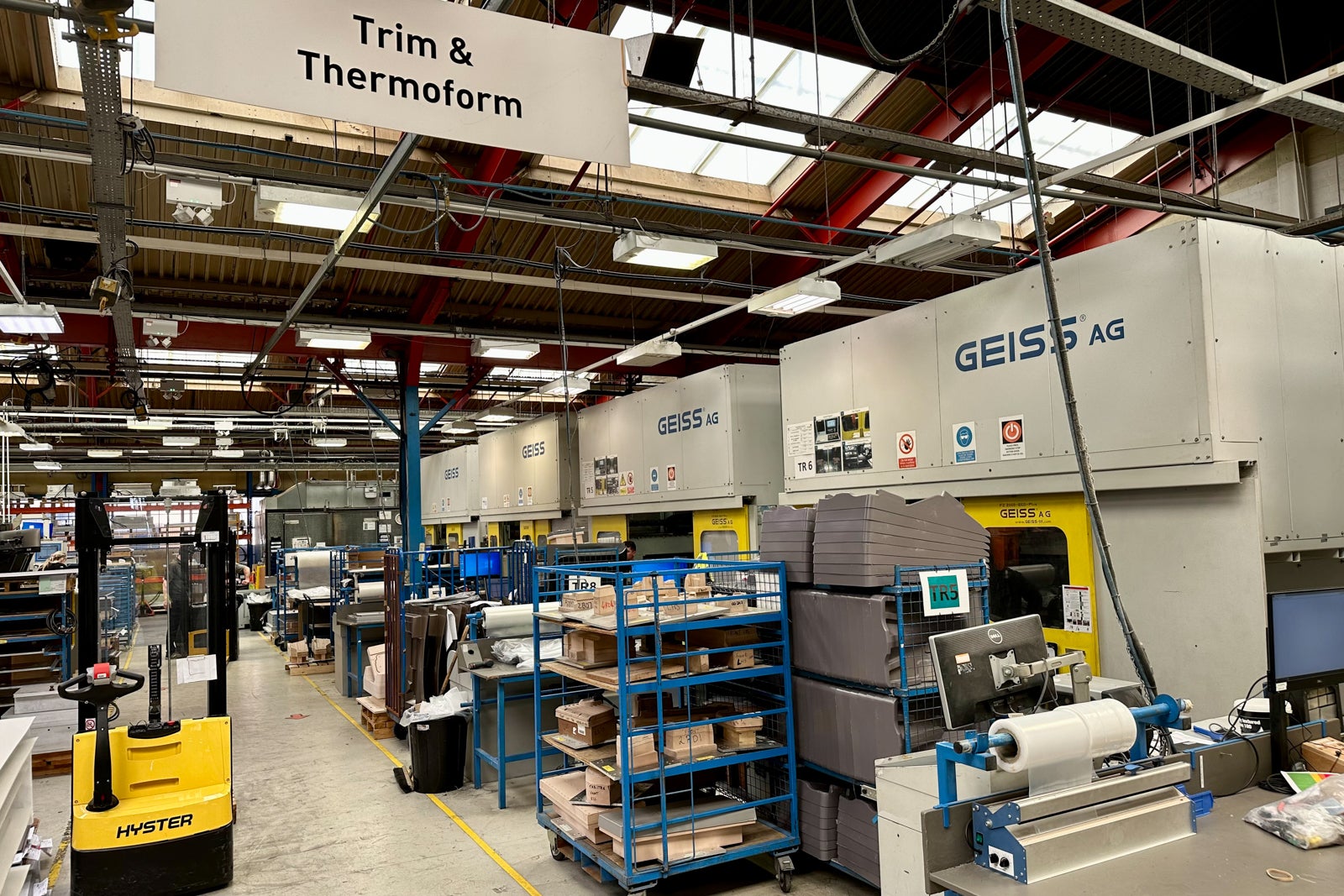 Here, the company builds the composite materials, shells and plastics that go into each seat.
I couldn't visit every machine in this facility (some parts of the process are proprietary to Collins, and the company keeps them top-secret). Still, I did get to watch as the three-axis CNC (computer numerical control) trimmer cut and molded plastics into specific parts, such as a composite shell that fits around a seat.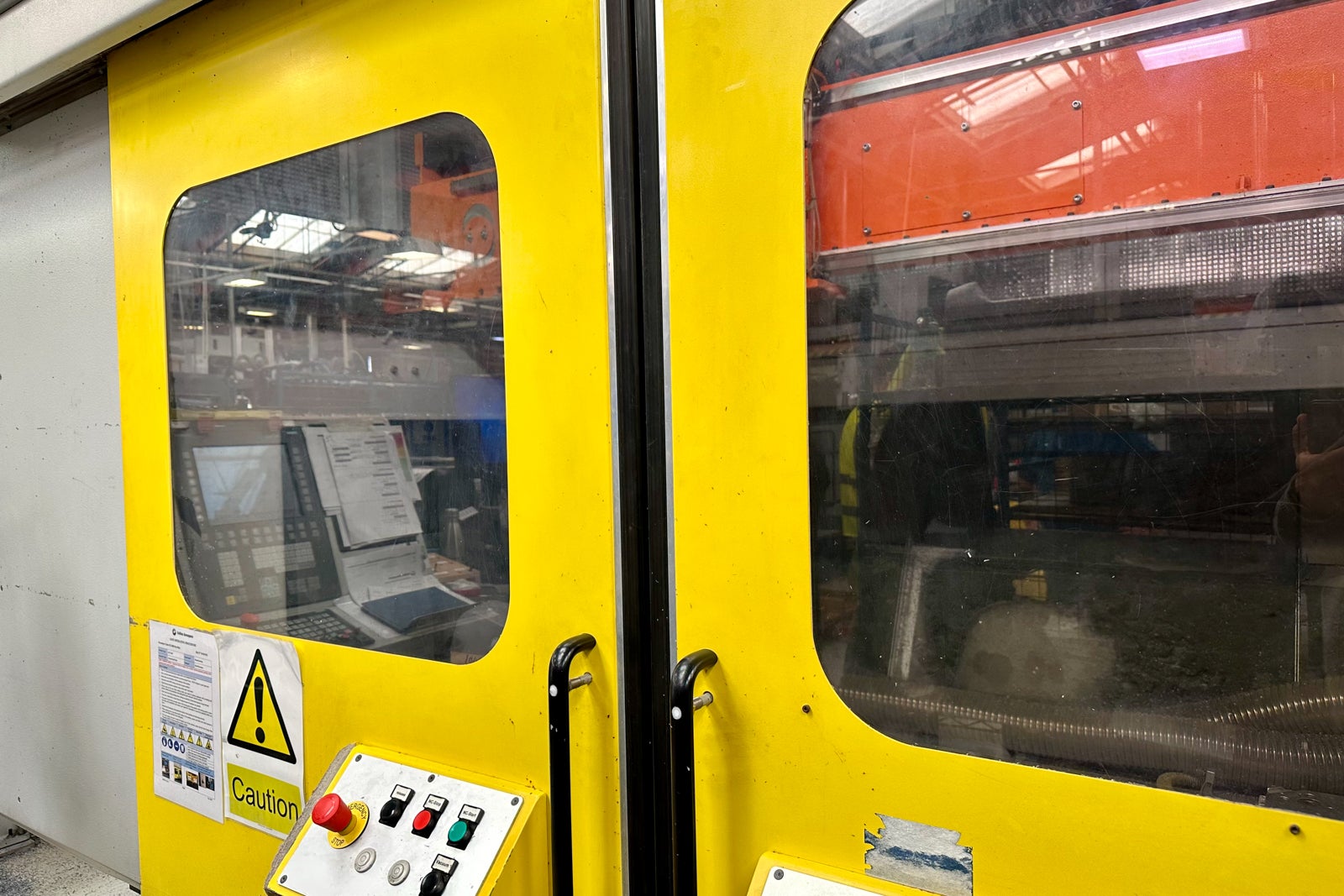 These robots were way cooler than they looked. After programming a computer module, the robot automatically cut up the plastic as specified in the program without any errors.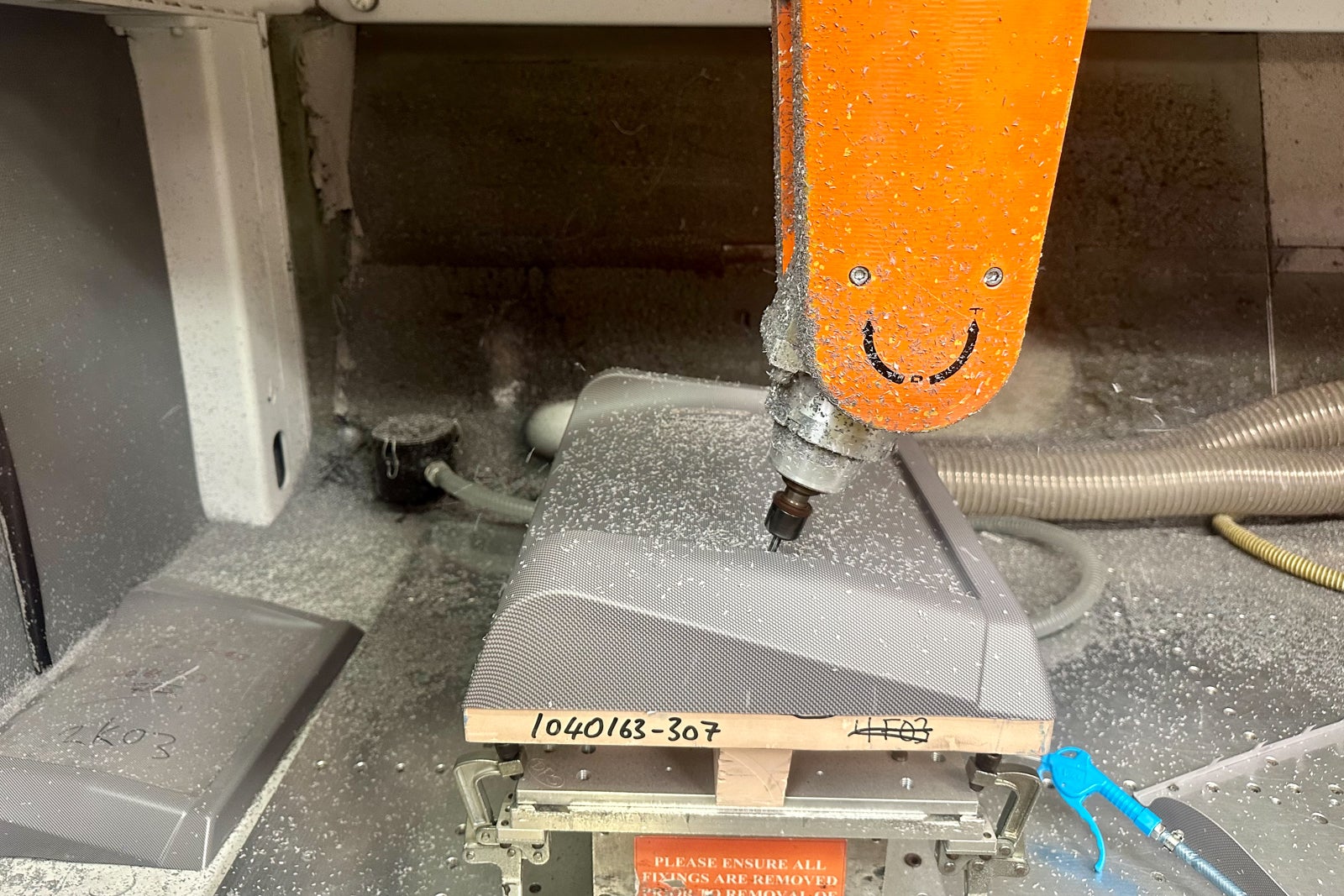 After a brief spray of compressed air and an inspection, these components are ready to be taken to the assembly site. There, they'll join the parts picked from the logistics hub to be turned into seats.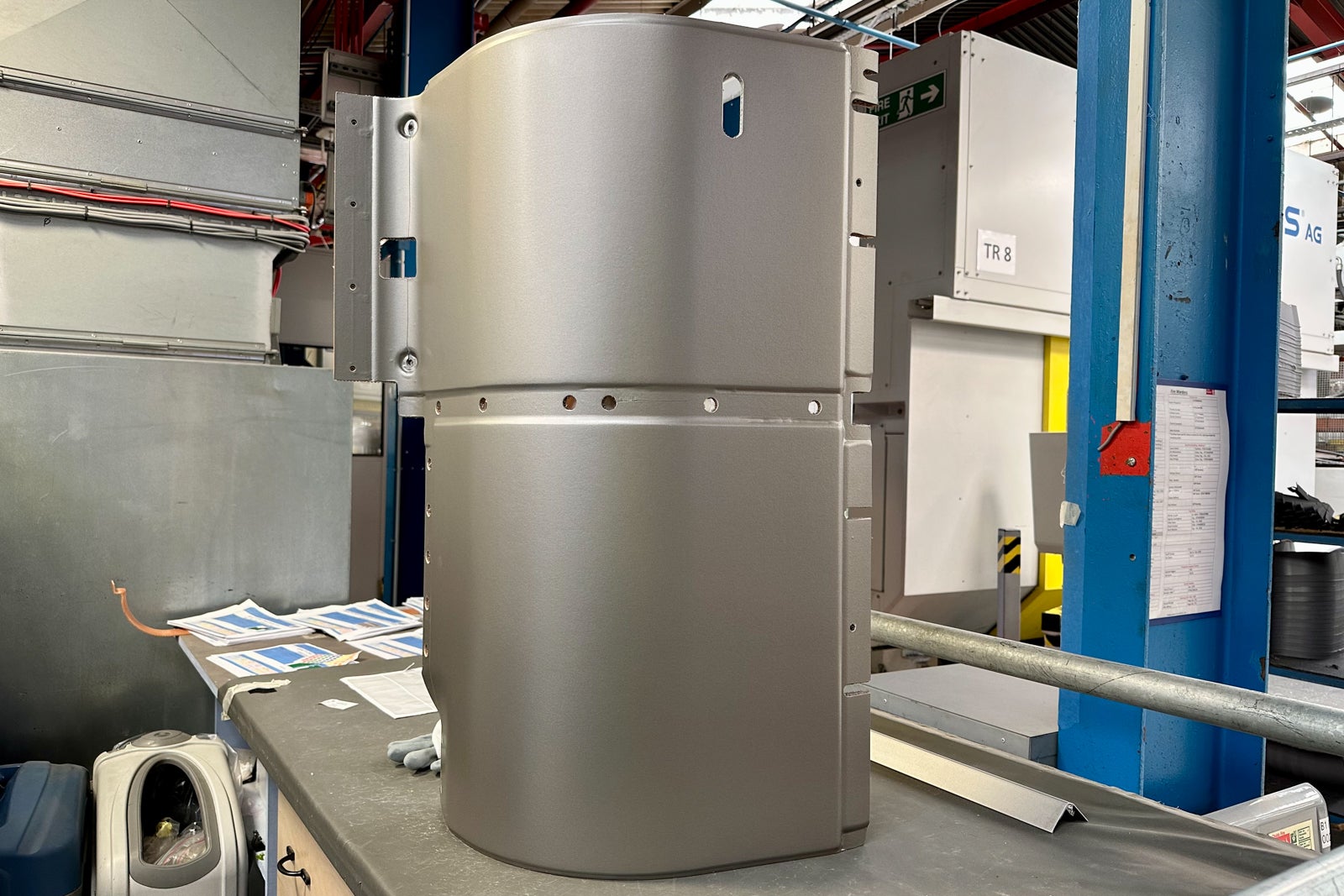 Assembling the seats
This is where the magic happens — building the seats. Within moments of stepping inside this 215,000-square-foot space, I had already seen seats destined for Copa, Delta, EgyptAir and JetBlue planes.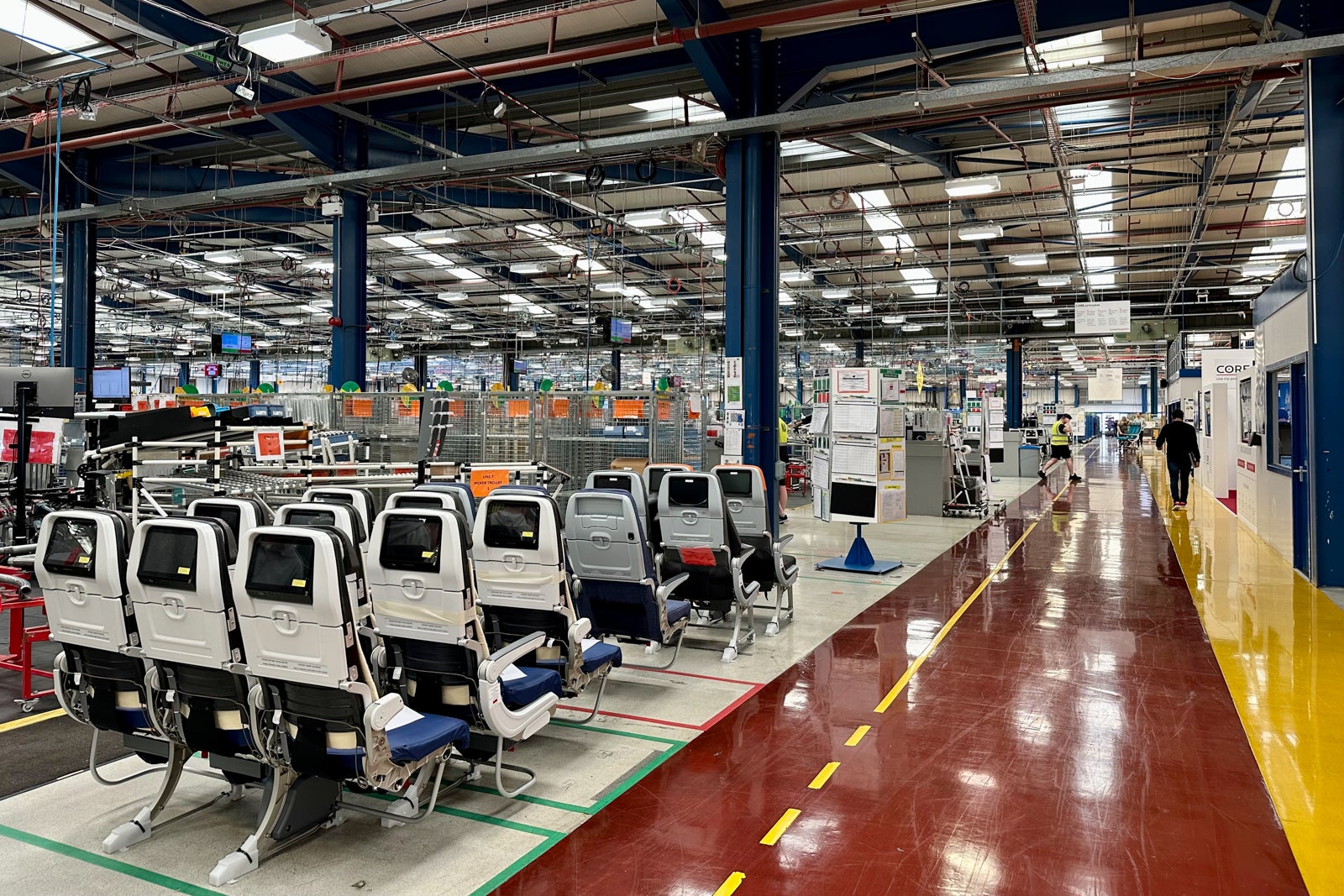 Collins organizes the seat assembly into 11 production lines, seven for economy and premium economy seats and four for business- and first-class pods.
Building economy and premium-economy seats is far simpler than assembling premium-cabin pods. Collins has it down to such a science that it takes just between nine and 11 minutes of work to build a three-seat section for an economy cabin.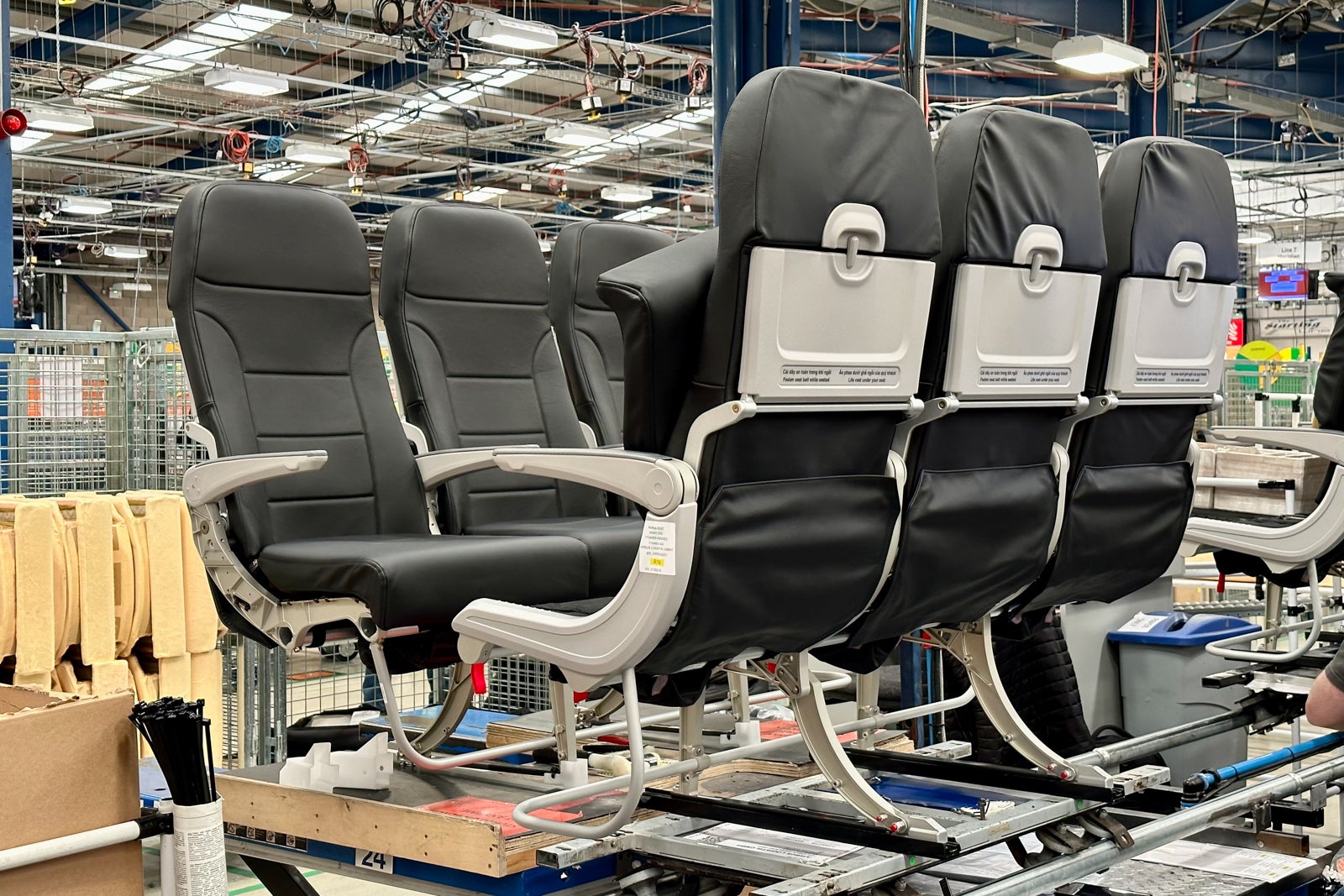 On the afternoon I visited, I observed the production line for EgyptAir's economy seat. I stood within a group of roughly 20 operators, each responsible for a distinct part of the assembly line.
Each operator stood in front of a computer screen that essentially displayed an instruction manual for building the seat. The sourcing team was responsible for ensuring each station was sufficiently stocked with the parts needed to complete each step.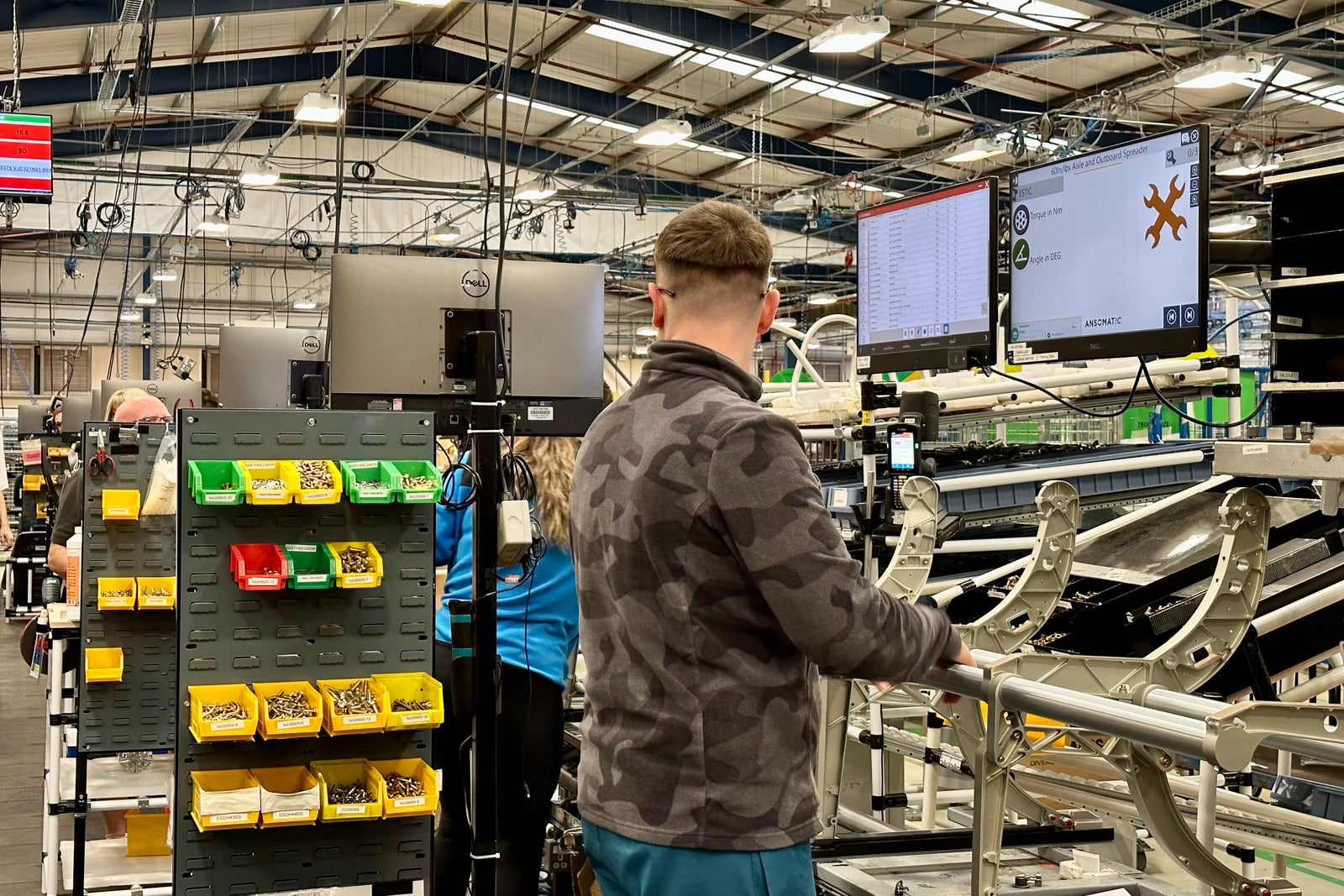 The first operator put together the base of the seat, then he slid this foundation down to the next station.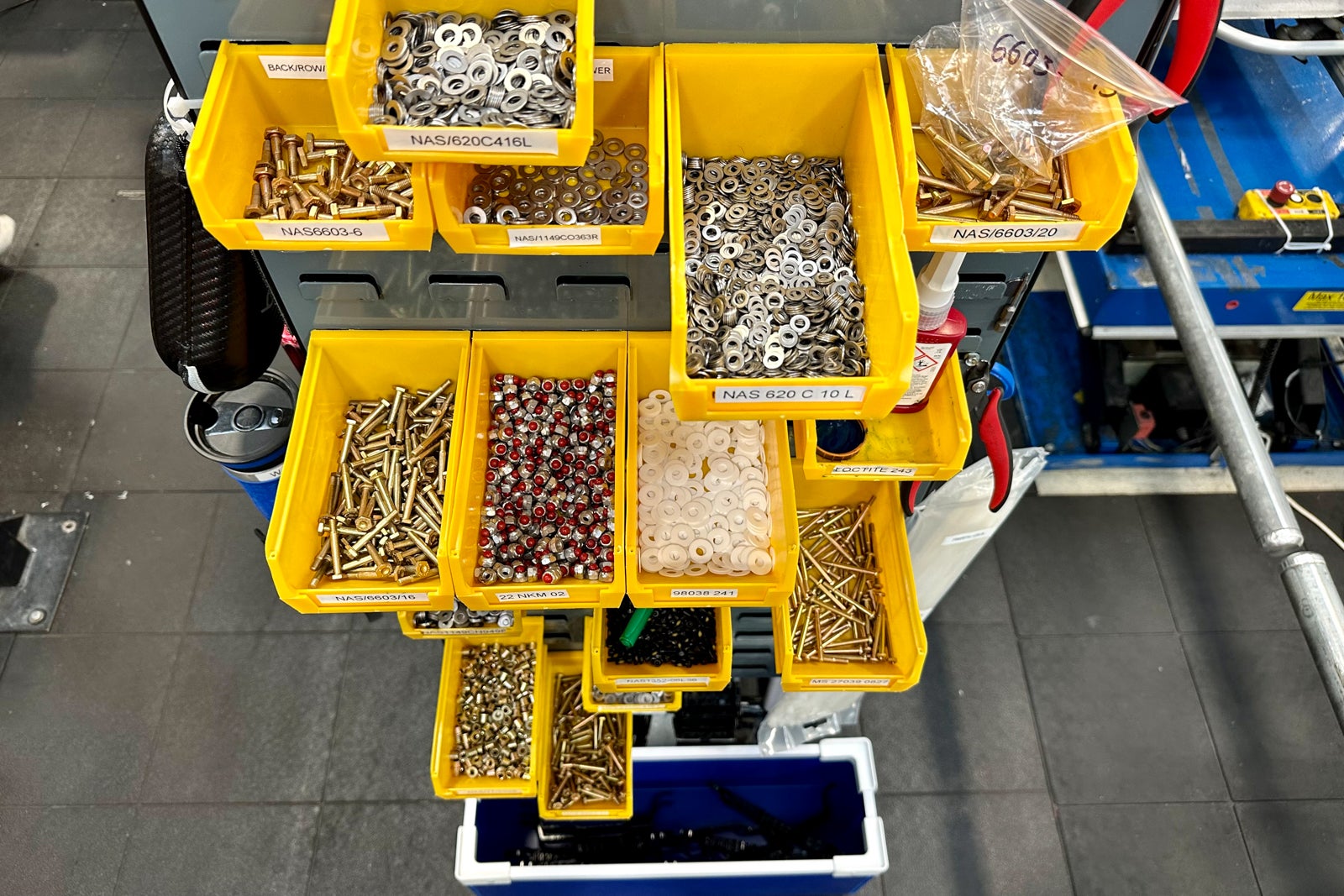 Seats are assembled on platforms attached to a roller-coaster track that goes around in a counter-clockwise direction. This way, operators don't need to lift anything too heavy — they just push the seats between stations.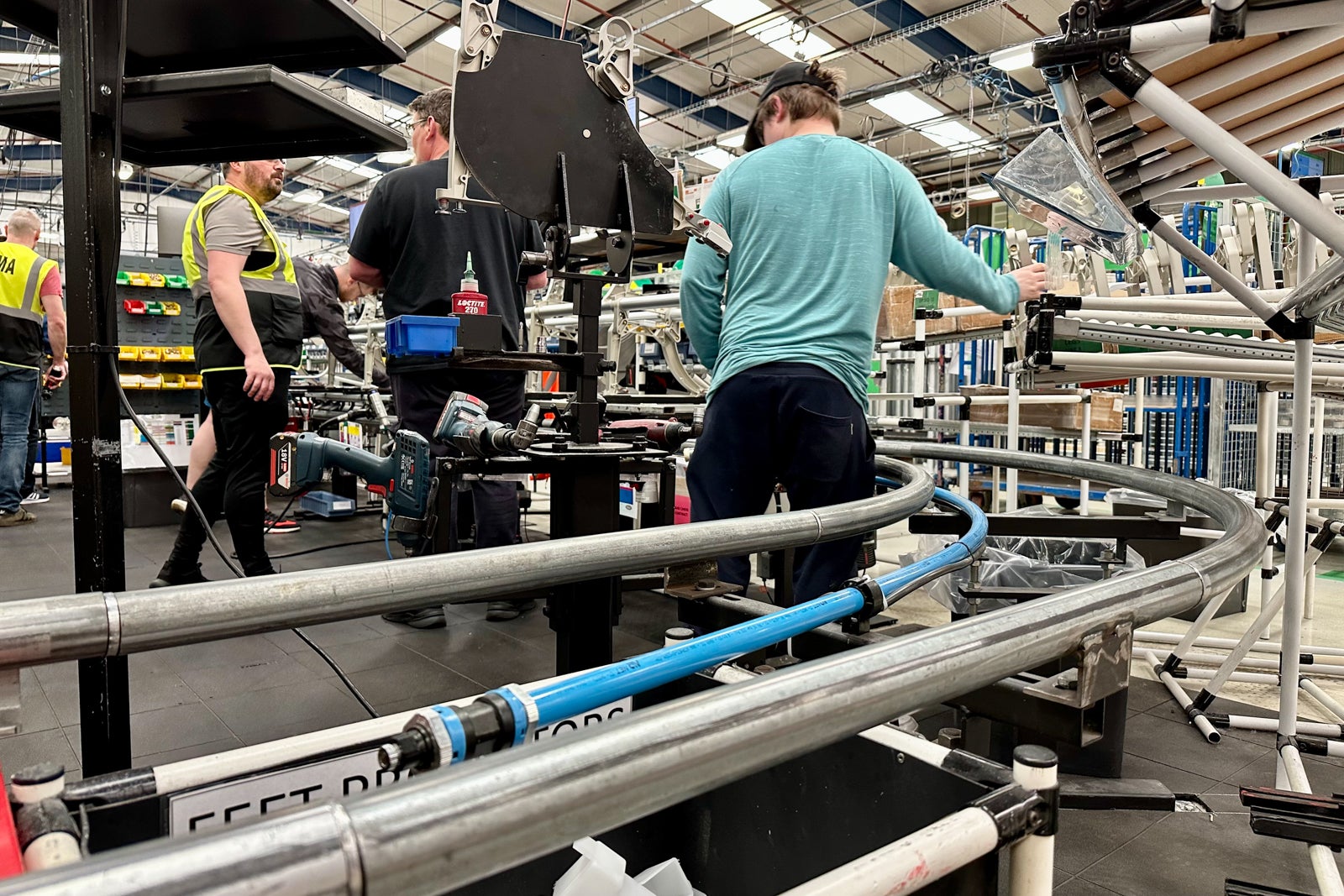 As the seats made their way around the assembly line, they started to resemble something you'd actually find on an airplane.
Perhaps the most interesting step was the installation of the tray tables. First, workers would power screw tracks into the sides of the seat, then install the table itself.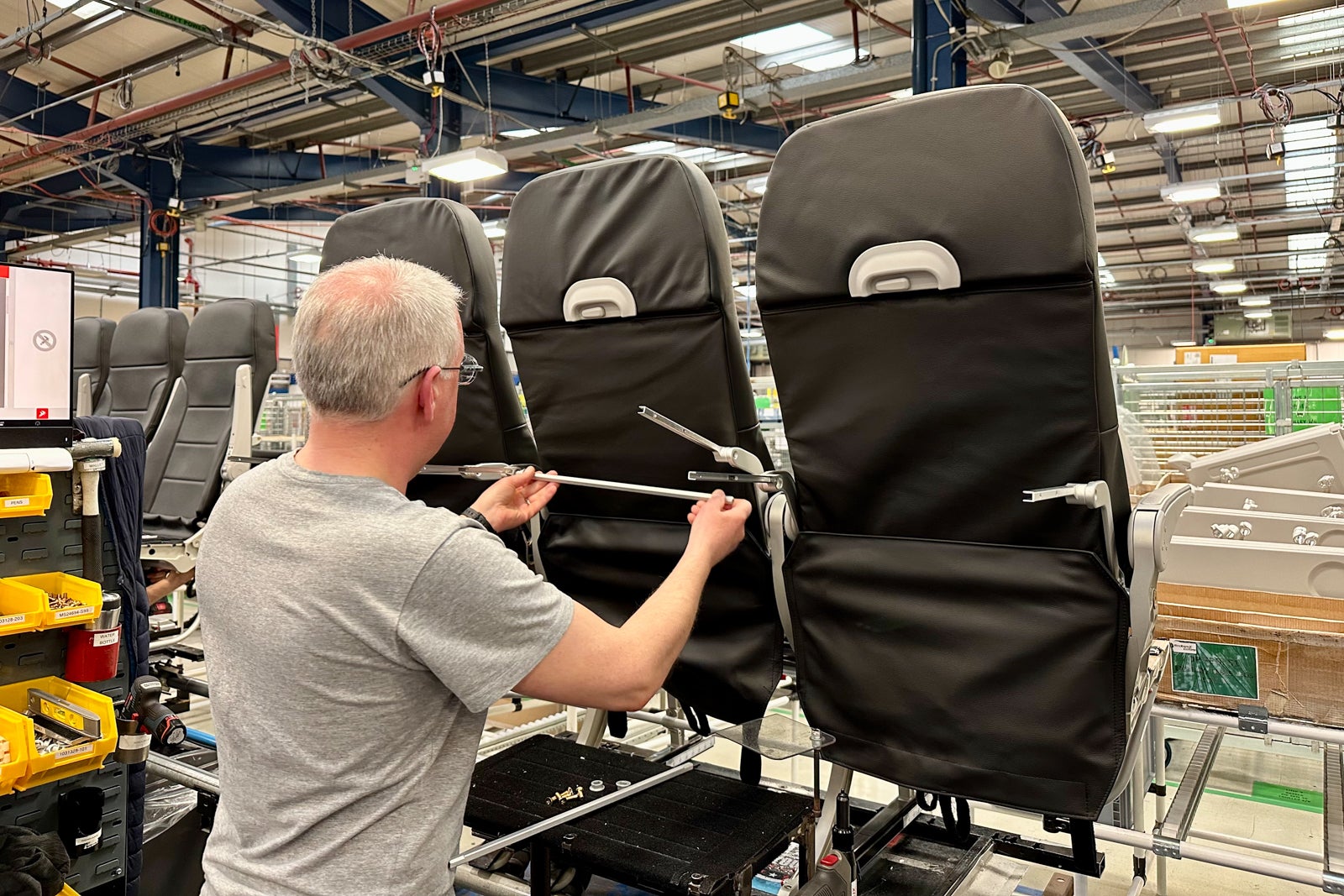 However, this process wasn't complete without a detailed calibration. Since planes fly at a slight upward angle, every tray table must be calibrated to rest three degrees upward.
It may look funny on the ground, but it all makes sense once you're in the air — without this process, tray tables would slant downward when flying.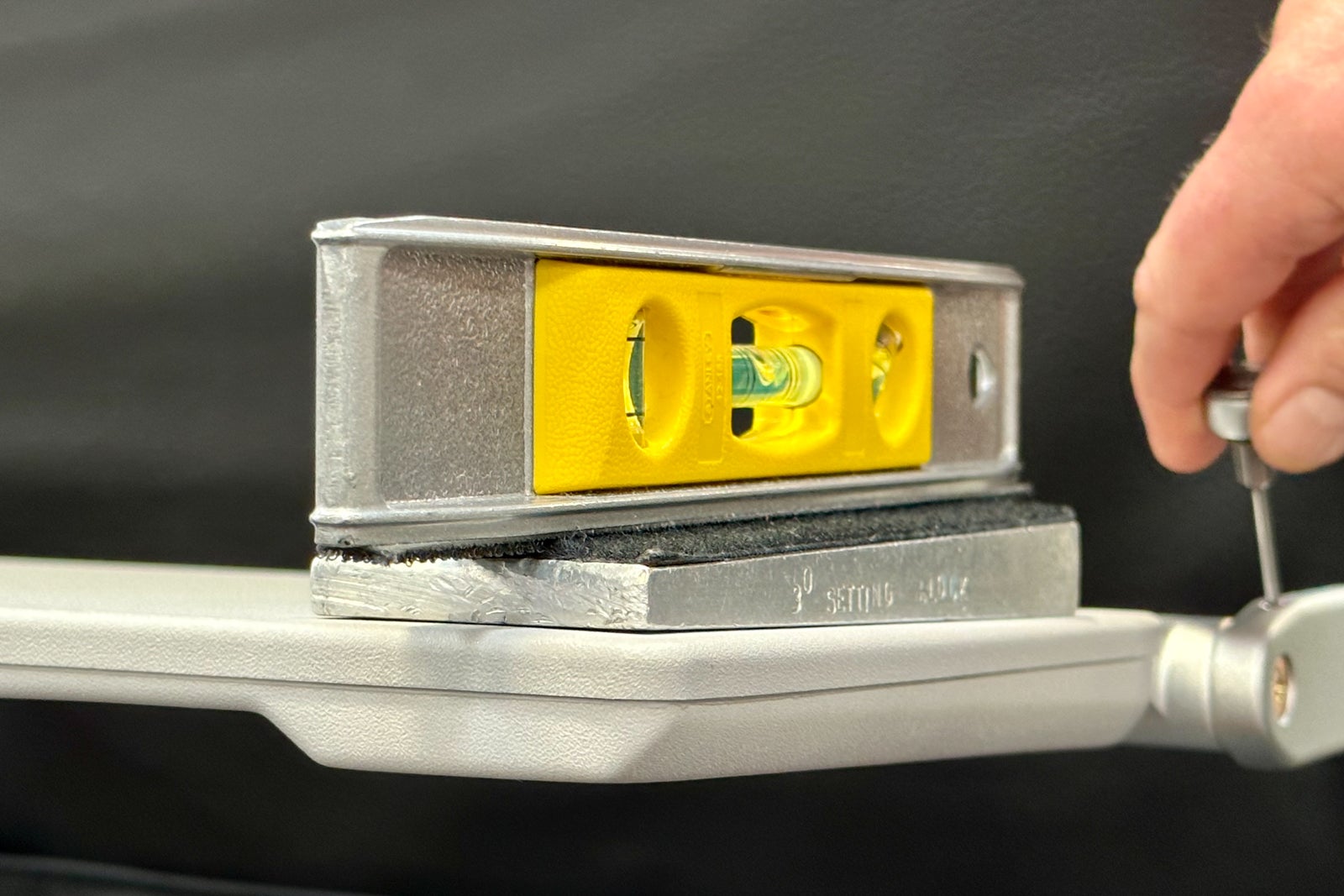 EgyptAir opted not to install seat-back entertainment or power outlets in economy. If it did, each screen and charging system would undergo a rigorous quality control test that includes playing a looping video to identify dead pixels and testing the power and USB ports.
Roughly 11 minutes later, the assembly process was complete, and it was on to the next batch.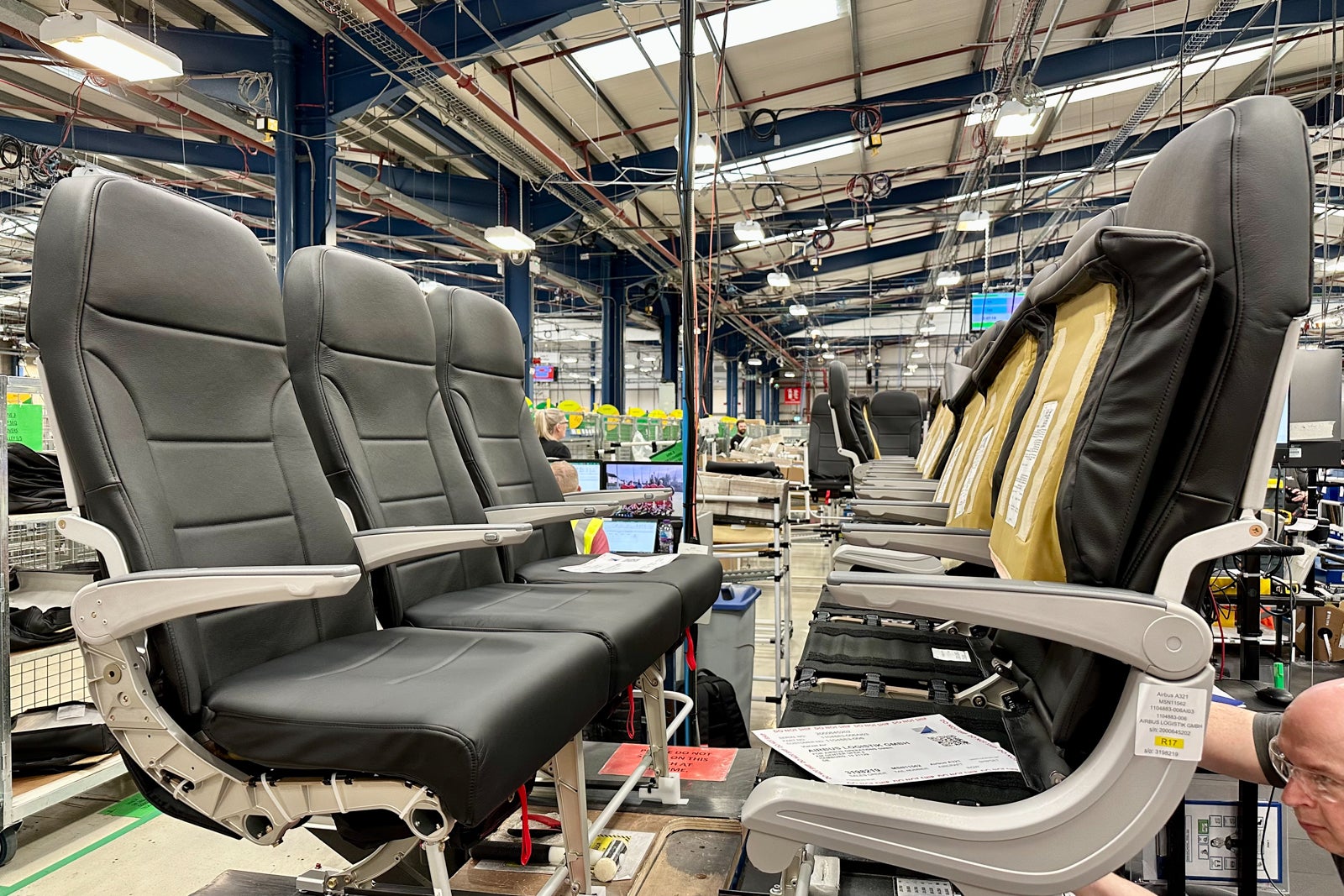 Kilkeel isn't within an easy drive to any Airbus or Boeing final assembly lines. Each seat must be shipped to where the planes are built, whether it's Hamburg, Germany; Toulouse, France; Seattle; Charleston, South Carolina; or Tianjin, China.
Much like Amazon, the shipping process works on an assembly line. The seats are placed on pallets, covered in protective plastic and bubble wrap, boxed up and sealed with a strong zip-tie enclosure. A shipping label is placed on each box, and the boxes are put onto trucks for shipping to the aircraft manufacturer.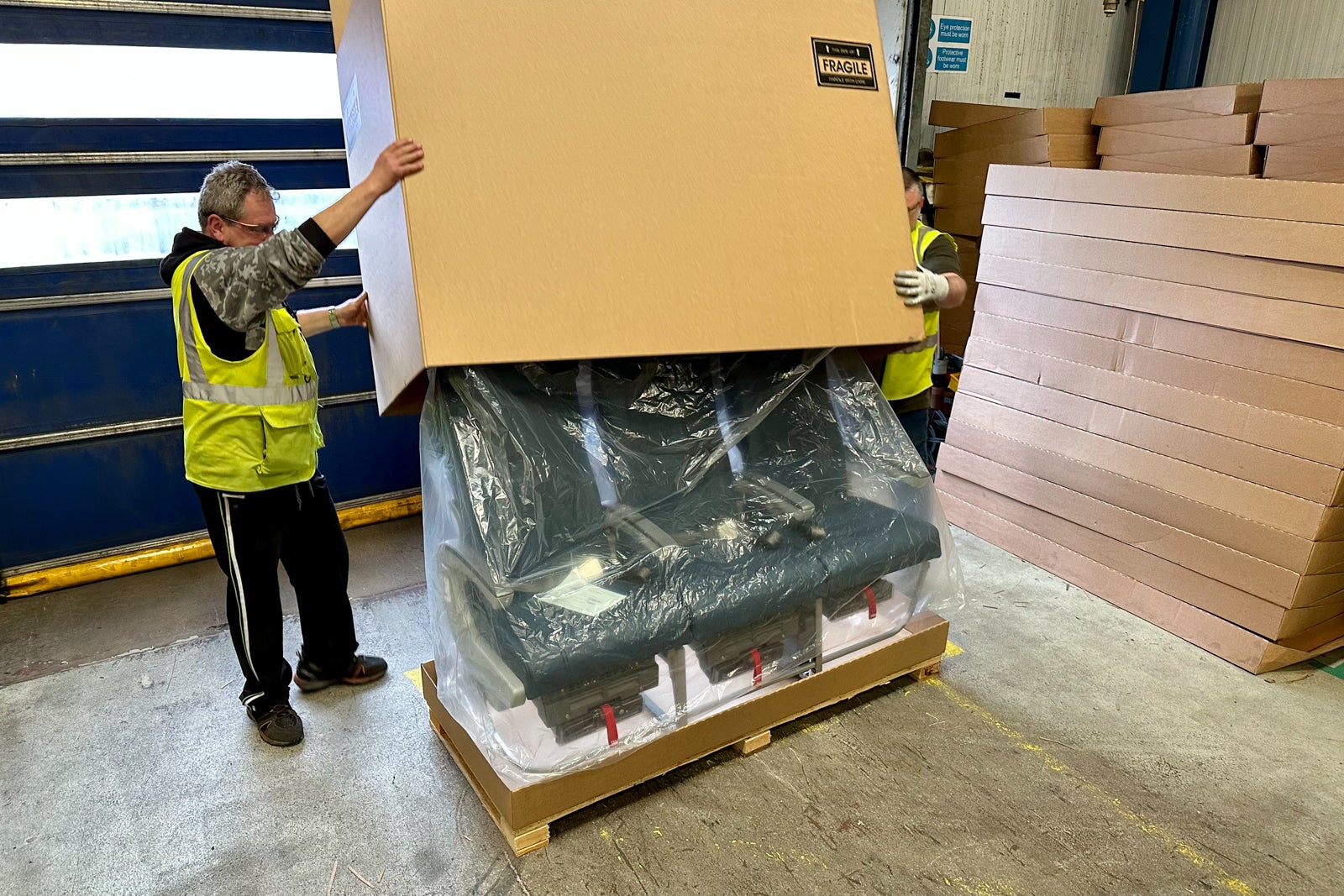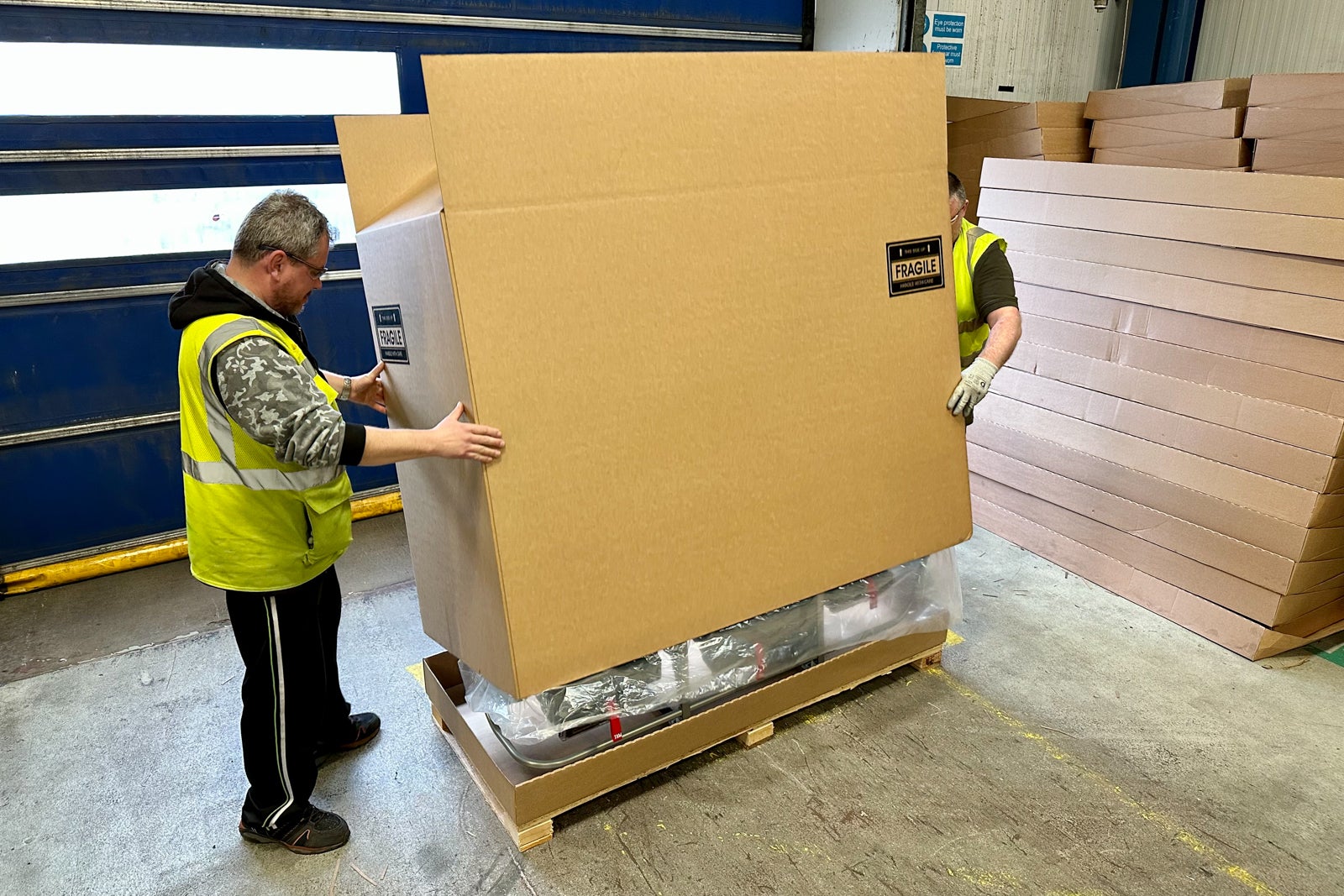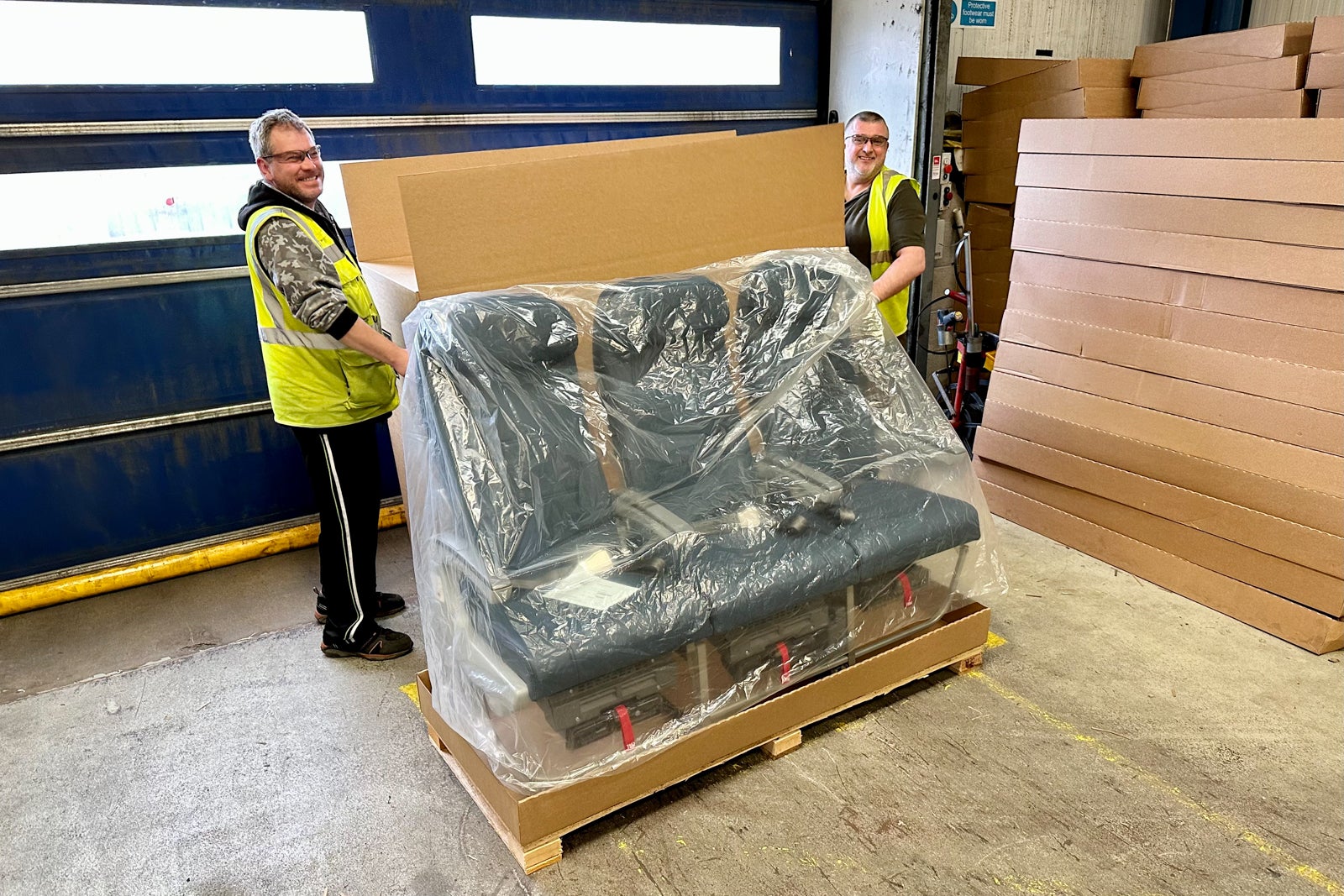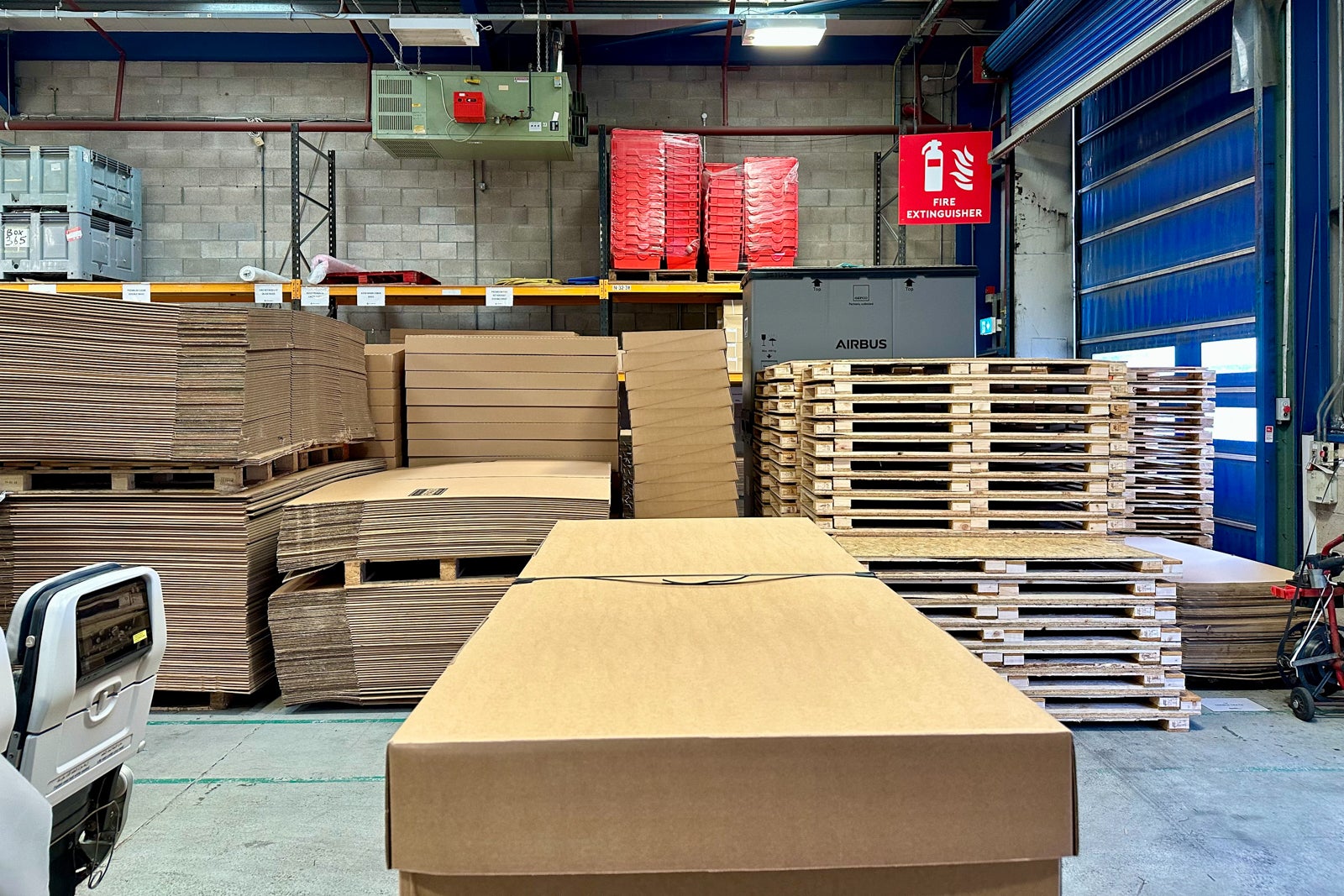 While assembling economy seats is relatively straightforward, things get significantly more complex with premium-cabin products.
Collins builds its most popular business-class seats here. This includes the Qsuite, Elevation and AirLounge products, better known as the eponymous Qatar Qsuite, British Airways Club Suite and the new Finnair no-recline pod, respectively.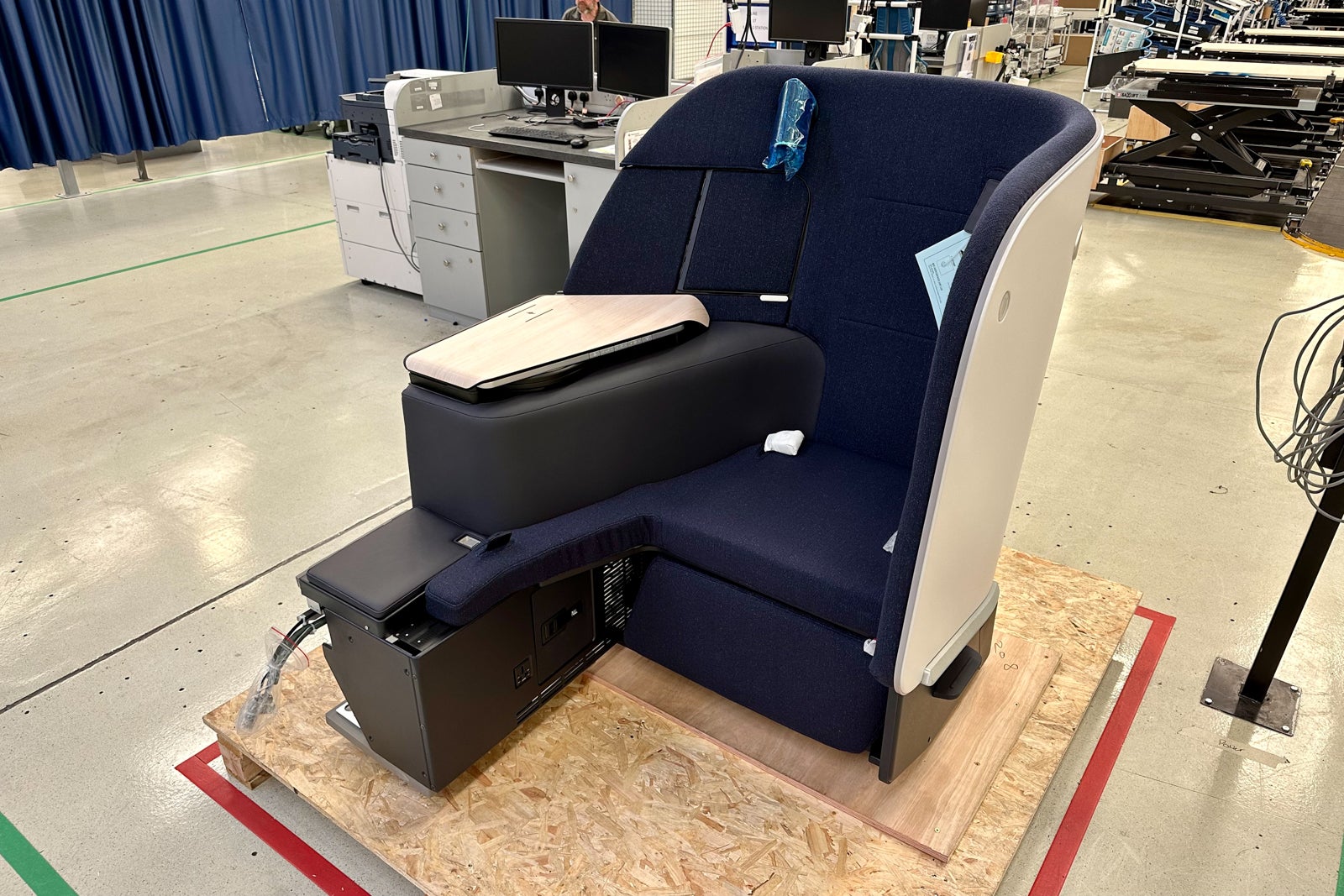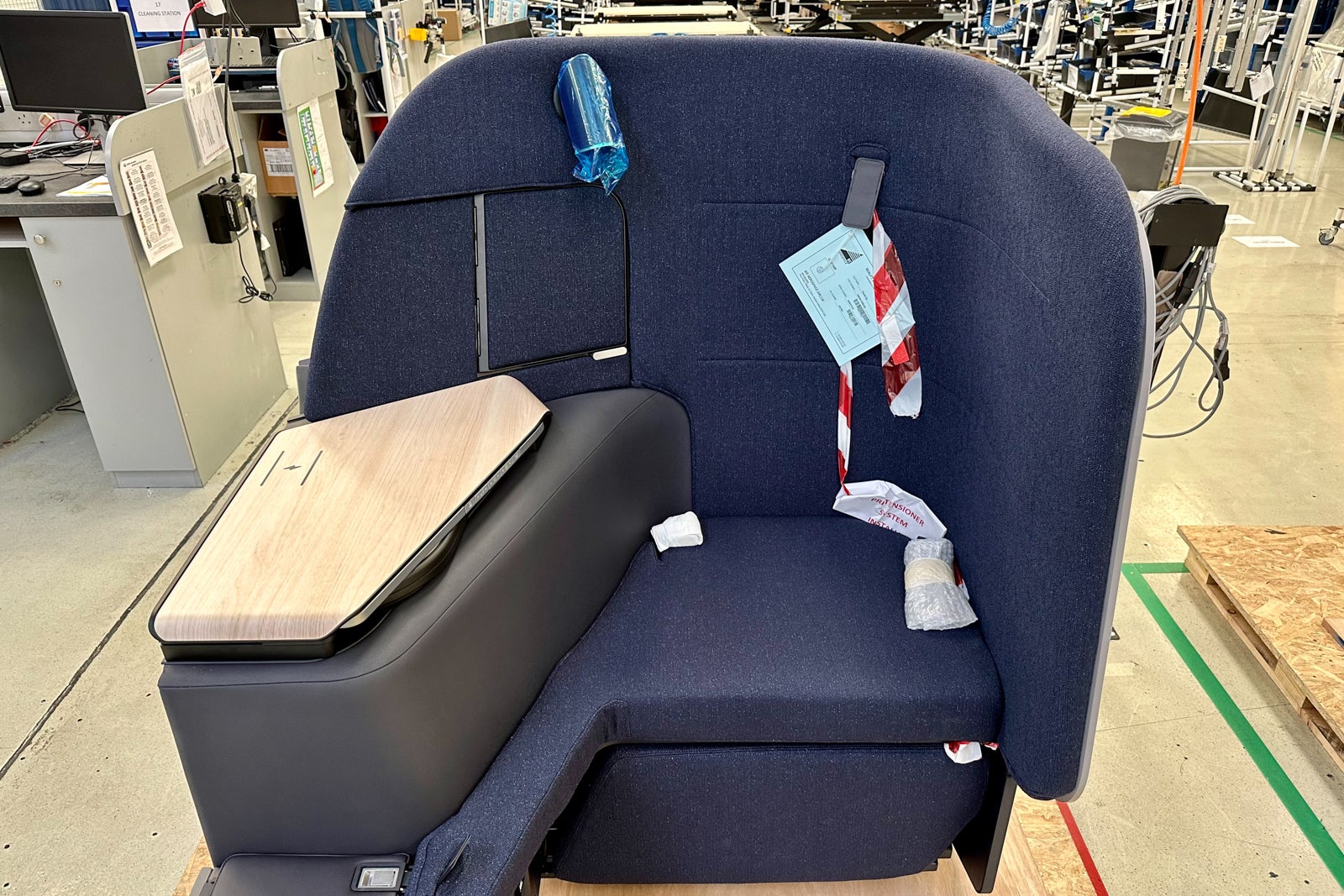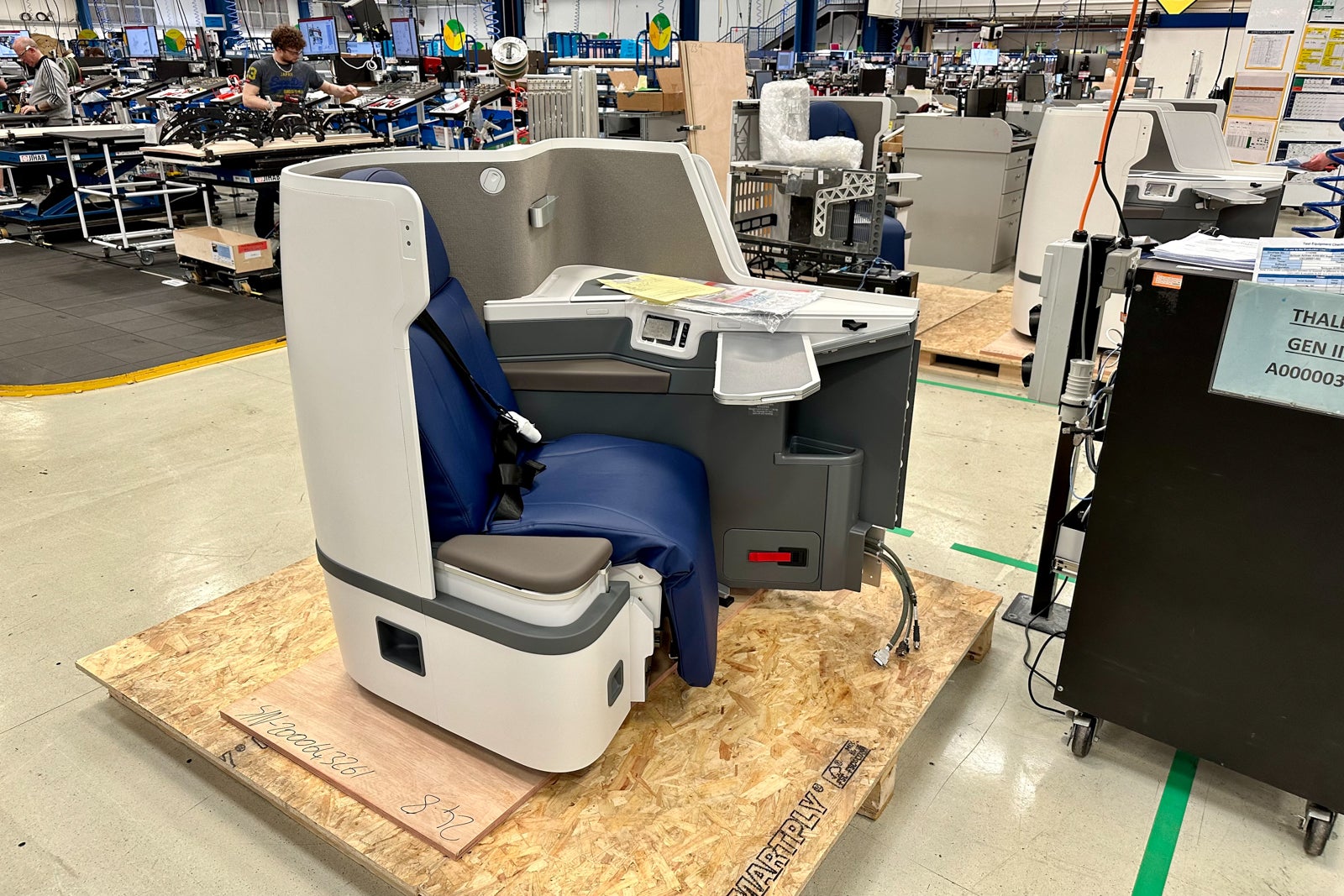 The basics of the premium-cabin assembly process resemble the economy-class assembly line, but things take longer. Because of aspects like door installation and yards of cables that need to be wired, it takes considerably more effort to build a business-class seat.
(Collins also charges more for these seats, but the sticker price is a tightly-held secret. I've heard that each British Airways Club Suite costs about as much as a fancy sports car.)
Though the production time varies, building a single business-class pod can take anywhere from 90 minutes to three hours.
During my visit, I saw the Collins team assembling a British Airways Club Suite destined for a future Boeing 777-300ER. What started as a metal shell slowly turned into the product that we know and love. My visit wrapped up before this specific Club Suite was completed, but I was specifically impressed by how intricate these seats are.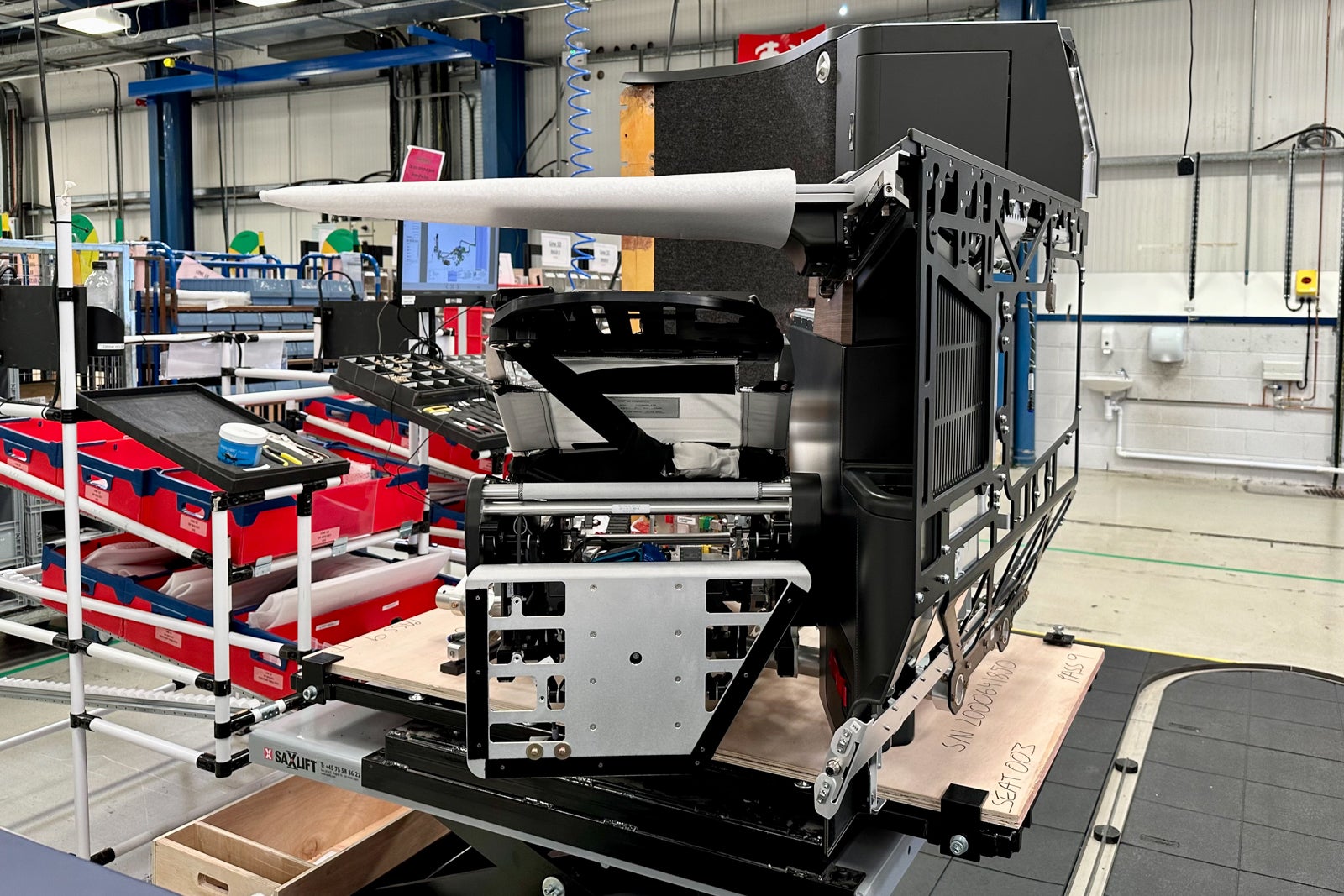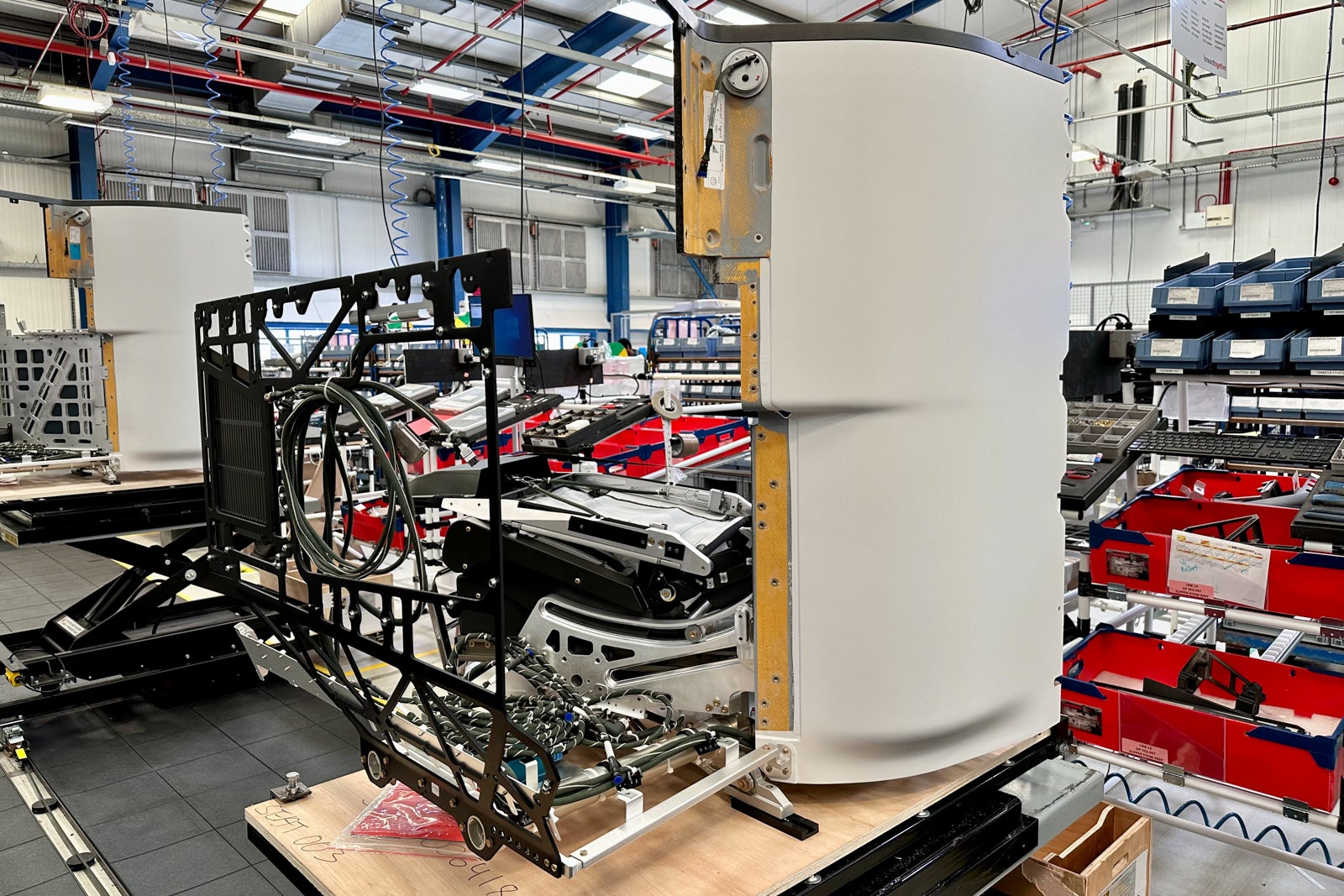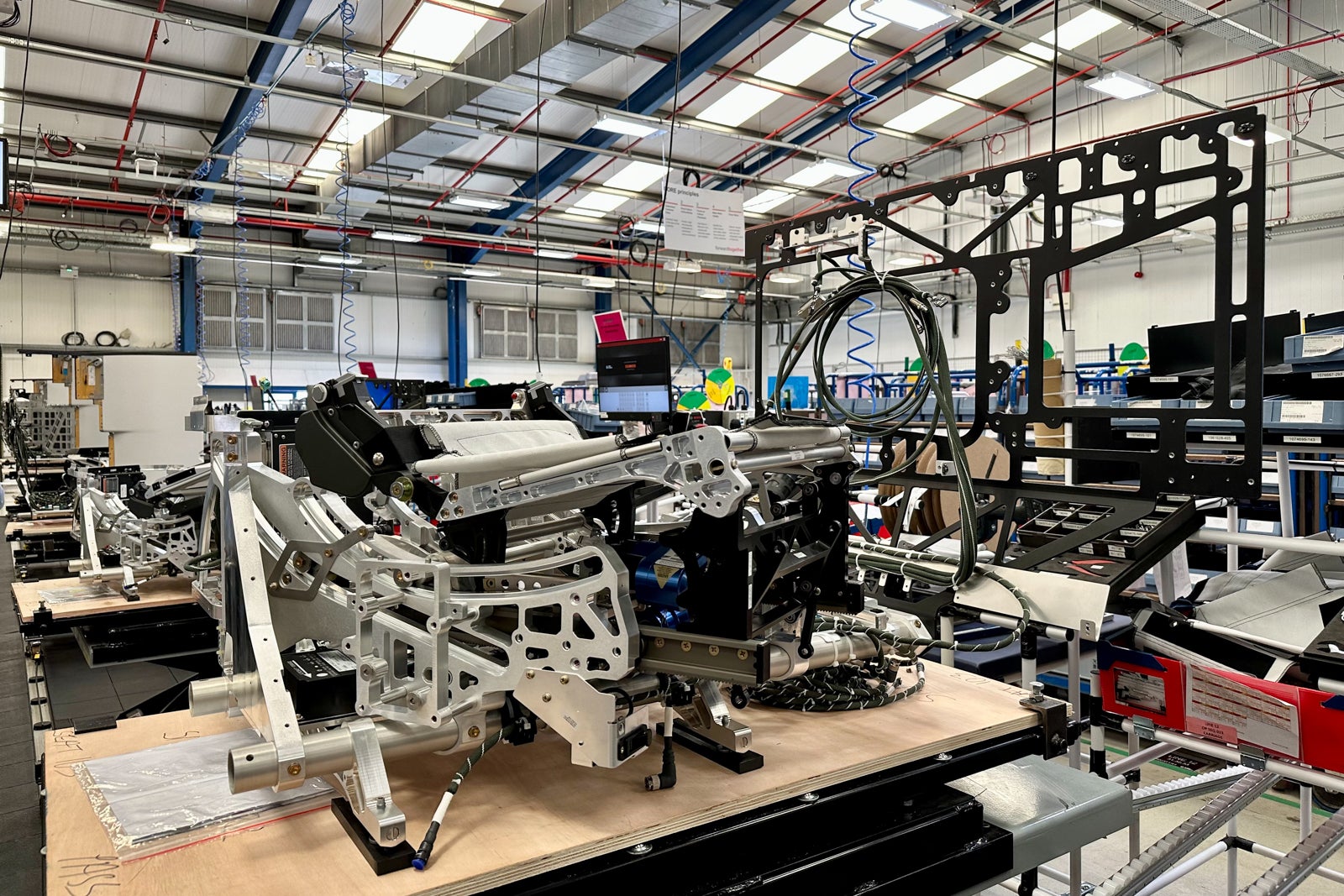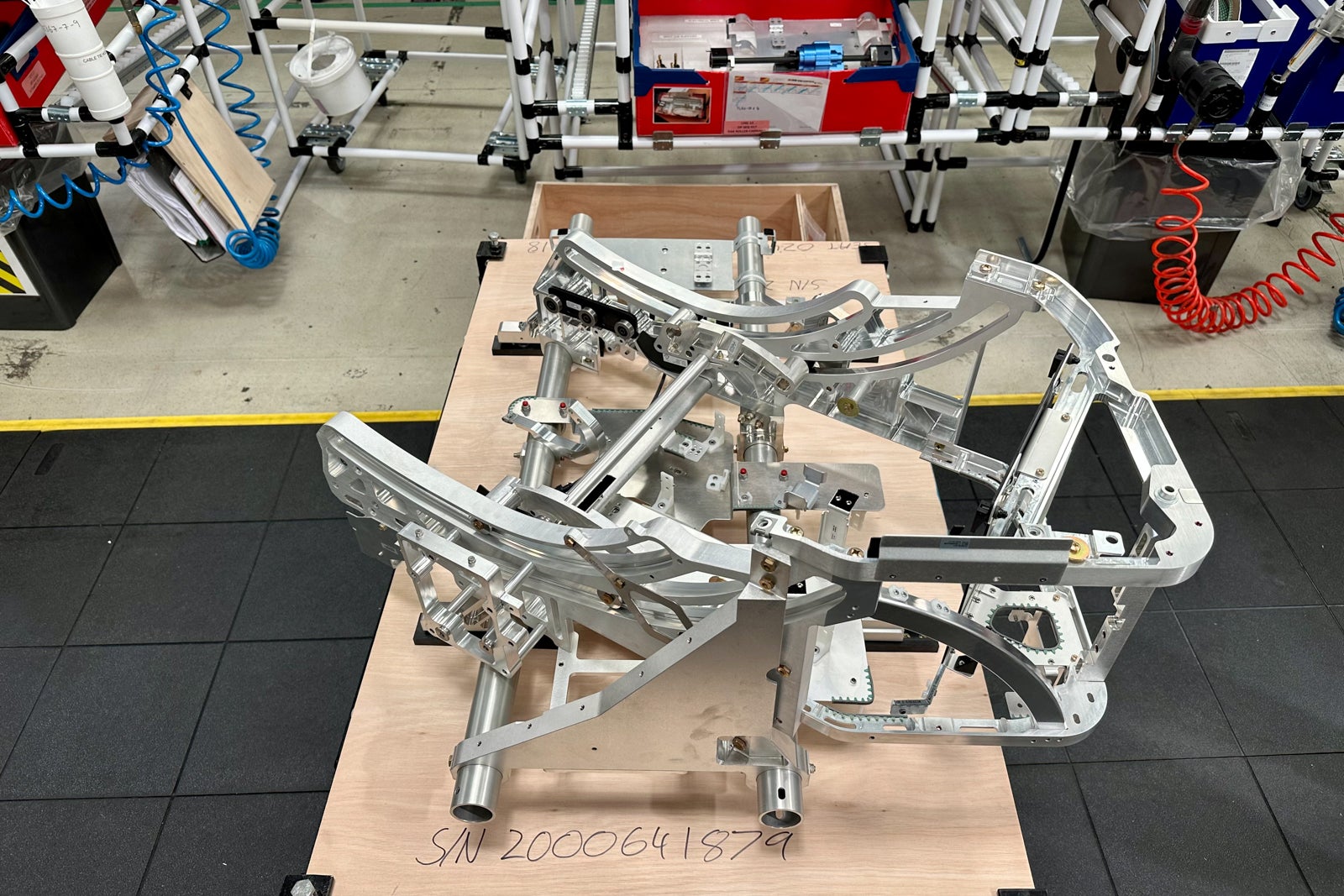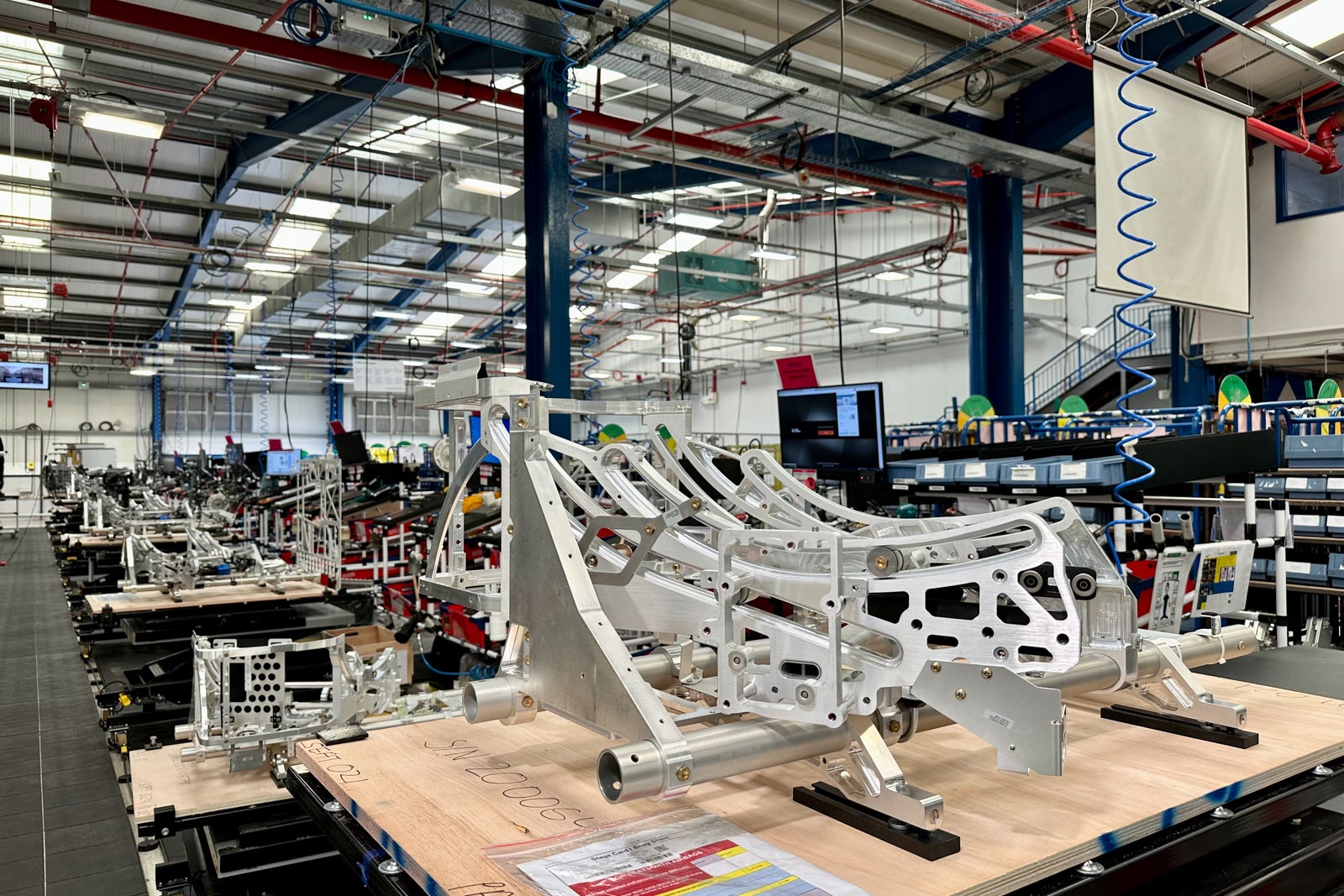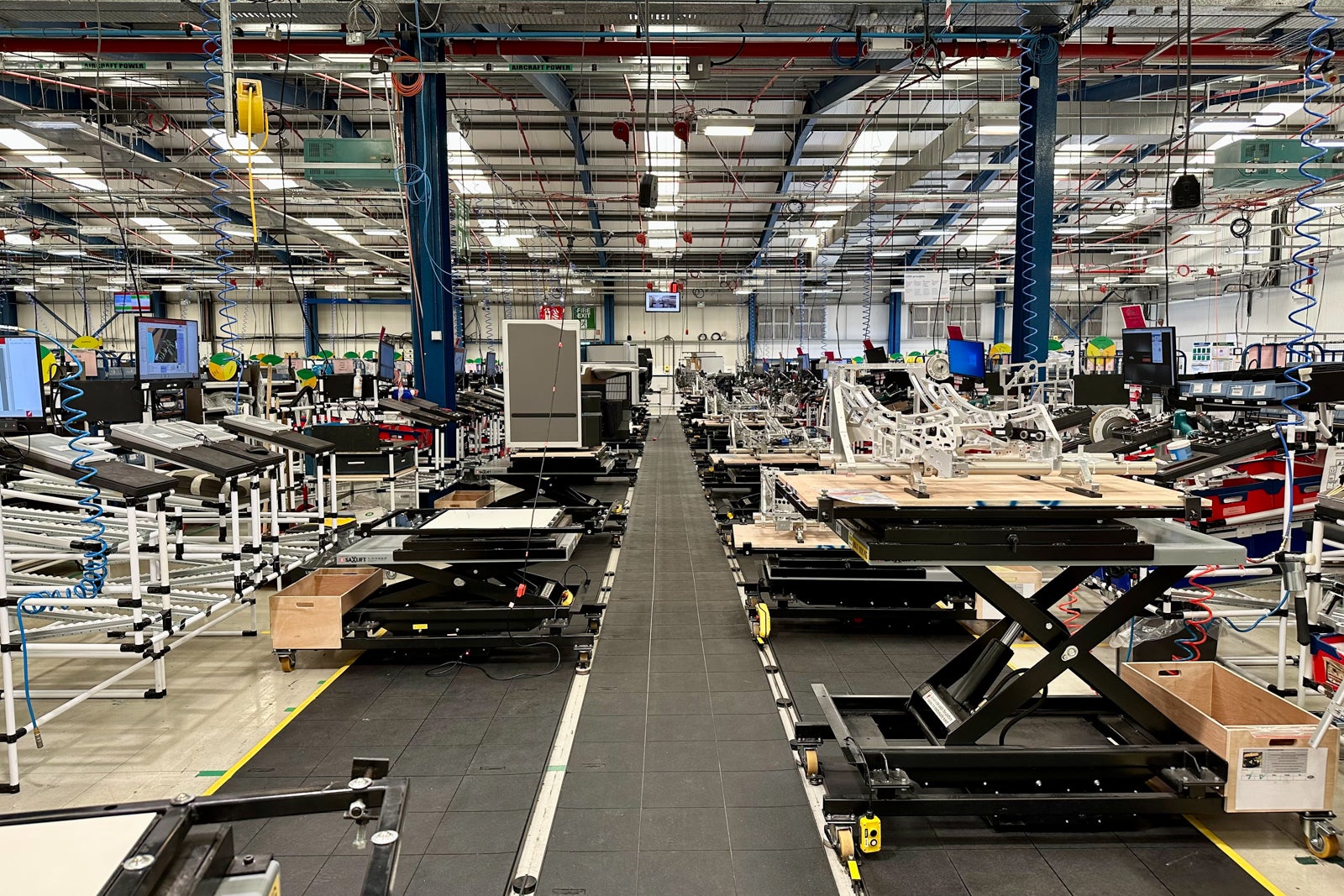 I didn't see a first-class suite during my tour, but that doesn't mean Collins doesn't build them.
Some first-class products are made in other facilities, including the Emirates "game-changer" produced in Collins' plant in Winston-Salem, North Carolina. Others are built in Kilkeel, but Collins keeps the assembly line hidden behind a wraparound curtain because they're often assembled before an airline announces them.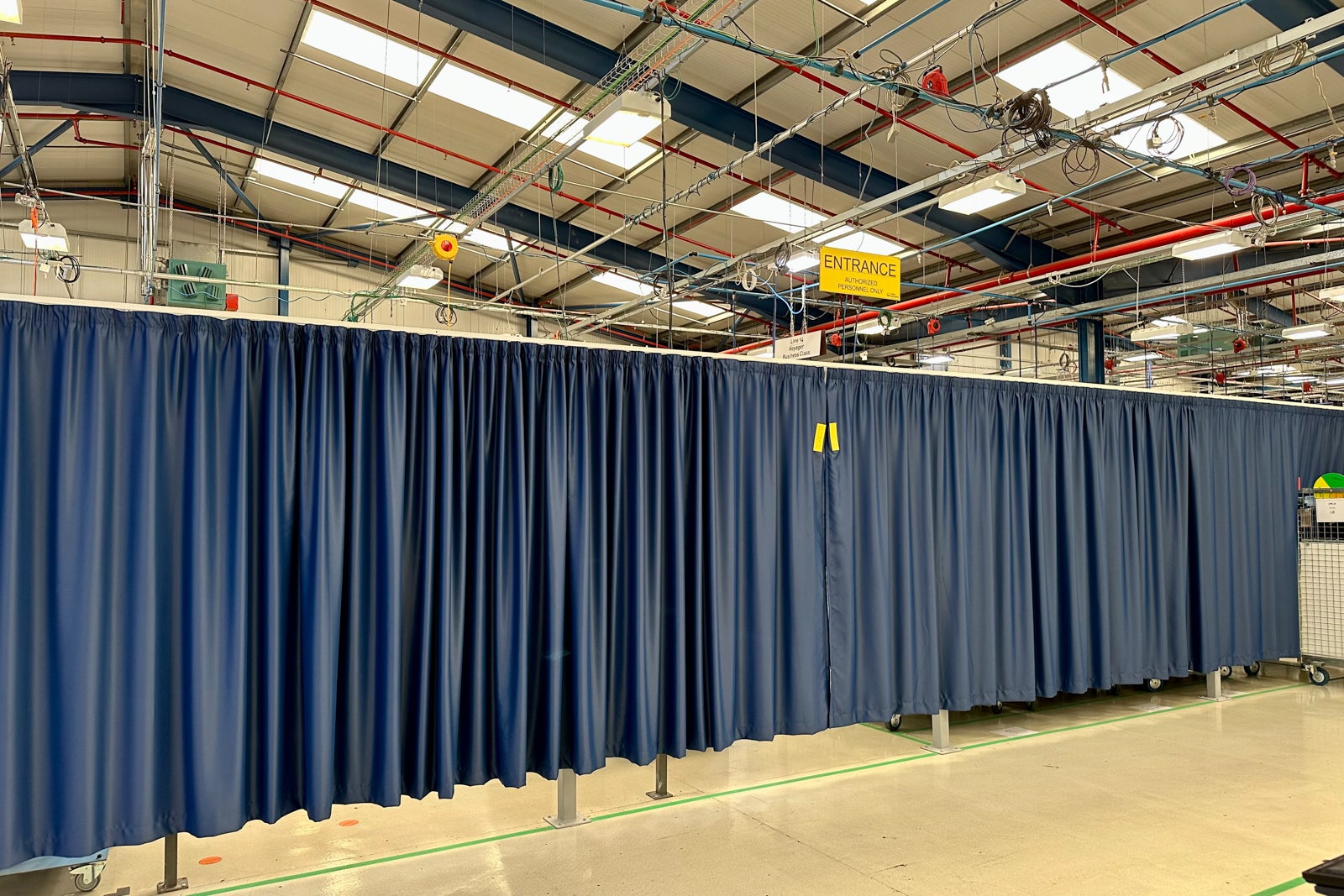 As much as I wanted to peek inside this curtained-off area, I heeded the "authorized personnel only" signs.
Bottom line
For nearly 60 years, Collins has been putting Kilkeel, Northern Ireland, on the map.
This small coastal town is home to one of the world's largest airplane seat manufacturing facilities. It has a storied history of building some of the most popular products for British Airways, Singapore Airlines, Japan Airlines and even Delta's BusinessElite offering.
Nowadays, Collins counts most major airlines as clients, and though you may never know it, a quarter of the world's airplane seats are built here.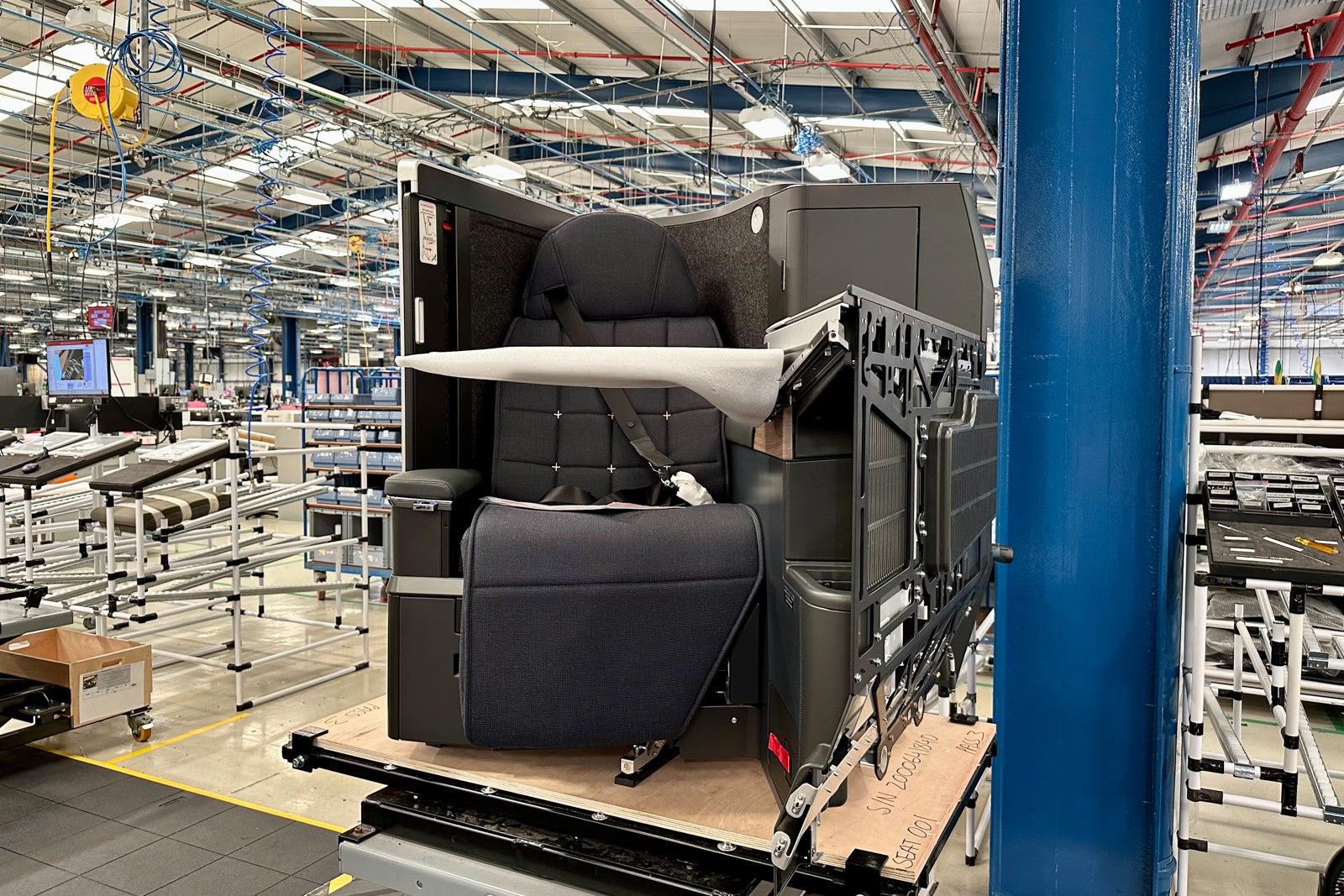 That said, after visiting three nondescript buildings located 90 minutes from the nearest major city, I have a newfound appreciation for all the work that goes into manufacturing economy seats and business-class pods. The process has been refined over the years, so even the world's fanciest and most over-the-top products can be assembled in just a few hours.