Keeping track of every benefit on your credit card can seem like a full-time job. The more credit cards you have, the more this feels true.
A key question in tracking your points earnings and credit card benefits is where to find them. American Express recently updated the options available for tracking these details on select cobranded credit cards (meaning cards that earn something other than the bank's own Membership Rewards points).
Here's a look at these tools available on American Express credit cards and how you can use them to keep track of your points and your perks.
How to track perks on American Express Membership Rewards cards
If you want to see your benefits or understand how much of your annual maximum you've used on a particular perk, start by logging in to your account on the Amex website on a computer. (These benefits are not as clear or as organized on the American Express mobile app.) From here, you can choose which card you want to work with in the top-right corner. Then click on "Rewards & Benefits" at the top of the page.

You'll wind up at an introductory page like the one below, pointing out some of the highlights on your card. This is what I see with my Platinum Card® from American Express:

In the top right corner, click on "Benefits."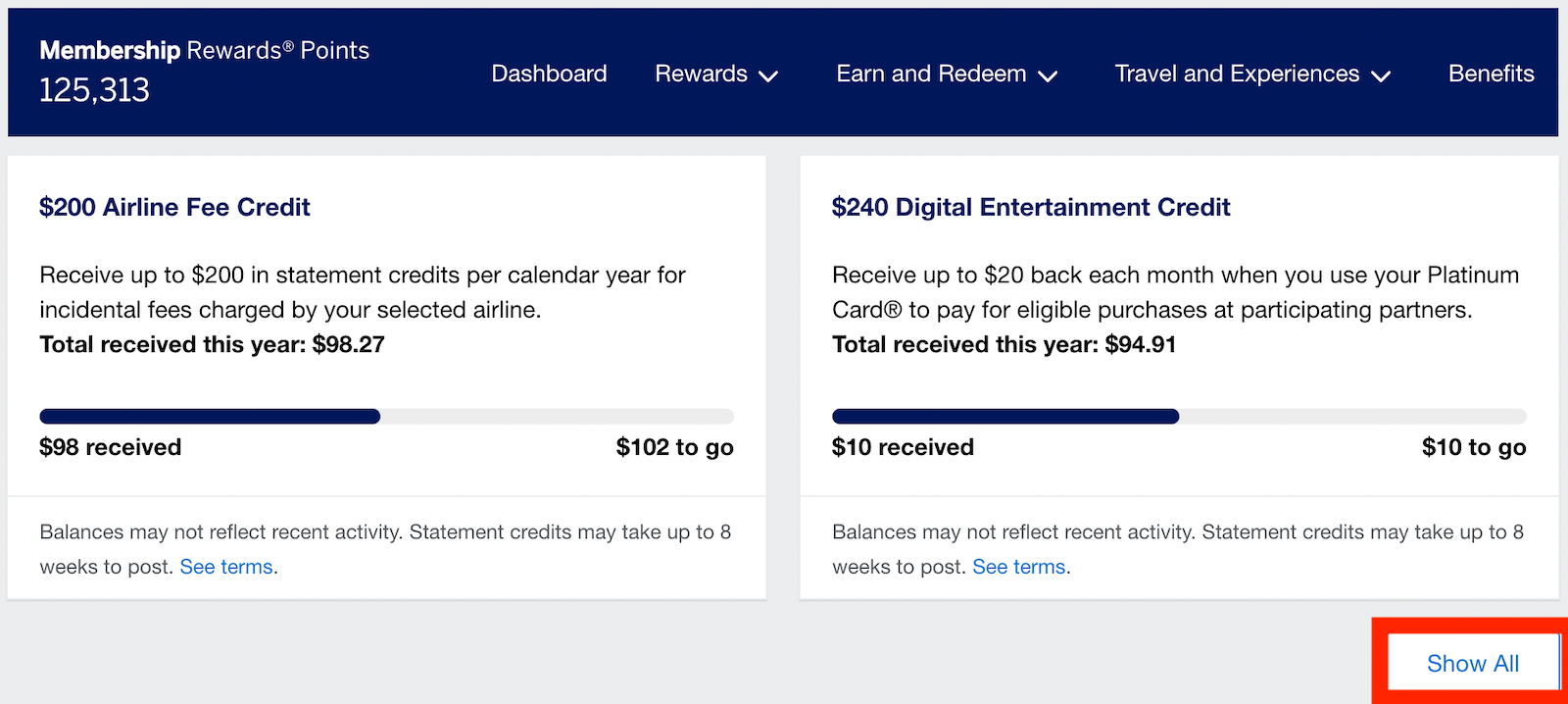 At first, this will only take you to a snapshot of your benefits. For my Platinum Card, I only see the up-to-$200 in airline incidental credits available each year and the up-to-$240 in digital entertainment credits for monthly streaming purchases. The progress bars show how much of the annual maximums I've received so far this year. Remember that some of these benefits require enrollment prior to using them.
Related: The best American Express credit cards
On the right side, under these benefits, click on "Show All" to reveal the other benefits on your card.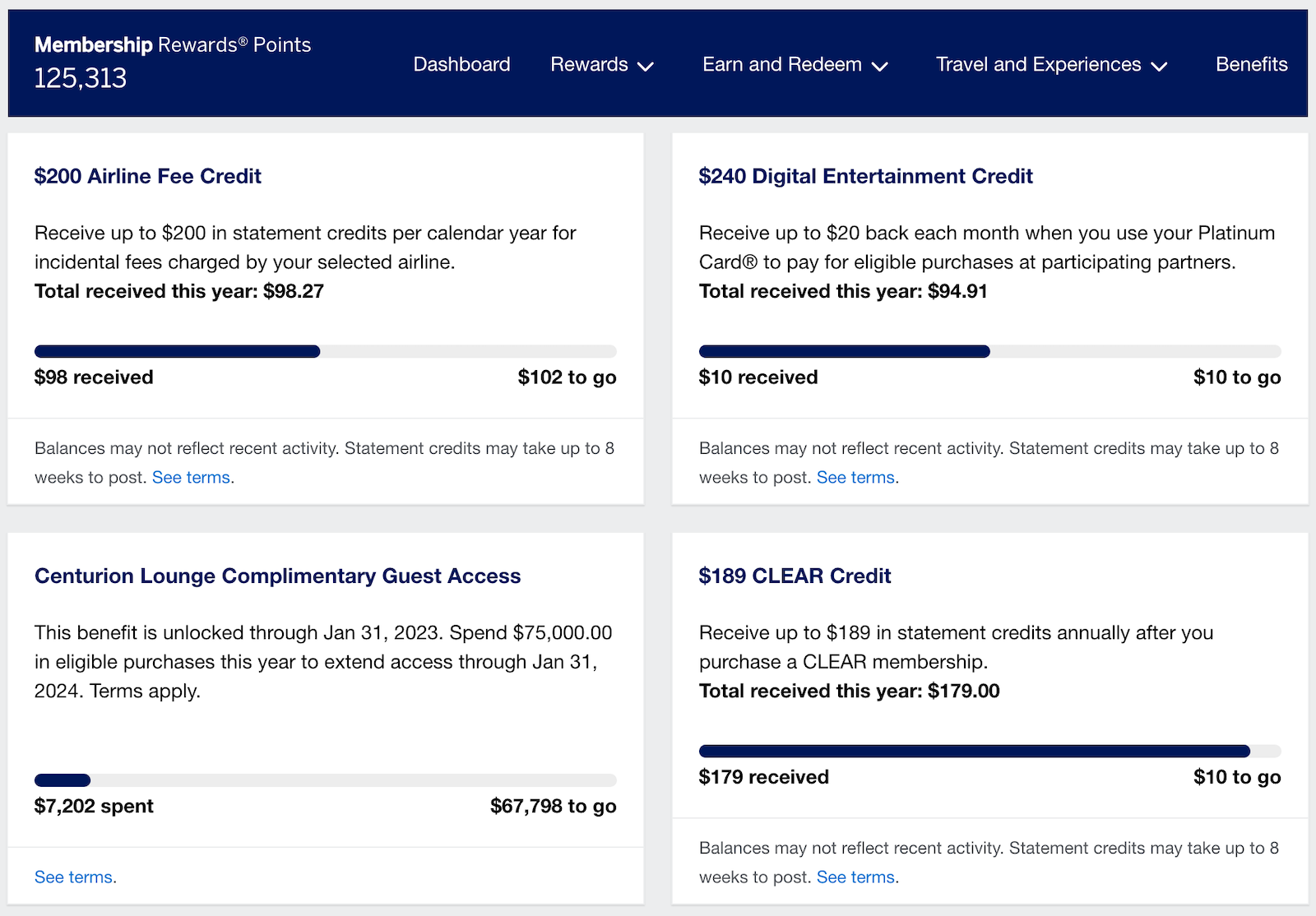 From here, I can scroll through all of the benefits on my Platinum Card and track spending progress on things like qualifying for guest privileges at Centurion Lounges (once this change takes effect on Feb. 1, 2023).
How to track points on American Express Membership Rewards cards
If you'd like to see the Membership Rewards points you earned on each transaction, there are two ways to access this information.
From the benefits panel above, you can click on "Rewards" and then choose "Points Summary" from the drop-down menu:

You also can access this information from the Amex home page. On the right side, next to your recent transactions, you'll see how many points you currently have. Under that, click on the box that says "Explore Rewards."

Either of these will take you to the transactions list as seen below. This is where you can view a summary of recent transactions and how many points you earned on each.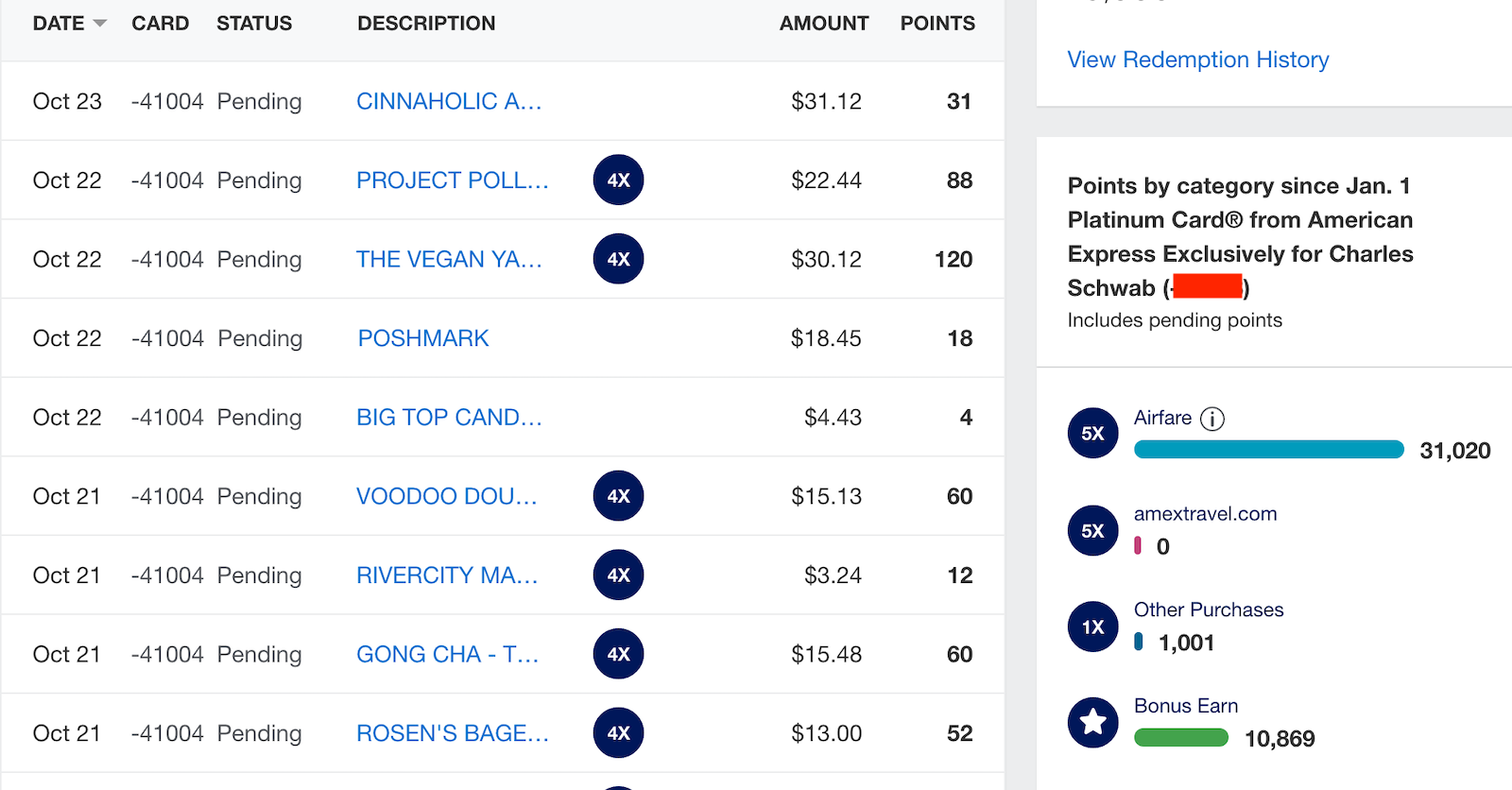 How to track perks on American Express cobranded cards
Here's how you can find your earnings and benefits on cobranded credit cards from Delta, Marriott and Hilton. (Unfortunately, not all cardmembers will see the same features — it depends on which cards you have.)
If you log in to your account on the American Express website and click on "Rewards & Benefits," you can find information about all of the benefits your card offers.
Here's what director of content Nick Ewen sees in the benefits section for his Hilton Honors American Express Aspire Card. He can track his spending progress on several of the card's benefits and see his current Hilton points balance:

However, the information available on my Marriott Bonvoy Business® American Express® Card is significantly less: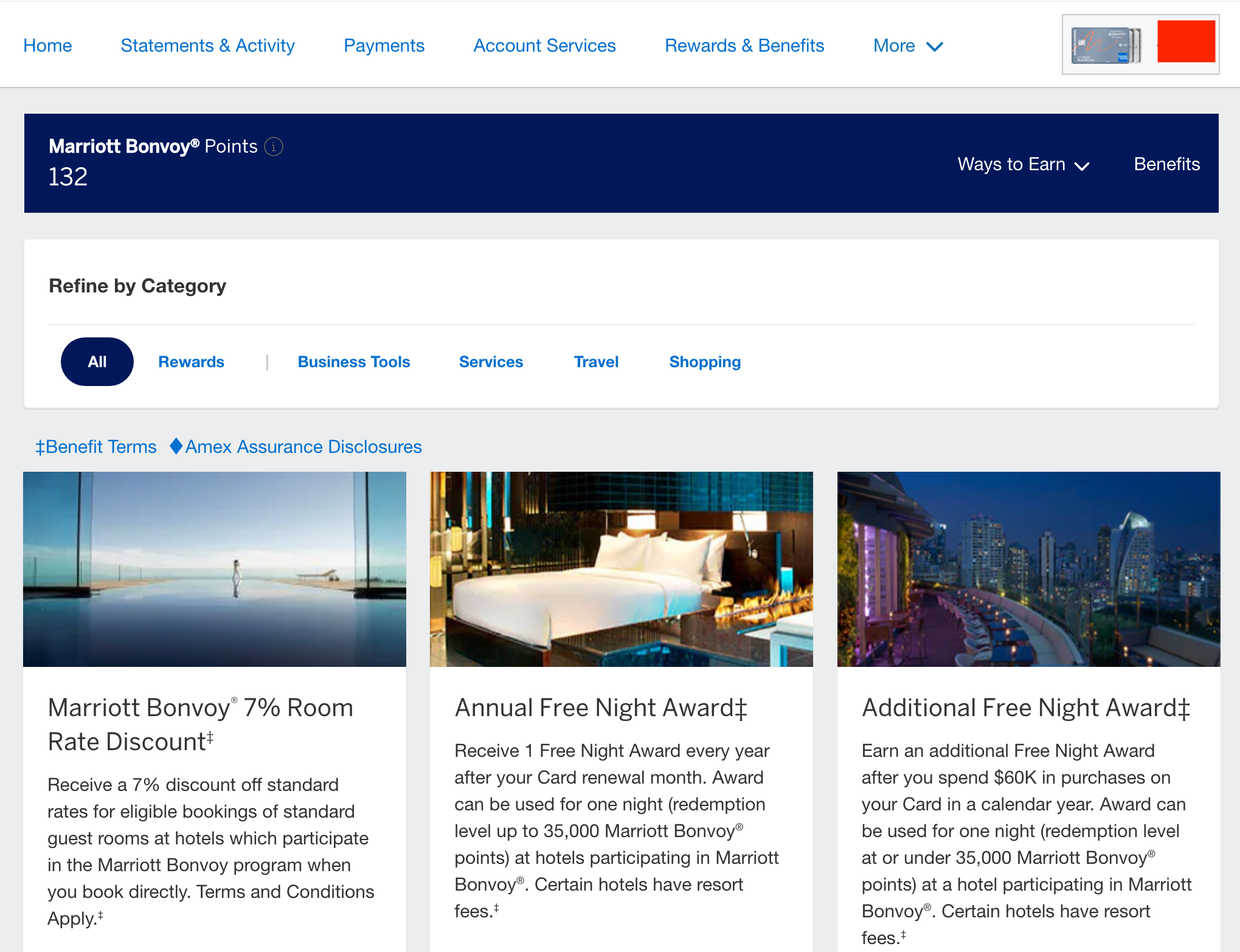 How to track points on American Express cobranded cards
Transaction details are displayed a bit differently on cobranded cards than Membership Rewards points-earning cards. Within the Rewards & Benefits area, you can see recent transactions in the bottom right: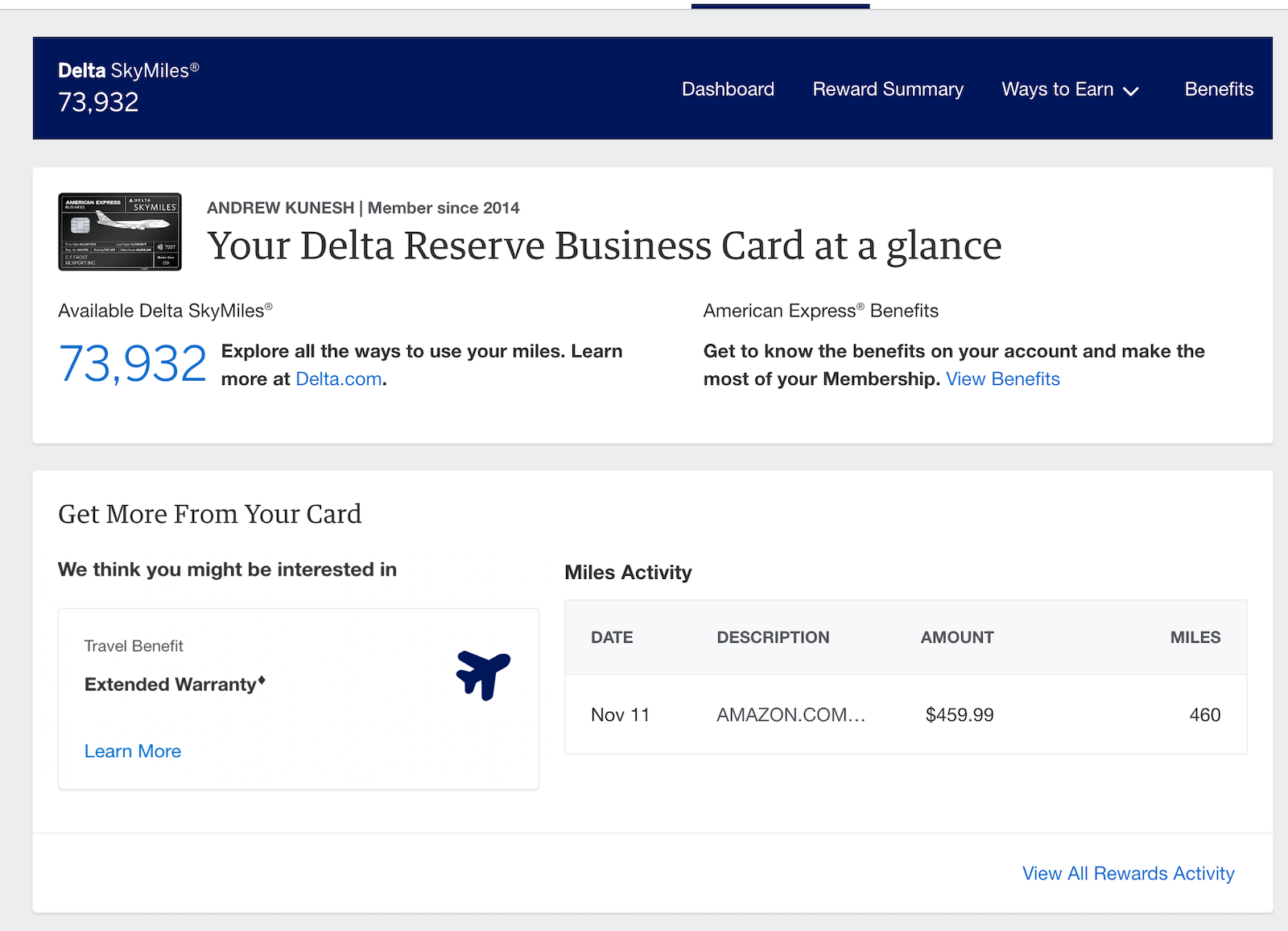 However, this will only show the five most recent transactions and only transactions from the past 30 days. In this example, senior points and miles editor Andrew Kunesh only has one transaction on his Delta SkyMiles® Reserve Business American Express Card within the past 30 days. Since this area doesn't show transactions that are more than 30 days old, this one item is all that appears.
If you want to see more than five transactions or items older than 30 days, you'll have to return to your full transaction history. You can find that by clicking on "Home" in the top left or on the "Reward Summary" option:

From here, you should see a list of transactions and what you earned on these purchases. From my transactions list, I see that my Amex Marriott Bonvoy Business earned 2 points per dollar on these purchases since that is the earning rate on everyday spending on this card.

If you want to view more details on a transaction, click on the merchant's name in the center (between the points earning and the transaction amount). The earning rate will show in the top left corner, above the purchase amount. Here's an example from my Amex Marriott Bonvoy Business card: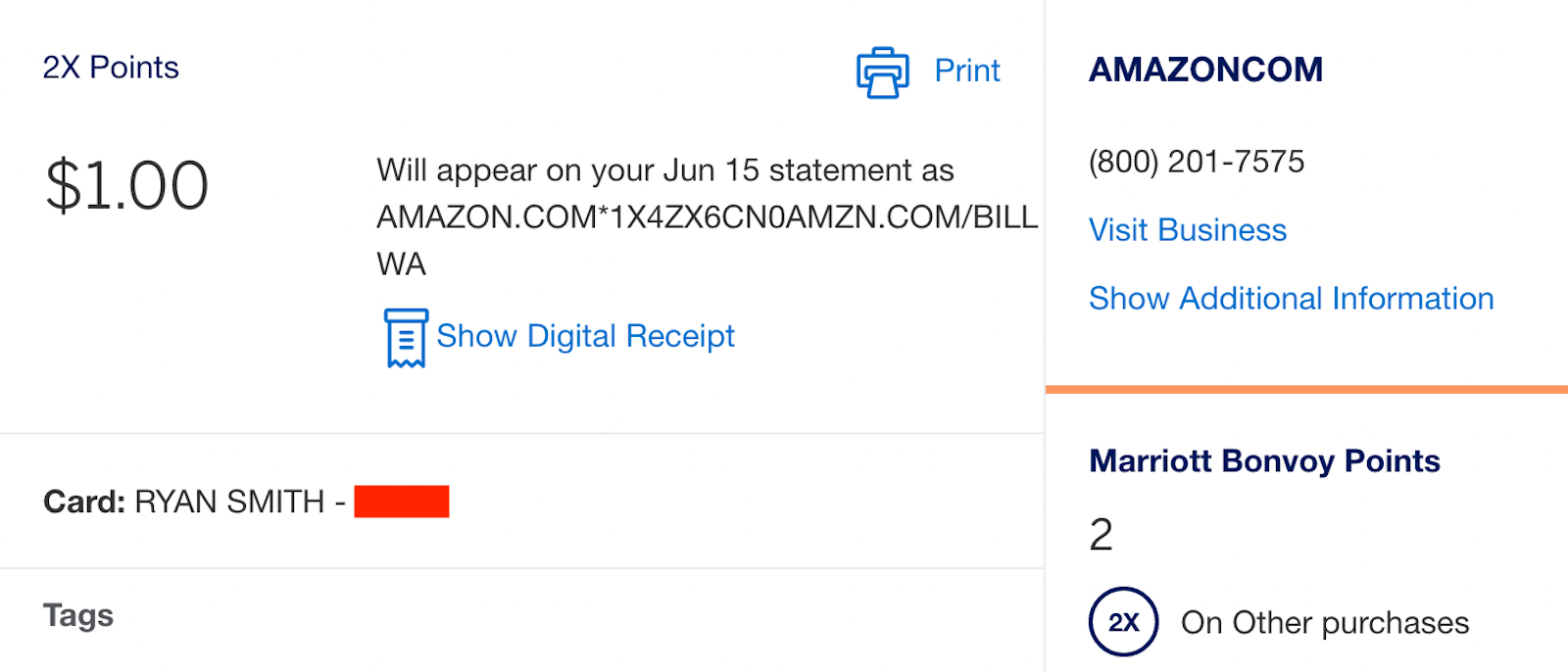 On Marriott credit cards, the number of points you see is only what you've earned this year from your credit cards. I currently have more than 110,000 Marriott Bonvoy points, but I haven't spent much on the Bonvoy Business card. Thus, the two numbers are vastly different. For comparison, Hilton credit cards show the number of points currently available in your Hilton account — not just points earned from your credit card this year.
Bottom line
Knowing where to find your credit card's benefits, spending progress or how many points you earned on a certain transaction is half the battle, as the saying goes.
From this guide, you should know how to find this information so you can understand the benefits from American Express that are available to you, track your spending progress toward additional benefits and also ensure that you're earning the points and miles that you should be.
If nothing else, seeing what you earned on a transaction can help you know if points are missing. Or, if a business reports to your credit card in an unexpected way, that means you can choose another card to use at that merchant next time in order to maximize the points you earn.