This story has been updated to reflect the 2023 Winter Park Express ski train schedule.
---
Colorado is home to some of the best ski towns, not only in the U.S. but in the world.
The only problem is that the towns aren't always easy to get to — most require a couple of hours' drive, a flight or both. So, it was exciting when Amtrak announced the return of the Winter Park Express "ski train" following a hiatus for the 2020-2021 season.
Now, I must admit that I'm not a skier. Having spent most of my life in sunny Southern California, the only skiing I had done in the past was on the water.
However, the idea of taking a train straight from a major downtown to the slopes of a top ski resort intrigued me. So when I recently found myself with a free day in Denver, the ski train was the perfect excuse for me to give the slopes a try.
Schedule and booking
For the current season, the Winter Park Express runs every Friday, Saturday and Sunday, from Jan. 13 through March 26,
It departs Denver Union Station (DEN) at 7 a.m. and arrives at Winter Park Resort (WPR) at 9 a.m. The return trip departs the resort at 4:30 p.m. and arrives in Denver at 6:40 p.m. This schedule aligns perfectly with the resort hours, which are from 9 a.m. to 4 p.m. on Fridays and 8:30 a.m. to 4 p.m. on weekends. So, you're basically guaranteed a full day on the slopes.
It's also worth mentioning that Union Station is connected to Denver International Airport (DEN) by commuter trains, so it is possible to fly in and make your way to the slopes entirely by rail.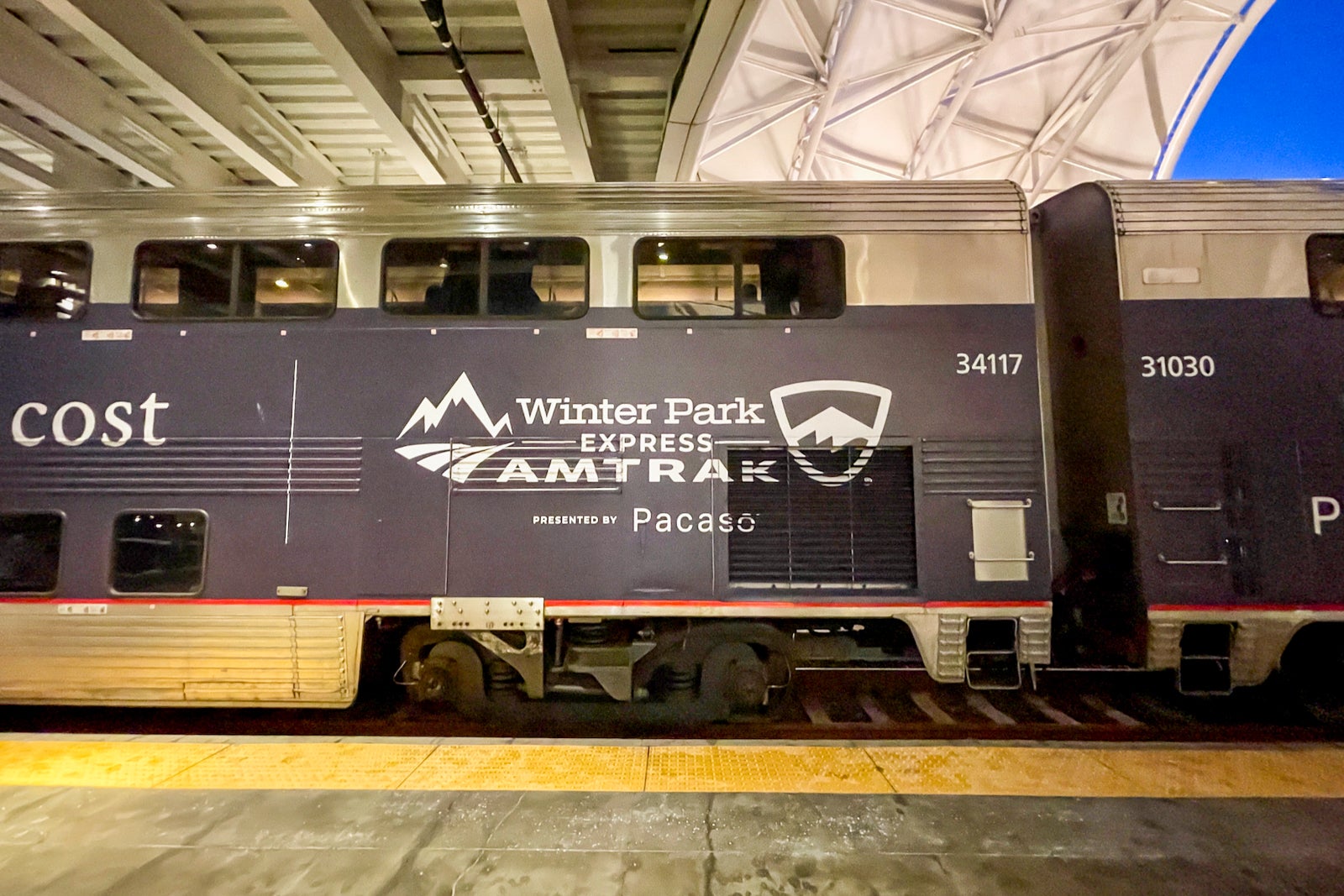 Booking the Winter Park Express is no different than booking any other train. Head to Amtrak's website and enter DEN as your departure point and WPR as your destination.
One-way fares start at $34, with a special rate of $17 for children ages 2 to 12. Don't worry about paying extra to bring your skis or snowboards on board. You're allowed to bring two carry-on items, including skis and snowboards, as well as two personal items at no extra charge. Just remember lift tickets must be purchased separately through the resort.
Unfortunately, this route is not bookable with Amtrak Guest Rewards points.
The train
Amtrak has spare trains dedicated to this route. They're painted in a custom Winter Park livery on the outside and have special branding on the inside.
The trains feature all-coach seating spread across two levels. Most cars are equipped with typical Amtrak seats, some upholstered in leather and others in fabric. Both types offer generous legroom, a comfortable recline and power outlets in every row.
Related: Why Winter Park Resort should be your next vacation destination
The best seats, at least in my opinion, are those in the observation car — better known as the Sightseeing Lounge. While you'll give up some legroom and recline if you sit here, the floor-to-ceiling windows make up for it, particularly on this scenic route.
In addition to the single seats, there are family seats with tables for groups of four. As in the other cars, all seats have direct access to power outlets.
Seats in the observation car are first come, first served, and they fill up quickly. I recommend heading there right away if you want a spot. The observation car is a unique feature normally only found on long-distance trains but a staple of the Winter Park Express.
Below the window-filled lounge is a cafe that serves an assortment of packaged light snacks and drinks but no hot food.
The experience
My morning began at the crack of dawn at Denver's historic Beaux Arts Union Station. I was staying at The Crawford Hotel inside the train station (review coming soon), so I was just a short walk away from the train.
The Winter Park Express always departs Union Station from Track 5. I had rented gear from the resort, so I was traveling light. However, there were volunteers to assist in loading skis and snowboards into the dedicated baggage storage area.
Additional storage space is available on board at the ends of the cars, as well as on overhead shelves. While everyone was allowed two carry-on items and two personal items, that didn't appear to be strictly enforced.
Despite the early morning departure, there was a lot of energy on board. Everyone — both passengers and crew — seemed excited to be on the ski train. This helped to make the experience even more special. The conductor was also very chatty and passed through the cabin frequently to check on passengers.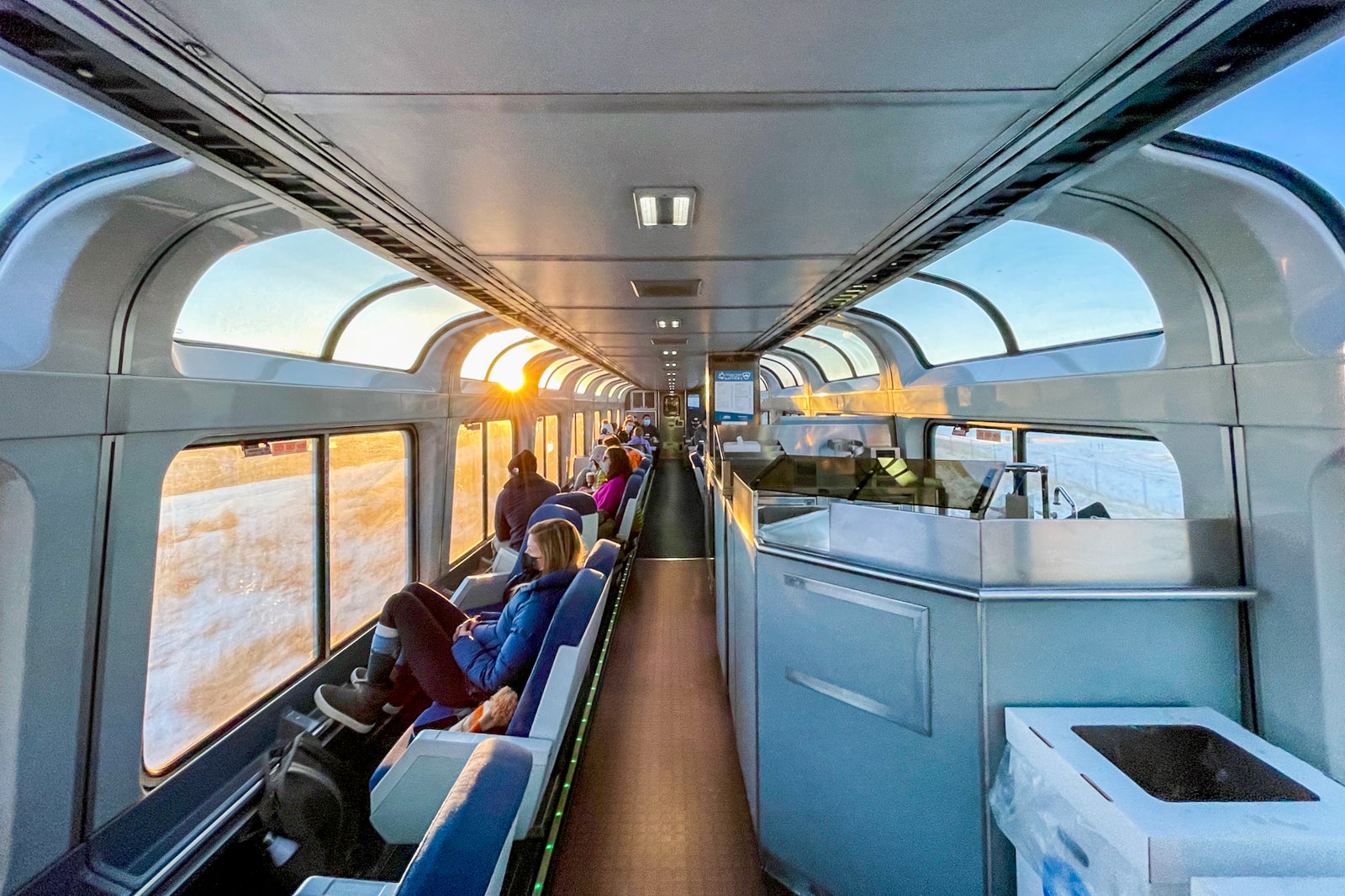 What made the most lasting impression on me were the volunteers. Aside from just helping passengers load their gear, there were volunteers on board pointing out sights along the way, sharing various stories and, perhaps most importantly, answering questions about Winter Park.
There was no Wi-Fi on board, but people didn't seem to mind — everyone's eyes were stuck to the windows for much of the 67-mile ride anyway.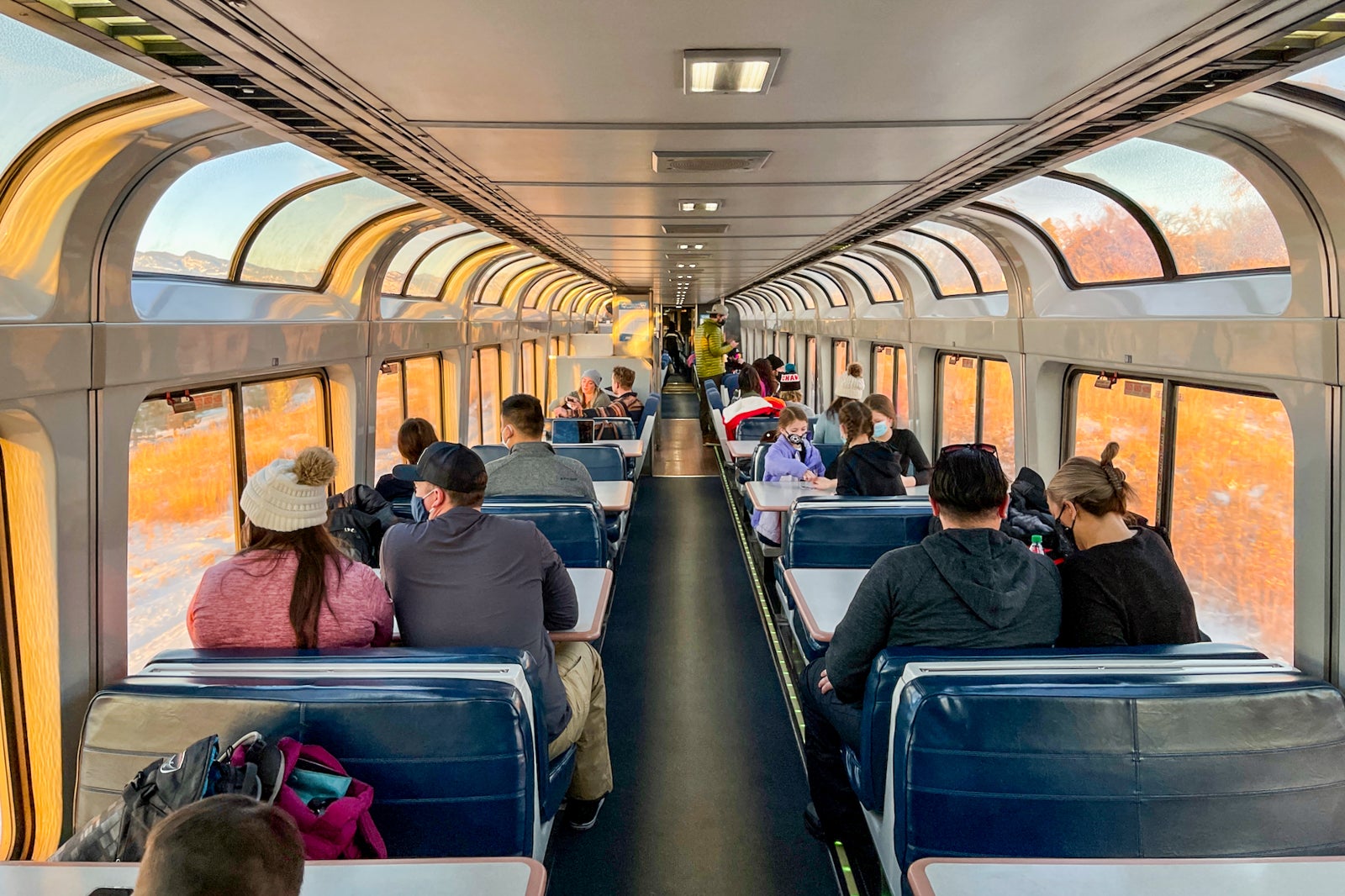 The views were truly stunning, and passengers, myself included, couldn't help but take pictures at every turn. It sure beat the standstill traffic on Interstate Highway 70, which you'd normally take to drive to Winter Park.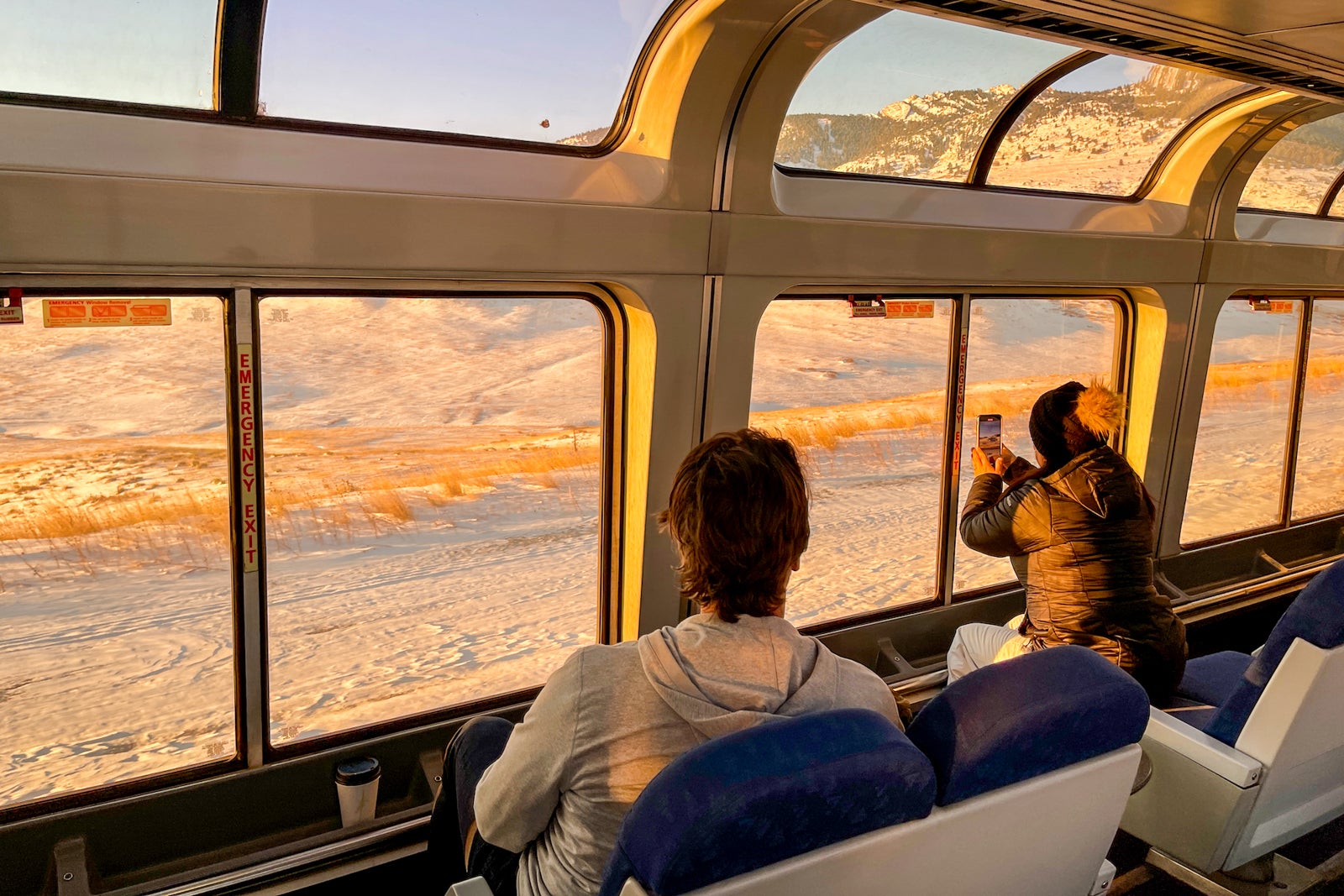 A swift two hours later, the brakes screeched, and we arrived at Winter Park. Those returning to Denver later that day had the option of leaving some belongings on the train (as long as they didn't mind not being able to access those items until they returned at the day's end).
Read more: Winter Park Express ski train is back — and tickets start at $34 one way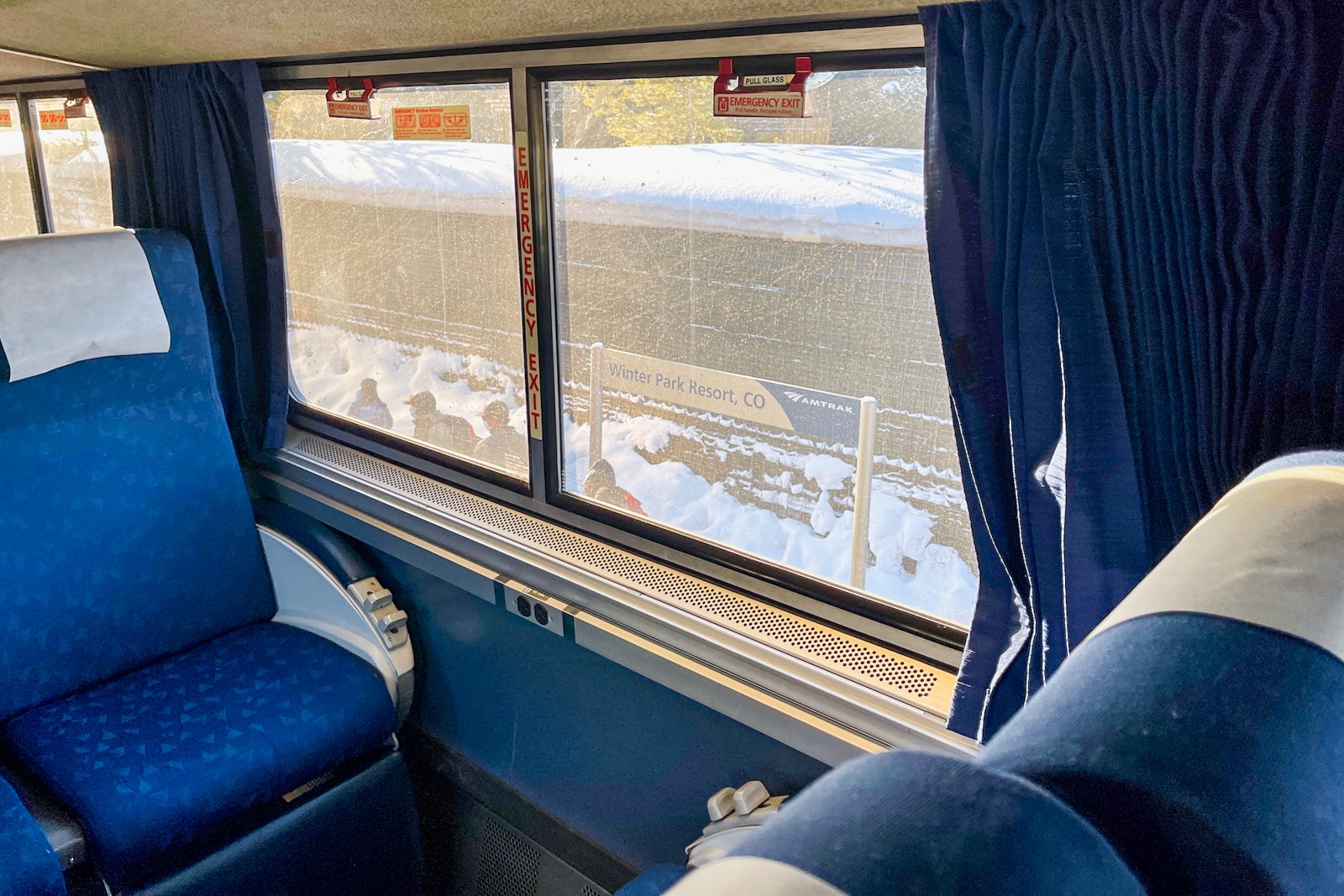 Again, there were volunteers to assist with unloading gear from the train.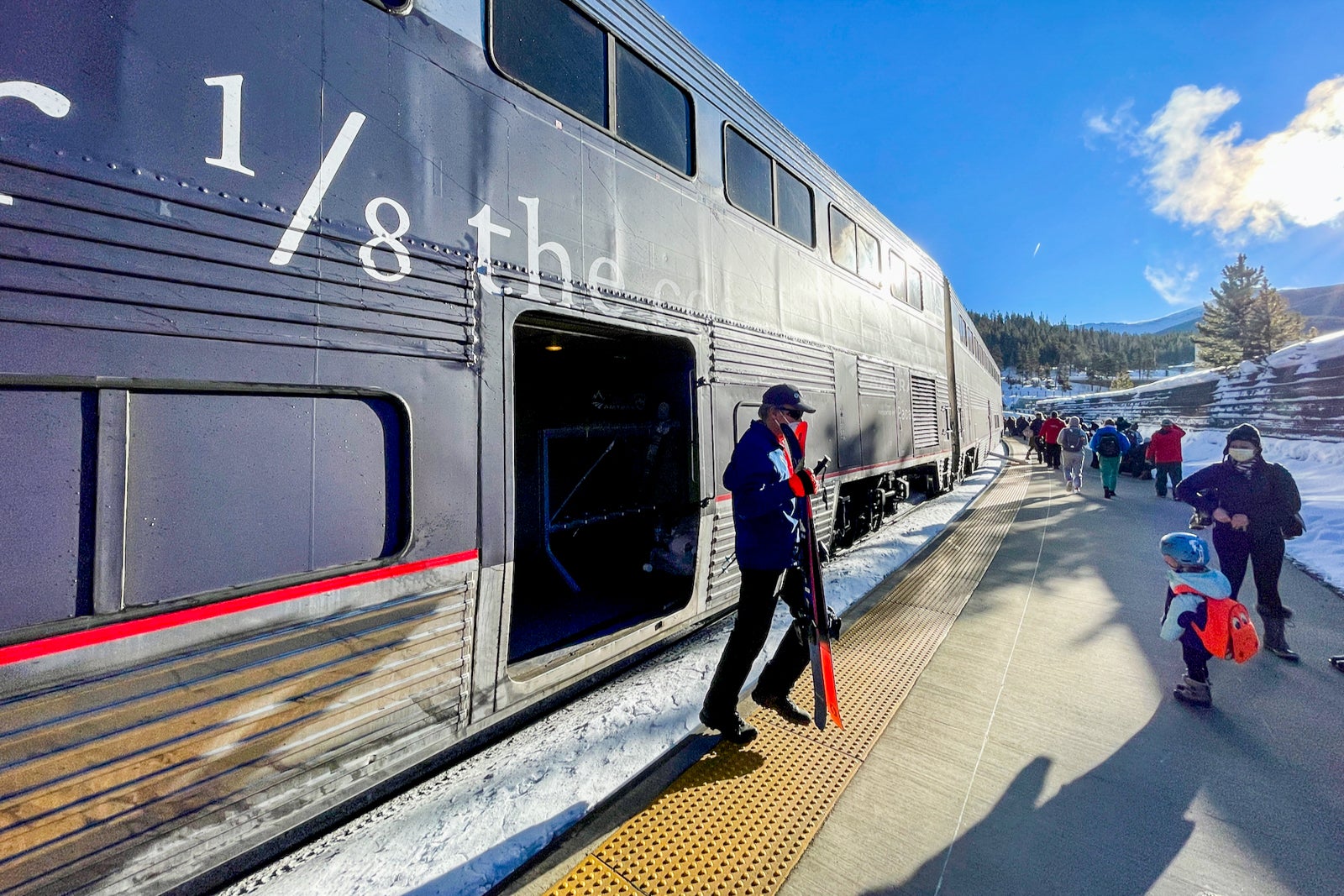 The train stop couldn't have been any more convenient. Upon arrival, we stepped off onto a heated platform — just 100 feet from the nearest ski lift. The rental shop and ski and ride school were also right there, so no shuttles were necessary.
After a successful day learning how to ski, I walked back to the train, was welcomed back by the same crew from the morning. Before I knew it, was on my way back to Denver. Easy peasy.
Bottom line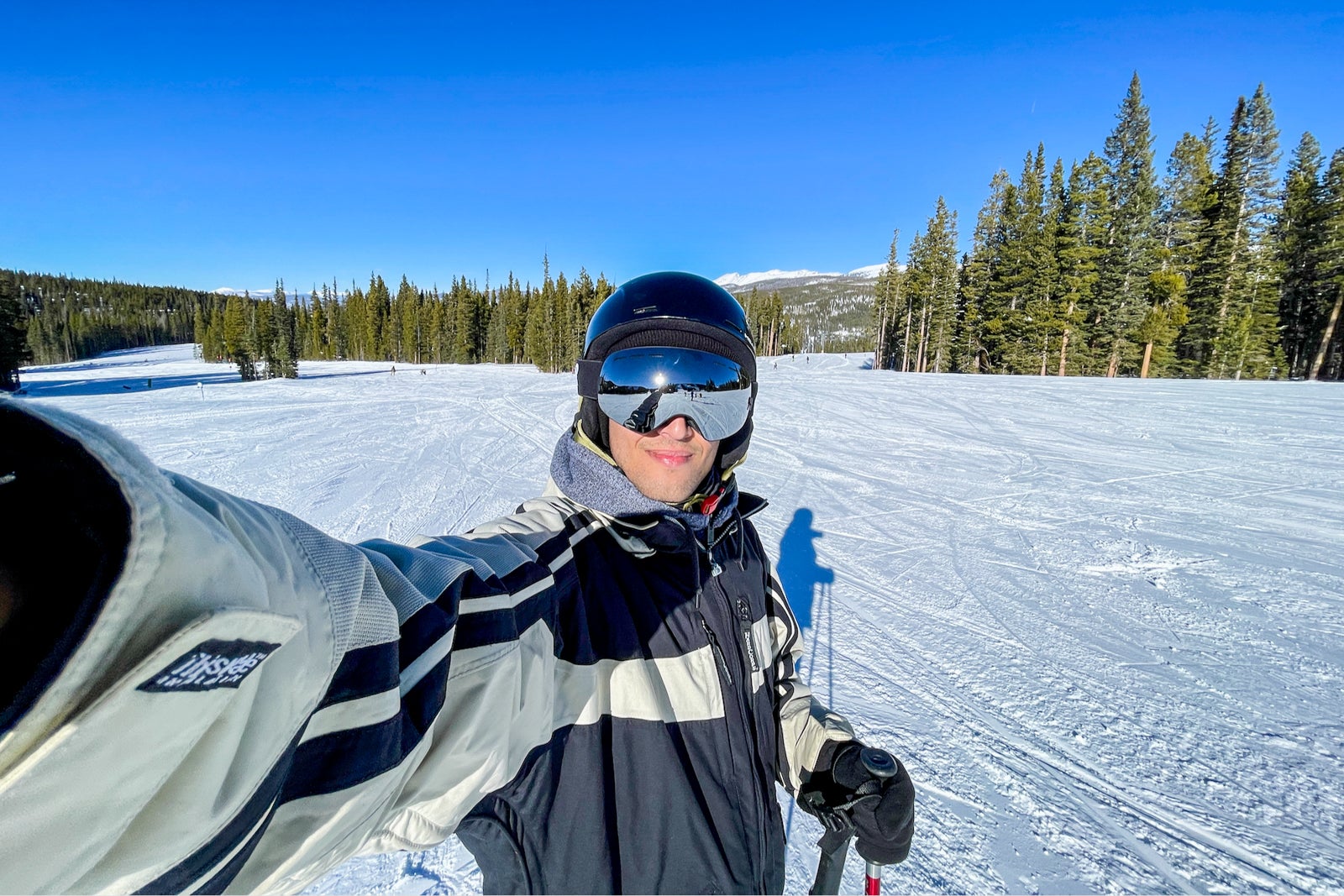 Thanks to the Winter Park Express, I was able to make the most of an extra day in Denver and learn how to ski in just a few hours' time.
It may not be the Polar Express, but it felt like the next best thing. It's not every day that you get to wake up in a major metropolis, go skiing for the day and be back in time for dinner.
Additional reporting by Caroline Tanner.