I'll admit it: When I first joined TPG, I had no idea what on earth points and miles really were.
I knew they existed and the general premise of them, but I didn't realize their full potential to take people like me to places I have only dreamed about.
As far as I was concerned, points and miles were like tokens you'd win at an arcade. They were only really worth redeeming when you earned an unreasonable amount of tokens for something like a cool limited-edition Guitar Hero set. Otherwise, you'd have to settle for a fruit-scented pencil or multicolored Slinky.
While I loved my fruit-scented pencils, deep down, my end goal was the Guitar Hero set, which I assumed was reserved for the ultra-heavy hitters and well out of my reach.
Fast forward to adulthood, and the game changed. My arcade tokens became my stash of points and miles that I could accrue, and the big prize, the Guitar Hero set, if you will, became my dream trip to Madrid.
Related: Guide to getting started with points, miles and credit cards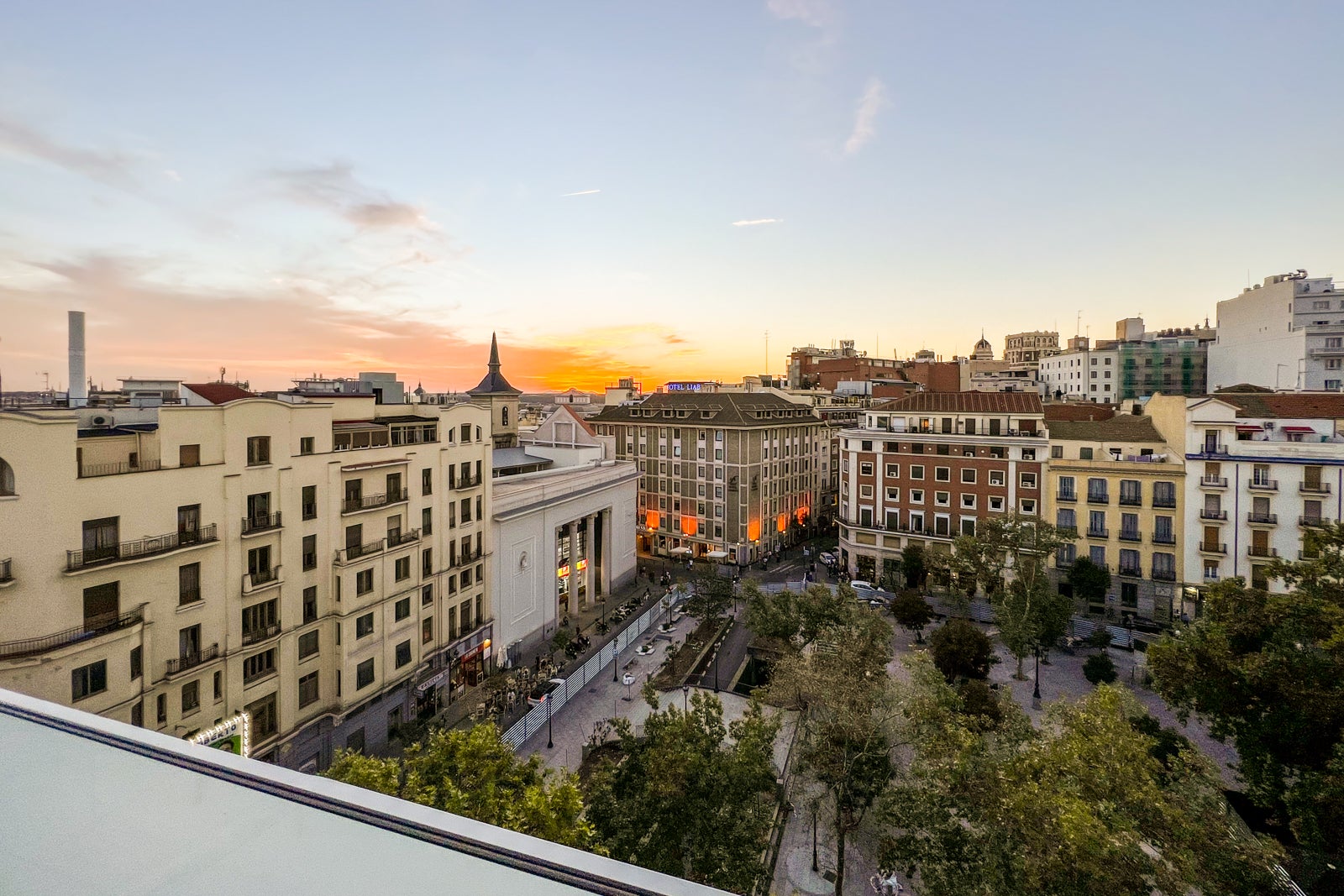 Travel dream becoming travel reality
Spain has been at the top of my travel wish list for as long as I can remember.
Maybe it was because I watched "The Cheetah Girls 2" way too many times, and seeing them gallivant through Barcelona instilled dreams of Spain from a young age. Or maybe it was that particular episode of "Anthony Bourdain: No Reservations" where he goes through the entire Iberian Peninsula that got to me.
One thing was for sure: I was going to Spain someday.
After working at TPG for a while, my eyes opened to the fact that points and miles aren't just for heavy spenders and frequent flyers — they are for anyone. They are for me. Once I heard about an American Express transfer bonus to Iberia that would add 30% to my points total if I made a transfer, I knew it was the moment I was waiting for. 
Not only were my metaphorical tokens about to be more valuable, but I could actually turn my credit card points into even more points than I had to begin with by moving them at the right time. So with a little help from my points and miles friends, I made what I had perceived to be impossible possible. 
I not only booked a trip to Spain using points, but I did it in lie-flat business class. For the flight to Spain, I used just 27,000 American Express Membership Rewards points transferred to Iberia. Talk about a deal.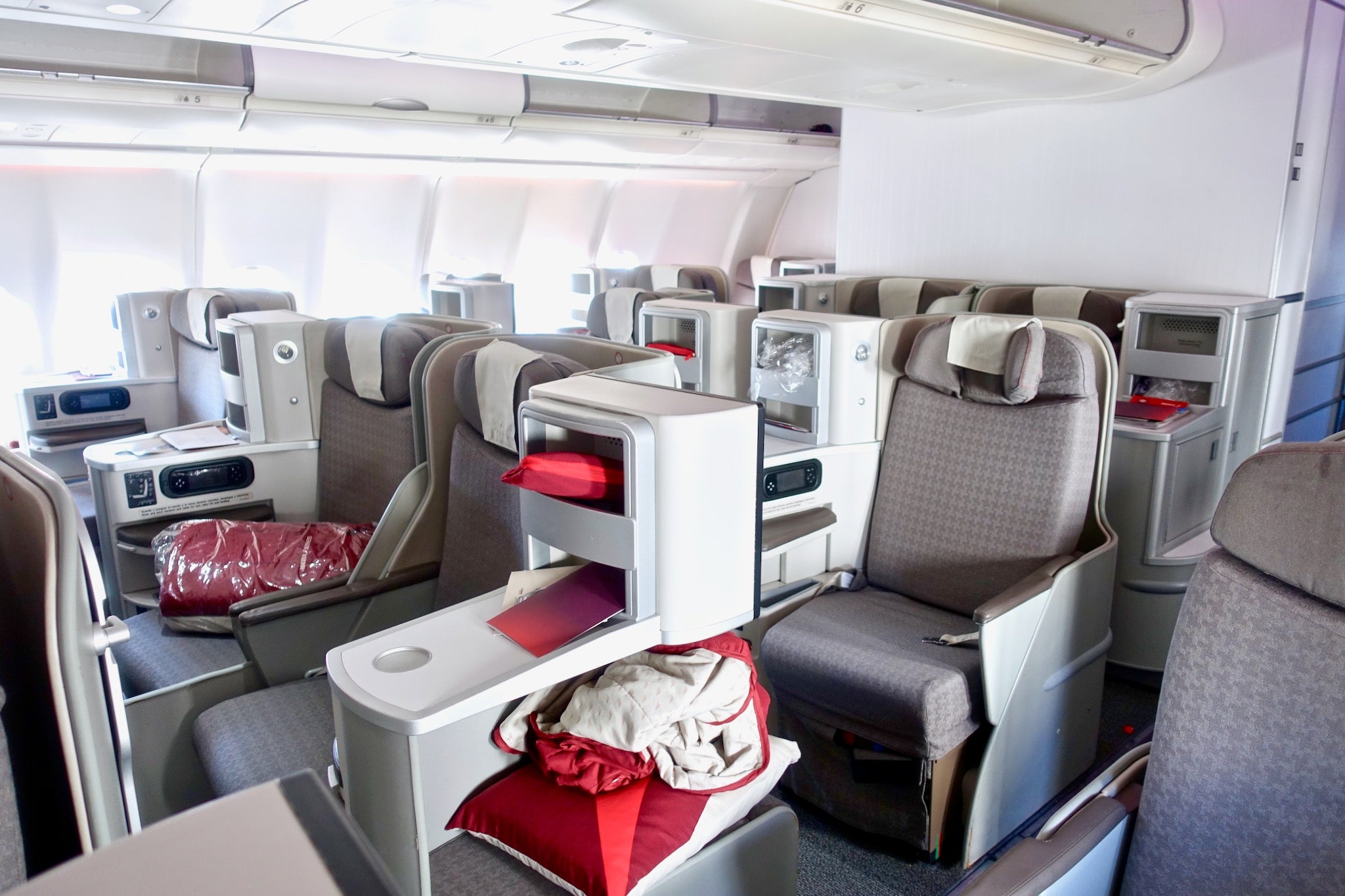 This isn't something only experts can finesse — you can do this, too. Here's what I did, so you can do the same thing if you want to.
Related: Making the 1st big redemption with my Amex Platinum 
How I booked Iberia business class
As a points and miles newbie, I'll admit, at first glance, it can be pretty daunting and even scary learning the ropes and tricks that come with redeeming miles for your first trip. 
Don't stress, though. I'll walk you through how I did it and save you the headaches I initially had.
First order of business: I redeemed American Express Membership Rewards points, which you can earn with cards such as the American Express® Gold Card, which is a must-have for any New Yorker since it earns 4 points per dollar on dining (and on groceries, if cooking at home is your thing).
In less than two months of opening my card, I hit my welcome bonus and received 60,000 Amex Membership Rewards points right into my account. Since then, I've continued charging my dining and groceries expenses on the card, earning even more points.
If you are starting from scratch, here are the best cards for earning American Express Membership Rewards points. If you want a card with a lower annual fee, the American Express® Green Card earns the same type of points and has a welcome bonus of 60,000 points after spending $3,000 on purchases in the first six months. With the Amex Green Card, you'll get 3 points per dollar spent at restaurants but no bonus on groceries.
Since I've never flown on any Europe-based airline, let alone Iberia, I had to first create an Avios account (Avios is the loyalty currency used by Iberia, British Airways and other airlines). It's free and easy to do on Iberia's website.
Before transferring any points, I needed to ensure I could find the award flights I wanted.
Related: 1 of the best award flight sweet spots is now easier to book
When I first attempted to search Iberia's website for award flights, I'll admit that as a points newbie, I was overwhelmed. While I did everything I knew to do, from checking "Pay with Avios" and "My dates are flexible" to selecting "Premium cabins," I still had no luck finding the right award space.

Just as I was about to give up and consider traveling in economy to simplify my redemption, I remembered that Avios not only apply to Iberia but to British Airways as well. This meant I could possibly find my dream redemption on British Airways' site. Rather than giving up and forking over Avios for economy, I searched one more time for business-class availability.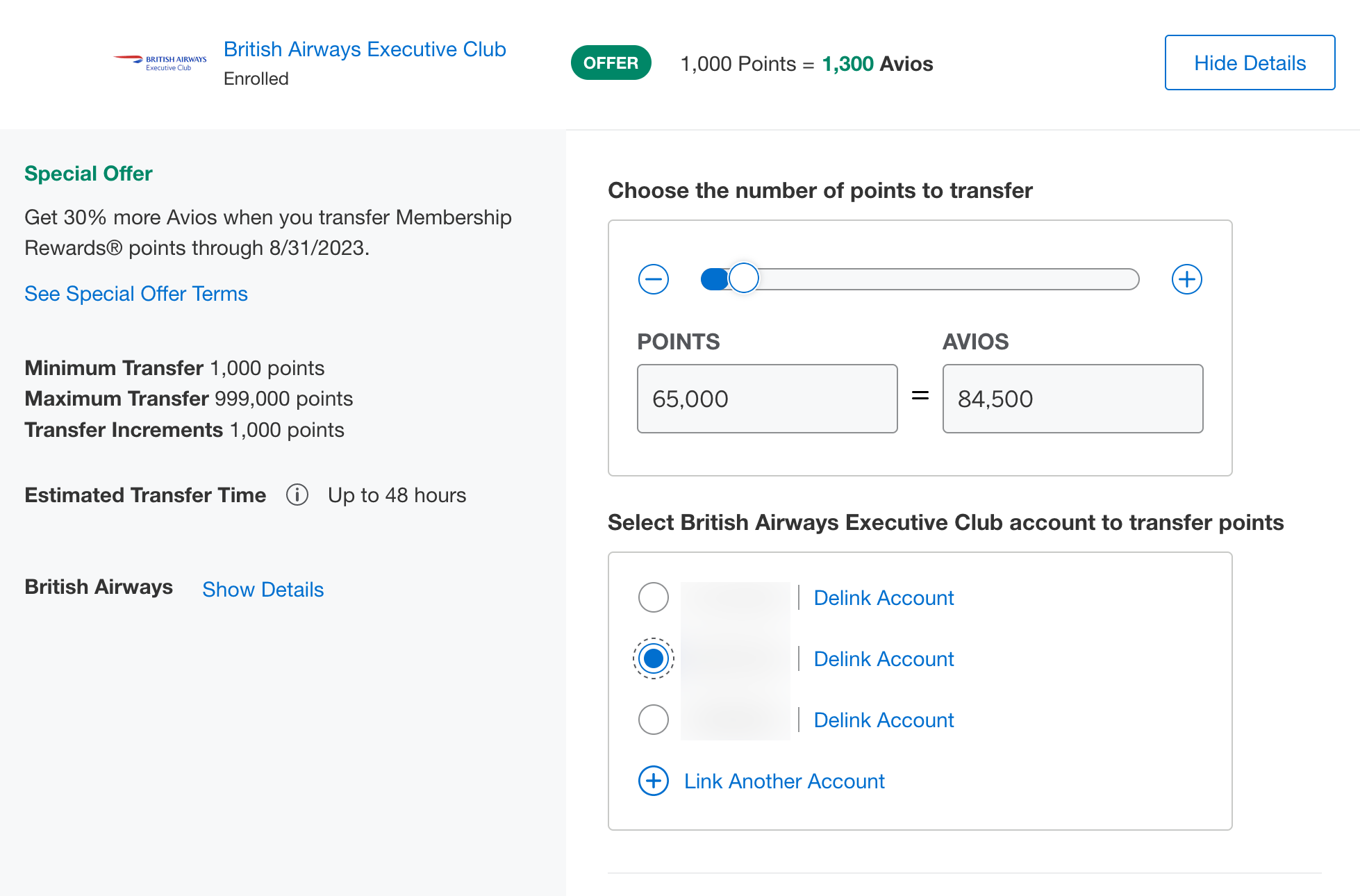 British Airways' site seemed much simpler to use. After searching a few dates, I found business-class availability on Iberia-operated flights from John F. Kennedy International Airport (JFK) to Adolfo Suárez Madrid-Barajas Airport (MAD) on ideal travel dates for the fall.
The outbound flight was 34,000 Avios in business class due to it being on what is considered an "off-peak" travel date.
Related: A review of Iberia business class from Madrid to Boston
The return flight wasn't considered off-peak, so it was priced a little higher at 50,000 Avios. That's a total of 84,000 needed Avios, which is pretty fantastic for a round-trip flight from New York City to Europe in business class. However, thanks to the 30% transfer bonus, I only needed to transfer 65,000 Amex Membership Rewards points.
I couldn't believe it. Within a few minutes, I had a business-class ticket that otherwise would sell for thousands of dollars for just 65,000 transferred points and $272.15 in taxes and fees.
Related: Sweet Spot Sunday: Fly business class to Europe from 34,000 Avios each way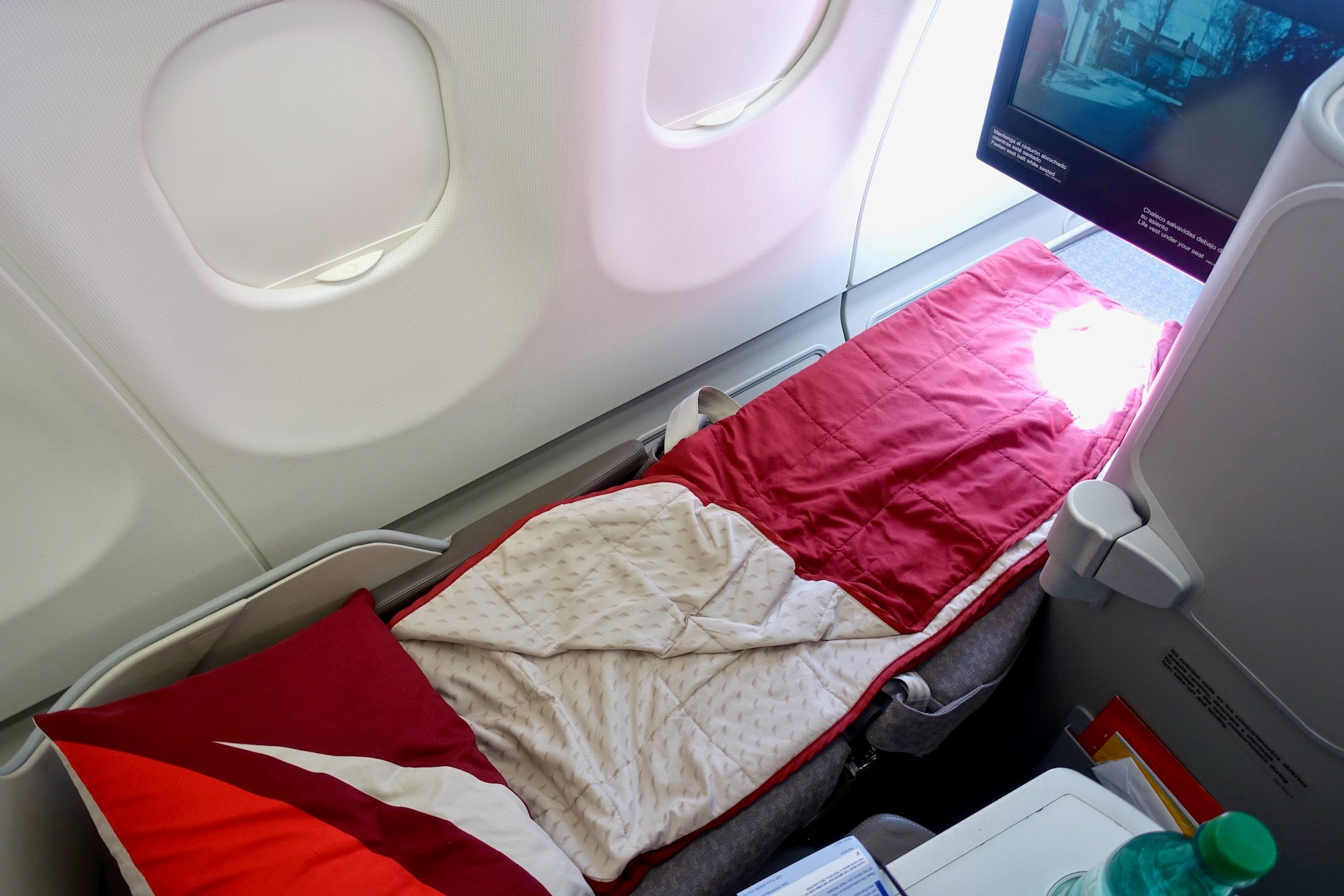 Iberia business-class sweet spot
As you may have noticed by now, Avios can be very lucrative. When booking via British Airways or Iberia, the price of your award flight is based largely on the distance you fly. 
And while New York City to Madrid isn't a short flight, it also isn't a long one as far as global flights go. In fact, from the U.S., you can fly to Madrid on Iberia from not only New York City but also Boston and Chicago, starting at that same rate of 34,000 Avios each way on off-peak dates. That's one of the best deals out there on its own, and it is darn near unbelievable when you layer in a transfer bonus.
Related: The best ways to get to Europe using points and miles
Bottom line
As a points and miles novice, it can be daunting to figure out what exactly makes a "good" redemption.
Whether you're like me and saw an opportunity to leverage a transfer bonus and make a dream come true, or you're already an expert, the truth is, there's no right or wrong way to spend (or earn) your points. 
Just the fact that I can finally experience that feeling of scoring big after years of earning the same small prize is a feeling beyond words.
I look forward to walking around Madrid, soaking it in and seeing all the city has to offer — from the robust arts and culture scene to the stunning new hotels that have opened recently. I cannot wait to experience Spain (and business class).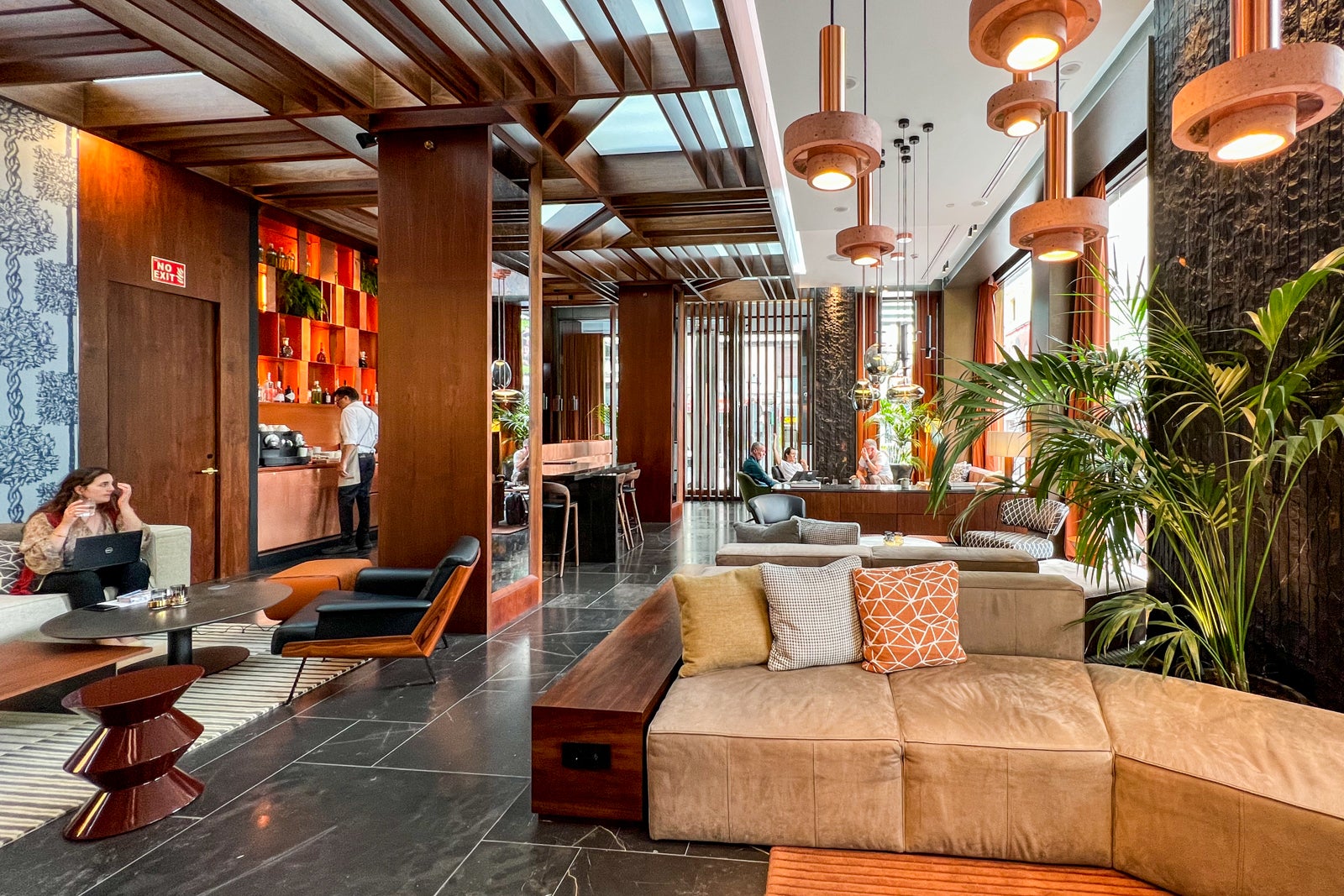 This is just the beginning of unlocking a whole new (to me) world. As many of my fellow avid points and miles friends here at TPG have told me, there is nothing like the thrill of going on your first big award trip. I can't wait to take you along for the ride, too.
Related reading: