Getting through security at London's Heathrow Airport (LHR) has been notoriously cumbersome.
In previous trips through Heathrow, I've encountered long lines, detailed security rules and common secondary inspections. I presumed this was just the price to pay for international travel.
As it turns out, I wasn't the only one with this experience and perception. In July 2022, it was reported that Heathrow passengers spent an estimated 2.1 million additional minutes combined in security at Heathrow due to instances of passengers leaving liquids packed in carry-on bags instead of placing them into separate sealed plastic bags. That's just time lost from one month and one issue.
While in the U.S., Clear and TSA PreCheck can often zip you through security, but those conveniences stop at the border.
Want more airline-specific news? Sign up for TPG's free biweekly Aviation newsletter
When returning to the U.S. via Heathrow's Terminal 2 following a recent trip to London, I arrived at the airport early and mentally prepared myself for the security gauntlet that had consistently awaited me on previous trips. However, things were different this time. Shockingly different.
Not only was there less than a five-minute wait to get through security, but I was told to actually keep my liquids in my bag. In fact, I didn't have to take anything out of my bags at all.
My shoes stayed on, and I only needed to put my backpack and carry-on bag into the bins to send through the scanner. Within seconds everything came out the other side. No drama, no delays, no secondary screening.
This wasn't just good luck — this was a glimpse of the future.
Related: This is the best way to get from Heathrow into London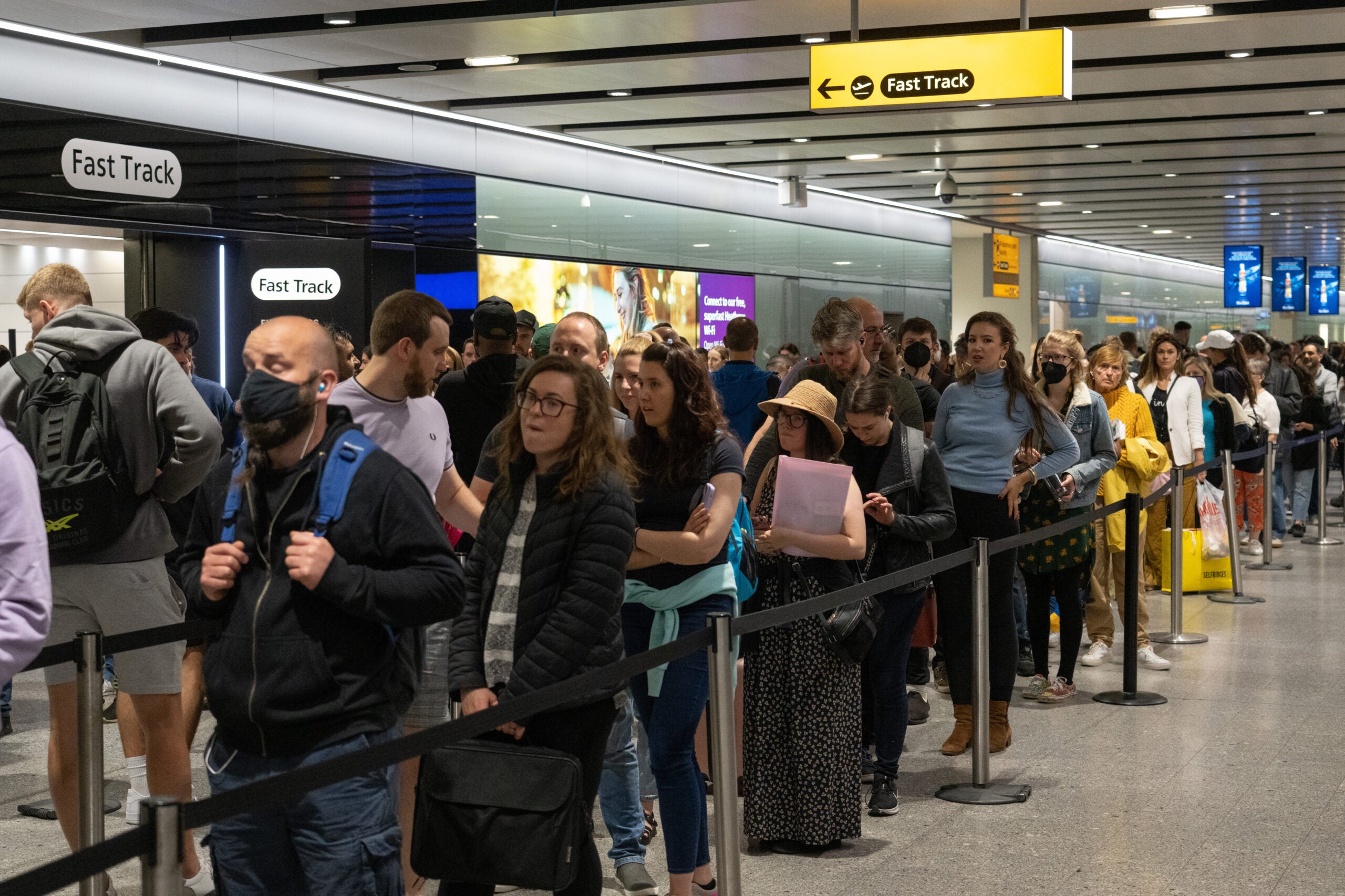 Simplified airport security coming to the UK
For years, we've been told that change was coming as part of an airport security overhaul in the U.K.
The simplified security process I experienced was part of a larger testing of forthcoming new security systems at LHR. I was routed to this particular line, along with others standing around me, after initially being in a different line that presumably had the old rules and procedures. A spokesperson for the airport confirmed to TPG that the airport is currently trialing next-generation scanners in both Terminal 2 (where I visited) and Terminal 5.
While what I experienced isn't yet the norm in all of the security lines at Heathrow, it soon will be if things go as planned.
The implementation of a revamped security process was delayed during the pandemic. However, this new security technology will be rolled out across all of the country's major airports by 2024, based on the current timeline set by the U.K's Department for Transport.
That's not just the deadline for new machines. Along with the new technology will come the loosening of rules for electronics. Along with liquids, electronics are another major cause of extended security delays and secondary inspections. 
The new scanners are already in place across town at London City Airport (LCY) and Teesside International Airport (MME) in northeastern England. That means the rule limiting you to 100 milliliters of liquid in your carry-on luggage has already been scrapped, and laptops can remain safely packed in your bags.
Bottom line
If you have been in one of those painfully long and involved security lines at Heathrow, you'll understand the thrill of testing out a simplified process.
With a June 2024 deadline for the U.K airports to put new security rules and technology in place across the country, it won't be long until my glimpse of the future is an everyday reality.