Royal Caribbean is going extravagant with a new eatery planned for Icon of the Seas — the giant new cruise ship it's debuting in early 2024.
The world's largest cruise line revealed plans Thursday for a high-end supper club along the ship's tree-lined Central Park area that will offer a "taste of old New York" with fancy American cuisine, a drink paired with every dish and a three-piece band providing the entertainment.
To be called Empire Supper Club, the venue will be the ship's most elegant dining establishment and will serve an eight-course menu of what the line calls premium American cuisine. Royal Caribbean said caviar and wagyu beef would be among the items appearing in front of diners as they're entertained with "unexpected renditions of modern favorites" from the house band.
For more cruise news, guides and tips, sign up for TPG's cruise newsletter.
Royal Caribbean has yet to announce pricing for the reservations-only venue, but a spokesperson for the line hinted to TPG that it wouldn't be inexpensive. Royal Caribbean is using the word swanky to describe what customers can expect.
Royal Caribbean is just the latest cruise line to tap a resurgence of interest in supper clubs, which first took off in the 1930s and 1940s. In their classic form, supper clubs offer a full evening experience that combines clubby cocktails of old (think old-fashioneds and Harvey Wallbangers), American cuisine staples like slabs of prime rib with sides, and a night of music and maybe even dancing.
Supper club experiences have popped up in recent years on ships operated by Norwegian Cruise Line, Crystal Cruises and Cunard Line.
The Empire Supper Club is just one of more than 20 restaurants and other food outlets that Royal Caribbean on Thursday said would be on Icon of the Seas.
For the most part, the eateries will be familiar to Royal Caribbean fans, as they are mostly versions of venues that already exist on other Royal Caribbean ships.
Related: A sneak peek at Icon of the Seas under construction
That said, another notably new-for-the-line option, in addition to the Empire Supper Club, will be AquaDome Market – Royal Caribbean's first food hall.
Within the top-of-the-ship AquaDome — a massive, glass-enclosed space that will be one of Icon of the Seas' signature features — the market will have five stalls serving different food choices that are open for breakfast, lunch and dinner.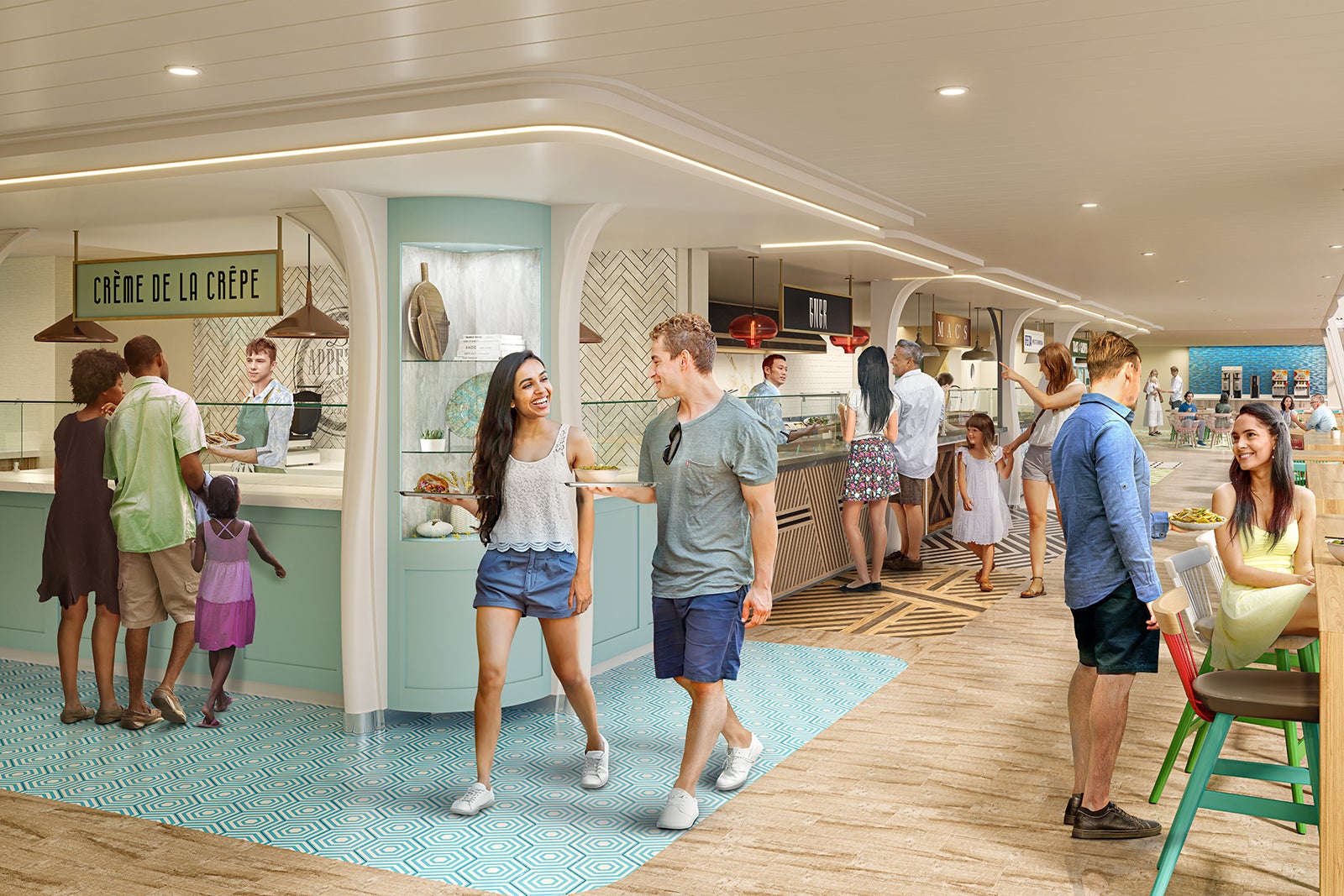 The five food stalls will include Creme de la Crepe, a crepe-serving venue, and a macaroni-and-cheese-focused outlet called Mac's.
Other outlets will be Feta Mediterranean, serving fresh pitas and bowls; GNGR, which will serve up Asian-inspired dishes such as Korean beef and broccoli; and Toast and Garden, which will offer sandwiches and salads.
A private dining experience called the Celebration Table will also be available in the AquaDome area for up to 12 people. In a space with sweeping views, it'll be a flexible dining experience with passengers booking it being able to choose from separate American, Italian, Asian and seafood menus with other menu upgrades available, too.
Related: Everything you need to know about booking Icon of the Seas
Other new food options for the ship announced Thursday include Izumi in the Park, a takeout window for fresh sushi in the Central Park area of the ship. It'll be next to a version of the Izumi sushi restaurants that the line has on other ships.
Signature Royal Caribbean dining venues that are returning on Icon of the Seas include the American steakhouse Chops Grille, to be located in the ship's Central Park area; Hooked Seafood, which will be in the AquaDome area; and Giovanni's Italian Kitchen & Bar, which will be in the ship's Royal Promenade.
In addition, the ship's Central Park area will now have a Trellis Bar that serves a menu of small bites as well as wine. Royal Caribbean's Oasis-class ships currently have a Trellis Bar in their Central Park areas that only serves drinks.
At 250,600 tons, Icon of the Seas will be more than 6% bigger than the biggest cruise ships currently afloat. It will also offer a bigger array of eateries, bars and deck-top attractions than any cruise vessel ever built.
It'll be able to hold up to 7,600 passengers — also a new record for a passenger ship.
The ship is the first of a new series of vessels for Royal Caribbean (the Icon-class series) that will eclipse the line's record-breaking Oasis class of ships in size and features.
Related: The 6 types of Royal Caribbean ships, explained
Currently under construction at a shipyard in Finland, Icon of the Seas will debut in January 2024, operating seven-night sailings to the Caribbean out of Miami.
Planning a cruise? Start with these stories: