After the ball drops on New Year's Eve, New York City gets a little quiet — which means it's a great time to save some money on a visit to a city that can be pretty expensive.
And now through Feb. 12, visitors can save on a last-minute trip to the Big Apple thanks to NYC Hotel Week (which actually lasts over a month), a yearly promotion organized by NYC & Company, New York City's official destination marketing organization and visitors bureau.
With the offer, travelers who want to experience winter in New York or locals who want to explore a different borough can save 23% on the standard room rate at over 140 hotels across the city's five distinct boroughs. So whether you want to bask in the lights of Broadway, finally figure out why Williamsburg is so chic or hang with the finance bros on Wall Street, there's a hotel for you.
With so many hotels, it can be overwhelming, but consider staying at The Beekman, a Thompson Hotel. It's one of our favorites here at TPG thanks to its laid-back sense of cool, Instagram-famous atrium and downtown location close to major attractions like the Brooklyn Bridge.
With the NYC Hotel Week promotion, cash rates for a one-night stay at this chic hotel on Jan. 15 start at $285 a night (plus taxes and fees) for a queen room, compared to $333 for the World of Hyatt advance purchase rate, $351 for the member rate and $369 for the standard rate.
Curious to see how these rates compared to a booking site like Hotels.com, I found the same queen room there for a nonrefundable rate of $360 a night. That's pretty good savings, I'd say.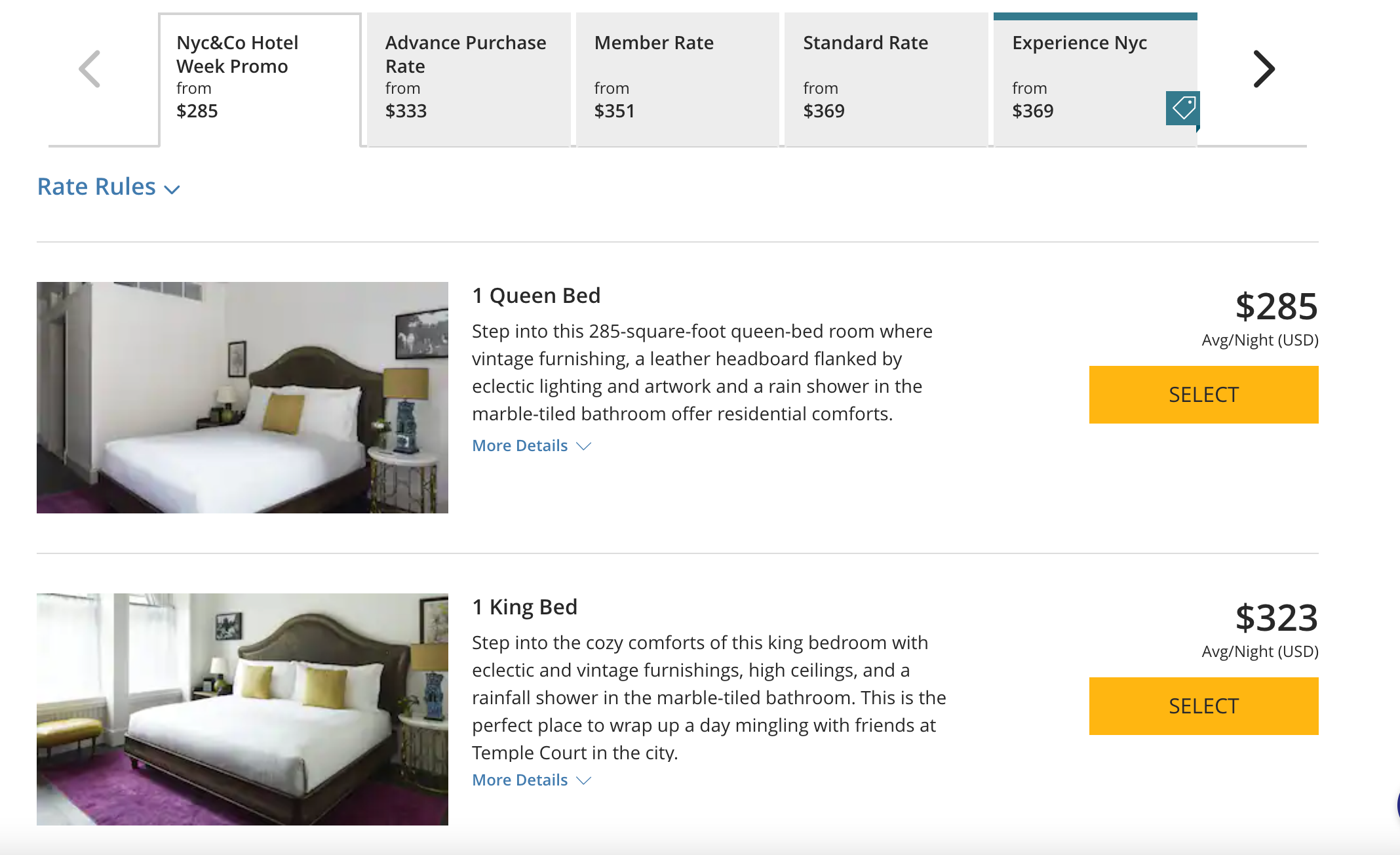 Beyond the Thompson, a handful of luxury hotels dotting the city are joining in on NYC Hotel Week, so you can save some cash without sacrificing the top-tier amenities you deserve.
Just a few of those luxe properties offering the 23% discount include the Conrad New York Downtown, the Lotte New York Palace, the Times Square Edition and the charming new Park Lane Hotel right across the street from Central Park.
For folks looking to be close to some of the major tourist spots, consider the massive New York Marriott Marquis right in the heart of Times Square; The Langham, right around the corner from the Empire State Building; or the Gansevoort, close to the High Line. Or, to really get a feel for New York, head out of Manhattan for a stay at the Wythe Hotel in Williamsburg or The Rockaway Hotel near the beach.
Are the savings really worth it? Booked through NYC Hotel Week, a Friday night stay at the Hampton Inn Manhattan/Times Square Central on Jan. 13 is going for $191 (plus taxes and fees). That same room on Hotels.com is listed at $234 (plus taxes and fees), saving $43. Not bad, I'd say.
Another example is the ultra-stylish William Vale in Williamsburg, popular for its rooftop bar and trendy location in Brooklyn. When booked through NYC Hotel Week, a queen room with a balcony goes for $246 a night (plus taxes and fees) whereas other booking sites are pricing it out at $320 a night (plus taxes and fees). That $74 could get you a few rooftop drinks at Westlight on the 22nd floor.
A full list of participating hotels can be found on the NYC & Company website.
How to book
To save 23% on hotel stays between now and Feb. 12 as part of NYC Hotel Week, visit NYC & Company's official website for a direct link to special booking pages for each hotel or booking pages with the promotional code already applied.
Since this is a promotion being offered across different brands and hotel chains, NYC & Company says to "refer to the individual hotel's website for the hotel's particular offering."
Other ways to save in New York
The savings don't stop there. Check out NYC & Company's other winter offerings starting Jan. 18 as part of the NYC Winter Outing.
From Jan. 17 through Feb. 12, visitors and locals can score special reservations at the city's top restaurants during Restaurant Week, 2-for-1 Broadway tickets during Broadway Week and 2-for-1 tickets to popular attractions and museums during Must-See Week.