Even if trains, history and nature aren't your cups of tea on their own, something absurdly special happens when the three combine.
The White Pass and Yukon Route Railway is a staple of any visit to Skagway, Alaska, particularly if you arrive by ship during an Alaska cruise. The town's success is closely linked to the development of the railroad infrastructure, with the train line carrying both passengers and cargo between Alaska and Canada for more than 120 years.
For more cruise guides, news and tips, sign up for TPG's cruise newsletter.
I've ridden the train's Skagway-to-White Pass Summit route, and the experience was fascinating and exhilarating, offering a narrated history lesson and views that are absolutely unrivaled by any other train journey I've experienced.
From how it started to where the route will take you and how much you'll pay for tickets, here's what you can expect from a ride on the White Pass Railway, Skagway's most scenic route to Canada.
White Pass and Yukon Route history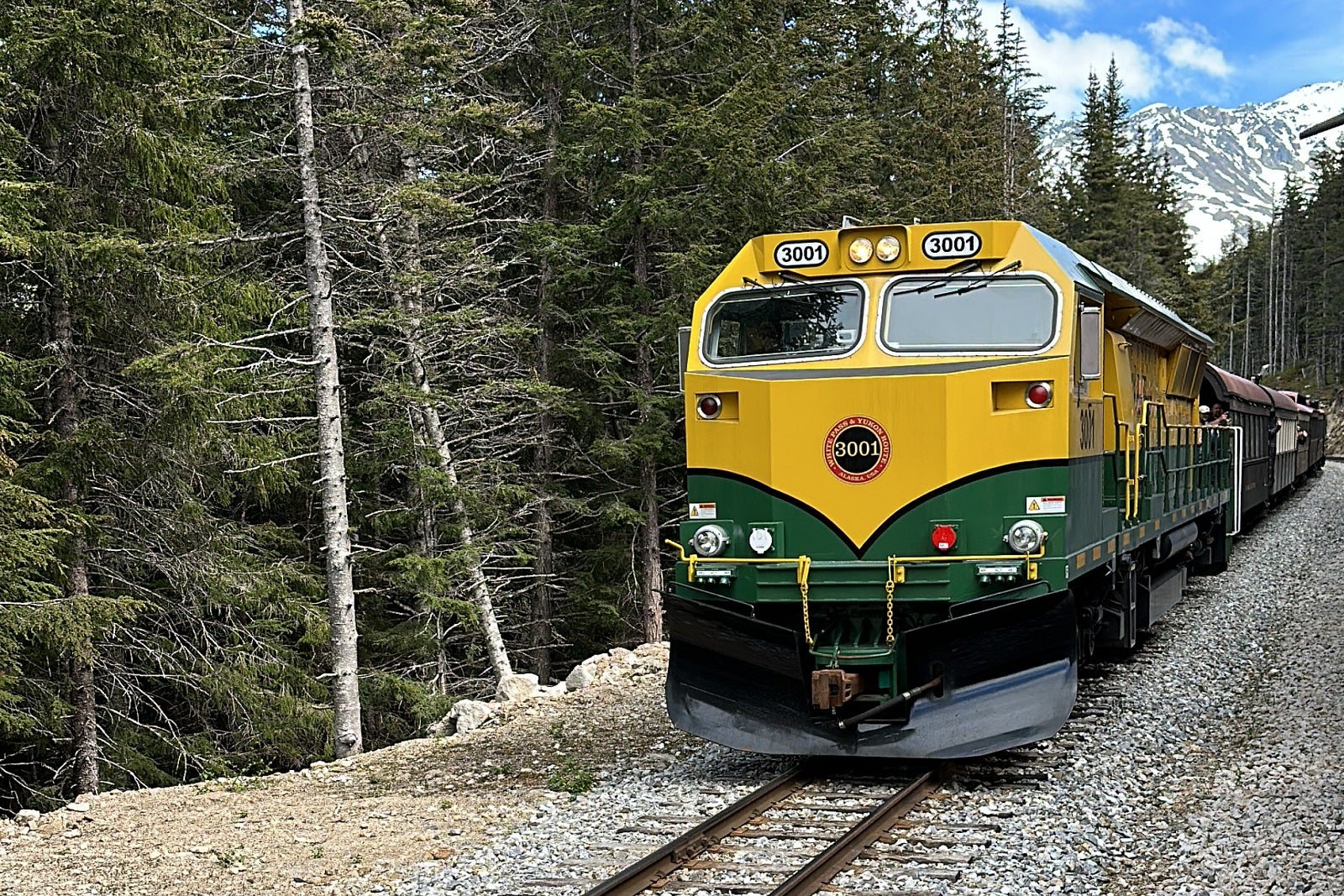 Construction on the White Pass train, Skagway's easiest way in and out during the gold rush days of the early 1900s, began in 1898, with investors from the U.S., Canada and England — and more than 35,000 workers — coming together to complete the $10 million project in just two years.
Until the tracks were laid, the two main routes over the mountain were the shorter but steeper Chilkoot Trail and the longer but flatter White Pass, both of which presented rough terrain and brutal conditions for anyone who made the trek.
Each person who ventured out in search of gold via one of the two paths was required to carry 1 ton of supplies to see them through their trip, making the hike even more treacherous. After the railroad's completion, the expedition was far less arduous, and it took much less time for stampeders to reach the Klondike region.
From 1982 to 1988 — after more than 80 continuous years in operation, including during the winter months — the railroad halted services when the cost of metal dropped and mines, which produced most of the train's cargo, closed.
In 1988, the route reopened as a tourist attraction and now operates from early May through late September to align with the Alaska cruise season. In 1994, the White Pass and Yukon Route was designated an International Historic Civil Engineering Landmark, among the likes of the Eiffel Tower and the Statue of Liberty.
White Pass train price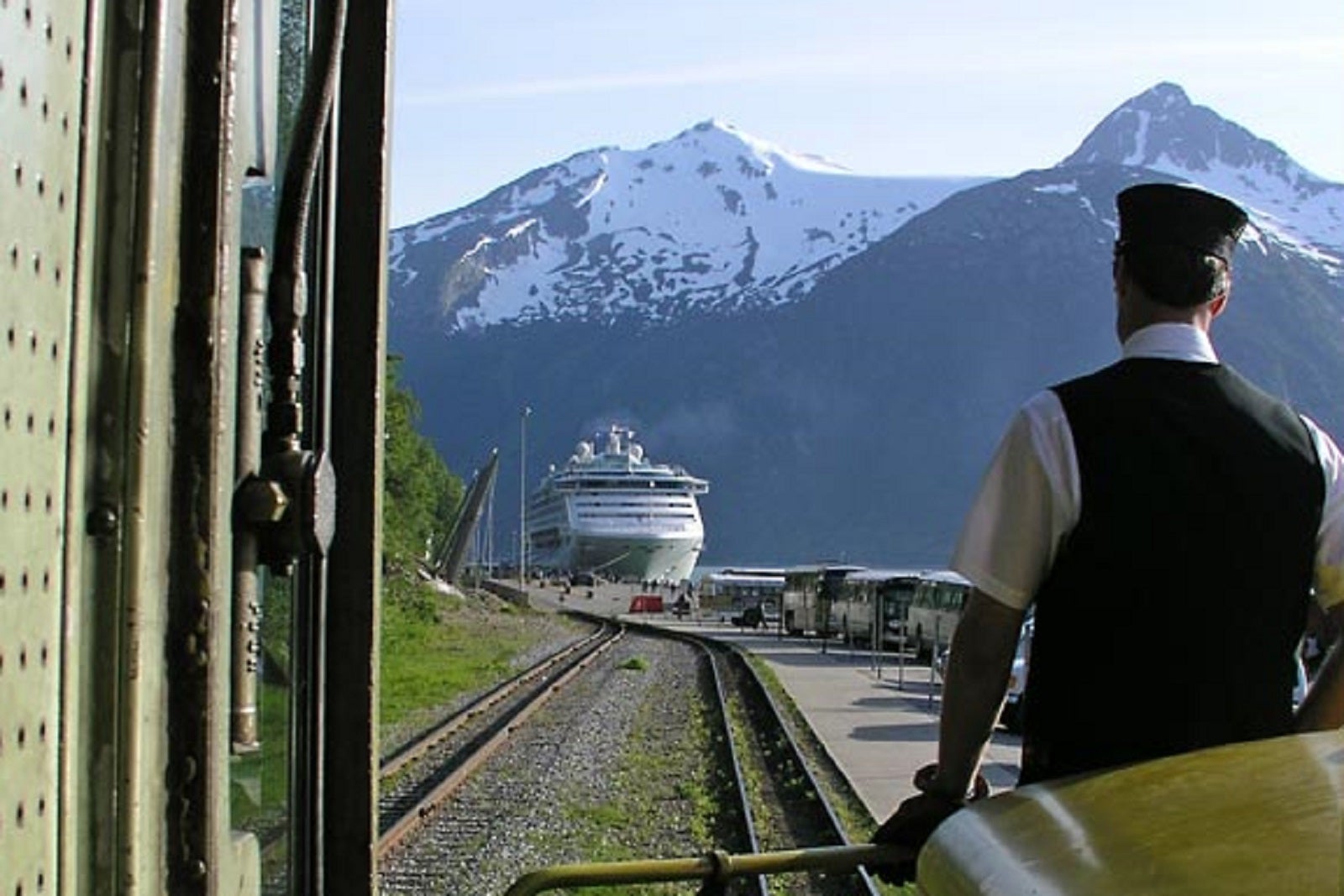 Like the mountain over which the locomotives run, the cost to ride the train along the White Pass Summit route is steep. Tickets purchased online at least 24 hours in advance are $142 per adult and $71 per child for the 2.5- to 3-hour trip, which takes passengers 20 miles from Skagway to an elevation of 3,000 feet before turning around at the Canadian border and heading back.
The White Pass and Yukon Route Railway also sells tickets to non-cruise passengers for options like one-way train rides and camping, as well as connections via Carcross and Bennett, which venture out of Alaska and into British Columbia before entering the Yukon Territory.
I bought my White Pass Summit adult ticket through Norwegian Cruise Line as a shore excursion, and it set me back $219 — a significant but not unexpected markup of $77. (On some sailings, the excursion starts at only $199 per adult and $99 per child.)
Longer and more expensive variations of the train trip, when booked as cruise shore excursions, include visits to local sights before or after the train ride, as well as hybrid train and motorcoach rides that venture as far north as Carcross in Canada's Yukon Territory.
Prices vary by cruise line and specific tour inclusions.
How to purchase tickets for the White Pass and Yukon Route Railway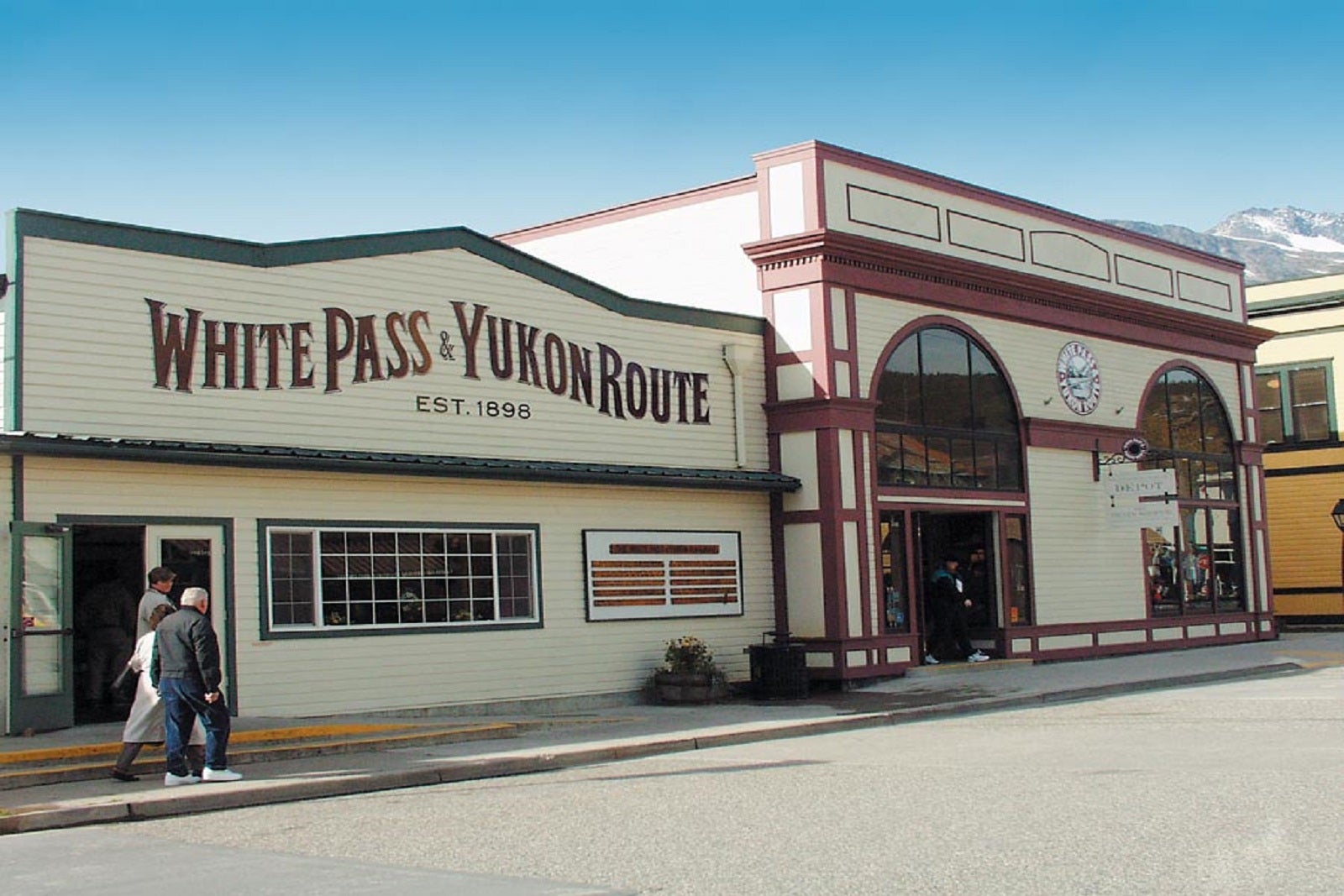 In addition to purchasing tickets yourself online on the White Pass and Yukon Route Railway website or through your cruise line's app, website or shore excursion desk, you can buy day-of tickets at the ticket office on Second Avenue in Skagway. There, you'll also find The Train Shoppe, which sells all sorts of memorabilia and apparel.
Whether you purchase your tickets online or in person, through your cruise line or directly from White Pass and Yukon Route, you can choose from several departure times. Select one that fits your schedule. If you book independently (not through your cruise line), double-check that the time you pick coincides with the time your ship will be in port.
Where does Skagway's White Pass train go?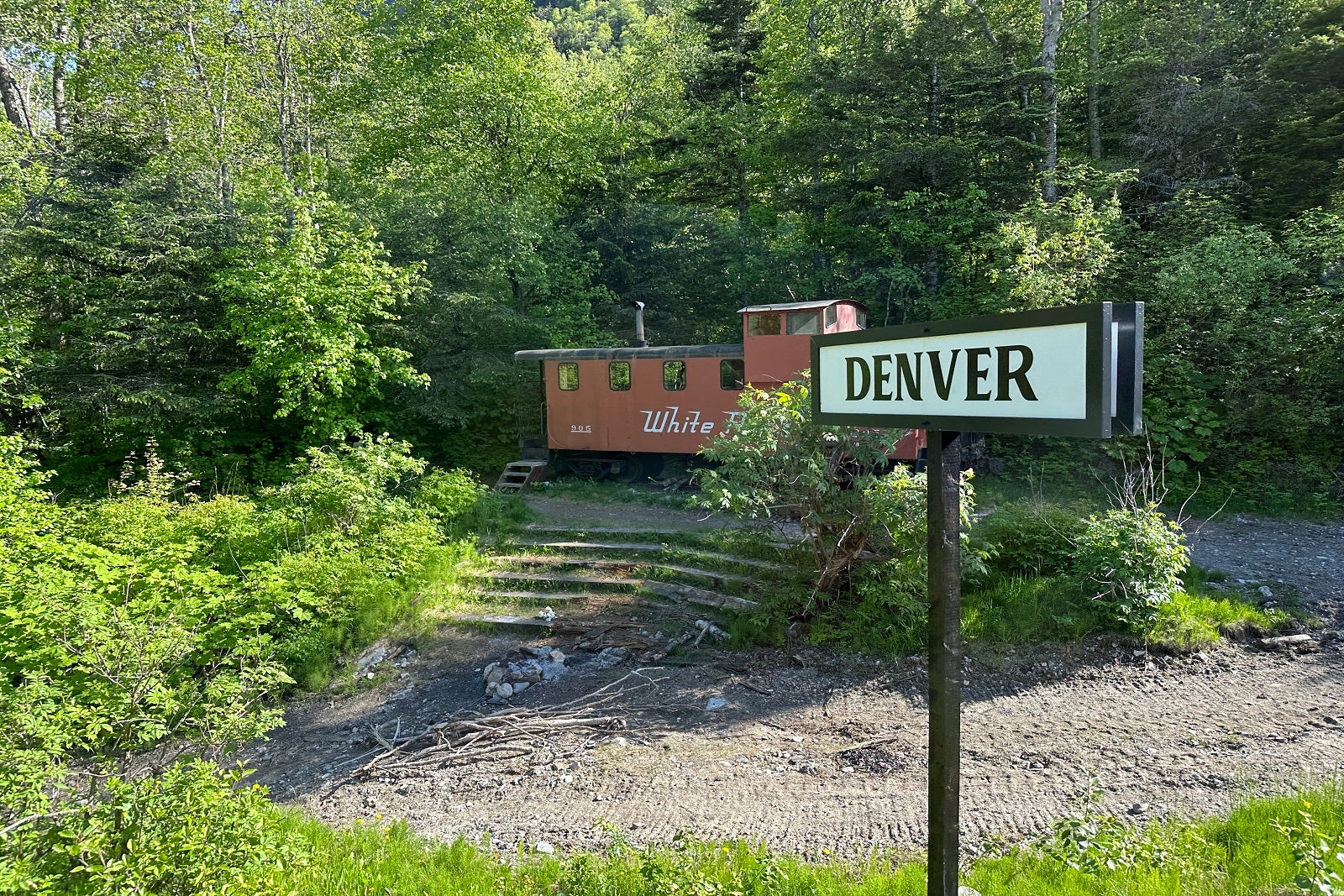 The train ride for visitors to Skagway starts at the train tracks about halfway between the cruise ship docks and the downtown area.
From there, the train will travel, without stopping, to one of several points: White Pass Summit at the U.S. border with Canada, where the train will turn around and travel back down the mountain to Skagway (most excursions); Fraser, British Columbia, where passengers can transfer to motorcoaches that travel the Klondike Highway (also an outpost for Canadian customs); and Carcross in Canada's Yukon Territory, where passengers can explore the historic town, including a gold rush general store.
Along the way, riders can follow along with provided maps to track their route past several points of interest, including the rail line's maintenance shops, a donated caboose now rented as an Airbnb, gravesites, waterfalls, steel bridges, two tunnels and lookout points that make for fantastic photo opportunities.
What it's like to ride the White Pass and Yukon Route train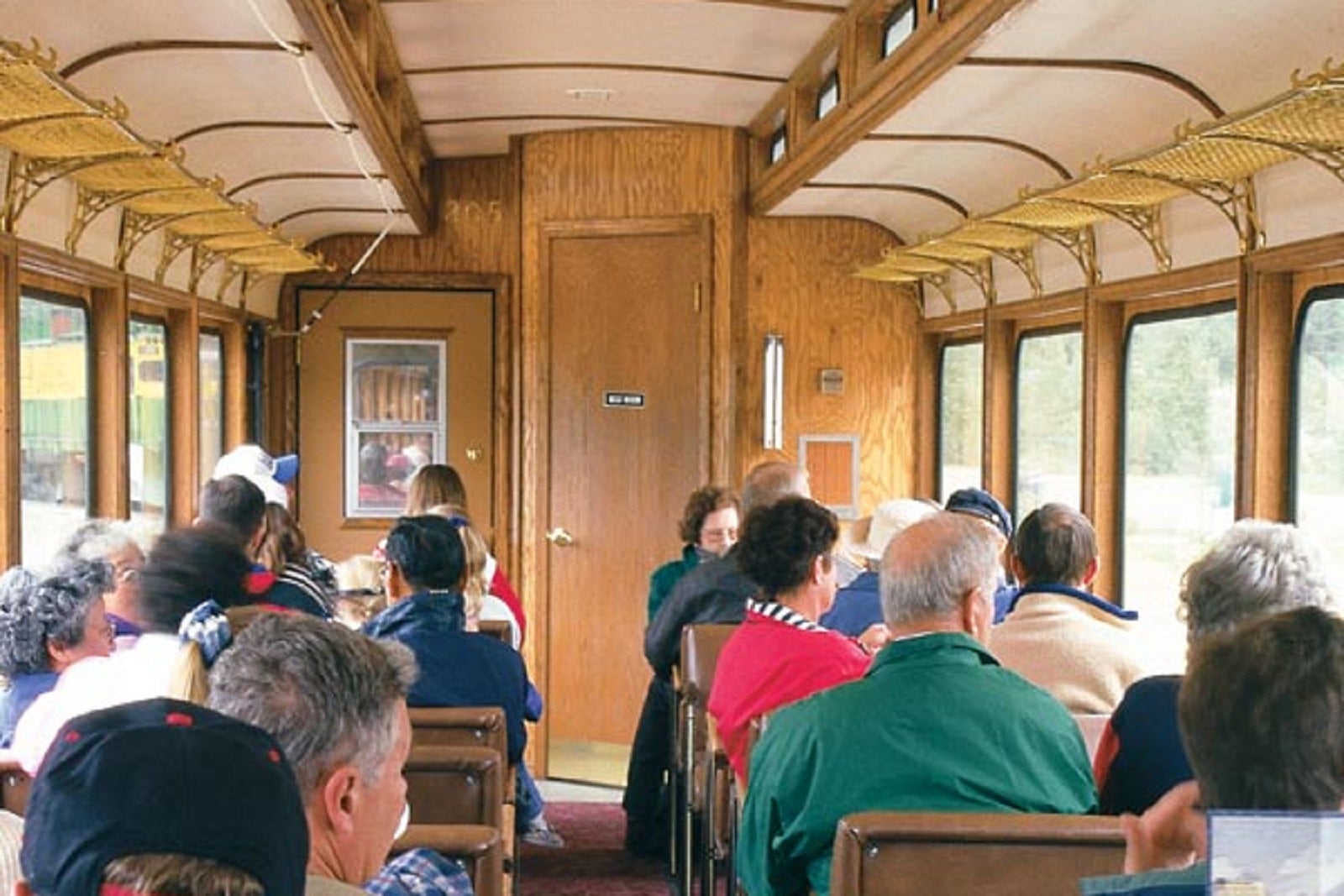 When you book (or receive your ticket, in the case of a cruise line booking), you will be given a meeting place and instructed to be there at a set time. If you're coming from a cruise ship and plan to spend time in town prior to your ride, take note of your meeting place well ahead of time to be sure you know how to get there. My travel companion and I took a wrong turn on our way to the meeting spot and would have missed our excursion had it not been for a kind rail worker who saw us running with our tickets and gave us a ride.
Apart from the railroad's six brand-new engines, its fleet is impressively vintage, consisting of two steam engines from the first half of the 20th century, 20 diesel-electric locomotives dating from the 1950s and 92 restored and replica passenger coaches, including one that's more than 140 years old. As such, there is no air conditioning in the coaches, so passengers can expect things to feel a bit stuffy if it's a hot day. On my journey, it was chilly, making it a pleasant ride.
Although travelers are prohibited from moving between coaches while the train is in motion, they are permitted to stand on the exterior terraces on either side of each car for fresh air and views that are unimpeded by the coaches' glass windows. Be warned that visibility can be poor and the vibe creepy when the weather is foggy, as it was the first time I rode the train back in 2013. Ten years later, I caught a break and happened to visit on a clear, sunny day when I enjoyed phenomenal views.
Guides and eventually the conductor will come through to say hello, check tickets and sell souvenirs, such as DVDs, hats and photo books. They can also answer any questions you have. Guides narrate during the trip, providing valuable tidbits of information about each point of interest the train passes on the mountain. If you enjoy the experience, it's appropriate to tip a few dollars to your car's guide or to tip a larger amount to the conductor, who will divide it among all the staff.
Each passenger is provided with a free booklet about the train route's history. It includes safety rules, a map with a blurb about each point of interest, information about the fleet, a preview of items available to purchase at The Train Shoppe in town and a couple of puzzles to pass the time. (Some passengers report being bored during their rides. If you're worried, bring a pen for the puzzles.)
Bottom line
While I don't recommend a ride if you're someone who can't sit still for long periods of time or if you're afraid of heights, I do think it's one of the best activities a visitor to Alaska can do.
If you're looking for a memorable way to grasp the history and sheer vastness that is the Alaskan wilderness, a ride on the White Pass and Yukon Route train is something you don't want to miss.
Have more cruise questions? TPG has answers: