Nathaniel Brown, a logistics manager from Wilmington, Delaware, booked a flight on a whim to visit his sister in Orlando.
For months, it was not possible to book a flight out of Delaware — it was the only state in the U.S. without commercial air service. Instead, local travelers had drive to nearby cities like Philadelphia or Baltimore.
However, on Wednesday, Brown was one of the passengers boarding Avelo Airlines' first flight from Wilmington.
The carrier's arrival there will give Delaware its first commercial passenger flight in nearly seven months. A number of other carriers — including Delta Air Lines and Frontier Airlines — have come and gone in recent years. Now, Avelo and local officials hope the state can shake that dubious track record for good. 
Avelo's Orlando service that began Wednesday is the first of five routes to Florida that the airline is adding at Wilmington Airport (ILG). Other new routes coming this month are to Fort Lauderdale, Fort Myers, Tampa and West Palm Beach.
Avelo founder and CEO Andrew Levy believes the carrier can be successful in Delaware despite the market's checkered record of airline service.
He's betting on a formula that focuses on nonstop flights to popular leisure markets. To get started, Avelo will base one of its 737s in Wilmington, making it the airline's fourth base alongside Burbank, California; New Haven, Connecticut; and Orlando.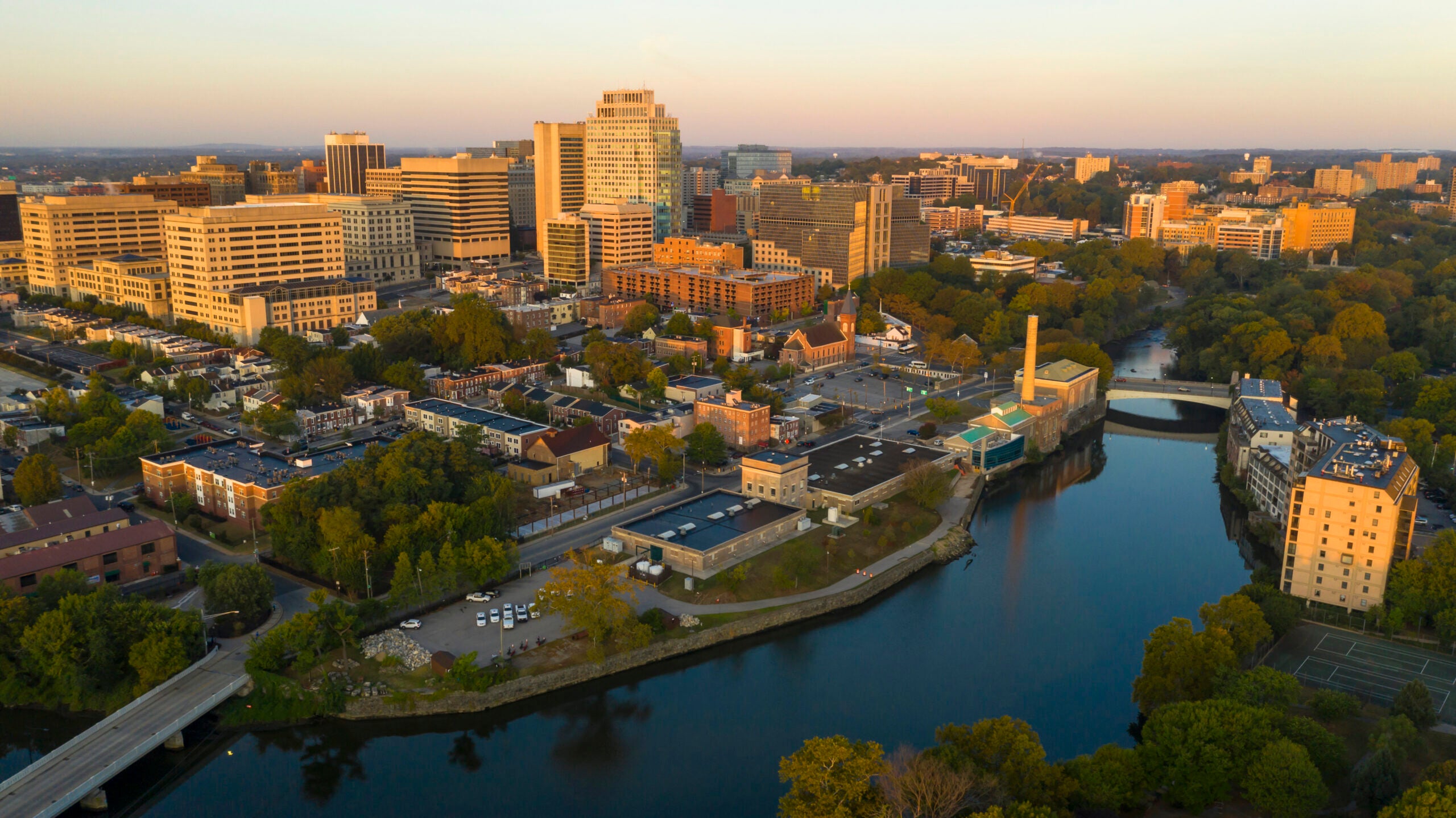 "What we're doing is just simply different than what anybody else has done to my knowledge," Levy said about his carrier's plans for Wilmington in an interview with TPG ahead of the inaugural.  "We're putting an airplane in there with our own people, the airplane's gonna live there. It's gonna come home there every night."
The decision to launch flights from Delaware largely mirrors what Avelo has done at its base at Tweed New Haven Airport (HVN) — previously a little-used airport that sits in a dense population corridor. Avelo has launched flights from the airport mostly to leisure destinations – routes where the carrier has no direct competition since it is the only airline there.
Related: Avelo Airlines CEO Andrew Levy on the airline's path to profitability: 'We're really close'
Now, Avelo will enjoy a similar advantage in Wilmington, assuming it can lure passengers to the airport that sits only about 40 miles south of Center City, Philadelphia.
Given Wilmington's location, Avelo can likely pull passengers from nearby Philadelphia — and possibly even from the metro area of Baltimore, which is about 70 miles away.
Levy hopes Avelo will appeal to customers in those regions who value a cheap nonstop flight to mass market destinations like Orlando and Fort Lauderdale, even if it comes with a bit of a drive.
"Having flown out of Baltimore and having flown out of Philly, I know if it was up to me — and I lived in between all three of them — I know which one I'd go to," Levy said. "It would be neither. I'd go to Wilmington."
The last carrier to operate out of Wilmington was Frontier, which pulled out this past summer after serving the airport for only about 15 months.
Avelo plans to base one Boeing 737-700 in Wilmington and has hired approximately 50 part-time and full-time employees to staff its operation there.
Whether Avelo's fares and schedules will be enough to lure customers away from the more-established airports remains to be seen. For now, though, the carrier launched its Wilmington service to great fanfare.
Related: 'It's surreal': What it was like on Avelo Airlines' inaugural East Coast flight
Debut event
An arch of purple, yellow, white and blue balloons adorned the airport's entryway, topped by a silver-balloon message reading "Hello Avelo." Passengers and members of the media swarmed the small airport while the mascots for the University of Delaware and Delaware State University danced around.
"Today is a really big day," Thomas Cook, the airport's operator, said at the press conference.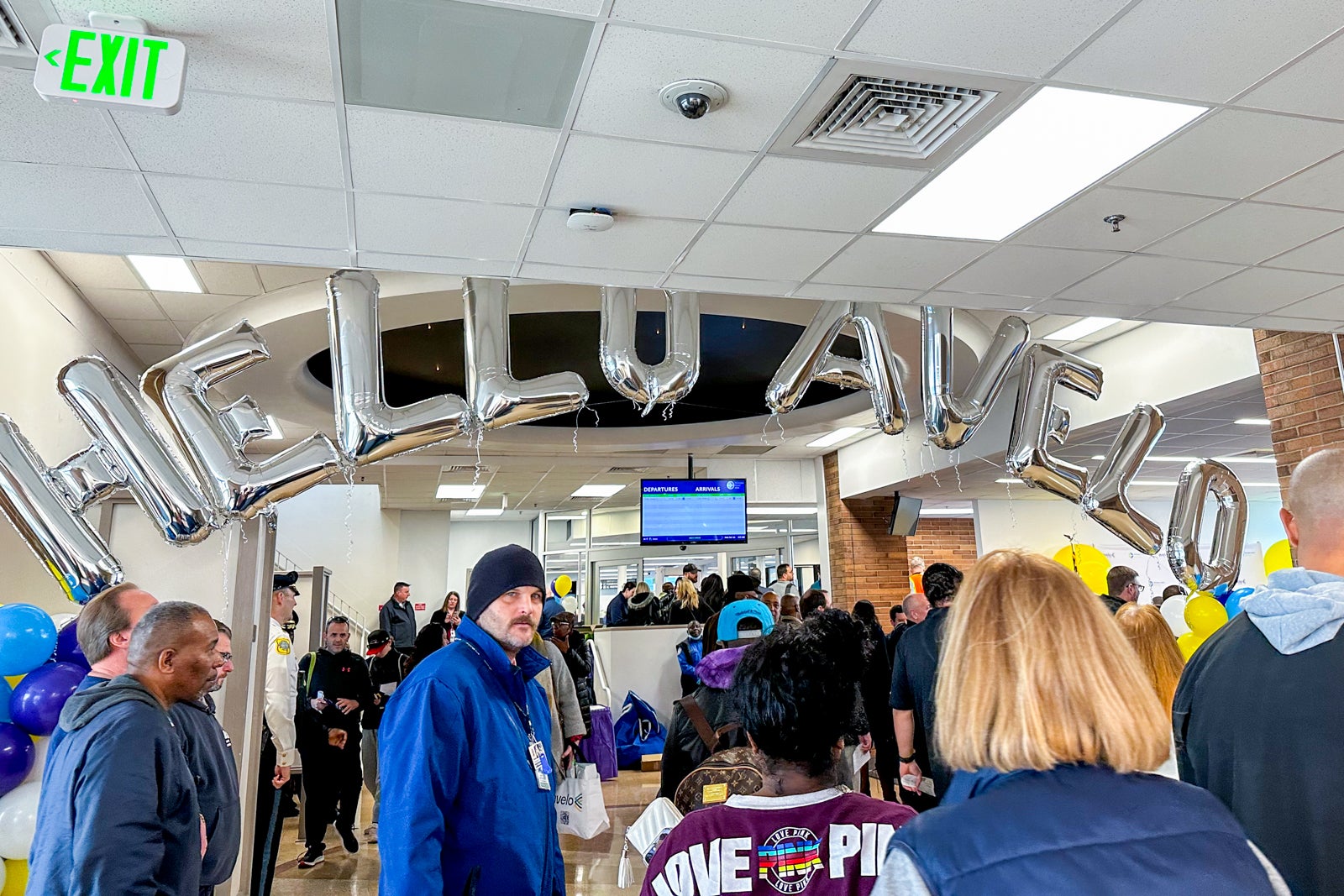 A sense of optimism permeated the press conference announcing Avelo's debut in Wilmington.
Speaking at the press conference ahead of the inaugural flight, Levy said he expected Avelo's presence in Delaware to be a long-term, growing partnership.
Delaware's state treasurer, Colleen Davis, even hinted at the possibility of longtime Delaware resident President Joe Biden flying an Avelo flight from Wilmington. She also mentioned that the carrier is considering basing another Boeing 737-700 in Wilmington at the end of the year.
After the press conference and the ceremonial ribbon cutting, families taking their kids to Disney World for the first time rushed through the security line as the plane readied for boarding.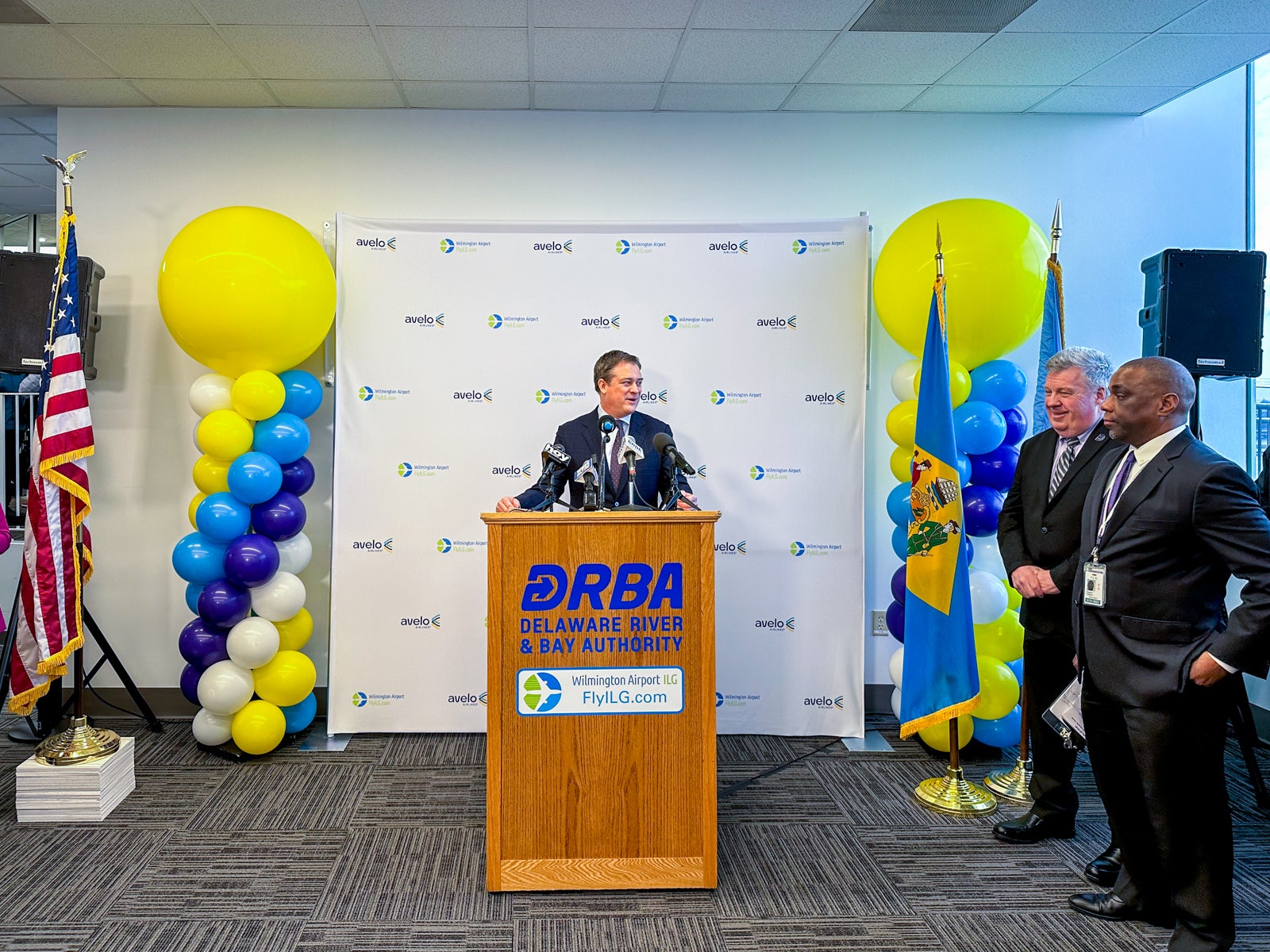 Many passengers seemed relieved to have commercial air service in Wilmington. Marita Davis, who lives in nearby Kennett Square, Pennsylvania, said she was able to book a last-minute flight to Orlando for a family emergency. Whenever Wilmington had no commercial air service, Davis said she would drive to airports in Philadelphia or Baltimore to catch her flights.
"Wilmington is definitely always our first choice," she said.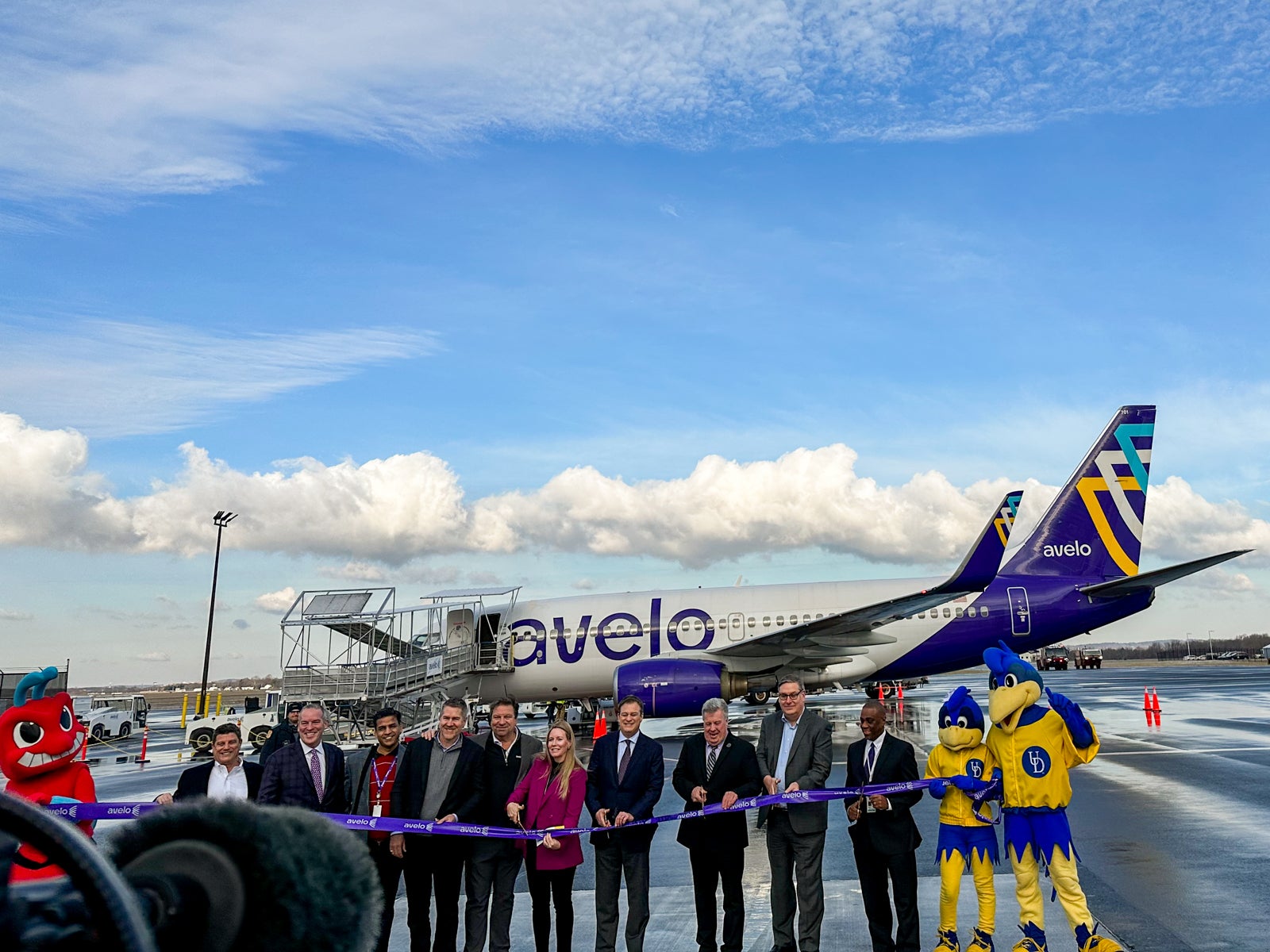 Just after 10 a.m., Avelo's first flight from Wilmington took off to loud applause from passengers on board.
For now, Avelo and Wilmington can focus on the excitement surrounding the budget carrier's ramp-up of service there. However, in the end, the question to answer is: Will it last?
Related: Startup Avelo boosts its presence in Florida with 3 new routes
Flight schedule
Avelo will operate flights from Wilmington to five cities in Florida:
Fort Lauderdale: Begins Feb. 2. One round-trip flight on Tuesdays and Thursdays.
Fort Myers: Begins Feb. 3. One round-trip flight on Mondays and Fridays.
Orlando: Begins Feb. 1. One round-trip flight on Mondays, Fridays and Saturdays.
Tampa: Begins Feb. 2. One round-trip flight on Thursdays and Sundays.
West Palm Beach: Begins Feb. 4. One round-trip flight on Wednesdays and Sundays.