Editor's note: This is a recurring post, regularly updated with the latest information.
Star Alliance's 26 member airlines connect passengers to 1,300 destinations on around 20,000 daily flights. If you hold miles in a Star Alliance program like United Airlines MileagePlus or Air Canada Aeroplan, you can use your miles to fly on any of the Star Alliance carriers, assuming there's award space.
And if you have transferable points from a credit card, you may be able to leverage one Star Alliance transfer partner to book tickets on another carrier. For example, you may transfer American Express Membership Rewards points to Avianca LifeMiles to book low-cost United Airlines domestic award tickets.
So how do you search for Star Alliance award space? Today, we'll cover the best websites to use when looking for award availability within Star Alliance.
Star Alliance overview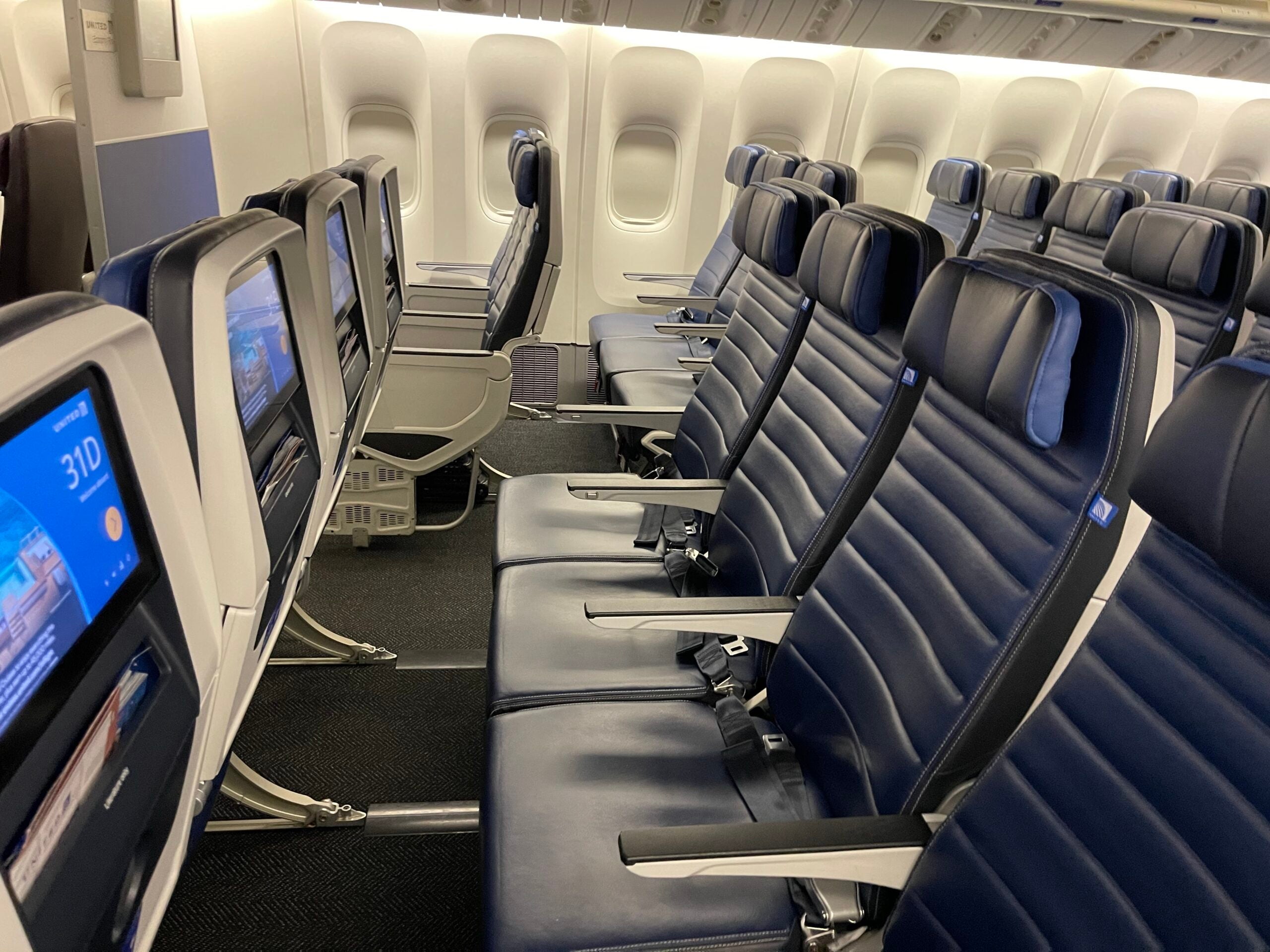 Here's the list of the 26 airlines that are part of Star Alliance. Juneyao Airlines is a connecting partner of Star Alliance:
Aegean Airlines.
Air Canada.
Air China.
Air India.
Air New Zealand.
All Nippon Airways.
Asiana Airlines.
Austrian Airlines.
Avianca.
Brussels Airlines.
Copa Airlines.
Croatia Airlines.
Egyptair.
Ethiopian Airlines.
EVA Air.
LOT Polish Airlines.
Lufthansa.
SAS.
Shenzhen Airlines.
Singapore Airlines.
South African Airways.
Swiss.
TAP Air Portugal.
Thai Airways.
Turkish Airlines.
United Airlines.
The basics of using Star Alliance miles are simple (use miles with airline A to fly airline B), but many of the carriers in the alliance limit award space for partner bookings. Likewise, some airlines will only release award space to partners within a certain time before departure. You should be aware of a few things when searching for award space.
Related: Your ultimate guide to searching award availability for the major airlines

Expanded United availability with a credit card and status
United Airlines credit card holders and Premier members can access additional award space on United flights. If you have a United credit card or status, log in to your MileagePlus account before searching for award space.
Lufthansa first class
If award space is available, Lufthansa doesn't release its own first-class awards to its Star Alliance partners until 14 to 30 days before departure.
Those wishing to book further in advance must use Lufthansa Miles & More. These are some of the hardest miles to earn in the U.S., so we're often stuck booking our Lufthansa first-class tickets at the last minute.
Related: 6 tips for booking Lufthansa first-class awards
Singapore long-haul, premium cabins
Most long-haul, premium-cabin award tickets on Singapore Airlines are only bookable through Singapore Airlines' own loyalty program, KrisFlyer. We've seen some exceptions to this in the past, though — for example, Singapore Airlines has released its long-haul business class to Air Canada Aeroplan and its non-alliance partner Alaska Airlines. But for most bookings, you'll have to use Singapore's own miles to book your tickets.
For reference, you can convert American Express Membership Rewards, Chase Ultimate Rewards, Citi ThankYou Rewards and Marriott Bonvoy points and Capital One miles to KrisFlyer miles. Amex, Chase and Citi points and Capital One miles transfer to KrisFlyer at a 1:1 ratio, while Marriott points transfer at a 3:1 ratio. You'll earn a 5,000-mile bonus for every 60,000 Marriott points you transfer to KrisFlyer.
Related: It doesn't get much better than this: Singapore Airlines' A380 in business class from Frankfurt to New York

Swiss first class
Unless you're booking the Swiss fifth-freedom flight from Buenos Aires' Ezeiza International Airport (EZE) to Aeropuerto Internacional de Sao Paulo-Guarulhos (GRU), you won't be able to book Swiss first class using miles unless you're a Miles & More Senator and HON Circle member.
Award space is never open to partners, and the one time it was erroneously opened to Aeroplan, bookings weren't honored.
Phantom award space with United and Aeroplan
Finally, United and Air Canada Aeroplan both have a history of showing phantom award space. In short, phantom award space is when an award booking engine shows an available award, but you get an error message when trying to book the ticket. This happens because the award isn't actually available. Or, to put it differently, the airline website shows award availability even when it doesn't exist.
We recommend using ExpertFlyer (owned by TPG's parent company, Red Ventures) to verify the award space before you transfer miles to book. We'll discuss how you can do this later in the article, but in short, you can use ExpertFlyer's Award & Upgrade tool to verify award space on most Star Alliance carriers.
Related: The phantom award space menace strikes again, stranding 240,000 points
United.com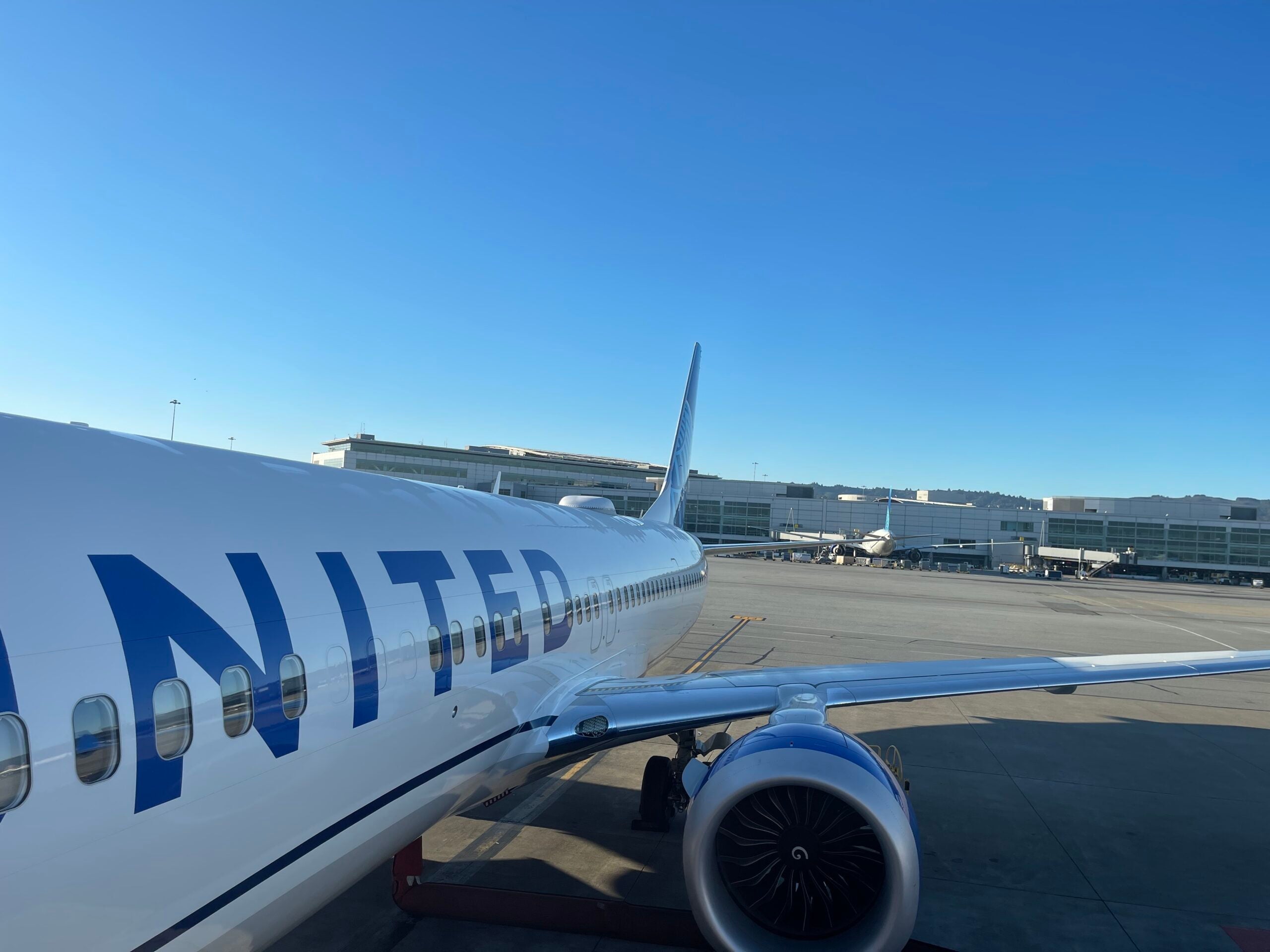 United.com shows real-time award availability on all the Star Alliance carriers, so it's a great website for searching for award space. While still something to be aware of, phantom award space has become less common on united.com over the last several years.
It's easy to search for award space on United's website. First, log in to your MileagePlus account and enter your itinerary. Make sure to select "Book with miles."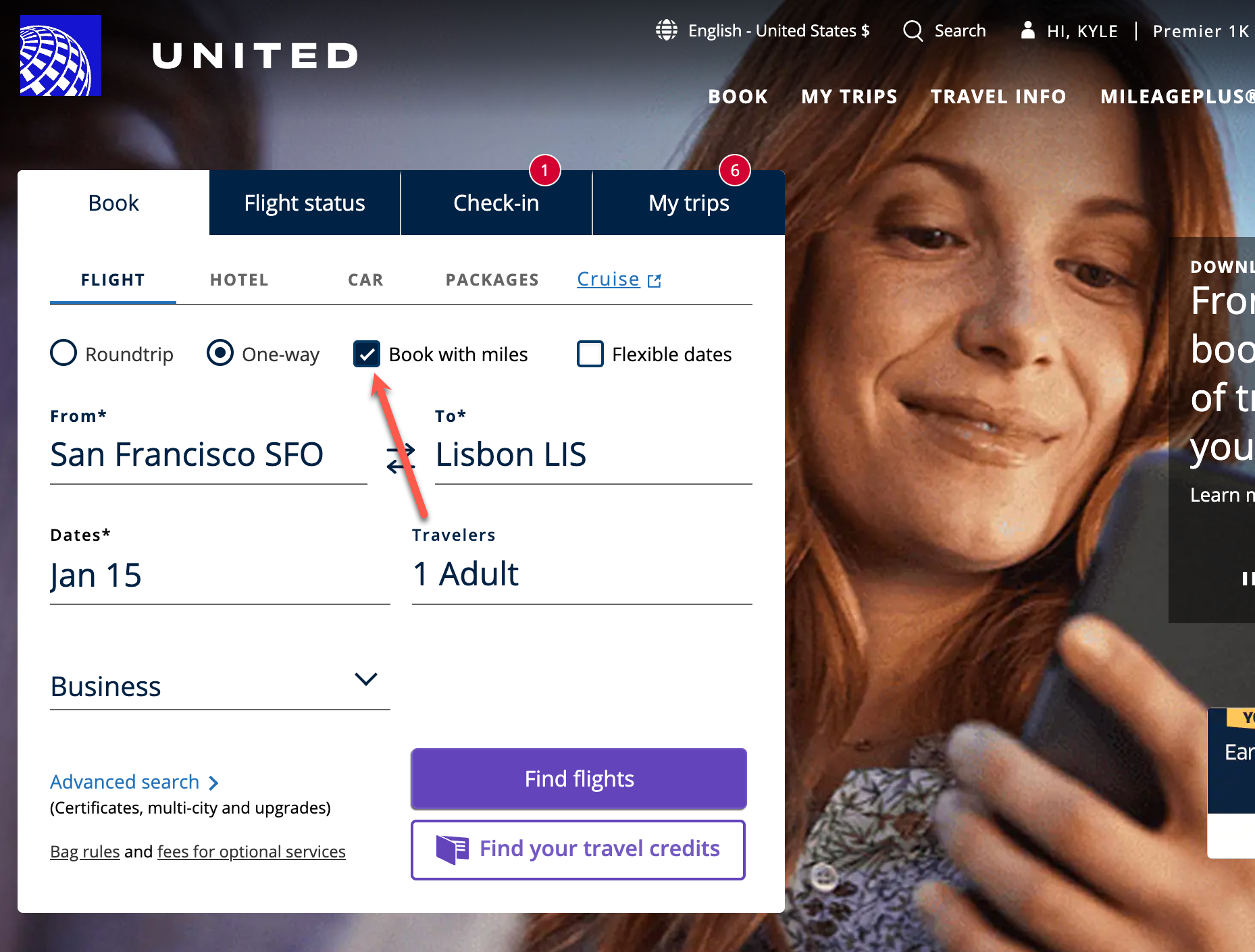 On the next page, you'll see the available award space. Select "Business (lowest)" to show the least expensive business-class awards.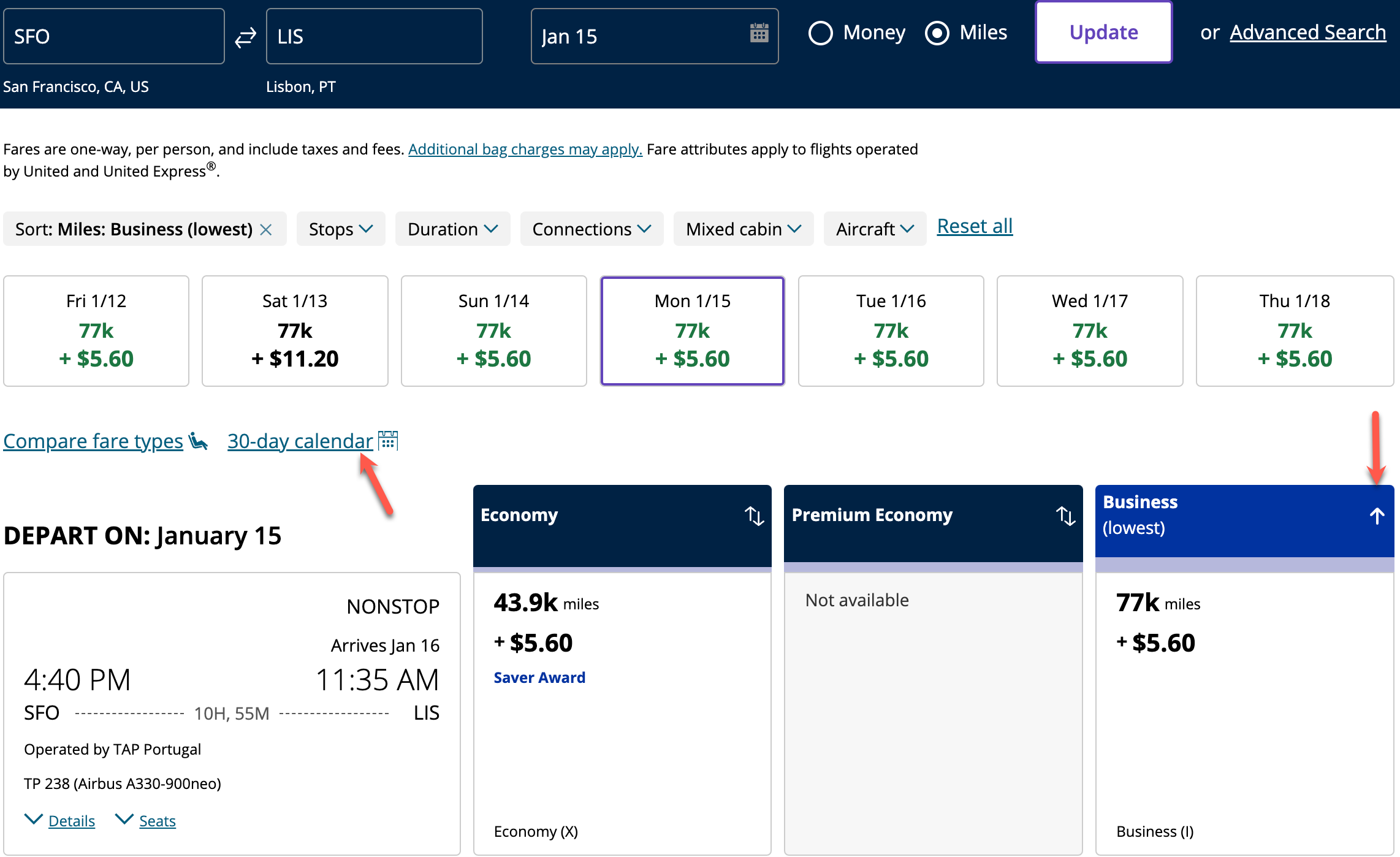 Note that United's website won't display the available award seats. This is why it's important to enter the correct number of travelers at the beginning of your search (i.e., if you search for three passengers, all of the displayed flights will have at least three available seats).
If you have flexible travel dates, you can also select "30-day calendar" to see award space in your desired cabin.
In addition, you don't even need to log in to search for award flights on united.com — though it does help if you have elite status or a United credit card (more on that below).
Note that Star Alliance standardizes saver-level award fare classes across all member airlines:
Economy: X.
Business: I.
First: O.
As a result, if you see awards on united.com in one of these classes — like the TAP Air Portugal flight above, available in both X and I — they should be bookable using any Star Alliance member's frequent flyer program.
However, this doesn't apply to United-operated flights that are only available to United Premier members and cobranded card holders. When this is the case, you'll see the more expensive award prices crossed off and a note showing "Special member pricing."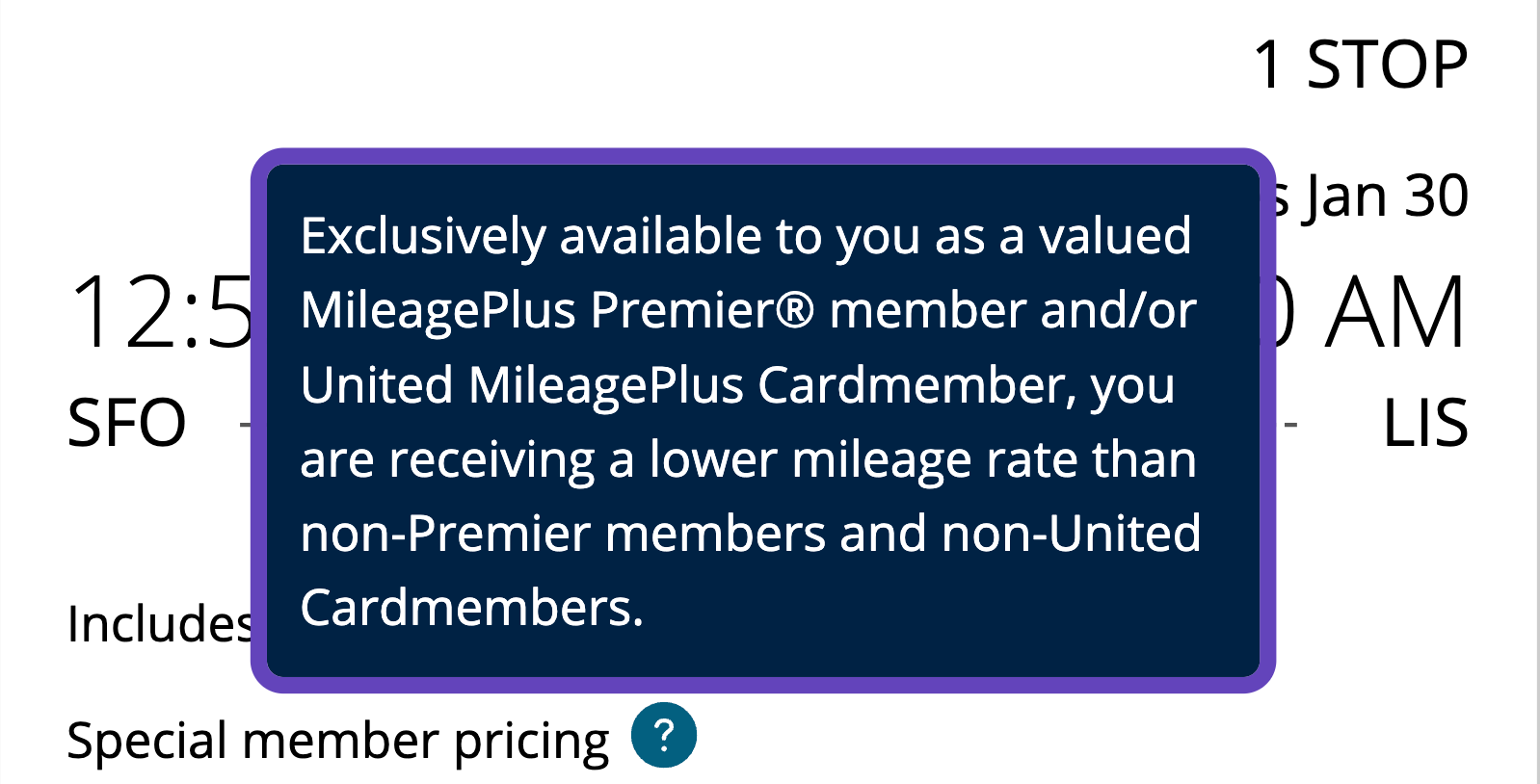 Most importantly, these flights will not appear in those standard fare classes noted above. Instead of X for economy, you'll see XN.

These flights cannot be booked with partner programs, so skip over them — or plan to use MileagePlus to ticket them.
Related: Flights, credit cards and more: How to earn miles with the United MileagePlus program

Singaporeair.com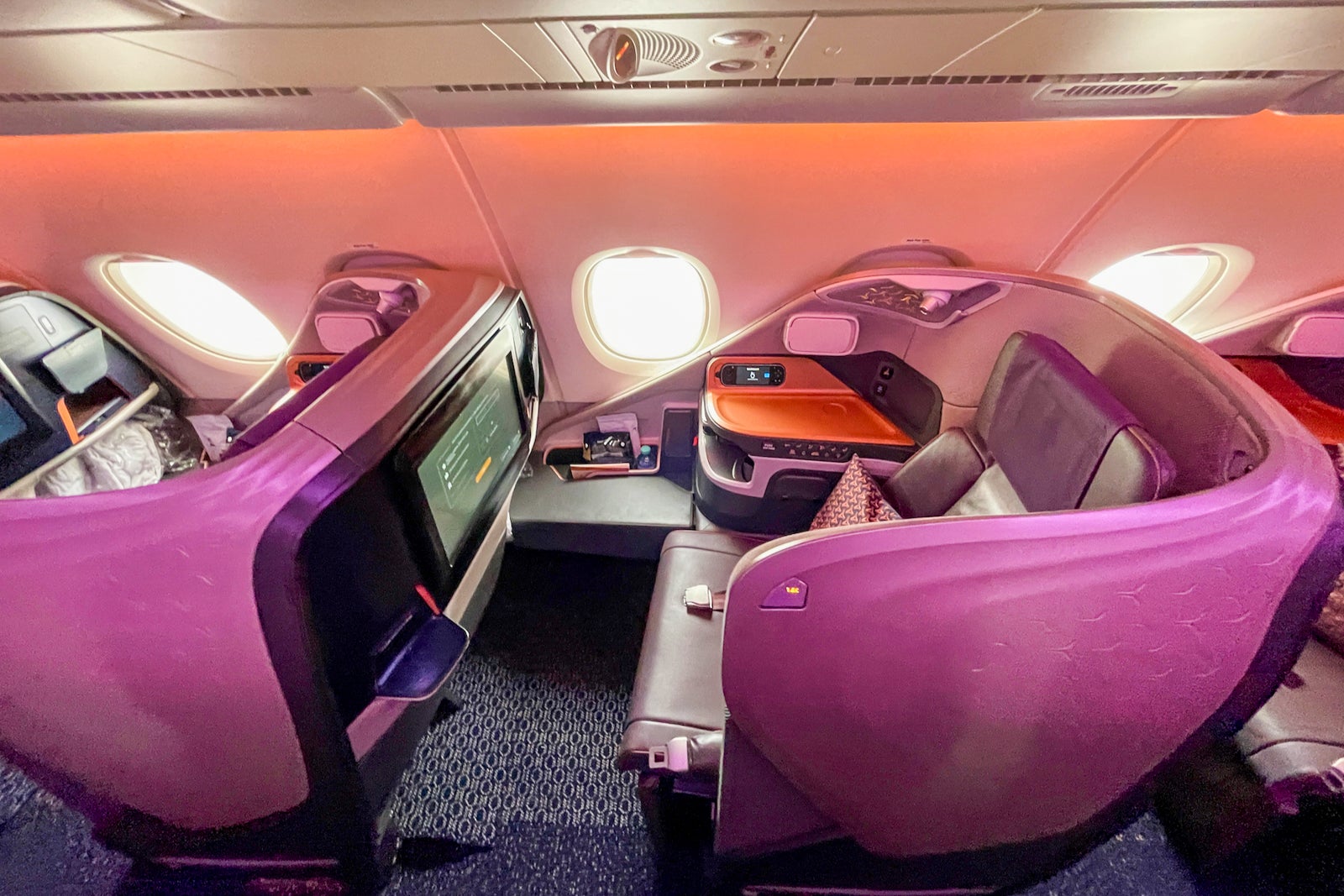 Singaporeair.com should be your go-to search engine if you plan to use miles to travel in a premium cabin on a long-haul Singapore Airlines flight.
You can also use singaporeair.com to search for other Star Alliance awards, but the website might not show all the Star Alliance award space. For this reason, plan on using united.com if you're searching for award space on a Star Alliance carrier other than Singapore Airlines.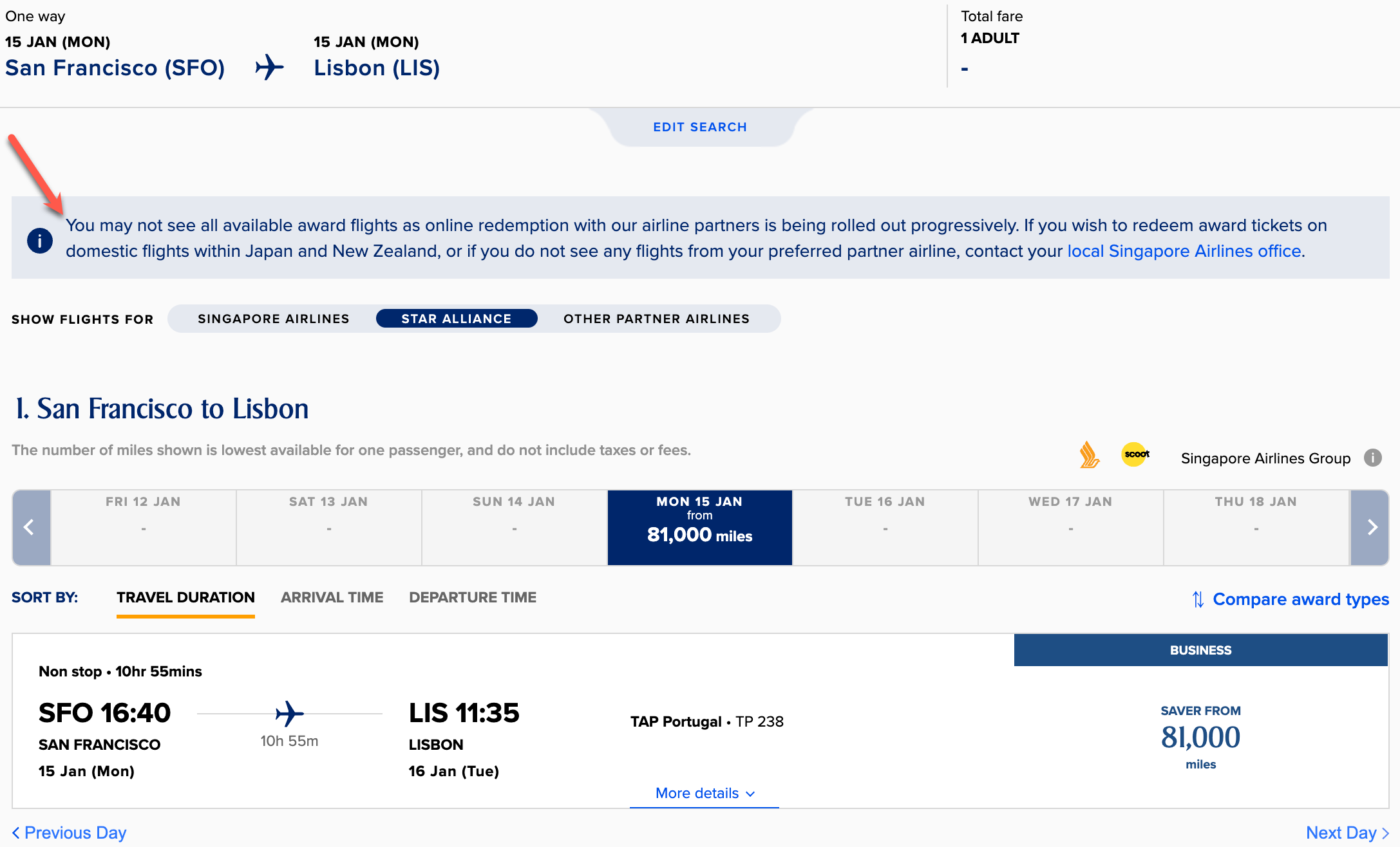 To search for Singapore Airlines award space, go to singaporeair.com and log in or join KrisFlyer (note that you'll need to create a free KrisFlyer account to search for award space).
Enter your search criteria, making sure you select "Redeem flights."

On the next page, you'll see the Singapore Airlines award availability at the saver and advantage levels.
Saver award space is generally harder to come by but costs fewer miles to redeem and allows one stopover on round-trip bookings. Advantage award space is more expensive but easier to come by and includes up to two free stopovers on a round-trip ticket.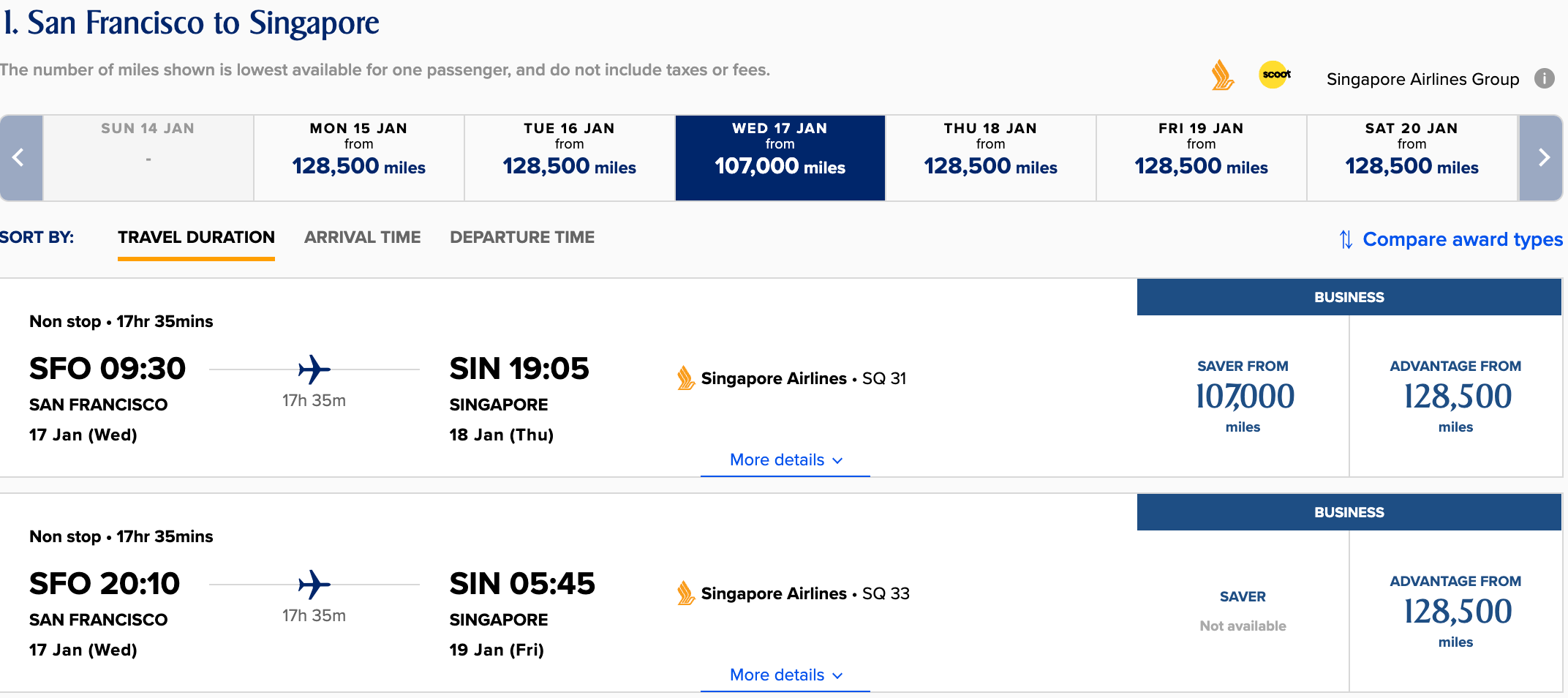 Select the flight you want to book and follow the on-screen prompts. If you need time to transfer miles from a credit card, call Singapore Airlines and ask it to hold an award ticket.
If no award space is available on the flight you want, you may see an option to waitlist for a flight. Your KrisFlyer mileage balance must have the miles required for the flight in order to join the waitlist. If you transfer miles to Singapore Airlines from a credit card, this presents a problem.
If you transfer the miles in and don't clear the waitlist, you cannot transfer your miles back to your credit card. With this in mind, you should only waitlist an award if you already have the miles in your Singapore Airlines account or have a backup plan to use the miles you're transferring.
If award space becomes available, Singapore Airlines will notify you of the open award space.

ExpertFlyer
ExpertFlyer is a search tool owned by Red Ventures, TPG's parent company. You can use it to search for award space on several airlines, including Star Alliance partners like United and Lufthansa. I've found that ExpertFlyer is the most accurate way to search for award space, making it well worth the monthly subscription.

One of ExpertFlyer's best features is setting award alerts. If you want to book a seat on a specific flight, set a flight alert for the date and flight number you want to fly — the program will email you when an award ticket opens up.
Check out our full guide to using ExpertFlyer for more information and a complete explainer on using the tool.
Related: How to use ExpertFlyer alerts to snag a better seat
Cheap Star Alliance awards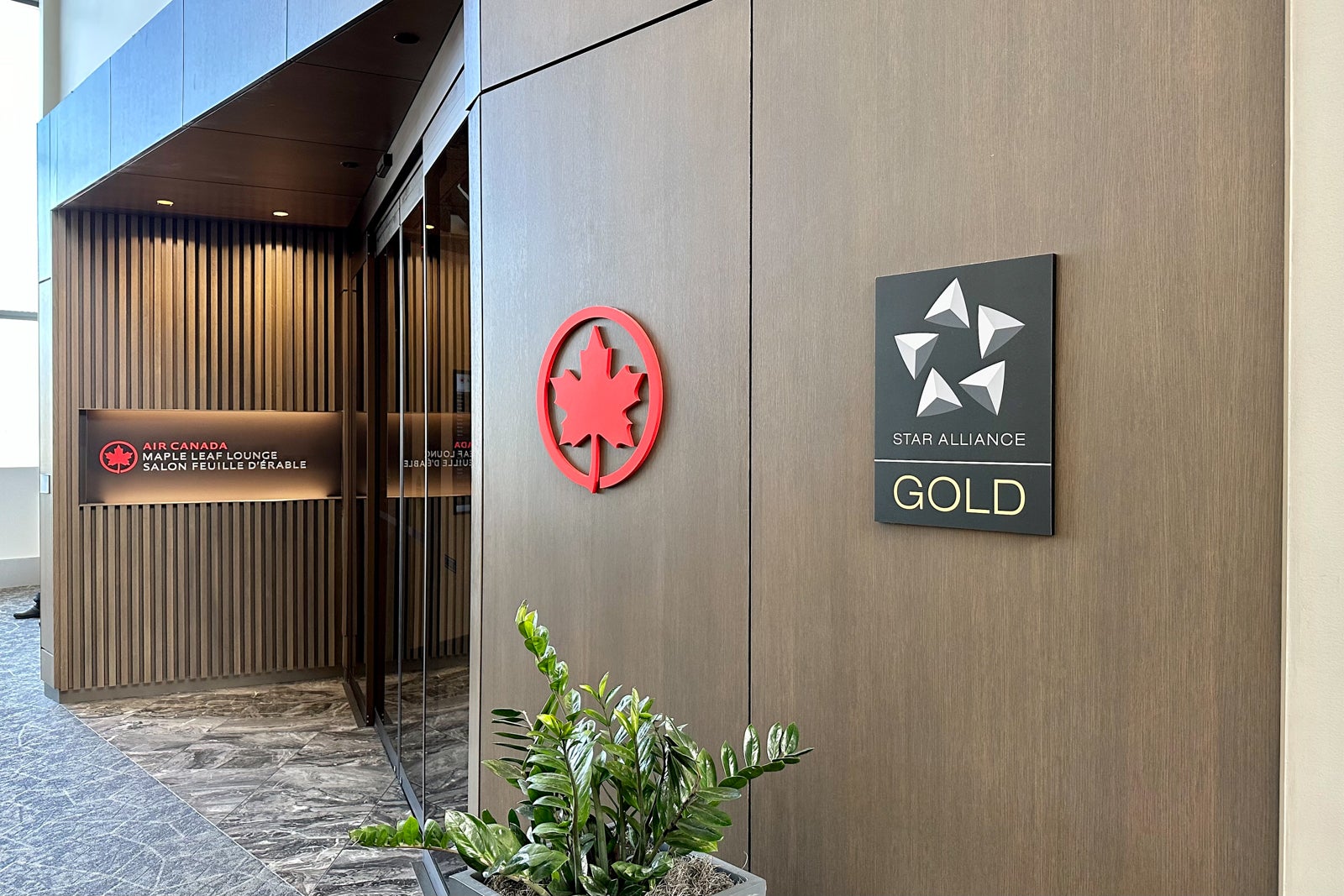 Once you've located Star Alliance award space, you'll be ready to book your ticket. Air Canada Aeroplan can be a popular option as you can add a stopover for just 5,000 points. Additionally, Avianca LifeMiles can be a great go-to for mixed-cabin awards. Here are some of our favorite one-way Star Alliance awards:
Be sure to compare the mileage rates across loyalty programs that partner with the major transferable currencies, including any fuel surcharges, as those can differ dramatically by program.
Related: Book this, not that: Star Alliance award tickets
Bottom line
With nearly 30 carriers worldwide, Star Alliance has numerous ways to redeem your miles. Redeeming your Star Alliance miles on partner carriers may make your miles more valuable. If you have United miles, log in to your MileagePlus account before beginning your award search — that way, if you have status or a MileagePlus credit card, you'll see all the options.
Remember to only use the above websites to find availability, not necessarily to price out your award ticket. The miles required will be determined by the program you use to book your flight.
To learn more about maximizing your transferable points for Star Alliance flights, refer to our guides for the best ways to use Capital One miles, Chase Ultimate Rewards points, Citi ThankYou points and American Express Membership Rewards points.
Additional reporting by Richard Kerr and Andrew Kunesh.