Not every dog mom or dad has an easy time leaving their pup behind (hi!). When it comes to summer road trips, why not bring Buddy along for the ride?
For pups that do well in the car (my Frenchie Jaxson loves soothing jams and good vibrations), road trips are a great way to include your canine companion in your adventures.
Unlike air travel, most vehicles provide plenty of room for your pooch. It also provides freedom and flexibility to plan and pivot as you see fit, along with increasingly appealing options when it comes to dog-friendly accommodations.
Still on the fence? We've broken down everything you need to know, prepare and pack so you can bring your favorite tail-wagger along on your next exciting road trip.
Buckle up Fido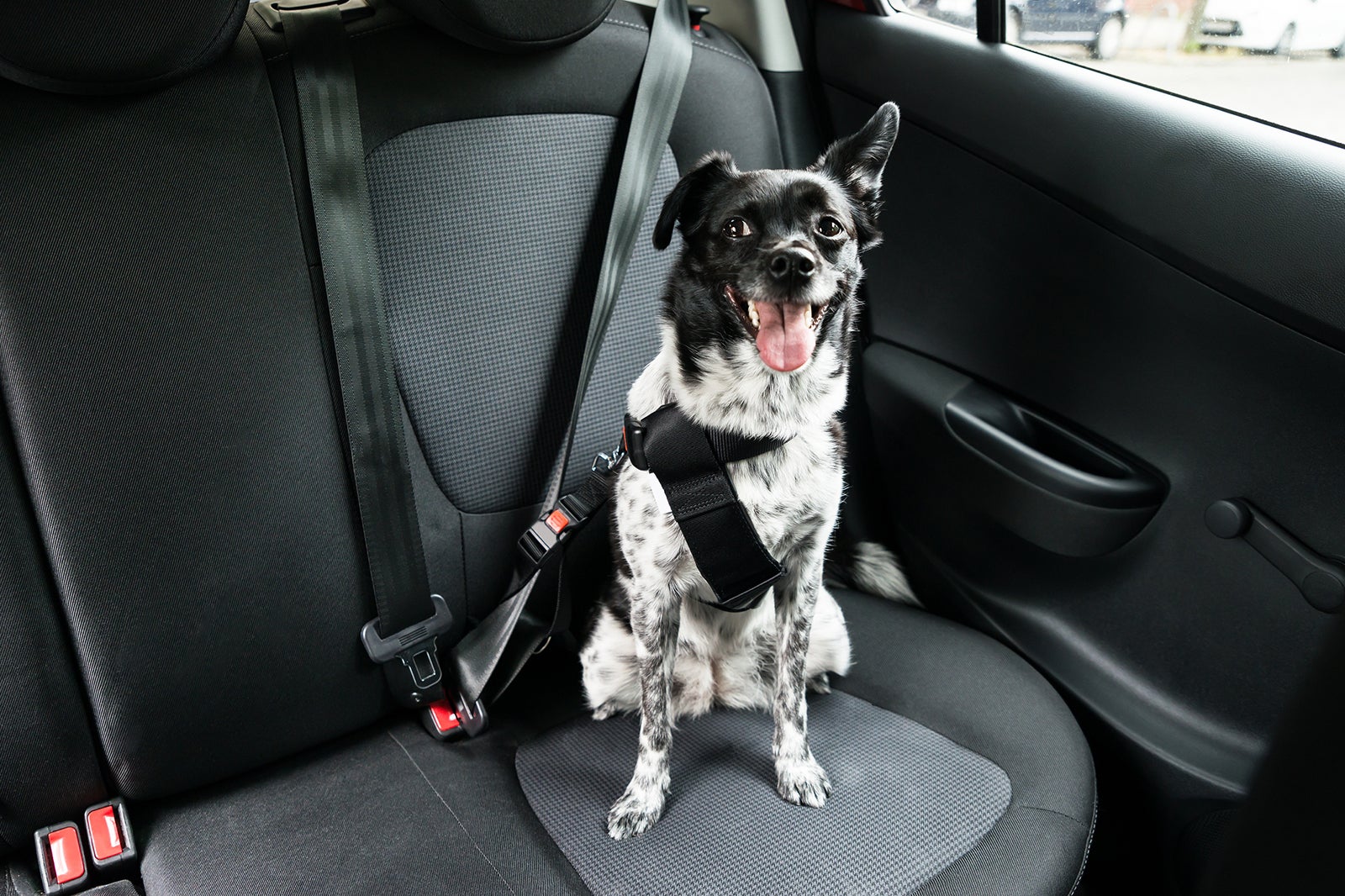 The term "precious cargo" applies to more than just the little ones. Ensure your four-legged friend is safe and secure before you leave your driveway. Lucky for you, there's a plethora of options that cater to your dog's security while on the road.
Secure a seat belt
My personal preference is a dog-friendly seat belt, including an actual harness seat belt or seat belt restraints like the EZYDOG. If your dog does well cozied up on the actual seat of your car, this is a great choice. Make sure the seat belt is tightly fastened to the dog and that it properly clicks into the seat belt jack before you get moving.  
Use a car seat or booster
Yes, doggy car seats are a thing. These typically also buckle into the seat belt and can be tethered to the dog's harness or collar for a second level of security. Or you can opt for a booster seat like the Kurgo, which also buckles in and offers a bit more space while keeping your doggo in place.
Fasten a hammock
Looking for a cool lounge vibe for your pup by creating a padded cradle to keep your dog contained? Strap up a hammock — also great for keeping dog hair and treat crumbs contained. However, this option is best paired with a dog seat belt because the hammock alone won't secure your pup.
Set up a crate
If you have a larger vehicle with plenty of breathing room and your dog does well crated, this may work for you. Keep in mind you will need to find a way to secure the soft crate so it stays in place. Consider a travel crate that is impact-safe. Note that crating may not be the best option for anxious pups.
Build a barrier
If you have a large dog and an even larger cargo area, you can secure a barrier made of netting or metal bars. This also works if you have more than one dog and a designated section of the vehicle reserved just for them. The cargo bars may keep the dogs from traveling within the vehicle, but they won't secure your dog, so use a seat belt.
Create a comfort zone
Dogs sleep an average of 14 hours per day, which means once safely fastened, your pooch needs a comfortable place to rest and relax while you're taking in the scenery. Make sure your dog has enough space to stand up, turn around and adjust as needed.
A good rule of thumb is to provide a space as large as their standard dog bed. In fact, taking your dog's actual bed is one easy solution. Don't want to take the regular dog bed on the road? Buy one for the trip and let your pup cuddle up in prep so they know exactly what to expect on departure day. Bonus: they'll have infused the bed with not only their scent but familiar ones from inside your home.
Help your dog feel cozy by adding a blanket or a few soft toys.
Breaking down the basics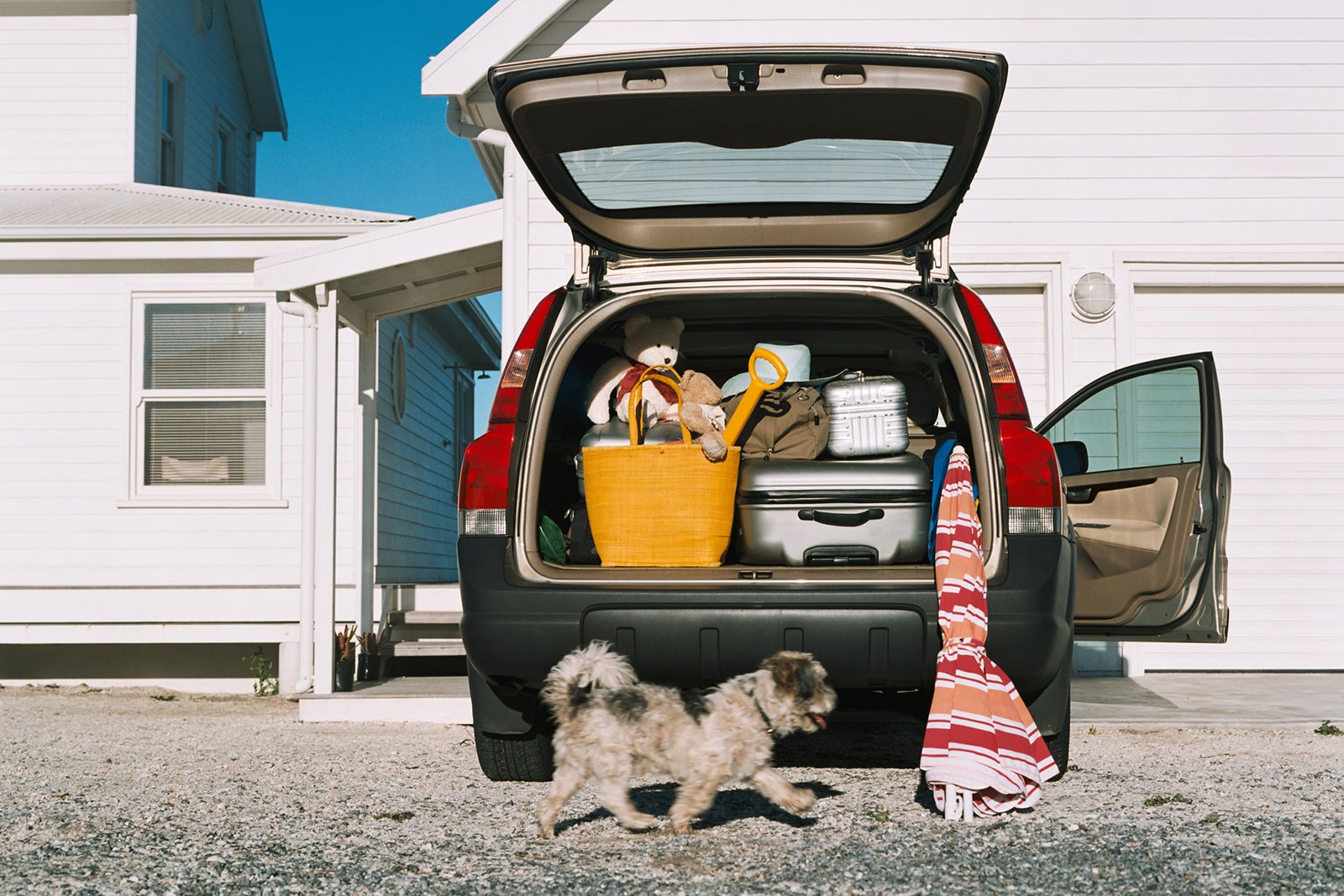 With so much packing and planning, don't forget the bare necessities, as well as toys and chews that will keep your dog happy throughout your journey.
Necessary accessories
Typically, these include a collar/harness (with current ID tag) and leash, pet waste bags and food and water bowls. Collapsible silicone bowls are also handy and great for excursions. 
Car toys
Soft, plush toys are the safest for road travel. Consider soft toys your dog cannot tear into easily. Perhaps leave the squeaker toys at home, as well as rope toys – both are choking hazards, and no incessant squeaking may preserve your zen mode.
Bones and chews
Stock up on bones, chews, bully sticks and rawhides. However, make sure you stow them for long stops or once you are at your lodging accommodations – these are choking hazards, too. Fillable cones like rubber Kong toys also fall into this category.
Outdoor toys
If your pup loves playing fetch, make sure to pack tennis balls, frisbees and ball launchers for fenced stops and dog parks.
Related: A comprehensive guide to traveling with pets
Food, glorious dog food
Everybody's got to eat, including Bowser. Dogs consume two kinds of foods: dry and wet. The most convenient food is dry kibble. Many brands sell 5-pound bags, which makes it easy to grab one (don't forget the measuring cup) and keep it with you for a long haul. If you're taking a shorter trip, you can portion the food ahead of time into meals in reusable silicone bags.
In terms of wet food, it should be as easy to purchase the cans or packets you need. However, be cautious of temperature advisories. For example, if your pup takes wet food (or freeze-dried food) that should be stored at or below a certain temperature, you will need to make this accommodation. Pack a small cooler dedicated solely to your dog's food.
If you forget your dog's food, run out or thought you'd be able to purchase it when you arrived at your destination but can't find it, buy a food with a similar ingredient list and arm yourself with one secret ingredient: organic, canned pumpkin.
"The fiber in the pumpkin may help avoid any digestive disturbances the new food may cause," offers Johnna Devereaux, clinical pet nutritionist and director of nutrition and wellness for Bow Wow Labs.
Don't forget about dog treats. You should include these in your food inventory. Also, consider packing some extra to reward your pup for being a good boy or girl throughout the journey.
Additionally, make sure to pack your pup's vitamins and supplements. It's important to keep up with your dog's regular nutritional routine – the road is no exception. If your dog tends to have a nervous belly when traveling, consider ginger root as a solution. "Ginger root may help calm and unsettle stomach and is best given just before departure," Devereaux suggests.
TPG tip: Store the dog food and treats out of range from where your pup will be seated in your vehicle so they aren't tempted by the familiar scent. 
Pack an emergency stash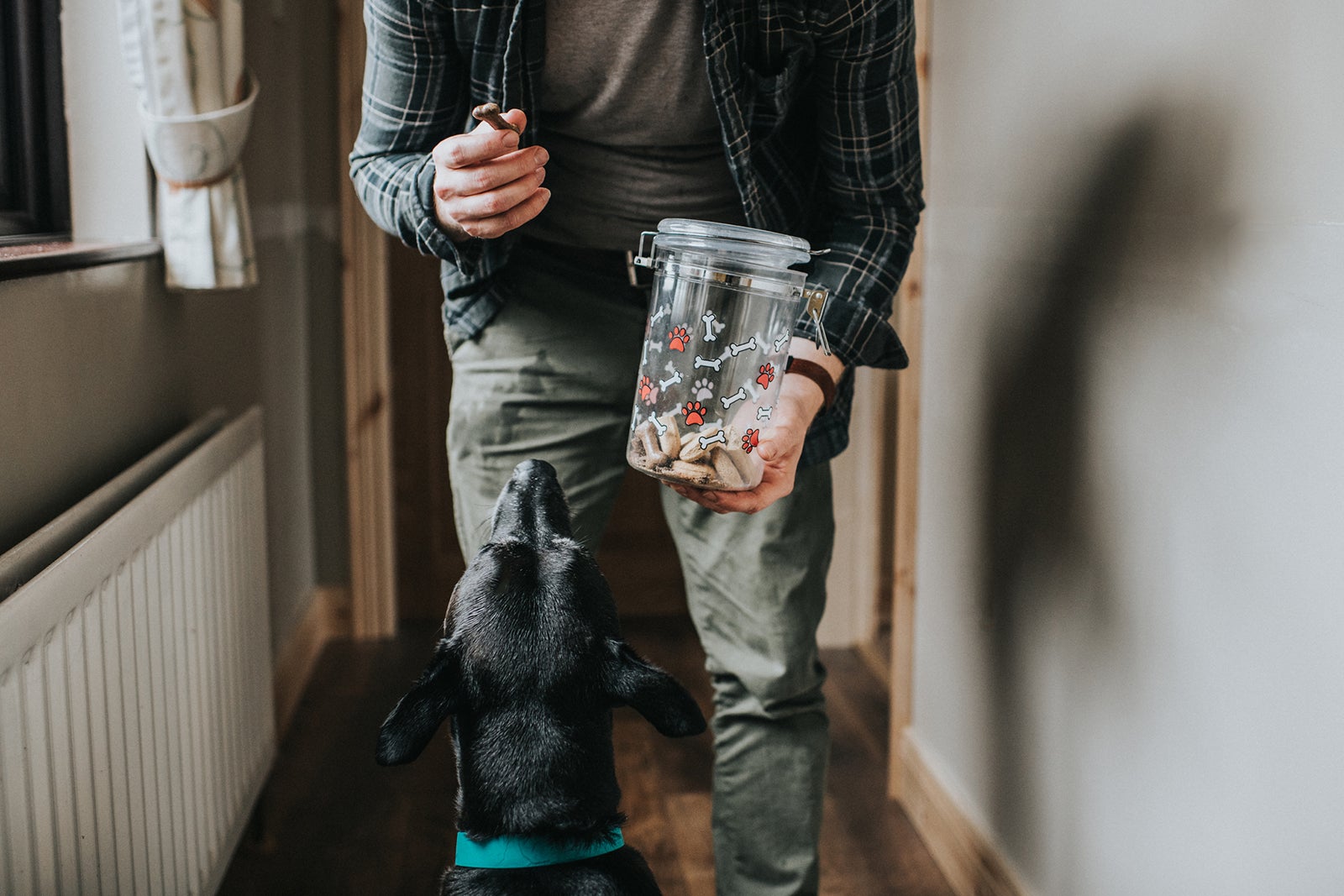 Just like you packed yourself an emergency sustenance stash of protein bars and trail mix, you should the same for your loyal companion. There are a lot of unknowns associated with the open road. You could be delayed by weather or a car issue, and you will need to prepare extra dog food just in case. (I like to pack two additional days of food, at minimum.)
Splurge a little
Obviously, stopping for special treats and indulgent meals is one of the best parts of a road trip. When your pup accompanies you, they should be no exception to the rule. Once you've carved out your route and itinerary, do your due diligence to find some pitstops for Spot. (While the occasional Starbucks puppuccino can be fun, it's best not to make that a daily treat.)
Pet bakeries
For fresh gourmet treats, bookmark these bark-worthy bakeries with outlets nationwide:
Woof Gang Bakery & Grooming: Not only will you find gourmet mix-and-match treats, but if your companion could use a refresh, jump into the grooming schedule. Founded in Florida, this barkery now has 200 locations in 18 states, from North Carolina to New Jersey and Colorado to Las Vegas.
Three Dog Bakery: Find fresh-baked treats from "collieflower pupcakes" to eggs-and-bacon-shaped cookies in Indiana, Tennessee, Kentucky, Missouri, Texas, Minnesota and other states.
The Dog Bakery: Want to celebrate your pup's birthday on the road? Order a celebration cake. Or, settle for delicious biscuits, jerky and assortment treat packs with locations across California.
Hotel pampering and doggy socials
Want to spoil your pup? Plan a hotel stay where you can treat your pup to a gourmet meal or just stop for a relaxing dinner at a doggy social club.
Loews Hotels: In addition to a check-in care package featuring treats, bowls, placemats and waste bags, there's a full gourmet room service menu for dogs developed by the hotels' executive chefs. Serve up bow wow tenderloin of beef, a mix of filet, eggs and rice, or chicken puppy bites, tender shredded chicken with carrots.
Four Seasons Resort Orlando at Walt Disney World: Once you're done devouring Mickey Mouse pops and jumbo turkey legs, order K-9 crudite, the hot diggity dog (scrambled eggs, rice and veal stock), and frozen peanut butter and banana bites for the doggy.
Lazy Dog Restaurants: In Florida, Virginia, Texas and Colorado, this casual dining chain services pup-friendly brown rice bowls with grilled hamburger or grilled chicken. 
Boozehounds in Palm Springs, California: This restaurant features dog-friendly outdoor spaces, as well as a dedicated dog menu that includes teriyaki salmon bowls, gazpacho, loaded sweet potatoes and doggie TV dinners.
Pacific Hideaway in Huntington Beach, California: Inside the Kimpton Shorebreak Resort, Pacific Hideaway welcomes dogs on the outdoor patio where they can enjoy three savory menu items: chicken and white rice, fish and sweet potato, and beef and vegetable.
Bark Social in Bethesda and Baltimore, Maryland: This social club for dogs serves craft brews, nachos and pizza for you, and pupcakes, pupsicles and chicken strips for your doggo.
Don't forget the H2O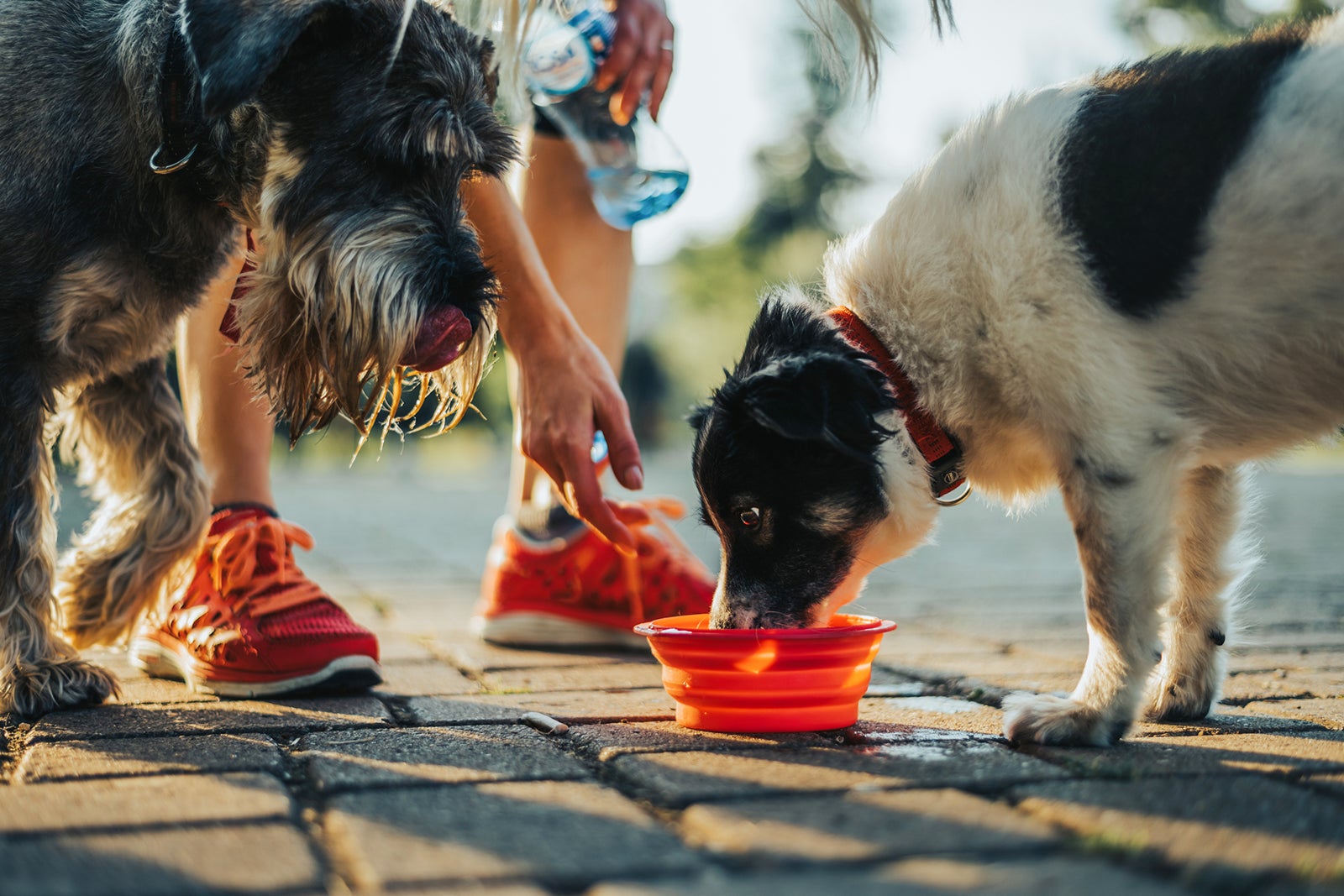 It goes without saying that water is a necessity for summer road-tripping dogs and humans alike. Even though you may have done your research about your trip ahead, it's likely you won't know much about the water quality at each stop.
According to Illinois-based veterinarian Dr. Allison Pepich, your dog needs a rough estimate of at least 1 ounce of water per 0.5-1 pound of body weight. For example, a 30-pound dog would need between 15-30 ounces of water per day at a minimum, but it could be more depending on their fluid losses throughout the day.
"If they will not drink water while in the car, giving them water at rest stops throughout the journey is recommended," Dr. Pepich said. "The more panting, activity, or just general fluid loss that your pet has, the more water they will need."
Always store a few extra gallons of water in your car — in a cooler is even better.
Avoiding the dehydration danger zone
As the weather warms up through the summer months, Dr. Pepich says dehydration and overheating could be a concern during extended car travel.
"If you feel that your pet is experiencing either, the safest option is to get them to the nearest veterinary clinic for evaluation," she said. "Pets can often mask signs that they are not feeling well, especially if they are already anxious from travel. Watch for signs of reduced energy, poor appetite, not drinking well, tacky mucus membranes (gums), or heavy panting."
A normal temperature for a dog is between 100-102 degrees Fahrenheit, and the most accurate way to check this is with a rectal thermometer – add this to your first-aid kit (more on that below), according to Dr. Pepich.
In order to avoid dehydration and overheating, Dr. Pepich says never to leave your pet alone in the car during travel. Also, keep the car at a comfortable temperature while traveling. If you spend time outdoors, make sure your pet has a cool, shady area to go to for rest. Dr. Pepich also recommends paying extra attention to breeds that may be at significant risk for heat stress. These are typically brachycephalic dogs like French bulldogs, pugs, shih tzus, boxers, Boston terriers and others.
Meds and first aid
Before you head out, make sure you have medication and first-aid options for your pup, too. The Red Cross offers a comprehensive list of what to pack, which includes many household items that will come in handy. Some include latex gloves, gauze, tweezers, a muzzle, rubbing alcohol, antibiotic ointment, a baby-dose syringe, 3% hydrogen peroxide, an emergency blanket, sterile saline wash, petroleum jelly, cotton swabs and needle-nose pliers. As mentioned above, make sure to pack a rectal thermometer for temperature checks.
De-stressing your doggo
Additionally, take extra precautions if your dog tends to get easily stressed.
"There are a few over-the-counter products that can be used for stress reduction during car trips," Dr. Pepich said. "My favorite products are Rescue Remedy and Adaptil pheromone products. You can also use CBD products, but I've found success varies considerably across different products."
If your dog gets carsick, Dr. Pepich recommends using an anti-nausea medication or one aimed at treating motion sickness may help calm their car-related anxiety. Before your trip, discuss prescription anxiety medications for car travel with your vet, "though the specific product prescribed may vary greatly depending on your dog's needs," according to Dr. Pepich. 
For the record
Whether digitized or hard copies, keep your dog's latest vaccination records on hand. If your dog is microchipped, make sure you have the ID number and registration information before you leave. Confirm you also have a collar with an ID tag that displays your most up-to-date contact information for peace of mind.
TPG tip: Work in advance to help your dog get comfortable in the car. If there are signs of car-related anxiety, employ a trainer to help desensitize your pup to car trips.
Keep 'em clean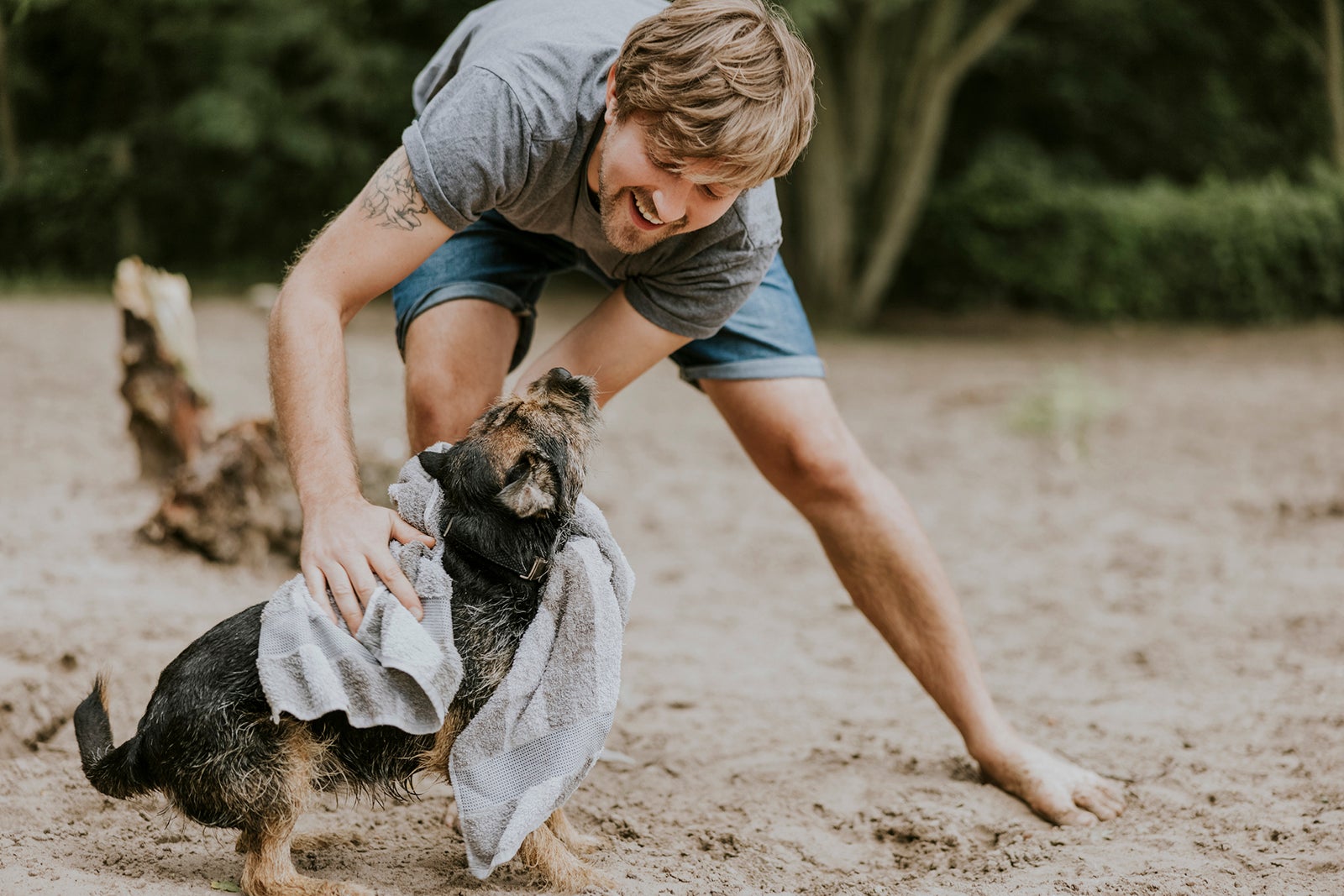 Grooming on the go can be a pain, so make sure your car is stocked with the essentials. You can very easily craft a handy DIY travel grooming kit with these necessities:
Shampoo: Whether your furry friend enjoys regular puppy spa appointments or bath time at home, it's important to pack a bottle of your pup's shampoo – just in case. If your hotel or lodging doesn't happen to have a bathtub or sink to refresh Sparky, opt for a dry shampoo. Test out any new products in advance so you aren't dealing with any unpleasant surprises like allergies or skin reactions.
Wipes: Pet wipes can be a lifesaver when traveling. They're great for muddy paws at a rest stop to avoid caking dirt onto your leather seats and a full wipe-down from outdoor dander, pollen and the elements. Try these out at home before the road trip and opt for scented or unscented based on what works best for the doggy.
Nail clippers: Either a manual tool or an electronic device, a set of dog-friendly nail clippers are handy. Just like human nails, dog nails and dewclaws (essentially the thumbs and big toes) can split while adventuring and be painful for your pup.
Toothbrush: It's important to stay up on your doggy's dental hygiene. Grab a small travel-size toothbrush for longer trips.
Scissors: While you may pack these for your own emergency kit, you can also use them to remove fur tangles on long-haired dogs.
Dog waste bags: Do the math on the length of your trip and how many times your dog does his or her business per day to determine how many poop bag rolls you need. Pack a couple of extra rolls for any surprise messes along the way.
Related: The 15 best dog-friendly hotels in the US you need to know about
Bottom line
Don't let hitting the road with your favorite furry friend intimidate you. There may be plenty of prep work, but once you're en route, it will be worth it.
Dogs make amazing summer road-trip companions, whether heading out solo, as a couple or even with the kids. With so many dog-friendly lodging, activity and dining accommodations, there's no reason to board your bestie or spend hundreds on a dog sitter this summer.
The best part about dog-friendly road trip travel is that you never need to "ruff" it because everything is accessible along the way. So, what are you waiting for? Rev up, hit the cruise and lift that sun "woof."
Related reading:
Top pet-friendly Marriott hotels for animal lovers
World's top pet-friendly Hilton hotels for animal lovers
8 things to consider before flying with your pet
Your pet travel primer: Answering questions about vaccination records, EU pet passports and how to find dog-friendly restaurants