Given how fluid points and miles programs can be, we often advise in favor of diversifying the types of travel rewards you earn. After all, you wouldn't want to spend years saving up rewards points only to see that dream flight or night slip out of reach when a program suddenly devalues (or eliminates) its award chart.
However, it's sometimes a good idea double down with a specific rewards program – especially if it's one where the points are transferable to a number of different airlines and hotels. And it can make even more sense when one or more of the cards that earns those points is posting a particularly high welcome bonus.
One such program is American Express Membership Rewards. Not only do these points transfer to Amex's airline and hotel loyalty partners, but they are also redeemable in any number of other ways. Plus, the cards that participate in the program are also some of the best in the rewards space.
Among them, The Business Platinum Card® from American Express and the American Express® Gold Card are currently offering phenomenal, introductory welcome offers that might have you considering whether to apply for one, the other, or both.
In fact, pairing the Amex Business Platinum and Amex Gold cards might be the best Amex card duo possible, thanks to their highly complementary earning structures and benefits packages.
By carrying both and using them for different purposes, you can rake in even more points, even faster, while enjoying all the benefits the Amex Business Platinum confers and the Amex Gold's stellar earning rates.
Here are some of the reasons you might want to keep both in your wallet.
Related: The power of the Amex trifecta: Platinum, Gold and Blue Business Plus® Credit Card from American Express
Two cards, two bonuses
Let's get the awkward part out of the way. Both cards charge pretty high annual fees – $695 for the Amex Business Platinum (see rates and fees) and $250 for the Amex Gold (see rates and fees). That's up to $945 in fees each year, which is pretty costly — but can be offset by these cards' introductory offers, some of the best we've ever seen.
The Amex Business Platinum has a TPG-exclusive welcome offer that lets you earn up to 150,000 bonus points by spending $15,000 on purchases in the first three months of card membership. Get the Amex Gold and spend $4,000 in the first six months of card membership, and you earn another 60,000 bonus points.
Without even taking their bonus spending categories into account, you'd be looking at an overall points haul of at least 210,000 Amex Membership Rewards points by hitting those requirements. TPG currently values Amex points at 2 cents apiece, so that's around $4,000 in value – though potentially much more, depending on how you redeem them.
Related: Everything you need to know about Amex Membership Rewards
Sure, that's a lot of money to lay out, but if you're strategic and have some work and personal expenses coming up that you can leverage to meet a new card's minimum spending requirement, this could be an excellent one-two option.
Another reason you might want to consider applying for these two cards, in particular, is if you already have, or even if you had in the past but have subsequently closed another Amex product. For instance, if you currently carry The Platinum Card® from American Express or the American Express® Business Gold Card, or had it in the past and closed it, you might be ineligible to earn its welcome offer again per Amex's application eligibility rules. If you haven't had the Amex Gold Card or the Amex Business Platinum, though, these two cards could be some of your best bets to keep on accruing Amex points at a healthy clip.
Related: Card showdown: Amex Business Gold vs. Amex Business Platinum
Keep things professional
Speaking of card combinations, there are many great reasons why you might want to get both a personal and business card. Doing so can help you separate your work and personal expenses. Putting higher, work-related spending on a business card can keep that activity off your personal credit report – which can, in turn, help raise your personal credit score by lowering your debt-to-credit utilization ratio.
The Amex Business Platinum's business-related statement credits and special earning rates (see below) are two more great reasons to put your work-related spending on that card instead of a personal one. Then you can designate the Amex Gold Card for more everyday things like groceries and dining expenses.
Earning overdrive
One of the biggest selling points to getting both the Amex Business Platinum and the Amex Gold Card is how you can mix and match their bonus earning opportunities to maximize your everyday spending.
Use the Amex Gold Card to rack up 4 points per dollar on dining at restaurants and groceries at U.S. supermarkets (on up to $25,000 a year, then 1 point per dollar), plus 3 points per dollar on flights booked directly with airlines or on amextravel.com.
Use the Amex Business Platinum for 5 points per dollar on flights and prepaid hotels on amextravel.com, plus 1.5 points per dollar on eligible purchases at U.S. construction material and hardware suppliers; electronic goods retailers and software & cloud system providers; shipping providers; and on each eligible purchase of $5,000 or more everywhere else (up to $2 million per calendar year total).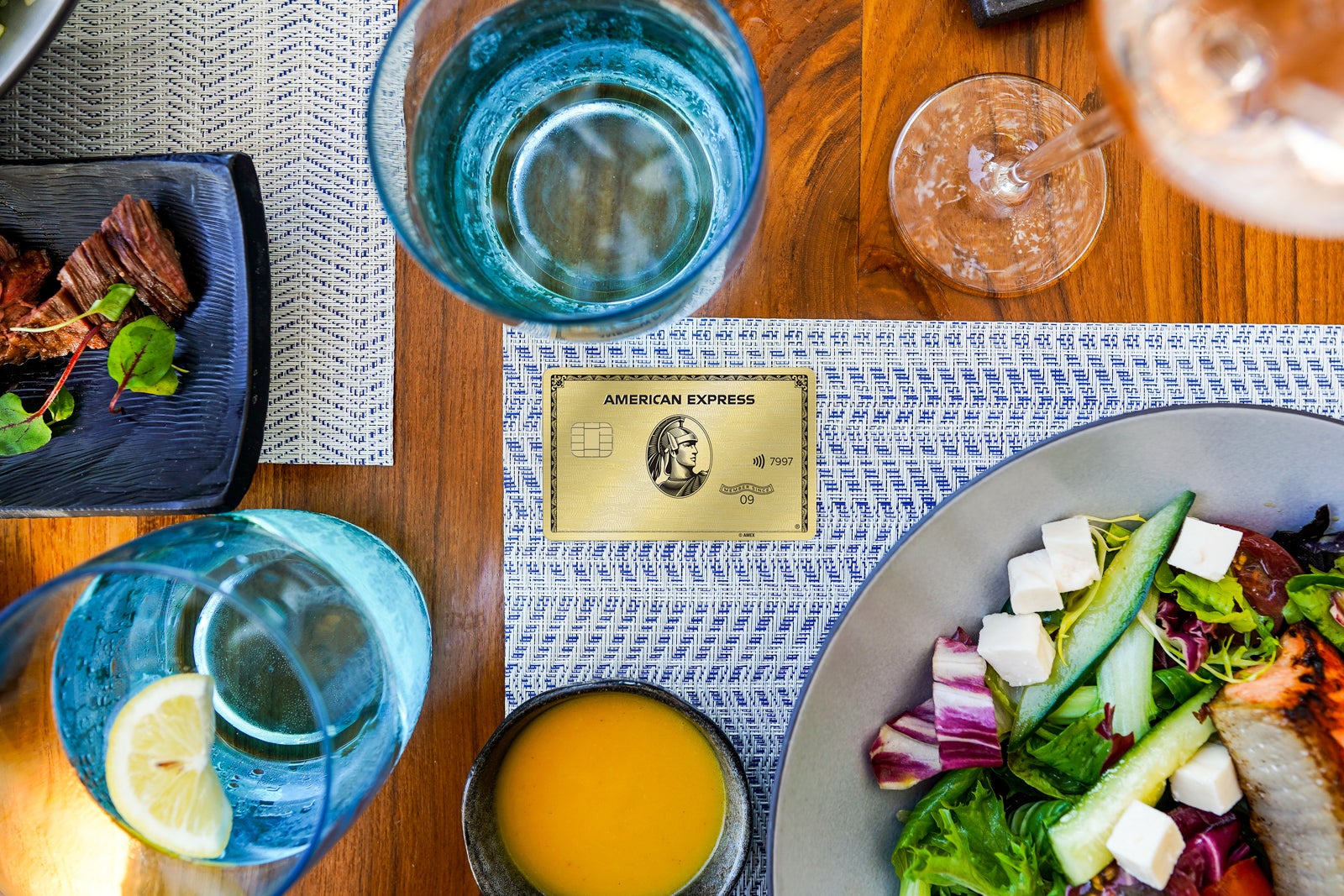 Related: Use these cards to maximize large purchases
To get a bit more granular, if you tend to book airline tickets directly with airlines, you can continue doing so with the Amex Gold Card since it earns 3 points per dollar whether you use it to pay through the airline or Amex Travel.
However, if you can shift more of your travel bookings to Amex Travel, you can leverage the Amex Business Platinum's 5 points per dollar earning rate not just on airfare but also on prepaid hotels.
You can book hotels through Amex's Hotel Collection with either card. The Amex Gold Card earns 2 points per dollar on those bookings, while the Amex Business Platinum earns 5 points per dollar. However, with the Amex Business Platinum, you also have access to even higher-end properties and more valuable perks through Amex Fine Hotels & Resorts.
Related: Everything you need to know about The Hotel Collection, an under-the-radar Amex Gold perk
Stretch your points further
Amex has a Pay with Points feature, where you can redeem Membership Rewards for reservations made directly through Amex Travel. You get 1 cent per point toward flights, and less than that for other types of bookings, such as hotel stays.
However, Amex Business Platinum cardmembers receive a 35% rebate using Pay with Points in two circumstances:
For a first- or business-class ticket on any airline.
For a ticket in any cabin on the same airline they designate for their annual up to $200 airline fee credit.
This benefit is capped at 1 million rebated points per calendar year (so you'd have to redeem around 2.86 million points to max it out). By using points from your Amex Business Platinum account and receiving that 35% rebate, you automatically up your points from 1 cent apiece to 1.54 cents – a 54% premium.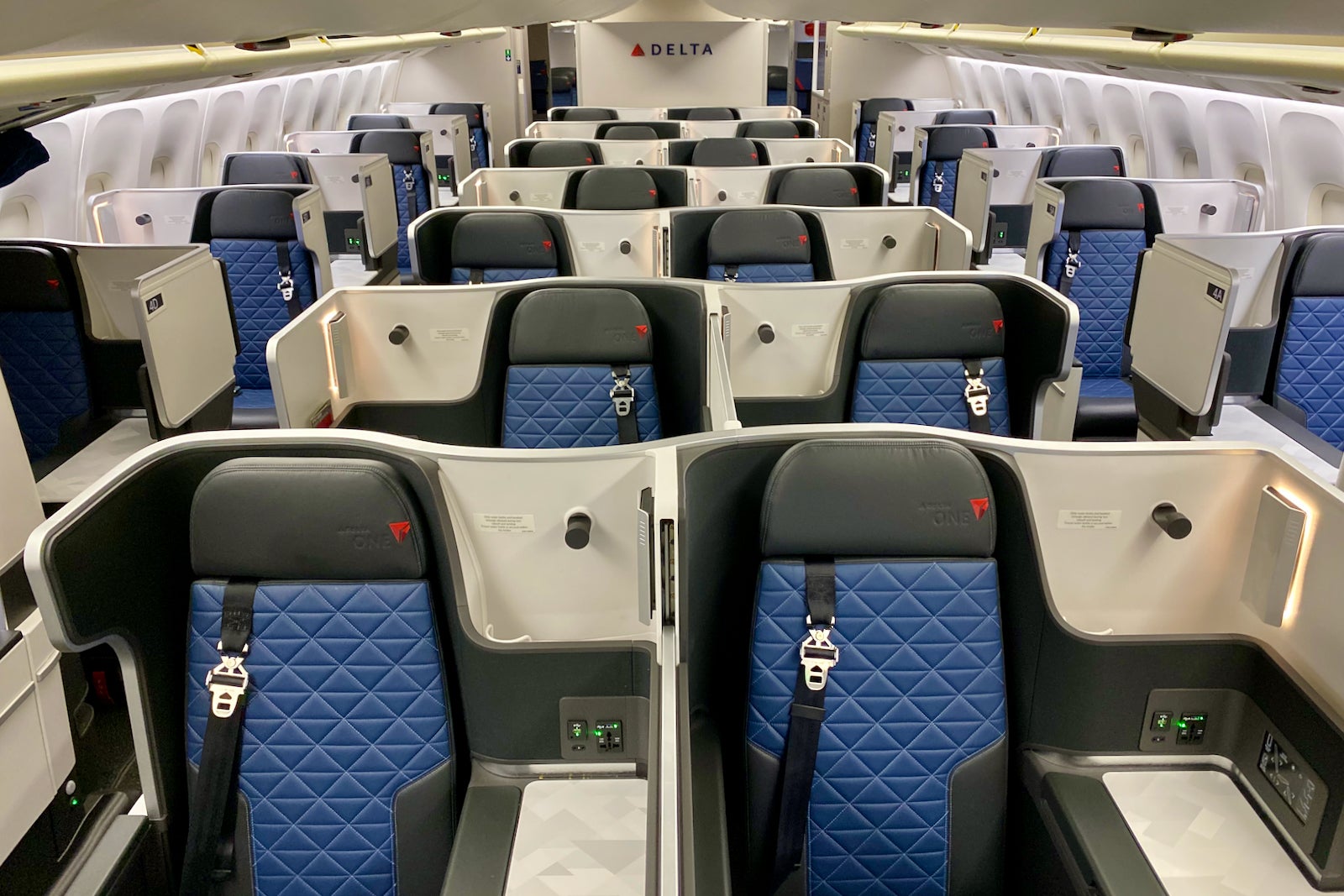 While Pay with Points isn't for everyone, there are a few great reasons to use it. First, you get a solid value of 1 cent per point redeemed this way (or more with the Amex Business Platinum). Second, you don't have to worry about transfer partners or times or award availability with a particular airline. Finally, when you redeem via Pay with Points, it's basically like paying cash for your ticket, so you still earn elite miles and credit for your travel.
Related: How to decide whether to use cash or miles for airline tickets
Statement credits galore
The final reason for carrying both the Amex Business Platinum and the Amex Gold Card is to stack their various statement credits.
The Amex Gold Card provides up to $10 per month in Uber credits toward either rides or Uber Eats orders in the U.S., plus a further $10 per month in dining credits as enumerated above for a potential total of $240 in statement credits each year. If you use the card to make a The Hotel Collection booking of two nights or more, you get a $100 onsite credit for qualifying activities. Enrollment required for select benefits.
Related: How to use Amex Gold's new $10 monthly Uber credit
For its part, the Amex Business Platinum comes with a plethora of statement credits. Among those to look out for are up to $400 per year in statement credits toward Dell purchases, up to $360 per year with Indeed, up to $150 per year with Adobe and up to $120 toward wireless phone bills. For business travelers, the card also comes with up to $200 in annual airline incidental fee credits, up to $189 annually for a Clear membership, and up to $100 toward Global Entry or TSA PreCheck periodically. Enrollment required for select benefits.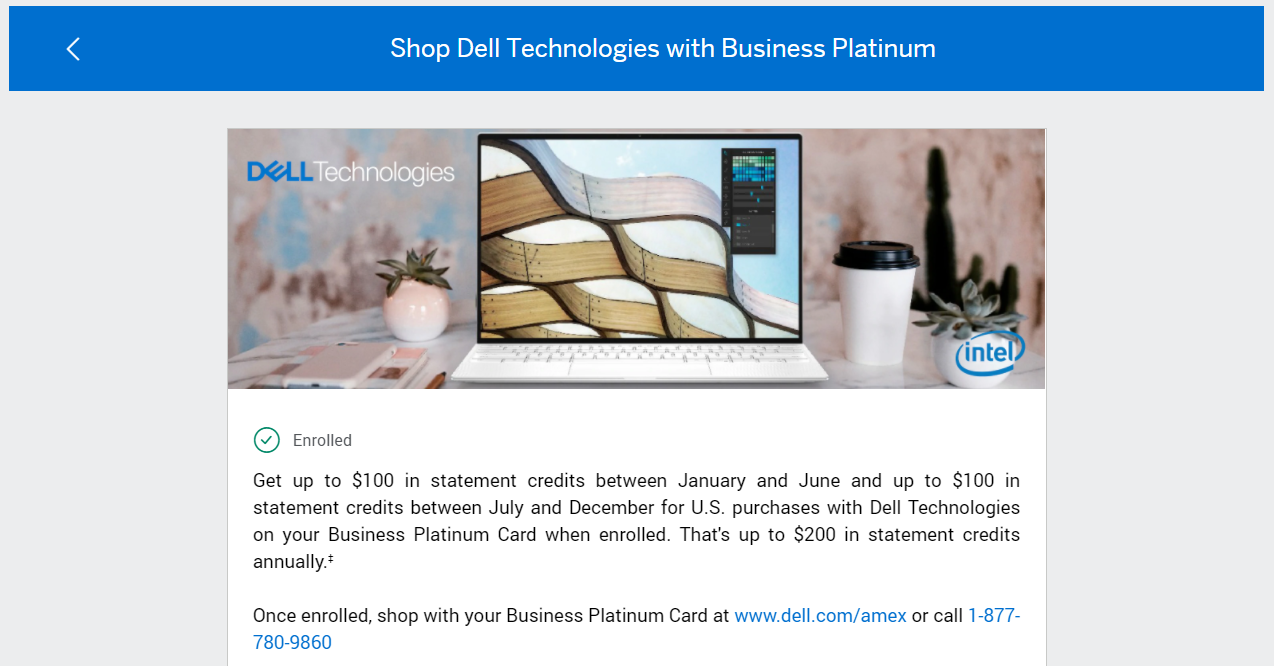 Maximize all these statement credits from both cards in the first year, and you're looking at almost $2,000 in potential value. What's more, none of these statement credits overlap from card to card, so you don't sacrifice anything by carrying them both.
Other benefits
While the Amex Gold Card is short on other perks, the Amex Business Platinum includes a lot more benefits.
Related: The different flavors of Amex Platinum – which one is right for you?
Those include advantages like access to various airport lounges – Amex Centurion Lounges, Delta Sky Clubs, and Priority Pass lounges among them – plus the ability to register for Gold elite status with both Marriott and Hilton. Cardholders also get elite status with various rental car agencies, plus the International Airline Program discounts for folks who fly premium cabins. Enrollment required for select benefits.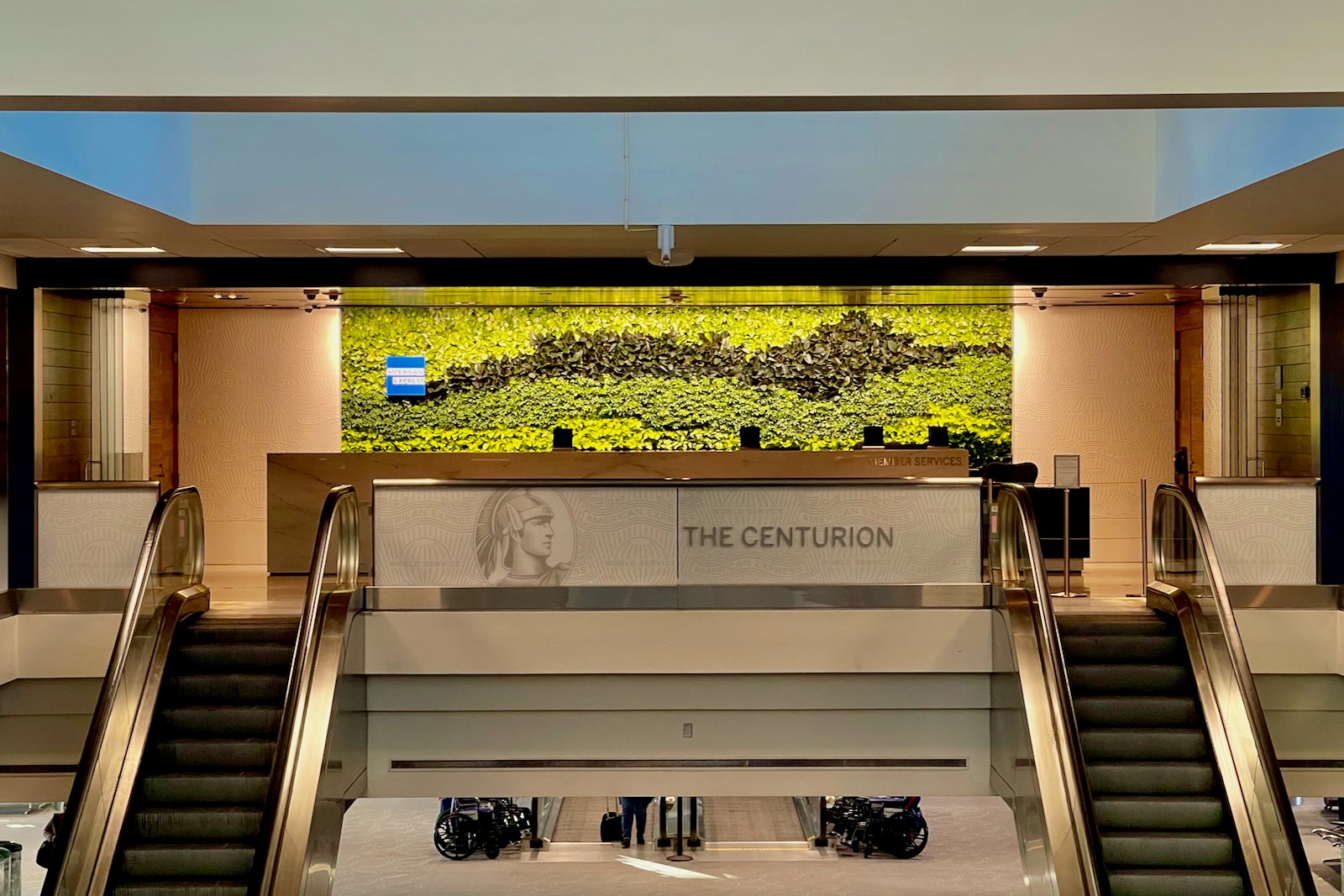 Related: 8 things to do when you get the American Express Business Platinum Card
Earning aside, these benefits alone can make carrying the Amex Business Platinum worth it.
Bottom line
It's usually a good idea to diversify the types of travel rewards points you earn. However, given how versatile they are, it can also make sense to double down with one program or another, including Amex Membership Rewards.
The right mix of Amex cards will depend on your needs and spending habits. But the Amex Business Platinum and Amex Gold Card make a winning combination thanks to their corresponding perks portfolios and bonus spending categories. You can get both to leverage not only lucrative introductory offers but also excellent everyday points accrual rates and other benefits to enhance your travel experience.
Apply here for The Business Platinum Card® from American Express with a TPG-exclusive 150,000-point bonus.
Apply here for the American Express® Gold Card with a 60,000-point welcome bonus.
For rates and fees of the Amex Gold card, click here.
For rates and fees of the Amex Business Platinum card, click here.
Additional reporting by Ryan Wilcox.