As a small-business owner, I'm fortunate to be able to earn plenty of points and miles by charging business expenses on credit cards. When I have time to sit down and really strategize, I can occasionally use that spending power to achieve elite status or earn bonuses that might otherwise be difficult to hit.
In 2021, I made the decision to try to attain Delta Diamond Medallion elite status by taking advantage of some pandemic-related earning opportunities. At the time I decided to go for it, my SkyMiles balance was less than 10,000 miles — and just under a year later, I had more than 1 million SkyMiles in my account.
The pandemic turned travel on its head in so many ways. For a lot of road warriors like myself, work travel pretty much came to a complete halt. Airlines tried to encourage us to travel, slowly at first, and then at an accelerating pace. They extended elite status. They eliminated change and cancellation fees and handed bonuses out like trick-or-treat candy. Still, most of us sat at home waiting for travel to get a bit safer or for our employers to work out new travel policies.
While we were grounded, airlines and hotels huddled with their cobranded credit card partners to find ways to keep us spending on those credit cards.
One of those ideas, combined with another recent change, got my attention and caused a pretty significant shift in my spending habits. Without too much extra effort, and before I fully realized it, my Delta SkyMiles account hit a seven-figure balance. Here's how I accomplished that.
How I even started considering Delta Diamond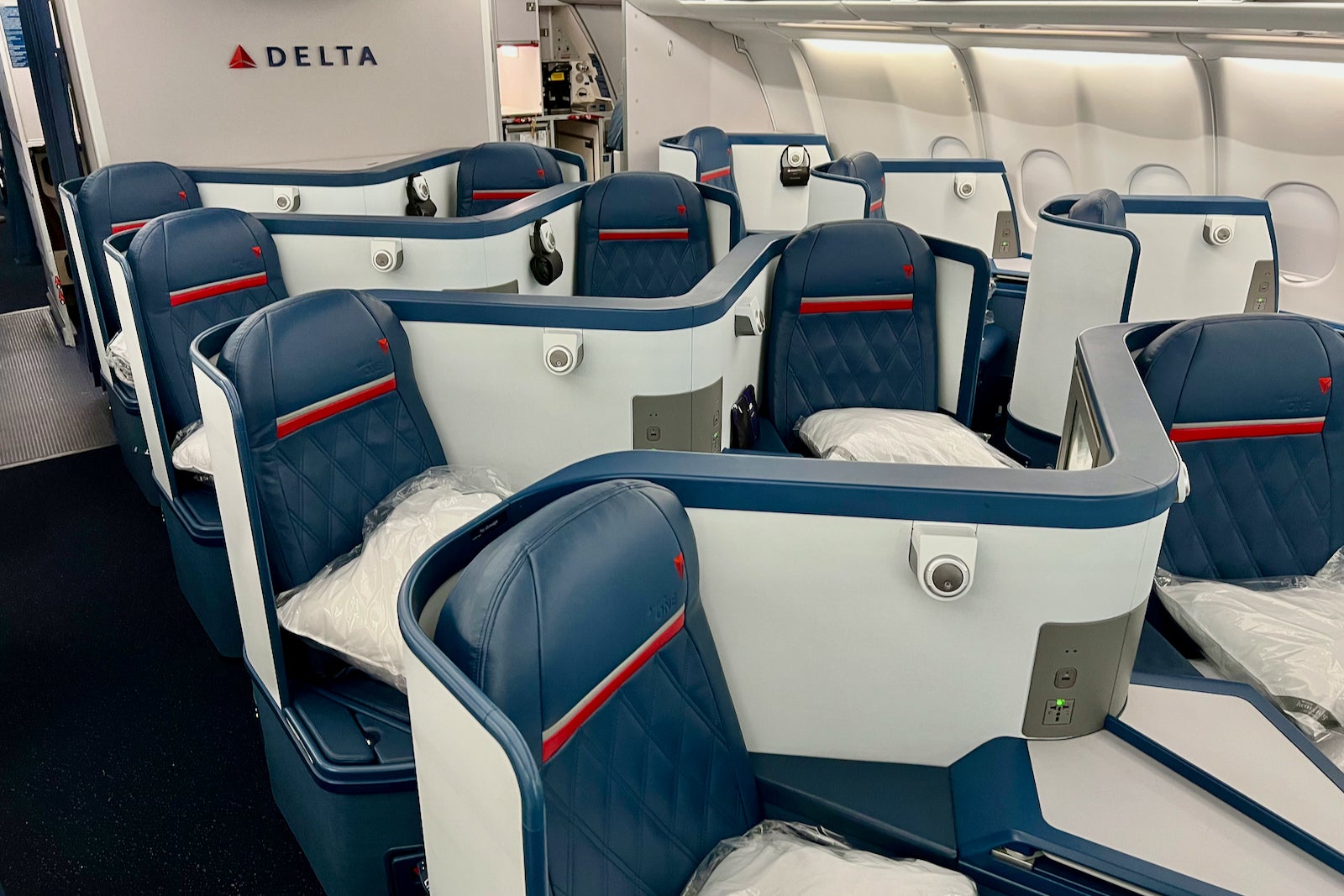 It's probably helpful to offer a brief summary of my pre-pandemic travel patterns.
While you'll find me writing for TPG and podcasting about travel, I have a day job that requires me to be on the road a couple of weeks a month. My home airport is Dulles International Airport (IAD) and I typically fly more than 100,000 miles per year, mostly on short domestic flights. In other words, I usually earn elite status the hard way: by sitting in coach on lots of unexciting flights.
United has been my primary carrier for the last seven or eight years due to the number and convenience of nonstop flights out of Dulles. As a result, I've had United Premier 1K elite status for a while now. Before that, I was a top-tier American Airlines Executive Platinum elite member for almost a decade.
Fast-forward to earlier this year when Delta announced that it would now allow loyalty members to earn lifetime top-tier Diamond status. Sometimes the best ideas are born from unbelievable propositions. In this case, it was a fellow travel blogger writing about how to spend your way to the whopping 6 million Medallion Qualification Miles needed for lifetime Diamond status.
The article was, I think, written as a parody. I mean, who would really try to earn 6 million MQMs starting virtually from scratch? Hear me out before you decide I'm crazy when I meekly raise my hand!
The fact of the matter is, if I rebounded to my former travel habits and combined them with some unprecedented credit card-related bonus opportunities, the idea wasn't so far-fetched. There were also a few other factors — mostly pandemic-related — that got my gears turning, and now I'm well on my way to lifetime Diamond.
Related: How and why I'm going to earn higher elite status in 2021 than in recent years
Delta and Amex turbocharged MQM earning with credit card spending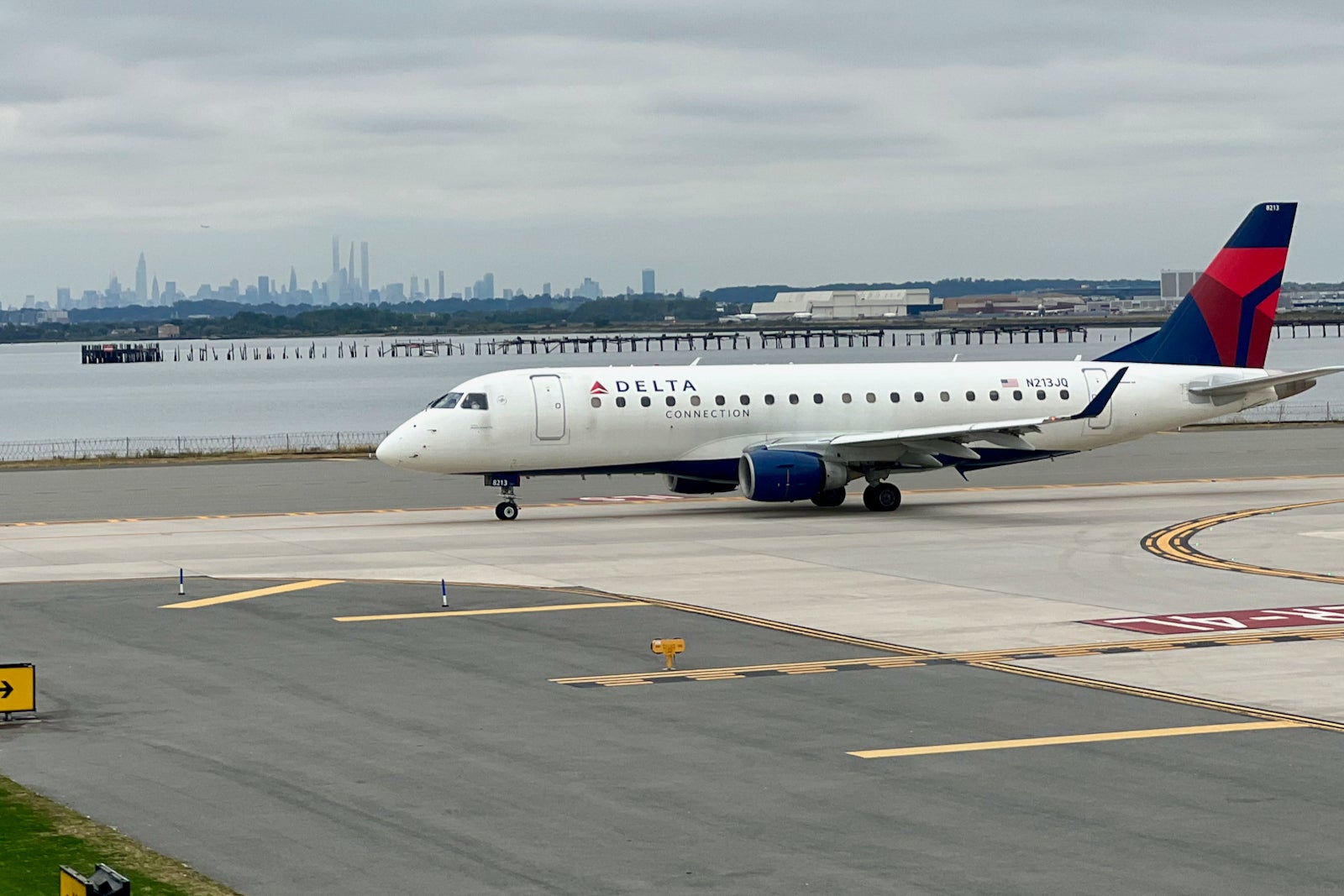 Delta and American Express announced a variety of unique earning opportunities during the pandemic. It started with a big welcome offer for the Delta SkyMiles® Reserve Business American Express Card, currently offering 60,000 bonus miles and 10,000 MQMs when you spend $4,000 on the card in the first three months.
Like the personal Delta SkyMiles® Reserve American Express Card, the business version also offers a program called Status Boost, where you can earn 15,000 additional MQMs for each $30,000 you spend on the card, up to four times per calendar year. As a small-business owner, I have a lot of spending that goes on our corporate credit cards. Most of it is in categories that typically don't earn a bonus, such as restaurant equipment. That meant I wasn't leaving a ton of value on the table by moving some of our business spending to a Delta business Amex.
At 1.41 cents apiece, TPG's own valuations have Delta SkyMiles squarely between American Airlines AAdvantage and United MileagePlus, with a Delta SkyMiles mile worth quite a bit less than a Chase Ultimate Rewards point. I'd most likely be earning less-valuable miles by opting for Delta, but I'd also be working my way to Delta Diamond status thanks to those MQM boosts.
We'll cover that more in a bit, but there was one more opportunity for earning MQMs to point out. As a way to encourage folks to spend more on their Delta Amex cards during the pandemic, the Delta Reserve Amex cards (both personal and business) were offering an additional 25% MQM boost of 3,750 MQMs for every $30,000 spent on the card this year.
Another bonus of carrying the Delta Reserve Business Amex in particular is that, after you spend $150,000 on purchases with the card in a calendar year, you earn 1.5 miles per dollar on purchases for the rest of the year (bonus categories continue earning at their specific rates). Given the large number of purchases I make for business, and the high dollar amounts, hitting these figures was no problem, and I saw my earning take off to astronomical levels quickly (but more on that later).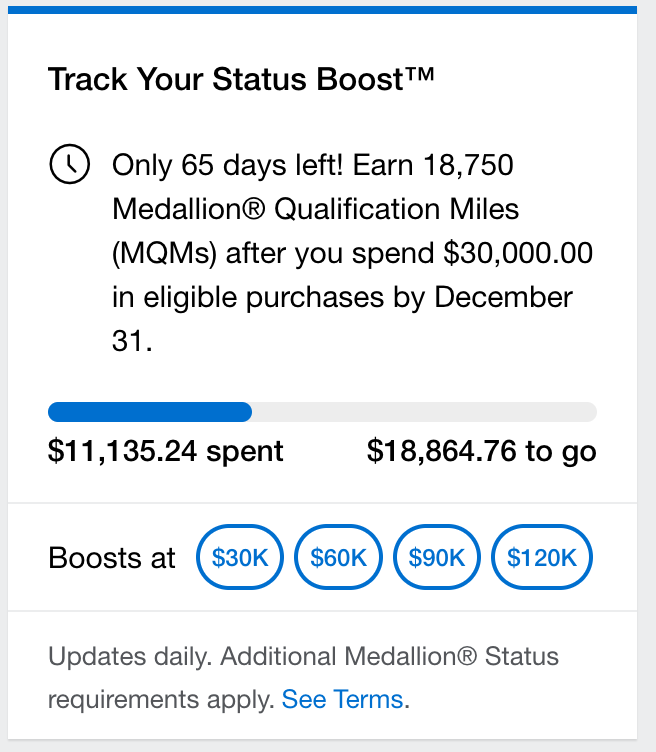 That meant I could earn a total of 75,000 MQMs (enough for Platinum Medallion status on its own) toward Delta Diamond Medallion status by spending $120,000 on my new Delta Amex. However, I'd have to spend a total of $250,000 in 2021 if I wanted a waiver on the Medallion Qualification Dollar requirement for Diamond status. That's a big number, but I actually decided it was worth putting the extra spending on the card to earn Diamond status via the MQM boosts and the MQD waiver.
Related: How to earn Delta Medallion elite status without flying in 2021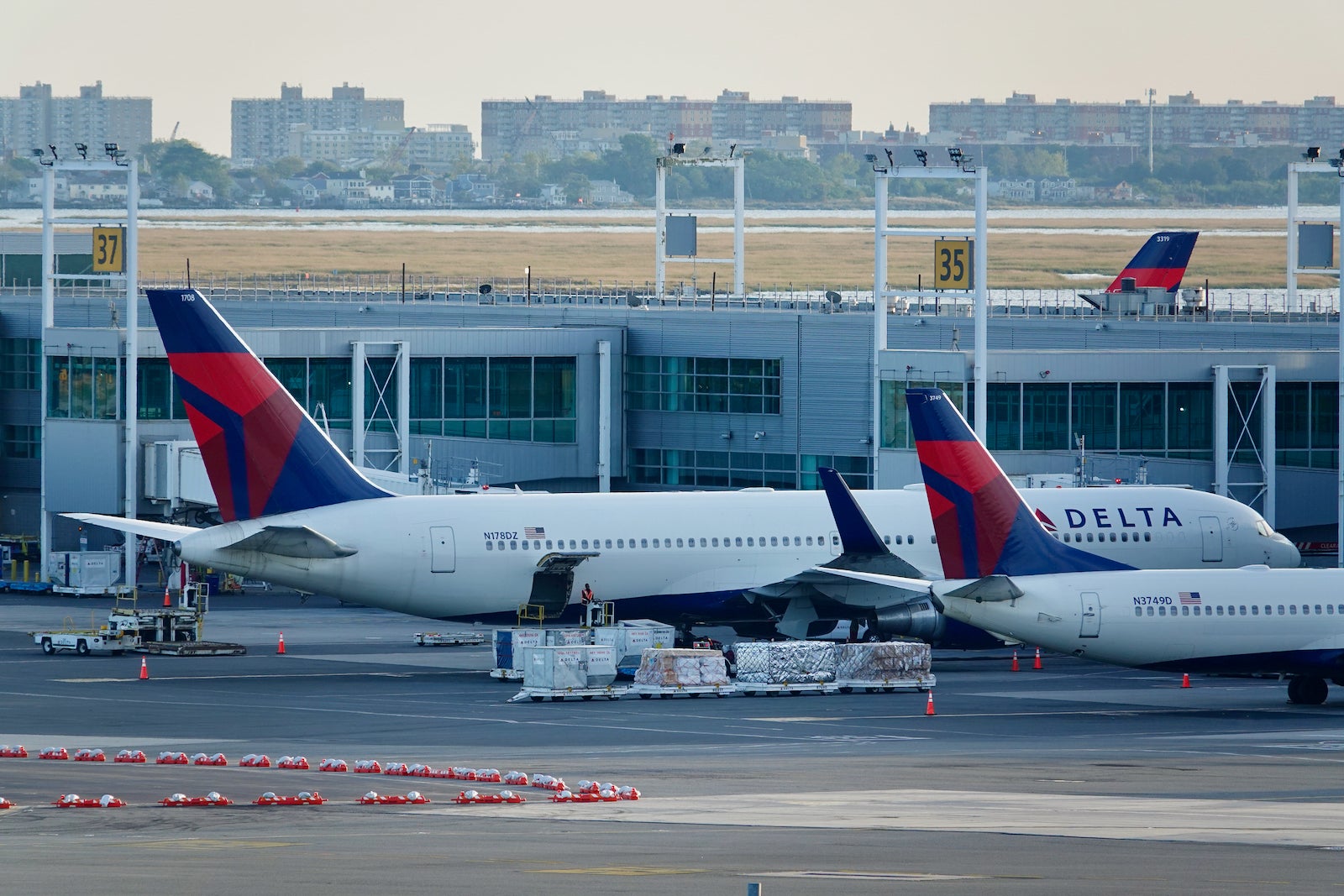 Other ways I earned MQMs
Delta didn't stop at credit card promotions to encourage folks to travel. It also rolled out bonus mileage-earning opportunities on both paid and award tickets:
Last year, Delta offered up to 75% more MQMs, MQDs and MQSs (Medallion Qualification Segments) Through the end of 2021, travelers could earn a 50% bonus on all economy tickets and a 75% bonus on all premium-cabin fares.
Delta also offered the same bonuses on all award tickets.
Additionally, I learned from personal experience that I could earn the 75% bonus by purchasing an economy ticket and using miles to upgrade to first class on one of my flights.
With all of these earning opportunities and the fact that my work travel schedule began to pick up again, it was so much easier than I thought it would be to achieve Diamond Medallion status.
As I started piling up MQMs faster than I ever thought possible, I began to think about the possibility of locking up some sort of lifetime status. Between credit card spending and bonus miles on flights, I quickly earned 200,000 lifetime MQMs from virtually zero.
That's a far cry from the 6 million I'd need for lifetime Diamond. Lifetime Delta Silver status  — which requires 1 million lifetime MQMs — really holds no interest for me. But I was also hoping to see many of the year's lucrative earning opportunities repeated in 2022. With two years of accelerated MQM earning I could make a lot of progress and possibly hit lifetime Gold at 2 million or even Platinum at 4 million eventually.
Alas, that wasn't meant to be. However, I did manage to rack up about half a million MQMs.
Related: Is it worth pursuing lifetime elite status?
Flight schedules weren't geared toward business travel last year
Credit cards aren't the only things that have seen drastic changes during the pandemic. Flight schedules were pared to almost nothing, then airlines ramped domestic schedules back up quickly.
However, since most of the folks traveling were leisure travelers, flight schedules reflected that reality. Destinations such as Florida and Cancun, Mexico, got additional lift while traditional business routes stayed pretty scant.
Prior to the pandemic, United operated a nonstop flight from my home airport of IAD to Las Vegas' Harry Reid International Airport (LAS) that departed around 8 a.m. I could hop on that flight for a work trip (Vegas is a frequent destination of mine since our company owns a business there) and be on the ground before lunch. That meant almost a full workday.
Fast forward to pandemic scheduling, and the first nonstop didn't leave until after 10 a.m., arriving in the afternoon. That killed my productivity.
The same was true for flights to Reno, another frequent destination for me. In both instances, Delta offered earlier departures on connecting flights that got me to my destination much earlier in the day than my old United nonstop. That allowed me to make the most of my time away from my family.
Whereas in a normal year I'd be all over nonstop flights for convenience, in 2021 and 2022 I've found myself on more connecting flights because they work better for my schedule, and often that meant choosing Delta more often.
Related: Closing the gap: My plan to qualify for Delta Diamond status this year
How I earned 1 million SkyMiles in roughly 6 months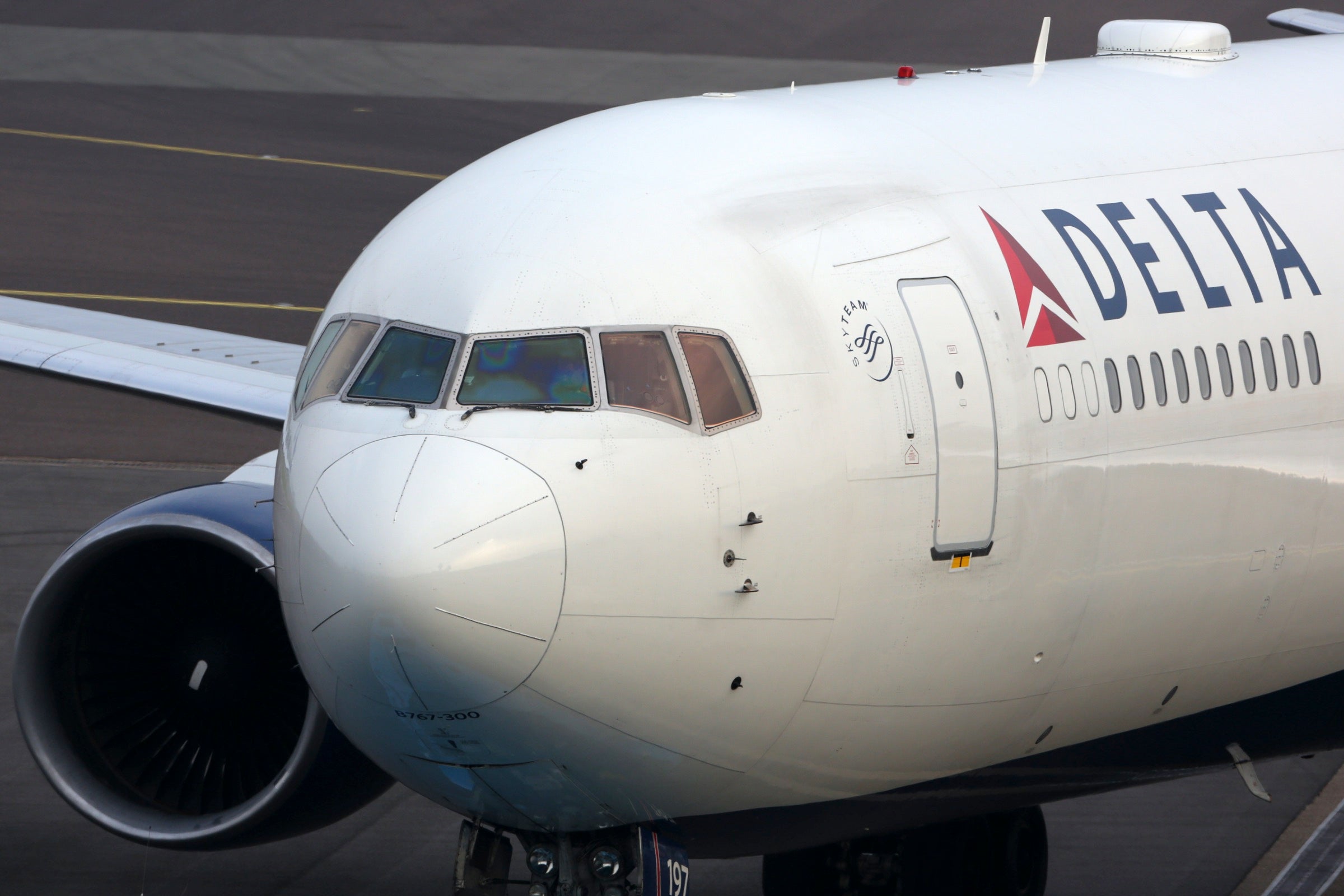 With all of the extra earning opportunities in play, I quickly found myself sitting on just over 1 million SkyMiles — award miles that I'll put toward upgrades and future travel, not MQMs that I'm accruing toward elite status.
Here's approximately how my path to 1 million miles in under a year added up:
80,000-mile welcome offer on the Delta Business Reserve.
60,000 miles from flying.
20,000 miles from earning 3 miles per dollar on Delta spending with the Delta Business Reserve.
150,000 miles from earning 1 mile per dollar on work purchases.
700,000 miles from earning 1.5 miles per dollar for spending over $150,000 on the Delta SkyMiles.
As you can see, my earning really took off after I hit that $150,000 mark. And yes, Delta is giving me a lot of miles for my spending loyalty. But in my opinion, both Delta and American Express got pretty much exactly what they wanted when I applied for the card.
They paid out a big, one-time welcome offer and got me hooked. I handed out a few cards to employees, and with all the supply chain and staffing issues our business has faced, I just left those credit cards in employees' hands so they could get what they needed when they needed it, earning me tons of SkyMiles in the process.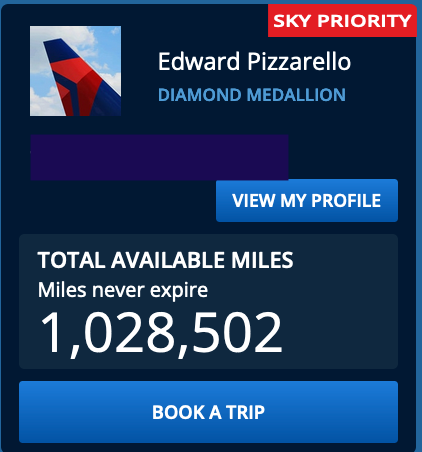 The bump to 1.5 miles per dollar on spending after $150,000 in spending within a calendar year boosted my balance extremely quickly, and even put me ahead of the curve over choosing to accrue Chase Ultimate Rewards points according to TPG's valuations. Ultimate Rewards might have been a slightly better choice — in part because they are easier to use both with direct travel redemptions and by transferring to several different airline and hotel partners — but I still think my rate of return was pretty excellent.
As an aside, if elite status isn't as important to you and you make frequent larger purchases on a credit card, The Business Platinum Card® from American Express offers 1.5 points per dollar on any individual purchase of $5,000 or greater as well as on select U.S. business categories, on up to $2 million in total spending each calendar year (then 1x). That can also be a good way to leverage business spending for maximum return, along with earning a flexible currency for travel.
Related: Your complete guide to the Delta SkyMiles program
Was it worth it?
With the help of MQMs from credit card spending, earning Diamond status was pretty easy in 2021 and 2022. Delta did roll out increased status requirements for 2024 qualification. However, as long as Delta continues the trend of awarding MQMs on award flights, I can continue to make progress toward Diamond status again by burning up my SkyMiles balance on award travel. Those MQMs will also help nudge me closer to lifetime Diamond status. That's still a pretty unrealistic goal given how late in the game I'm starting, but plenty of unrealistic changes and possibilities popped up during the pandemic.
While I may have "overspent" on the Delta Business Reserve compared to the value I could have gotten by moving spending back to a Chase business card our business also holds, I have already been able to take advantage of the benefits of Delta Diamond status many times. For instance, I've been able to get Delta to move me to United on one trip when a Delta delay was going to cause me to miss my connecting flight. Those sorts of soft benefits are huge for me as a road warrior.
Plus, as a Diamond member, I also get to select Choice Benefits.
Sky Club access is already a benefit of the Delta Business Reserve card, so no need to tie up one of my choices with that. I've got my eye on the Global Upgrade Certificates for some potential international travel. And I think I'll also select a $200 travel voucher. As a small-business owner, I also like the ability to gift one of my employees Gold status. Twenty-five thousand bonus miles isn't a horrible choice either, especially if Delta continues to offer the ability to earn status through award flights.
Related: Which 2021 Delta Choice Benefit should you pick?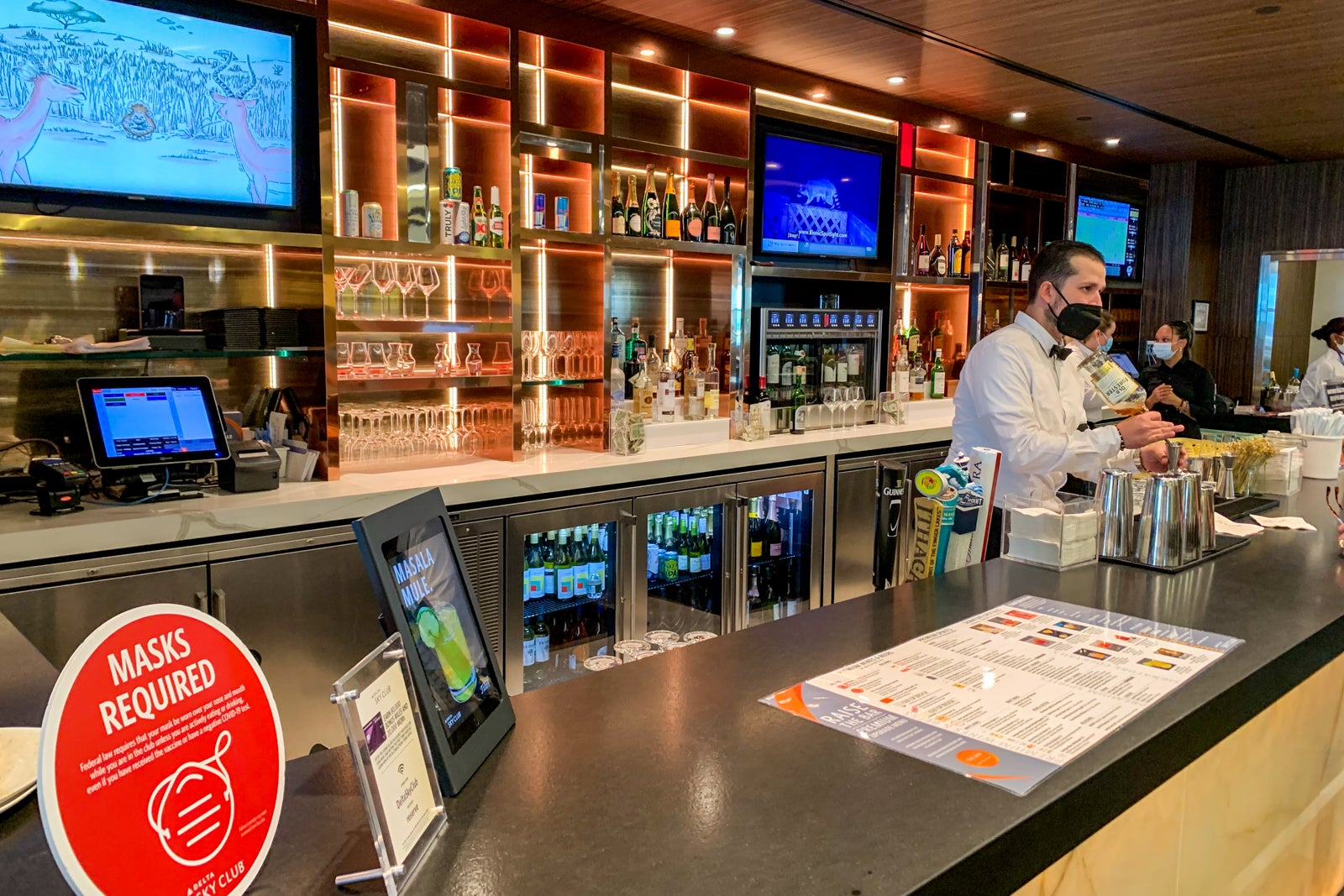 A year later
It's been over a year since I embarked on a pursuit of lifetime Delta Diamond status. Alas, the story doesn't have an unbelievable ending, but I think it's been a worthwhile ride. I'm still quite a bit away from earning lifetime Delta Silver Medallion status, and a couple of lifetimes away from lifetime Delta Diamond.
However, my time as a Delta Diamond has been enjoyable. I've logged over 20 flights on Delta this year. While I'm not swimming in confirmed complimentary upgrades, I have sat in the front of the plane on almost every flight. I chose Regional Upgrade Certificates and Global Upgrade Certificates as Choice Benefits, and both have come in handy while I crisscross the country.
I left my Delta SkyMiles cards as my primary cards just a bit too long this year. I'll end up with over $350,000 in spending on the cards (and another round of MQM boosts) when I probably should have stopped at the Diamond waiver. But again, at least I can use those extra SkyMiles toward requalifying for Diamond again in future years.
Bottom line
I qualified for Diamond status in 2023 long ago and I have a boatload of rollover MQMs (almost 300,000 currently). That means I'll almost certainly shoot for another $250,000 on the Delta Business Reserve card in 2023. Beyond that, I would lock up Diamond status for 2024 and probably lock up lifetime Silver status as well, even though it isn't incredibly valuable.
The changing conditions in airline loyalty will definitely affect my decision. Two years later, United has finally implemented the increased elite status requirements they announced prior to the pandemic. That means 2024 will likely be a choice between earning United 1K or Delta Diamond. Both will have their upsides, and two years is an eternity for things to change in the loyalty world.
Every business owner will have to make their own decision when it comes to earning miles or points versus taking cash back. I hope my experience outlines how you can leverage spending for your business to achieve elite status (and potentially lifetime status) along with a bunch of miles that you can give to employees or use for your own adventures.